Don't Let These Pretty Shoes Fool You
The 2017 Icebug Oribi are quite easy to write off on first glance; they just don't look like trail shoes, much less a high-tech racer. The shiny bright blue upper is contrasted by a cute little bug in eye-catching orange with each shoe cinched up with thin, seemingly simple laces – so one could be forgiven if dismissed these as pretty walkers or everyday kicks. Of course, you'd be wrong.
Up close, the tech becomes apparent, and once you get them underfoot their trail (or road) racing pedigree becomes obvious:
What Icebug Says:
The Oribi gets its name from an African antelope, known for its speed, grace, and agility. This brand new model for Icebug is both feather-light and feature-packed.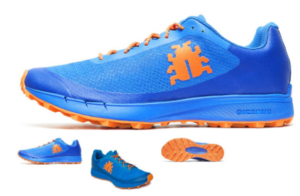 The seamless polyester mesh upper is light, non-absorbing and has a welded protective TPU mudgard. The lacing system with integrated laminated ribbons embraces the foot and keeps it in place, along with special laces that keep them from untying. The thin tongue has a sock-like construction, both keeping it in place and making the Oribi fit like a glove. The soft heel cup has a padded collar and firm heel grip. The midsole has an integrated Rock Shield to protect the foot in rocky terrain. The midsole also adds torsional stability and is designed to provide a kick in the last phase of the stride.
Medium cushioning and a 7mm drop provide just the right level of support. The tractor tire patterned outsole and the RB9X rubber compound will keep trail runners and everyday users going in all kinds of conditions and terrain.
Colors: Beryl/Cobalt (Men), Magenta/Neon Orange (Women)
Upper: Polyester Mesh; Welded TPU mudgar
Lining: Half lined
Insock: Molded EVA
Midsole: Lightweight EVA, rock plate ESS/YPU
Outsole: Rubber 9 Extreme (RB9X)
Torsion: Medium Flex
Drop: 7 mm
Cushioning: Medium
Last: Medium
Weight: 200 gr (US Ladies 7.5) – 230 gr (US Men's 9)
Size: US Ladies 5.5-10.5 – US Men's 8-13
Price: $149.95 https://us-shop.icebug.com
Harsh Conditions are Where the Oribi Really Shines
No, really. Stop laughing. A super-lightweight high-tech racer with low drop and soft foam can deal with the nasty, sharp rocks shown below? Yup.
The pliable RB9X sole smoothes out even the nastiest conditions underfoot by flexing and contouring around just about anything underfoot, and the rock plate keeps even the most jagged natural features from smashing your… feet-ures.
As you can see in some of the photos of the sole, I pick the hardest, nastiest lines with sharp rocks to test out the rock plate, and the amount of wear shows that they did their job very well.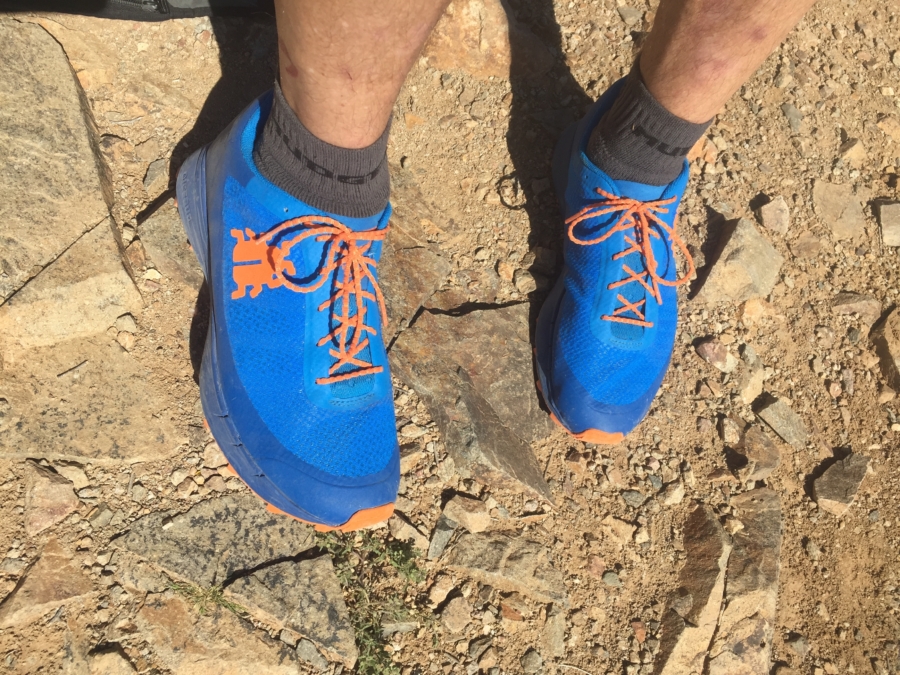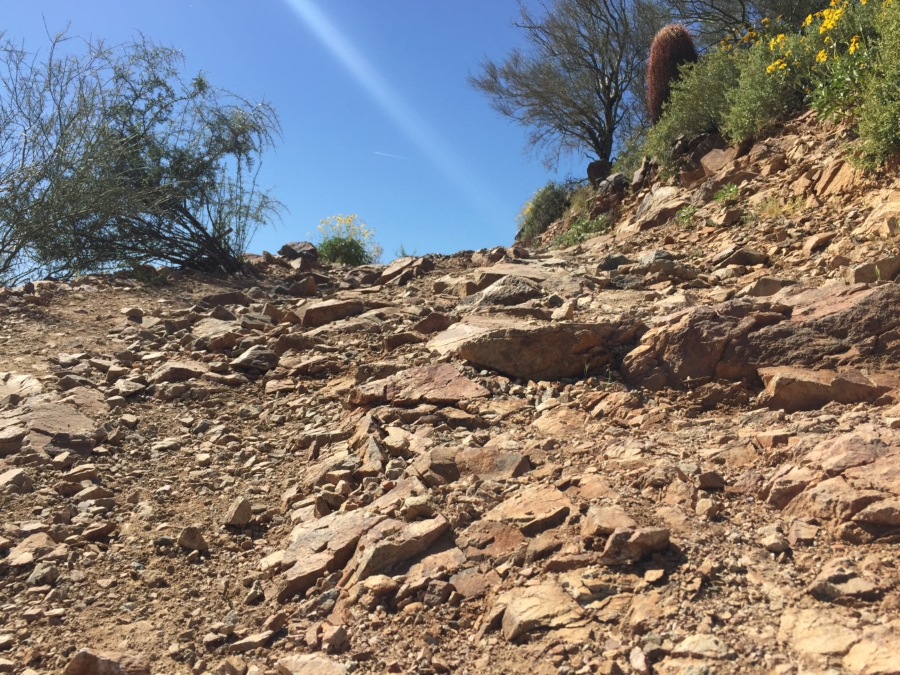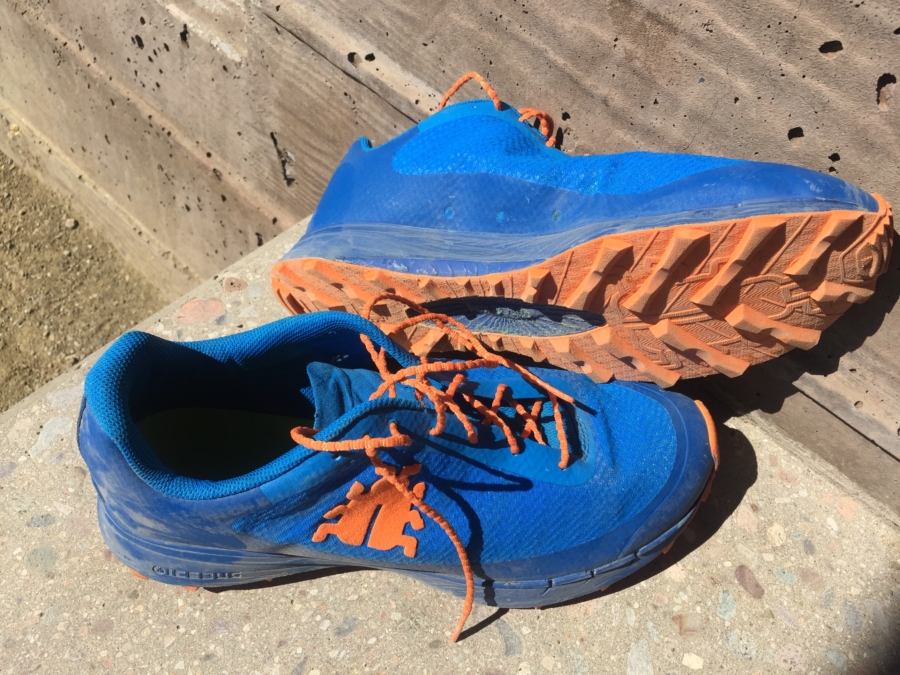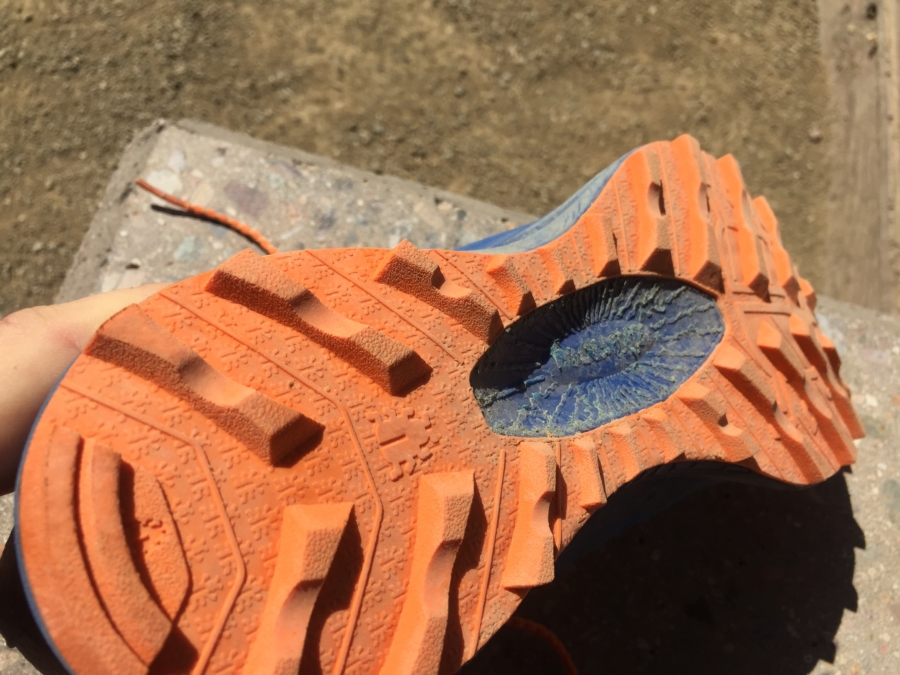 Breathability, Wearability, Durability, Run-ability
With a thin weather-resistant upper, it would be a pretty easy assumption that the shoes don't breathe all that well, but the perforated tongue and small vents in the instep help to allow excess heat and sweat to escape, making for an enjoyable run in even extreme temperatures. Because the upper is so light, air tends to travel around the foot a bit during shoe flexion, also aiding in sweat reduction. The sewn-in tongue is padded and perforated and held in-place by a thin strip of stretchy material, keeping it in the proper placement without a full sockliner to restrict foot movement (or add weight & heat).
The heel cup is semi-soft & pliable, and for me it was really comfortable on my Achilles which is sometimes a real problem spot for shoe fit.
Excellent laces help to keep the Oribi snug around your foot, and the little nubs will even keep your shoe in place on your feet even if your laces do come untied. I ran nearly 2 miles on the road at a very good clip with my right shoe untied and never felt the need to stop. Like the rest of the shoe, they are light and effective.
With the rock plate in the center of your forefoot, you can literally stomp on rocks with relative impunity, and I did over and over as you can see in the photos. The forefoot RB9X and EVA also feels impervious to even the nastiest and sharp rocks, flexing and gripping nicely to soften each footfall while providing unparalleled traction & confidence.
Icebug is known for high-quality materials, so durability should never be an issue; after 2 trail runs and several road 5k's, they still look brand new after a quick wipe down with a wet cloth. The TPU mudgard also adds protection from any abuse the side of your foot gets during rough trails or on obstacles, which only adds to the longevity of your racing shoe investment.
From my experience, the faster you run, the better the Oribi perform, the "torsional stability" may actually be a secret code name for little turbo jets in the forefoot, because they are very responsive at high speeds on the trail or on-road.
MRG's Advice: Don't let this shoe fool you, it is an absolute technological marvel: Light, very responsive, weather-resistant yet breathable, and suitable for hard & fast running in any conditions – on road & off. While not as flexible or neutral as the Acceleritas, the Oribi has just enough cushioning to soften the ride over rough conditions without too much cushion to make you feel disconnected from the trails – or roads. The Oribi is surprisingly nimble on sidewalks and roads as an everyday running or a weekend racer, with the sticky RB9X rubber tread providing plenty of grip on the trails without tripping you up on the roads. Don't sleep on great little features like the laces or breathable tongue, Icebug spent plenty of time in R&D to find the sweet spot for a trial/road runner/racer, and the Oribi absolutely smothers it.
Sizing: For athletes with normal width feet who like their shoes snug, go with your normal size. If your feet tend to swell after 5 or so miles or are a little bit wide, go up 1/2 size.
Price & Availability
Price: $149.95