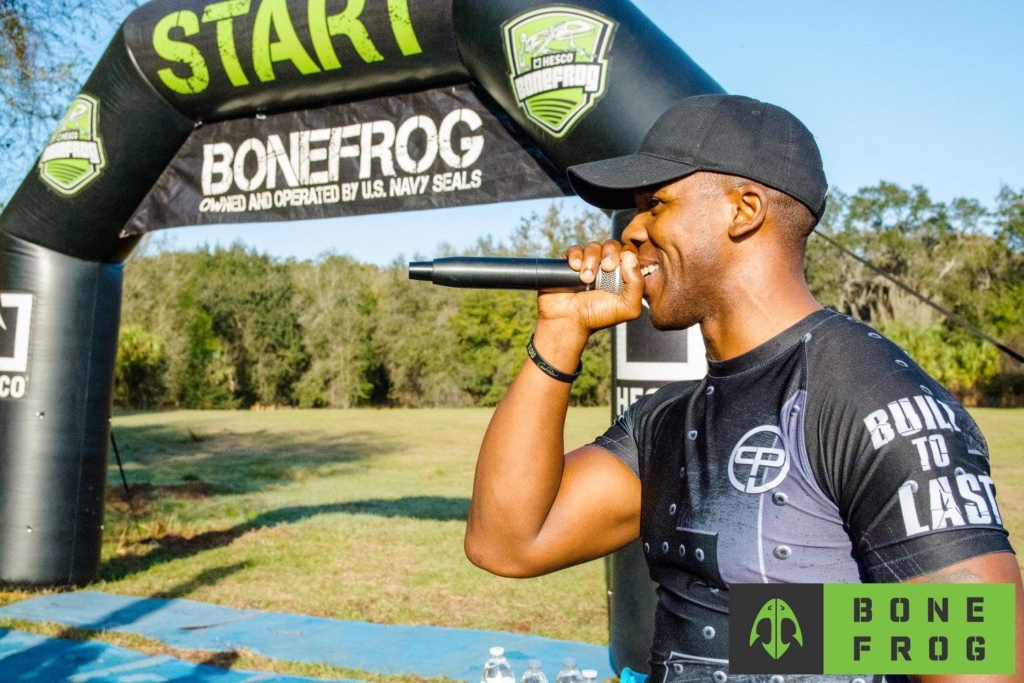 I had high hopes for my second Bonefrog Race ever – both for myself and the Race Series. Having competed in their Florida event in 2016 (albeit a different venue) I was curious to see what changes and improvements Bonefrog had made. The 2016 race was solid but had an issue with participants getting lost on the course due to poor marking (including me twice!) and a lack of volunteers at certain points in the race. As for myself, after a successful 2016, I wanted to see what the results would be of an intense winter training season thanks to YancyCamp. Spoiler alert – major improvements on both fronts!
Running Elite, I was one of the first racers to arrive on a crisp and overcast Saturday morning. Having competed in the Battlefrog Championships at this same location in 2015, Rock Springs Run Reserve just north of Orlando, I was familiar with the venue. Parking was easy with about a ½ mile walk to the festival area. Check-in was a breeze and quickly taken care of. I noticed immediately that volunteers seemed more plentiful and more knowledgeable. There was plenty of space to warm up, get any gear ready, and warm up. All the necessary amenities are there – porta potties, gear check, food for sale, loud music, etc.
About Bonefrog Challenge
For those of you not familiar with Bonefrog, it is owned and operated by Navy Seals so there is a very large military presence and patriotic feel to the day. A huge American flag hangs behind their signature obstacle right at the end (Black Ops – basically, uphill monkey bars), the National Anthem is played before festivities began, and there was a large contingent of young Cadets volunteering their time and many participating in the race. It truly adds a great element to the event and makes it unique from other races I have attended.

The Race
A bit before 8:30 the elite racers for both the Challenge Distance (8+ miles) and the Tier One Distance (11+ miles) headed over to the starting corral. I was running the Challenge course today since I would be doing the same course again later with my 9-year-old daughter.  The sun came out and it truly was a perfect morning for a race. The ever-popular Coach Pain was there to give each wave of racers a rousing motivational speech. And, before we knew it the elite men and women were off to "Conduct our Business"! With less than 100 participants in the Elite wave, it didn't seem that bottlenecks were going to be a problem. But, just in case, I went out pretty fast to avoid any issues.
The course was obviously very flat (as most things are in Florida) however a good majority of the course was on sandy paths which partially made up for the lack of hills. The first portion of the course had the obstacles spread out with a good deal of running in between. That was fine by me…I prefer to get into a zone before hitting the real challenging obstacles. I started out in about 6th place and felt like I had a chance for a Top 5 finish and a spot in the Pro Division at OCR World Championships in October (one of my main goals for 2017).  A few of the early obstacles included low crawls, spider walls, and mouse holes…nothing that was going to give anyone on the course that day too much trouble. The 7th obstacle was a wall that was supposedly 8 foot but seemed higher than most I have seen. I was able to get over it without much trouble but I'm sure that gave a lot of people fits throughout the day. Any higher and I might have been in trouble!
By the time we hit the 10th obstacle, "Walk the Plank" (a balance beam), I had overtaken one competitor and was right on the tail of another. Unfortunately, I picked the shakiest balance beam and fell off about halfway through. I noticed the middle one was solid as a rock and ran across that one quickly…however it cost me enough time to fall back from the two guys I was running with.
Next came the tire drag (fairly light) and then "Get a Grip", a series of hanging handles that need to be traversed across. By this time I was right on the tail of the two guys in front of me again, but they flew through the obstacle like champs and though I got it done, I was much slower. Once again I was playing "catch up". After a decent distance between obstacles we came to the sandbag carry…again very light – the volunteers told me they were 25 pounds but I don't think they were that much honestly. As I was heading out on the carry my competitors were on the way back. I knew I had a lot left in the tank and felt confident about a top 5 finish but knew there was work to be done.
---
Find a Bonefrog Challenge near you. 
Use discount code MRG5 for $5 off your Bone Frog Challenge registration
---
I passed one guy pretty rapidly after the Sandbag carry to move into the coveted 5th place position (at least for me). Now obstacles started to come up on a regular basis…one of the more notable was "Rolling Thunder" which consisted of a series of tires hung on two horizontal poles about chest high you had to jump and get over…it's definitely more challenging than it sounds. If you don't get high enough you roll right back off. "Hells Gate" (a series of 5 walls that you have to climb over ranging from 4 footers to an 8 footer) came up soon enough, as well as "Drunken Monkey" (uneven monkey bars). I was slowly gaining on the 5th place male as we came upon one of my favorite obstacles for a number of reasons, "31 Heroes". This obstacle is pretty straightforward…you must complete 31 burpees while reading off the names of fallen soldiers. Each burpee is in honor of one of these heroes.  I love the patriotism of this obstacle and I can rip through burpees. I left this obstacle solidly in 4th place. I knew a podium spot was not going to happen today as I saw the 3rd place male leaving "31 Heroes" as I was just getting started.
As we headed into the home stretch we still had some challenging obstacles left. "Swingers Club" is a series of tennis ball sized holds that are seemingly covered in tape hanging from ropes….you have to traverse across almost like you would with rings except the holds are WAY more challenging. I got through it pretty quickly and moved onto the Irish Table (a head high plank you have to get over) and the cargo net climb (about 15 feet high). Then a rope swing, rope climb, a weighted hoist and the signature Black Ops monkey bars…I love this obstacle both because it's a cool way to end a race and with the huge flag in the background it makes for an outstanding photo opp.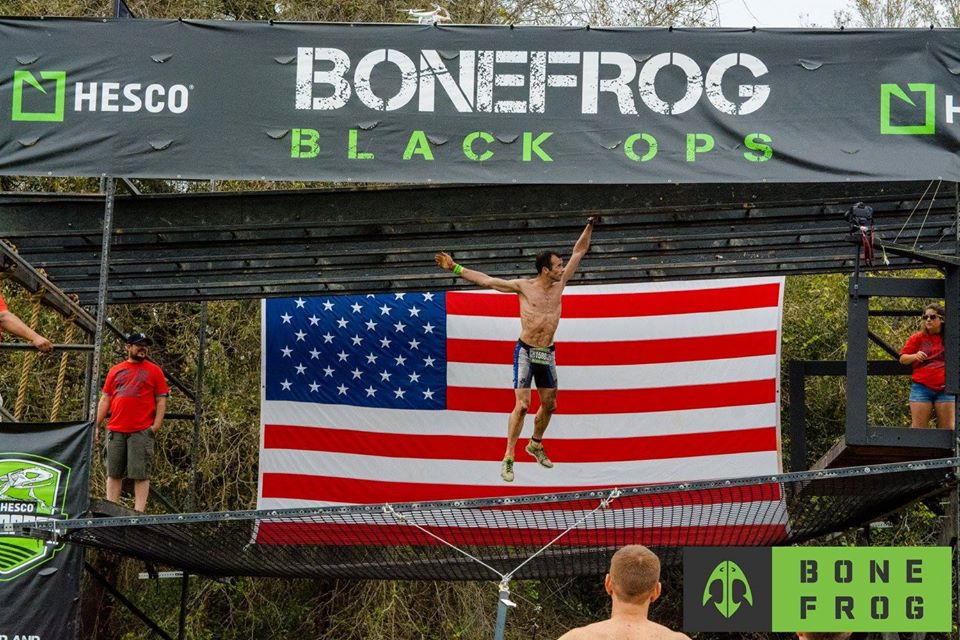 At this point, I thought I had gotten through this race fairly clean but Bonefrog saved the muddiest for last…a low crawl through mud with sprinklers spraying on you. That was fine by me…I was pumped to have taken 4th place and achieve one of my season long goals in race number one for 2017!! Hooyah!!
Overall
Overall, Bonefrog redeemed themselves to me. The course was well marked, plenty of water stations, volunteers at every obstacle, and the course was challenging for the elite yet fun still for the "weekend warrior". When I ran the course a second time with my wife (she took 4th in elite women as well!) and daughter near the end of the day the same level of volunteer support was evident. I would love to see larger crowds for Bonefrog…it is really a fantastic experience that is priced competitively.
The organizers obviously take pride in making it a top notch event. I hope they find their niche within the OCR world for years to come. I would suggest they take some of the more popular ideas from the now defunct Battlefrog Series such as an 8 hour event (as many laps as you can complete), unique signature obstacles, and please add awards for the Master's division. In the end, it's a series that I look forward to doing more of!
---
Have you done a Bonefrog Challenge?  Leave your own Bonefrog Challenge review and feedback…