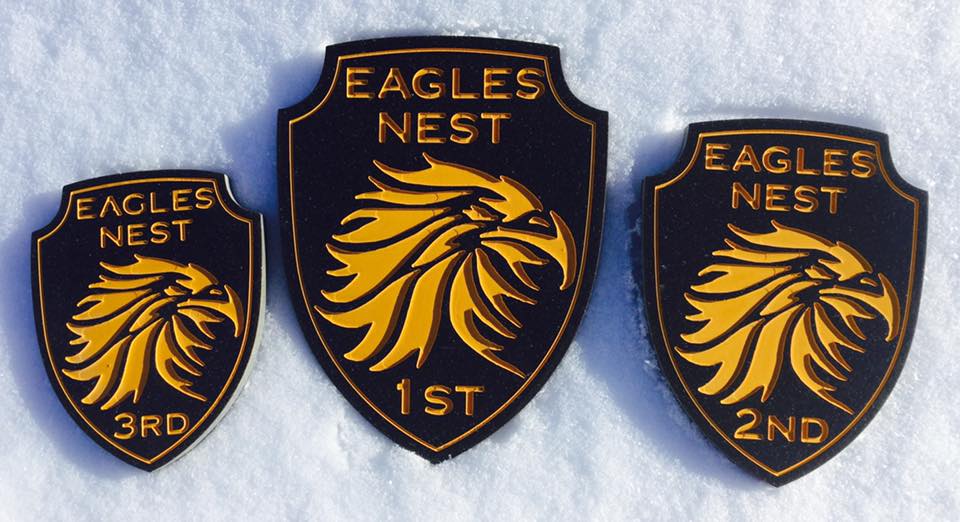 Even though the temperature dipped to a frosty -23 degrees, it did not cool the excitement that was building at the Eagle's Nest racing event -Ragnarok.
This prime location is situated in the heart of Smiths Falls, Ontario and the race offered three separate events; a family heat starting at 4 PM where groups could work their way through the 5-6KM course under sunny skies and receive a beautiful carved stone medal.  At 6 PM the open heat took off under darkening skies and headed out through the winding trails to tackle the various obstacles that awaited them.  Waiting on the sidelines were the Elite heat that was launched at 8 PM and they dashed out to tackle the challenging course in the hopes of capturing one of 20 spots in the OCRWC coming back to Canada this fall.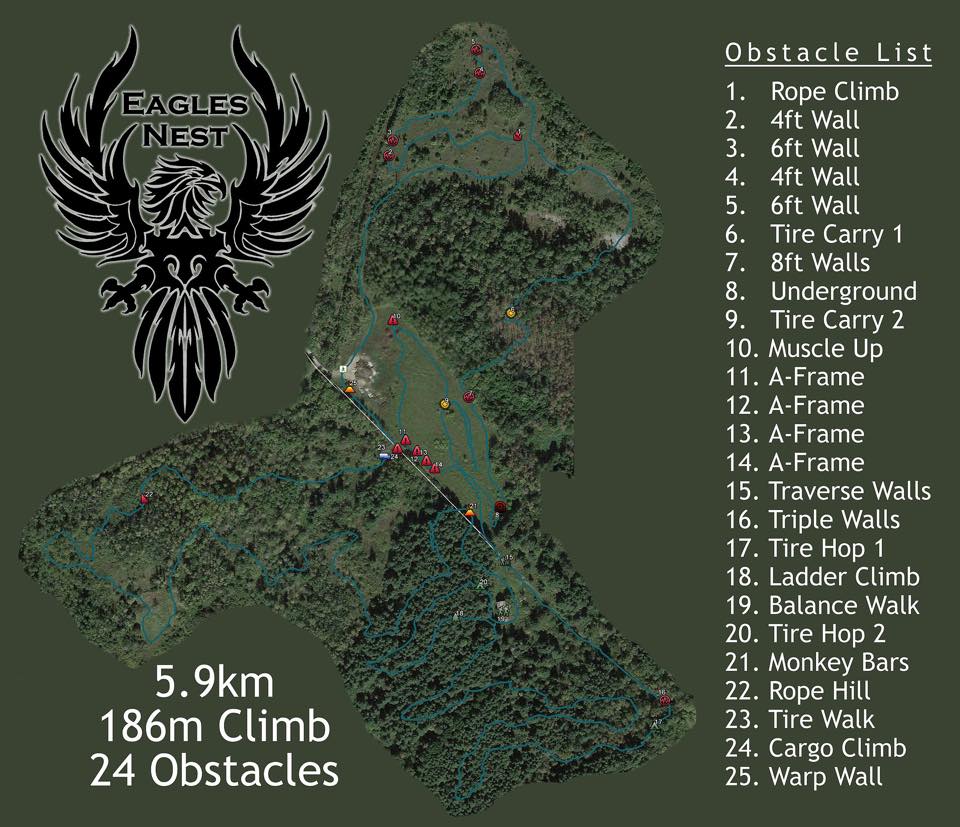 The location is easy to find and convenient for those heading in from Toronto, Montreal and Ottawa.   Parking was cash $10.00 and was close enough for racers to come and go with ease to adapt their outer wear as the barometer continued to dip well into the double digits.  The terrain that had thawed weeks before was frozen solid and added a challenge of slippery surfaces and uneven frozen mud for racers to overcome throughout the winding wooded course design.
Registration online was quick and efficient and race kit pick up provided bibs and racing chips to time participants throughout the course…. headlamps were mandatory and volunteers reminded racers of details leading up to their start time.
Race Details…
The 5.9KM course looped out with some warm up obstacles and then headed into and out of the wooded section.  There were a few sections in the woods that caused a bit of confusion but racers quickly adapted and could complete the course anywhere from 35 minutes to 2 hours depending upon their athletic abilities.  The icy patches added an element of difficulty and it was apparent that those wearing studded footwear had the advantage as there were some slips and falls along the way, slowing down some racers considerably.
IceBug shoes were on site and those that took advantage of the OCRStrong demo fleet opted to purchase them after the event -a wise choice considering our fluctuating weather lately in Canada.
As mentioned before, this was a family friendly for those wanting to test their skills during daylight and an added test of abilities for the competitive bunch who ventured into the dark and cold unaware of what lay ahead.
There was water available along the course, but it is recommended to carry a small supply if you plan to be out there for an extended period.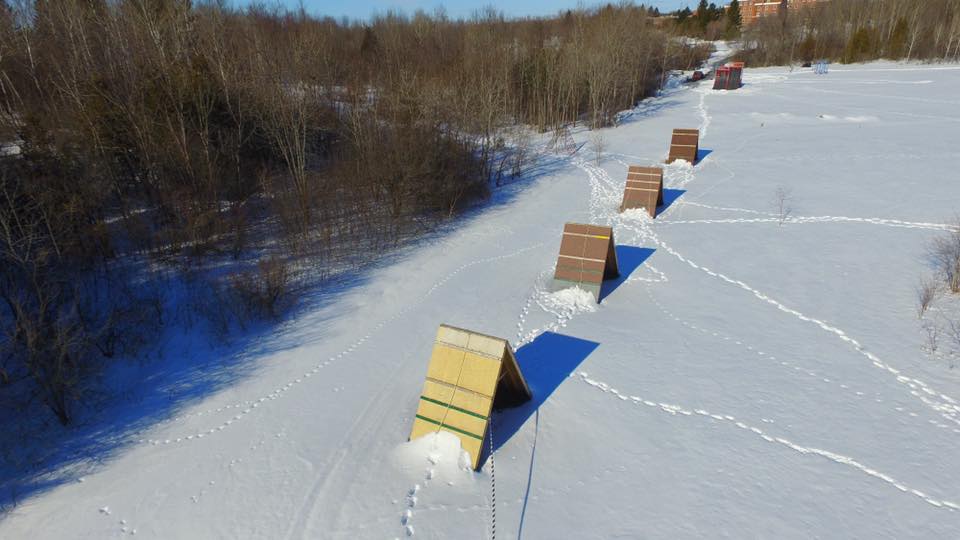 Along the course racers had the opportunity to climb some fantastic walls, some roped, and some with cross beams only and the infamous fire leap at the finish line kept racers warm as they cheered on fellow competitors.
I had the opportunity to interview a few racers after the event and they all felt it was a success and something a bit different.  John Cross (10th Elite) from Guelph, noted that the warped wall was great and that the icy portion was a real challenge as it was right where you launch from.  Susan Rice (20th Open) also from Guelph, said one of the main challenges was being out on the trails in the dark and how mentally you had to dig deep to continue and find that inner voice to keep you calm as directionally it was so dark you had to rely on the trampled trail to return you back to the main obstacle venue.
Racers drove in from various cities including Toronto, Ottawa, Montreal and Kingston. It is good to note that the local Motel (Best Inn Motel) received rave reviews for being clean and fresh for weary travellers to hang their hats overnight and recharge for a reasonable rate ($89.00).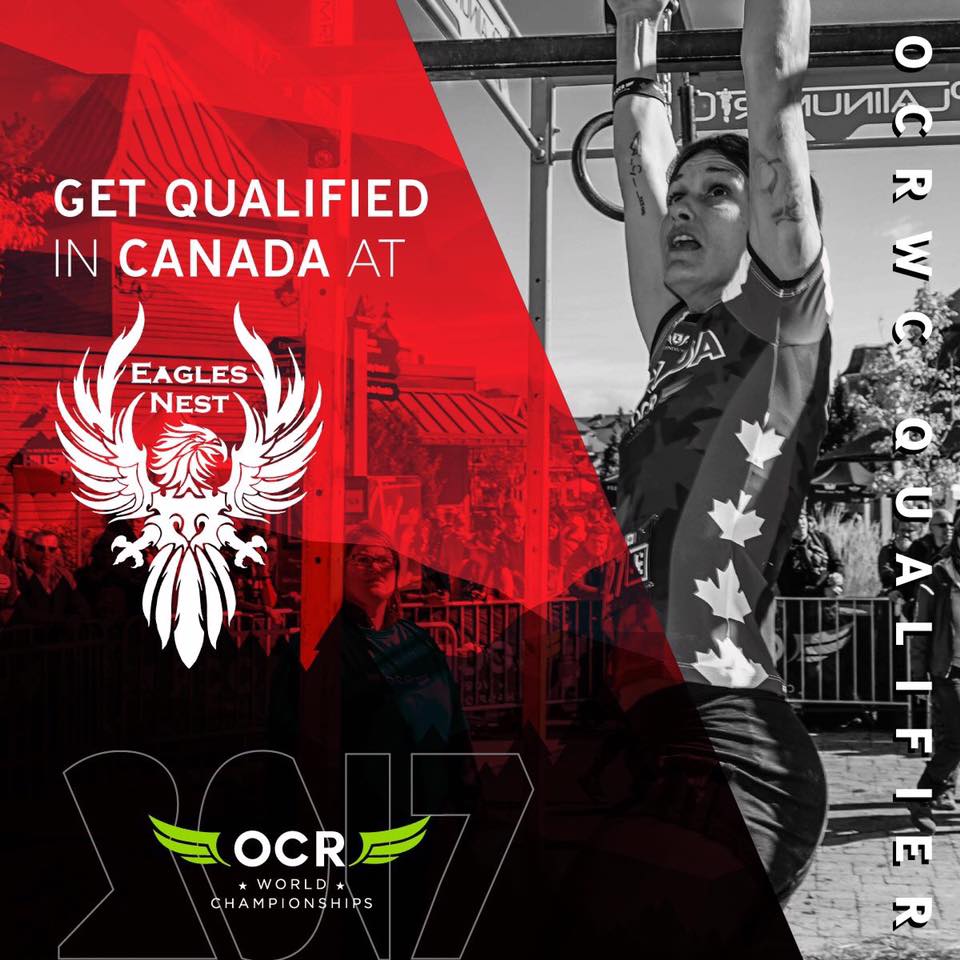 As this was an OCRWC qualifier the rules had been modified so that the open heat racers (Top 5 finish in gender ) had 3 chances to complete an obstacle or they had to do 15 burpees before moving on.  The Elite heat (Top 3 finish in gender) had a more difficult obstacle challenge and a mandatory completion or their bracelet would be removed by volunteers -dropping them to an open heat category.  The rope climb seemed to be one of the toughest challenges along with the 14' warped wall in the frigid temperatures, while some of the Elite's made it look simple with well mastered technique and strength others were determined to overcome it and persisted up to 15+ tries.
The finish line was back near the start line and volunteers awaited racers with their hand-crafted finisher's medal and music motivated everyone throughout the evening.
StrongBars Nutrition sponsored for the second year and its Founder and CEO, Phil Armstrong, did not disappoint, showing business acumen and coming in first place in the open heat with a time of 44 minutes.  A good example of how vendors can also be strong supporters of this ever-evolving sport both personally and professionally.
For food choices, there is always a quick trip to Carp and Seeley's Bay if you don't find anything of interest in Smith's Falls, or one can make a short drive to any of the major cities within an hour or so for those looking for a more diverse selection of goodies.
For race results check out Sportstats.ca:
Open heat: https://www.sportstats.ca/display-results.xhtml?raceid=45007
Elite heat: https://www.sportstats.ca/display-results.xhtml?raceid=44863
Congratulations to the top 20 finalists heading on to the OCRWCs and to all those who made it out and supported this great event, it was brutally cold and added an environmental element that is none too pleasant.
Thanks to all the volunteers and race supporters for braving the weather and to Matt Volk for his continual improvement of this event.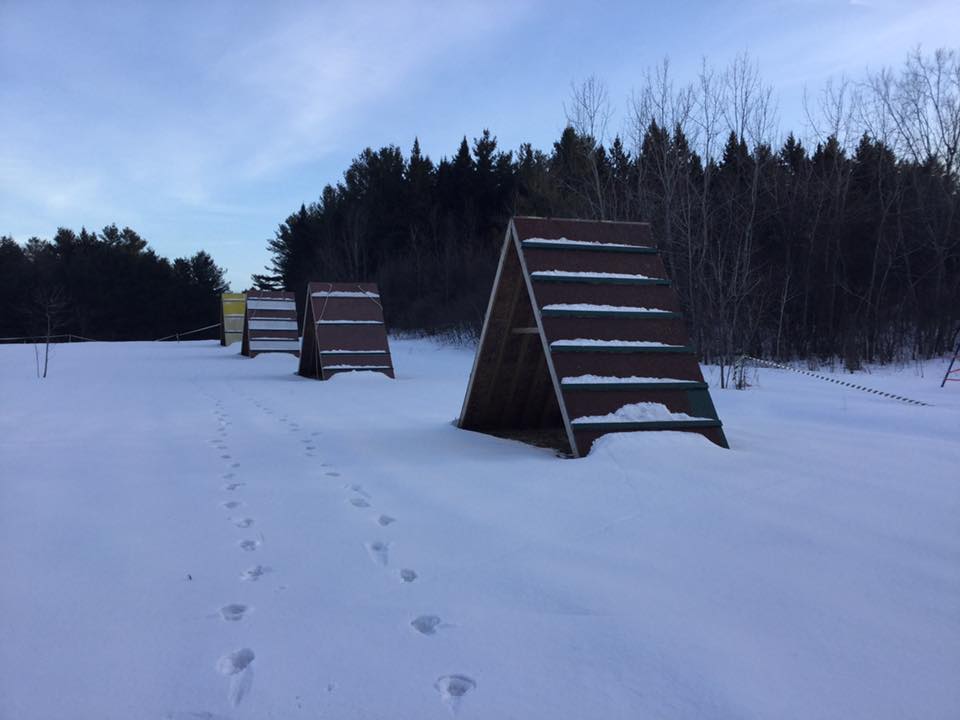 4/5 paws
---