Survival Run Nicaragua begins tomorrow afternoon, held on the island of Ometepe in the middle of Lake Nicaragua. The extreme endurance event enters its 5th year with athletes flocking from around the globe to tackle an event dubbed one of the toughest events on the planet with a 5% – 10% finish rate annually.
This year we will be on hand following the race providing updates throughout the 24-hour event. As we count down the days until the start we are looking at some of the top teams, men, and women to watch from around the world.
Paul Romero
Paul Romero returns to Survival Run for another year. He tied for the win last year with Dylan Morgan. This year he is back to see if he can defend his title. His background is in adventure racing, ultra running and additionally has been a mountain bike competitor. Romero has summited all 7 Summits around the world and did so with his 13-year-old son. He has placed third in the Tahoe 200, a 200-mile ultra marathon. Finally, he has been an elite international adventure racer for years. Look for Romero to be a strong contender at the start line.
---
Shane McKay
Shane McKay returns to Survival Run for another year. This Canadian has won the Hunter Gatherer race put on by Fuego y Agua endurance twice. This Canadian's background is strong and diverse in obstacle racing, ultra distance endurance events, and other various endeavors.
He is a strong runner and racer and returns to the island for another to see if this is the year he will finally get all four pieces of the finisher medal in Nicaragua.
---
David Dietrich
David Dietrich returns to Survival Run after just missing the final time cutoff last year in the team race. Dietrich who also volunteered at this race knows it well and is a fierce competitor. He has a background in running, endurance events, and obstacle racing. Look for Dietrich to come back to Survival Run ready to take home all pieces of the finisher medal this year after a heartbreaking end to his race in the team division. Racing solo this year he has the experience and background to finish the race.
---
Chief Brabon
Chief Brabon first found Fuego y Agua Endurance events when he and his wife Emilie (profiled in women to watch yesterday) won the 50K at the first Hunter Gatherer event. Last year he and Emilie raced Survival Run as a team, this year both decided to run solo. Chief is familiar with the Survival Run format as he and Emilie put on the Survival Run Australia each year.
Chief is an accomplished endurance racer and knows what challenges Survival Run and Ometepe hold. Watch for Chief to go far this year.
---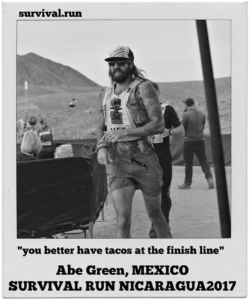 Abe Green
Abe Green heads to Survival Run for the first time this year. A favorite on the international obstacle racing he is ready to take on a new challenge. Abe has finished the Death Race and had competed in other 24-hour races. With a background in events like Death Race and World's Toughest Mudder, he knows how to race the distances.
Green also has recently been living and training in Colorado allowing him to be well acclimated to mountains. This Survival Run rookie is one to watch out for as he could go far in this event.
Survival Run starts tomorrow with packet pickup and registration at 5:00pm. Mud Run Guide will have updates during the event.
---
Fuego y Agua pages (Facebook, Instagram, and Twitter) will have live running coverage during the race and we will have on Facebook updates throughout the race live from in Nicaragua.