Terrain Racing (nee Terrain Mud Run) has been a staple in the southwest OCR scene since 2011, and in 2016 they expanded nationwide, bringing their trademark "Angry Monkey" to more than 2 dozen new markets across the USA, featuring a 5k & 10k distance and obstacles designed to challenge the seasoned OCR athlete while being achievable for the average weekend warrior looking to experience a mud run for the first time. Terrain Racing is also a qualifying event for the OCR World Championships, and founder Jerry Foreman has been a member of the OCRWC build crew since 2015.
Innovations With an Eye on Fun & Challenge
Ever the one to try something new, Jerry was quick to OK the filming of the first-ever OCR Warrior show back in 2014, and even set his course up a day early so we could film on a closed course! Interestingly enough, the inaugural Terrain Relay took place at the same location, Rawhide Western Town and Event Center in Chandler, Arizona.
When developing the concept for Terrain Relay, our own Margaret Schlachter provided some key input from her vast WTM, ultra, and relay experience and Jerry took some inspiration from around OCR – most notably the Team Relay event at the OCR World Championships – to develop an event that would be extremely challenging yet feature the fun of camping out overnight right in the middle of an obstacle course. Oh, and the whole running, lifting, and completing obstacles thing too.
Coming from a triathlon background, I was excited to create events that spoke more to friends and family having fun together. After 5 years of Terrain Races we wanted to find a way for teams to work together – and race together – while experiencing the endurance aspect of racing and Terrain Relay was born. Several different experts in the industry added to this and we can't wait for thousands of athletes to enjoy it. – Jerry Foreman, Founder Terrain Racing
The Format
Teams were comprised of 4 athletes, many were co-ed, most were male, and a few were all female squads. Athlete abilities ranged from seasoned OCR veterans such as Evan Perperis, Stephen "Painted Warrior" Sinek, Miles Keller, Eric Acuna, Daren de Heras, and many more who also have World's Toughest Mudder or Battlefrog Extreme/24 multiple-lap experience. While Terrain Relay was a bit of a different beast requiring a totally unique strategy, familiarity with gear and nutritional needs for a 24-hour race as well as setting up an effective pit area proved to be crucial for the top 10 teams.
Loops & Laps:
Each lap of approximately 5 miles featured three different loops; Technical, Strength, and Speed. Each of those loops needed to be completed in order, and only the final number of loops completed by the time cutoff at 2pm on Sunday, there were no partial miles awarded for any unfinished laps. Each obstacle must be completed within 3 tries or penalty lap/exercise was incurred.
Loop A: Technical
Approximately 1 mile
Monkey Ball Rig
12′ Rope Wall
Cargo Box
Tarzan Swing
24′ A-Frame Cargo Net
Rope Climb
Balance Beam, Cargo Net Traverse, Fireman's Pole
Monkey Bars
While the shortest of the laps, the Technical loop featured 2 obstacles that many athletes failed, Monkey Ball Rig and Tarzan Swing. Fast teams with obstacle-proficient athletes were able to make it through the Technical loop in well under 10 minutes.
Loop B: Strength
1.2 miles
Wreck Bag Carry
Concrete Block Drag
Sandbag Stadium Carry
Tire Sledge
(10) Concrete Block Burpees
Tractor Tire Flip
Yoke Carry
Tractor Tire Staked Drag
Only slightly longer in distance than the Technical loop, the Strength loop was far more taxing on athletes and time-consuming from the numerous lifts and drags, not to mention climbing and descending 12 sets of stadium stairs while carrying a sandbag. Teams were faced with the decision whether to tire out smaller, faster athletes on the Strength loop or have their stronger athletes "specialize" on this loop.
Loop C: Speed
Day 3.2 miles / Night 2.77 miles
Desert Terrain: Rocks, ruts, some water/mud to navigate, and cacti to avoid!
In & Out Dirt Mounds
(2) Culvert Jumps
(2) Steep Climbs & Descents
4′ & 6′ Walls (at top of climbs)
 Trench Crawl
Balance Beam
Double Culvert Jump
4′, 6′ & 8′ Walls
Low Crawl
The longest of all loops, Speed was a blend of all-out trail running with just enough obstacles to remind athletes that this was an OCR. The Terrain team spread the obstacles out enough to allow for faster runners to make up some time, yet be frustrated by having to slow down and complete an obstacle. During the night, the desert terrain was an obstacle in and of itself, with athletes navigating all the natural obstacles on the trails while relying on only their headlamps to light the way. Teams with very fast athletes were able to stretch their lead during the Speed loop, especially during the light of day.
Rules
As this was a small "test market" event limited to under 50 total teams with many familiar faces from all over the southwest, the rules were pretty simple: complete all obstacles within 3 actual tries or complete the penalty and move on. All loops must be completed in A, B, C order, and each team had was responsible for keeping their baton on-track. If a team decided to take a break, they had to leave their baton at the end of the checkpoint they just finished and pick it up later. Only complete laps were counted at the finish line/timing mat of the Speed loop.
Cheating & Integrity in OCR
Due to the layout of the loops and 30-ish obstacles throughout the lap, there were plenty of opportunities to cheat, or cut the course – but this was an event about friends, competition, endurance, and the integrity of the athletes in the OCR community. Like golf, if you decide to cheat, it's on you. Many teams dropped out through the night and morning, and as of this writing, there was no official word of teams being DQ'd for cheating.
 The Pit & Weather
Each team was allowed a 12′ x 12′ area for their tent, gear, food, and up to (4) additional pit crew. Because this was a relay with other team members available, a pit crew was not essential. A few teams were extremely crowded into their allotted space due to multiple small tents, seats, gear, etc. Hot food was available right off the outside grill for purchase until 8pm on Saturday night and starting at 6am on Sunday morning. Shortly after sundown, multiple fire rings were set ablaze between the pit and the Strength loop for athletes to hang out, get warm, and watch the action.
The 40-ish degree swing between the high temperatures and scorching sun during the day and extremely chilly night provided a challenge not uncommon to those familiar with night time running in the desert or extremes found at World's Toughest Mudder. While the desert is known for its heat, even 40 degree temperatures at night can feel below freezing, testing a team's gear preparation.
The big winner is dryrobe though for keeping me warm between laps…seriously the best piece of kit you can buy for a relay. – Evan Perperis, 2nd Place, Team Strength & Speed
While there was not much in the way of mud on the course, failing some of the obstacles resulted in a dunk or a trudge through muddy tunnels as a penalty. There was also an hour or so right before sundown that Jerry pulled a April Fool's joke on the athletes on the course, requiring them to dunk in the monkey bar pool. The overall lack of water allowed many athletes to run day & night in the same base layer, while adding more layers during the night to keep warm.
The Experience
As a late add to team "Chocolate Lasagna" due to an injury, I hadn't had the opportunity to meet two of my teammates Devin Ziegler and Kyle Cook prior to stumbling into pit spot #206 with my wagon of gear. I've known the 4th member of our team, Stephen "The Painted Warrior" Sinek for over 4 years now, yet this was the first time I've had the opportunity to run along with him where he wasn't blindfolded. Here is some of the feedback from my squad:
Kyle Cook: It was a terrifying experience, my previous longest race was a 2.5 hour Spartan Race Super. After a few laps I was wondering how I could possibly make it, but seeing my teammates and other competitors working hard made me want to contribute even more. Even when we were exhausted, the team stepped up and selflessly kept going all night, well outside any comfort zone.

Competitors all around us stayed focused and positive, it was inspiring to see how much everyone kept pushing until the end – we actually recorded some of our fastest laps in the final hours of the event!

I am ecstatic that I signed up for this and am really excited for the next race, it was a great experience with the team. Oh, and oatmeal cream pies were key.
Devin Ziegler: The team aspect was amazing, drawing on each other's energy was huge for keeping the momentum going. Never stopping the forward movement definitely paid off.
Stephen "Painted Warrior" Sinek: I really enjoyed the team aspect as well. Events like these allow you to really create bonds with your teammates and fellow participants beyond a surface level. As we suffer together for a common goal, we become more invested in each other.
Results
Around 40 teams of 4 started the adventure at 2pm on Saturday, and by 2pm Sunday nearly half of the teams were still standing for the awards ceremony. During the night, a few teams packed up and left followed by about a dozen on Sunday from sunrise to mid-day. Most of the top 10 teams kept at it right up until the end jockeying for position. Chocolate Lasagna was proud to move up from 17th position at 1am to finish in 7th place overall.
Final Results: http://terrainracing.com/assets/results/2017-phx-relay.pdf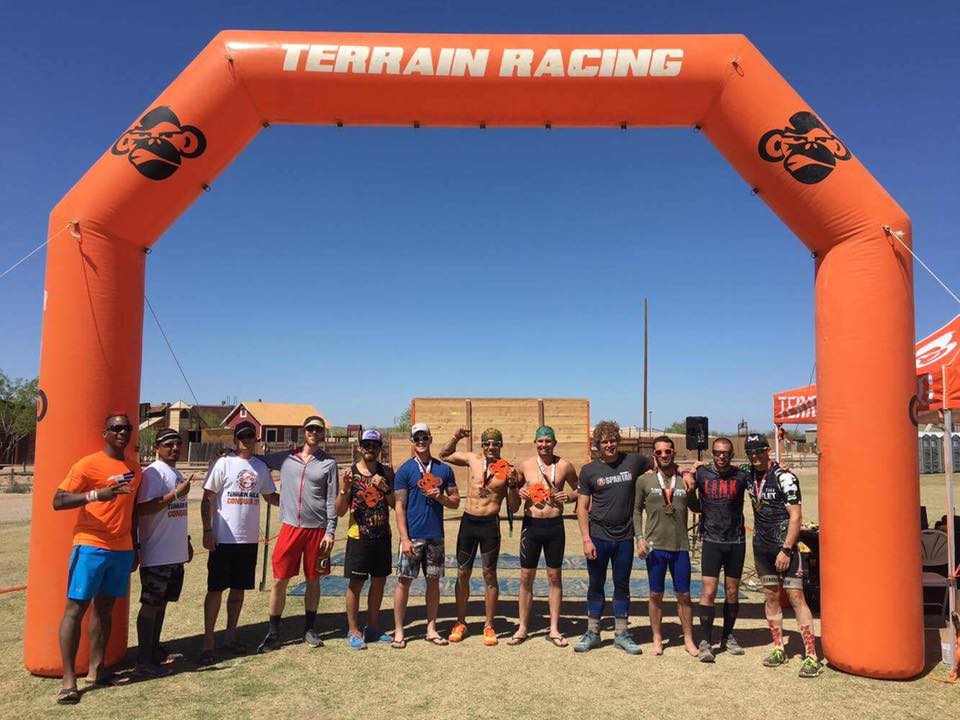 1st Place: The A Team (4 in center) – 26 laps in 22:48:17.4
2nd Place: Team Strength & Speed (4 on right right) – 26 laps in 23:35:03.4
3rd Place: Phoenix Evolution (4 from left) – 22 laps in 23:04:49.1
…
7th place: Chocolate Lasagna (not pictured) – 19 laps in 23:10:41.6
What's Next?
As Jerry pointed out, this was a test event with a max of 40 teams involved so they can figure out logistics for other venues across the country. Stay tuned to Mud Run Guide for updates, and check out terrainrelay.com.
Would I do it again?
Absolutely! I learned some great lessons:
Pack more than one flavor of Pop Tarts
Focus on nutrition; I consumed only about 3600 calories all day, and my TomTom Adventurer watch (below) showed I burned over 4500 additional calories while logging just shy of 36 miles. Stupid miscalculations on my part left me running on empty, luckily Stephen picked up the final 5k run leg!
A dryrobe is the single greatest piece of gear I own, and I'm a horrible wuss when I'm cold, tired, & wet.
Maximize down-time; once a lap is finished, spend as little time on my feet as possible and use every possible minute for rest. I wouldn't have crashed so hard at 2am if I took every chance to rest!
Teamwork makes the dream work. We overheard some other teams in the pits declaring they "wouldn't do this or wouldn't do that" while we made it a point to offer help or fill in when someone needed a break.