I hate the cold. I hate being wet, cold, and miserable. I also hate that I'm a wuss who hates the cold so much, but that's another story for another day.
While a dryrobe can't help you out on the course, it is an invaluable tool before and after events and during multi-lap pit stops. And when I say "invaluable" I mean "OMG how did I ever live without this thing?"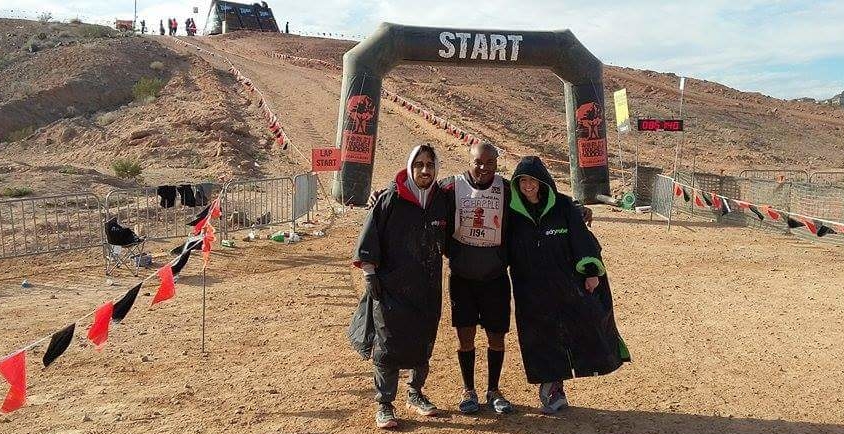 Pros & Cons
Imagine if a weatherproof Cookie Monster gave you a bear hug – that's what slipping a dryrobe over your cold, wet body feels like; the only thing missing is an espresso machine in one of the inside pockets.
Pros:
Warmth from hood to below the knees
Weatherproof protection
Room to zip up & change your clothes underneath
Look like an OCR ninja wearing Obi Wan Kenobi's robe while taking the "hype walk" toward a boxing ring
Intimidate other athletes pre-race by looking like you know what you're doing
You are wearing your own warm, weatherproof sleeping bag
Cons:
Everyone will covet your dryrobe
A Walking Sleeping Bag?
Yes, really.
Since an short sleeve dryrobe advance is an investment starting at $149 US, you may hesitate to wear it in really adverse conditions to keep it clean, but that's exactly the conditions it is made for!
At the 2016 OCR World Championships, I crewed all 3 days at obstacles all over Blue Mountain in mine, and when the sky opened up and poured on Sunday I was one of the only lucky ones warm and dry. So, I figured I knew how effective my dryrobe could be – or at least I thought so. During Terrain Race 24 Hour Relay, Evan Perperis and I were chatting about the event when he offhandedly made a comment that changed my perspective:
During Ragnar Relay, when I was done with my run I'd slip the dryrobe on and just fall asleep right there on the ground; it was the best thing ever.
Duh. I hadn't thought that not only was the dryrobe I was wearing warmer than my sleeping bag, it was also far more weatherproof and way easier to clean, portable, and I could even make the trek to the restroom without having to climb out of it! So, my sleeping bag stayed rolled up, and when I had time to rest, I just slipped on my dryrobe and curled up in a ball right on the ground in my pit area.
Brilliant.
---
---

Dryrobe recently lowered their US prices to $149 for short sleeve and $174 for long sleeve. It's an investment but one that will last your entire OCR career. Earlier this year our Editor-in-Chief, Margaret Schlachter sat down with dryrobe founder Gideon Bright to talk about new innovations for 2017.
It is clear the team at Mud Run Guide loves dryrobe! Probably one of the best OCR investments you can make! Margaret is still using hers she first reviewed in winter 2015.