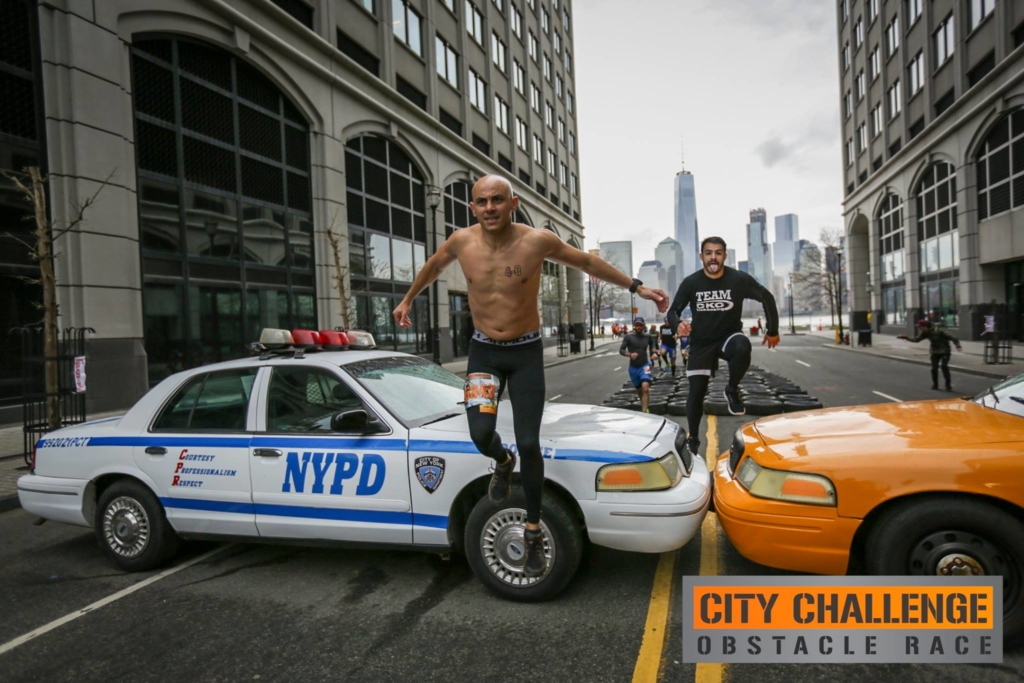 "Think Outside of the Mud" is the motto of City Challenge Race a very different kind of OCR that has been around since 2013. Rather than on mountains or other hilly terrains they are run on pavement in Urban areas. They have two locations in New Jersey, one on Randalls Island in New York City and one in Massachusetts. On Saturday, April 22 I ran the one in Jersey City, New Jersey and I had a blast. Though a fairly small OCR, 1257 runners from 21 states were present and this was the first year it was an OCR World Championship qualifying race Racing along the Hudson River with One World Trade in the background was definitely an experience and the views along the whole course were breathtaking. The festival was set up on a closed city block and there were a few vendors set up. Munkpack was there to hand out samples of their delicious portable oatmeal as were Nesquick handing out protein chocolate milk, Eatprotes with bags of their protein chips and Bear Mattress. It wasn't as big as most festival areas at races and there was no food to purchase but the DJ set up on a stage near the starting line more than made up for it. He was playing fun music all day which kept the vibe lively and helped pump you up for the race.
Waves were sent out every half hour starting at 9 AM with the competitive heat. Obstacles included walls…with little openings on the side to help you get over if you needed it…police barricades and box jumps off of the steps in front of a building. This was the only area where I feel a little improvement could be made. Many people just ran by without even stopping to do their penalty jump squats. Nobody was stopping them. Stopping to do them at times meant waiting for an open spot on the steps but to just run by meant cutting some time off your finish I guess. We were told if we could not jump that we could just do step ups but again many people did not even do these.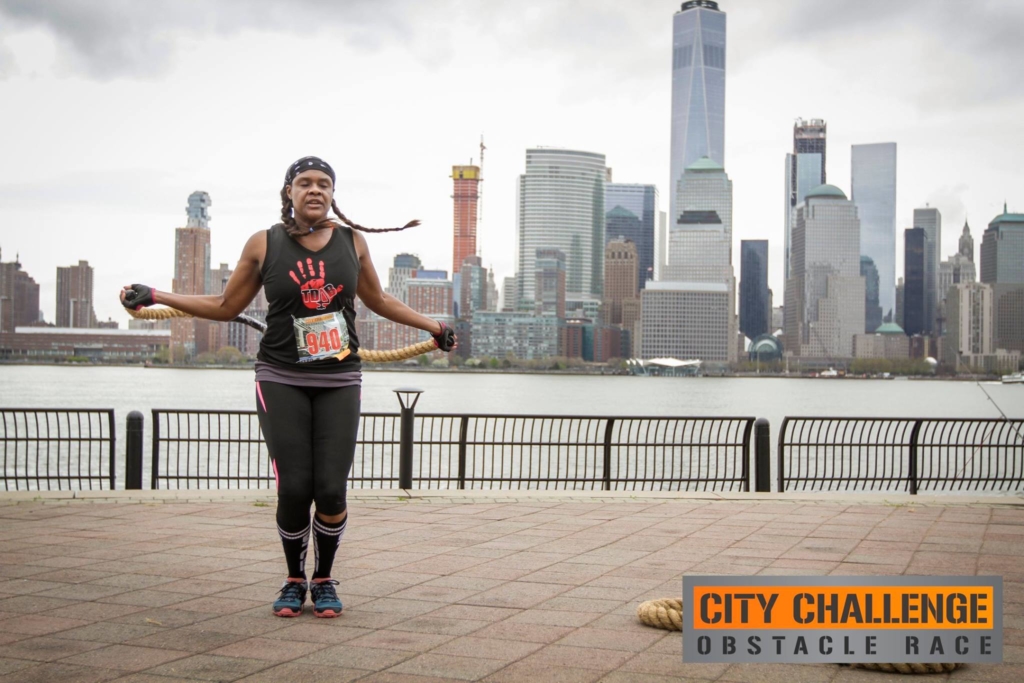 One obstacle that really drives home the fact that this is City race is jumping over the police car and taxi cab that are nose to nose. These were placed at the end of a street with One World Trade right behind which made for amazing pictures!! Cinder block carries, kettlebell swings and a sand bag carry came next. There were different weight kettlebells and
sandbags for the men and women (of course I had to push myself and do the men's ones!) I ran this race last year and there were a few new obstacles added this year. There was an urban balance beam made out of rubber tires and a mini rig. A rope climb and CKO bags to run through rounded out the obstacles.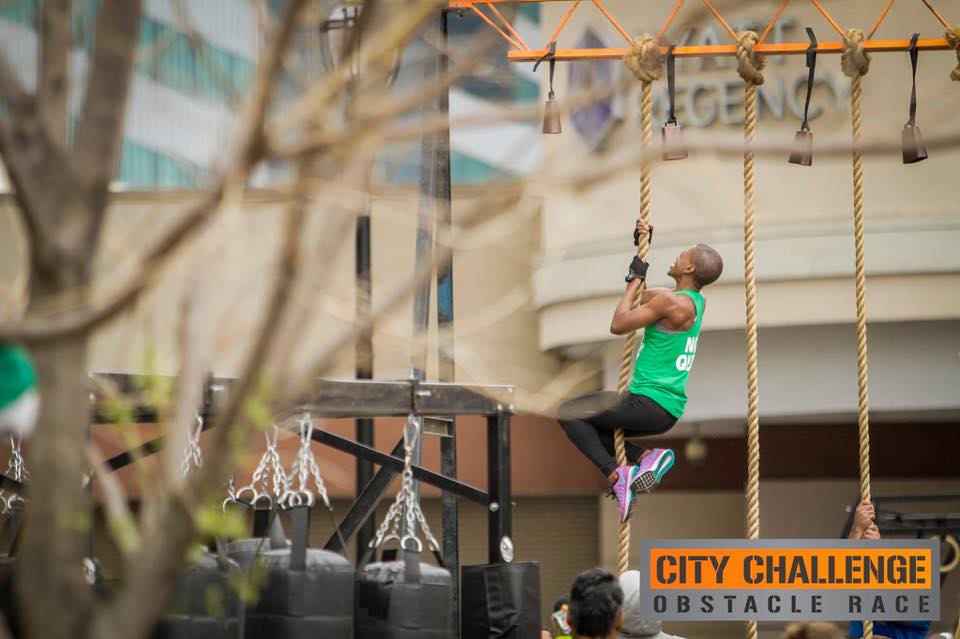 This kind of race is great because it brings out so many different kinds of people. There were parents running with their children, corporations running together and Ultra Marathoners such as Billy Richards who was doing this to warm up for a 50K the next day and then 9 days of events that have him running over 300 miles. I had the pleasure of speaking to him before the race and then running a bit of it alongside him which resulted in my in my favorite picture from a race ever.
---
Use discount code MRG15 for 15% off your City Challenge Obstacle Race registration!
---
Billy runs with an American flag and a 40 lb ruck to honor Veterans, Law Enforcement and First Responders. I was running this race as a warm up for my first ever Spartan Beast I have planned for the week after in Vernon New Jersey. I had so much fun I ended up running two laps. The first was for time and I finished in 43 minutes 19 seconds placing me 68 out of 189 in my age group. I was thrilled with that as it was the best I've ever placed (I am also two months away from being in an older age group so I'm one of the oldest ones!) My second lap I ran with some OCR friends for fun. We stopped along the way to take pictures and really take in the views. We had such a great time!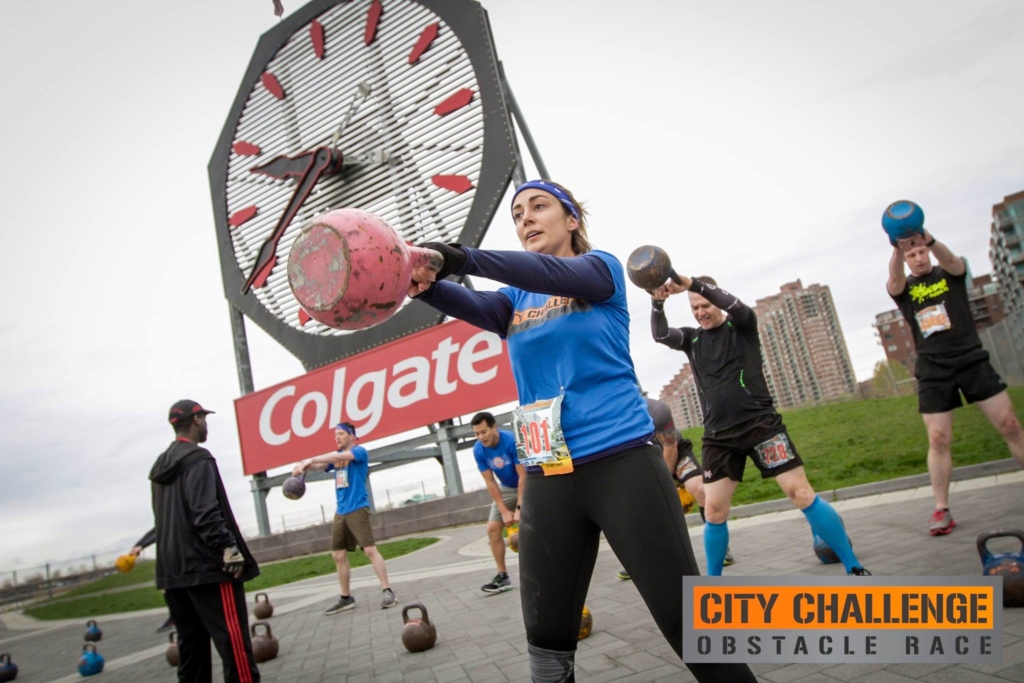 Awards were handed out on the main stage by Mayor Steve Fulop who ran the race at 10 AM. According to race director Elvi Guzman, "Mayor Fulop loves City Challenge Race because it brings so many people together to promote health and fitness." The top Elite male finisher was Frankie Disomma with a time of 21:09 and the top Elite female was Nicole Aleles with a time of 22:36. Something that sets this race apart from others is a special award they give out called the Award of Courage. There were two recipients. Liz Skene of team Bob Ramos who lost her husband 8 years ago and went on to raise two daughters on her own then was diagnosed with breast cancer a year ago. A wonderful mother, daughter, and friend who is now cancer free and always strives to show empathy and see the good in people. The other recipient was Randy Paray with Team Obstacle Athletics. Randy is an amazing stage 4 cancer survivor who now runs multiple OCRs a year including City Challenge, Tough Mudder, and Spartan.