Macon Mud Run has held it's 5th annual event on April 1, 2017, which is a fundraiser for the Hephzibah Children's Home.  They advertise having more than 100 mud pits, and while I can't confirm that number is 100% accurate, I can say it does have the most mud of any race I have ever done.  Here is our quick overview and recap of the race, but first, we have our recap video:
Distances Available:
Two choices.  7K (first two waves of the day only).  Or run the 5K.
Parking:
You have two options for parking.  You can pay $5 and park on campus, where your car will be 100 meters from both the start & finish.  Or, you can take advantage of their free parking just up the street, with free buses running back and forth all day.
Facilities: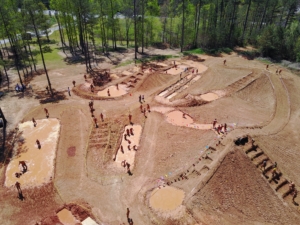 Small permanent bathroom, supplemented by a few porta-potties.  For after the race, they have some PVC shower structure rigged up in the parking lot with 12-20 shower heads with very strong water pressure.  There are changing tents available.
Packet Pickup:
In 2016, packet pickup was chaotic, disorderly, and slow.  They had to delay the start of the first wave because packet pickup was going so slow.   This year went much more efficiently.  It still wasn't the quickest pickup, but it seemed to take no more than 5 minutes most times I looked at the tent.
Bag Check:
Available for free
Major Swag:
Medal & T-Shirt
Festival Area: 
A few vendors, a tent selling burgers & hotdogs, and a few giveaways.  Typical small local race festival.
Attendance:
Not available as of this writing (however, a rough visual estimate of being at least 500 people there, if not more).
Course / Race Review: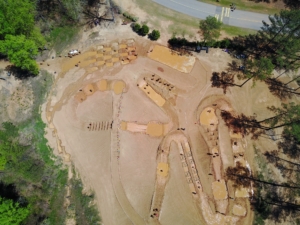 Macon Mud Run hosts their race at the same location every year (the campus of the group they raise funds for).  Comparing GPS from last year to this year, it appears that the majority of the course was the same (the 5K portion seemed to be identical).  However, the extra 2K loop for the 7K racers appears to have taken a slightly different route through the woods.
As mentioned previously, this course is all about the mud.  The start of the race is a mud pit.  The end of the race is a mud pit.  There are two distinct points in the race where you are running a gauntlet of 20 or so mud pits or mud-related obstacles in one short loop (with five hills in the same area it seemed).
Beyond the mud pits, they have a few other obstacles thrown in: some wall climbs, a rope climb, three different balance obstacles, a tire flip, bucket carry, a wall traverse, and a heavy bag carry for the 7K people.  Not to mention the slip & slides, lake crossing(s), and a half-pipe / warped wall (made out of, what else mud!)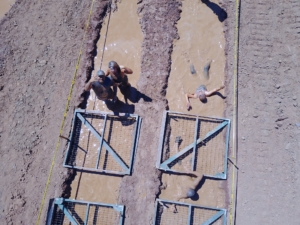 The course is mostly on singletrack trails through the woods, punctuated by a few long inclines & declines that seem suitable for ATVs. The mud pits, creek crossing, lake crossings, and obstacles occur frequently enough that you stop and go most of the race, with the exception of the back half of the course where you take those ATV trails and can get into a slight rhythm.
For a race that advertises itself as being a mud run and brags about the number of mud pits, it lives up to its name.  The few other obstacles it has can be skipped for people who feel the need, and the lake crossing obstacles (and few ravine scrambles) have bypasses for those who can't swim or don't wish to take that route for whatever reason.  This seems like it would be a great race to bring a friend to who was curious about mud racing/obstacle course racing (and doesn't mind getting a little muddy).  If you're looking for a seriously challenging test of your obstacle course racing skills and upper body strength, then this is NOT the race for you.  But don't hold that against the Macon Mud Run, because that's not what they advertise themselves as being!
Bottom Line:

 
Macon Mud Run is an excellent, family-friendly fun mud run suited for every skill level and age.  
---
Macon Mud Run's next event has been announced for March 24, 2018.  Make sure to check our listing for them to find a discount code to save on your entry.
---