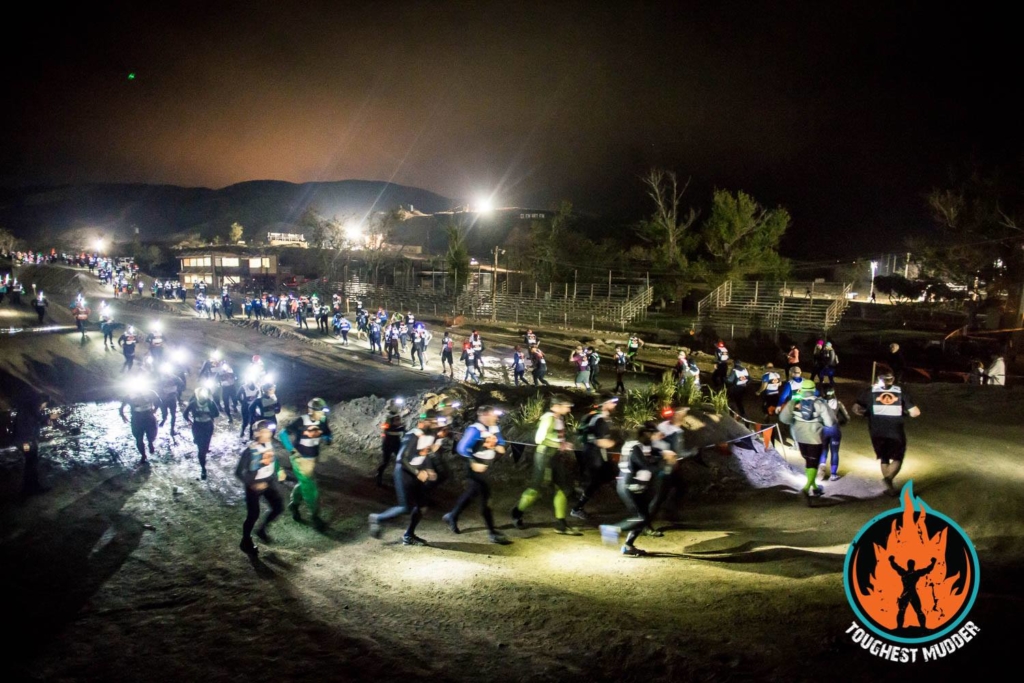 This year Tough Mudder has introduced a new race series called "Toughest" Mudder. These are meant to be mini-World's Toughest Mudders and can bridge the gap between 10-mile Tough Mudder's and the 24-hour World's Toughest Mudder (WTM). As someone whose second Tough Mudder was WTM 2012, this gap is quite large. Mud Run Guide has covered what Toughest Mudders are in detail, but as a short introduction: they're competitive 8-hour events where you complete as many laps as possible of 5-mile loops. Oh, and they take place between midnight and 8am between the Saturday and Sunday of a Tough Mudder weekend. Your performance at Toughest Mudders can give you special perks at WTM including eligibility for cash and bonus prizing.
The purpose of this recap is many fold: to share insight into this new event type for future competitors, to let people considering this event-type know what they're getting into and what it feels like to do these types of crazy events. For detailed tips and tricks about each obstacle and a detailed run down, go to the bottom. I'll use bolded headings so you can skip down to sections that you care about. This race recap is purposefully detailed and, consequentially, long.
Because you'll ask: I completed 40 miles (8 loops) with roughly 3 minutes to spare before the cutoff time. This earned me 10th place among a particularly star-studded field including Ryan Atkins, Chad Trammell, and Lindsay Webster.

Pre-Race
The venue re-opened to participants, pit crew (people that help participants), spectators and volunteers at 9:30pm. We arrived at roughly 9:00pm, and there already was a moderate line of cars on the side of the road to get into the venue. They opened the gates at 9:25pm and parked us so that we had access to our trunks. We formed a line in front of registration and started they let us go in around 10pm. Registration was the same as any other Tough Mudder: you need your photo ID, a QR code of your registration, and a waiver. They scan your QR code and associate it with a Toughest Bib and a wrist timing chip.
You're then allowed to go find your 2ft by 4ft pit spot on a table to store your stuff. (You can use the table, as well as the space below the table.) They did this using the bag check and TMHQ tent from the weekend's venue. During the daytime, the bag check is a secure location so there is only one entrance and exit. This made for chaos as 350-400 participants and their pit crew filed in and out of this single entrance with their stuff. As one of the first people in line, we had prime selection for pit spots and got a few together because we shared two pit crew between multiple racers. After organizing our stuff, briefing the pit crew, using the facilities and getting our gear on, it was already 11pm. We needed to go to the start line at 11:15pm for the midnight start. I highly advise briefing crew and doing whatever organizational things you can prior to arrival to ensure a calm pre-race experience.
People who started lining up their cars at 9:30pm or later faced a significant delay getting into the venue. Some were bringing their stuff into the venue at 11pm. There weren't enough pit spots for all the participants, so some opted to use the tables open to the air outside the tents. If you intend on sharing pit crew or participating as part of a team, I highly advise getting at least some of your team on-site super early to reserve a spot.
My starting gear: Black Diamond Storm Headlamp, Flashing Safety Strobe, Toughest Mudder Bib, Athletes vs Epilepsy Tech shirt, Garmin 310XT with a red wristband to protect the face, no-frills Columbia Windbreaker, fingerless gloves, compression underwear, Frog-skins bottoms (Moxiegear), calf compression, red tights, Injinji ankle high trail socks, and Hoka Challengers. As you'll see below, I regretted the windbreaker. During the sprint lap, I regretted the Frog-skins but later found them invaluable. For me, a wetsuit would have caused overheating. Ryan Atkins didn't wear a shirt the whole race, but he's Canadian and potentially superhuman.
Start Line Experience
You may wonder why we needed to line up at 11:15pm if we didn't start the actual race until midnight. Firstly, getting hundreds of people in one place by a certain time is like herding cats: you need ample time. Secondly, TMHQ needed to impart race rules and regulations so there was no confusion. Thirdly, we can't do a high-profile Tough Mudder event without our favorite mirror man, Sean Corvelle, and the high-energy antics of Coach & E-Rock. Lastly, the Toughest Mudders are televised on CBS so we need photo and video opportunities.
If you've ever been to a Tough Mudder, you know that Sean Corville is one of the best motivation men in the business, if not the best. He'll get you fired up, inspired by camaraderie and the feats of the community. If you haven't been to a Tough Mudder with Sean Corville, you should put it on your bucket list. He and the others at TMHQ did not disappoint. We left the starting corral at precisely midnight.
Since hundreds of people start at once, you could imagine that the lines at the first obstacles would be ridiculous, so all Toughest Mudders and WTMs begin with a "Sprint Hour" during which obstacles are closed. From a mudder's perspective, you should see this as "free miles!" TMHQ incentivizes this perspective by giving the first male and female mudder a green Sprint Lap Champion bib and free entry into a single Tough Mudder. At Toughest Mudder, they used a "rolling obstacle open" where certain obstacles would open at predefined but secret times. All obstacles were open by 1am, but certain obstacles like Kiss-of-Mud at mile 4 were open for almost all competitors whereas others like Blockness Monster at mile 2 opened at 12:30am. Therefore, there was extra incentive to take advantage of the free miles. However, as a student of endurance racing, you may know that for every 1s too fast you start, you lose at least 3s to your final mile.
At Toughest Mudder West, we had an additional Sprint Hour-ish starting at 3:45am. This was because all laps that started from midnight to 3:45am were on course A, and all subsequent laps were on course B. TMHQ was short volunteers, so medics and volunteers were moved from course A to course B at 3:45am. Depending on that transition, there was a period where course B was obstacle-free. After 3:45am, course A was obstacle-free for any participants still working on a course A lap.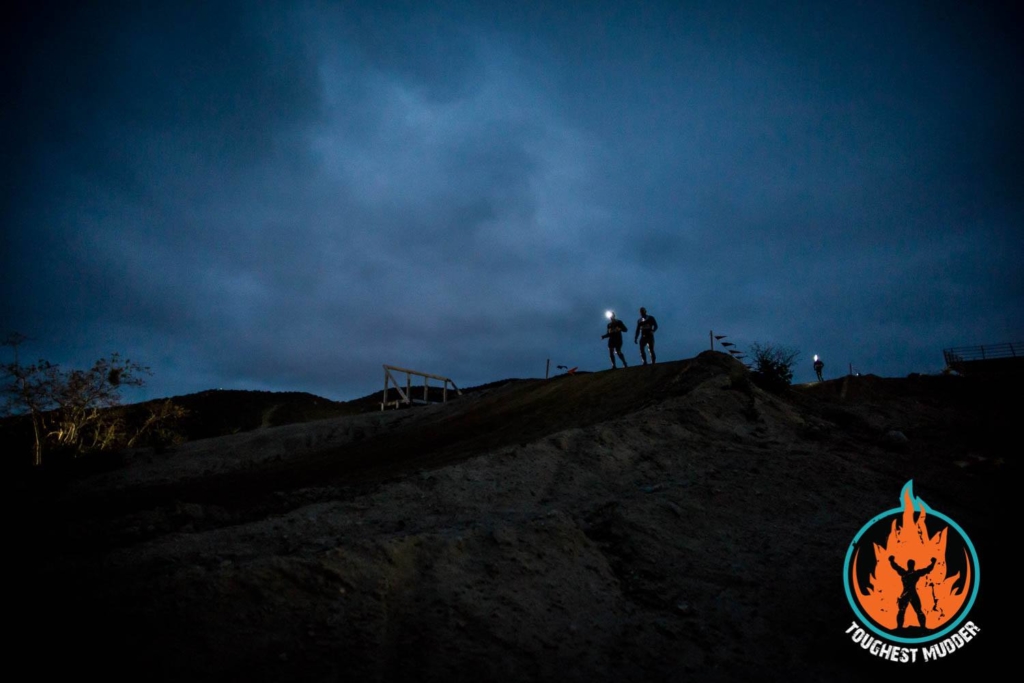 Course A: Midnight to 3:45am
The Easy Course
The basics: each lap of this counted as 5 Toughest Mudder miles. My Garmin 310XT watch clocked it as 4.8mi and around 400ft of gain without penalties or pit area. This corresponded almost exactly to the daytime Tough Mudder Half and included all the staple obstacles of the half and none of the special full-only obstacles.
This course was built for a super-fast sprint lap completed by Ryan Woods in 34:42 (7:09 min/mile). As the WTM15 sprint-lap champion, this was fast even for me. I chose to pace myself for an 8 hour event and instead completed the first lap in 44:06 (9:05 min/mi). I was around 30th after this casual lap. The terrain primarily consisted of rolling hills on dirt bike courses with one singular big hill to break up the monotony. The dirt bike trails were quite pristine except for some mud and water pits. The trails going off these tracks were technical in that they had uneven terrain, lots of rocks, and the downhills were too steep to run comfortably without fearing a broken ankle or going so fast that a trip would launch you an unsafe distance onto your face with an impressive amount of force. The only obstacle open for me during the sprint lap was Kiss-of-Mud which requires a single volunteer and no medical staff. After the sprint lap, every obstacle was open for me.
The question that I was asked by the most people prior to the event was wetsuit or no wetsuit. Wetsuits are famously required for successful completion of WTM. If Toughest is a miniWTM then does it also require wetsuits? The ambient temperature started at 57F, which is chilly for a Californian, but comfortable for a superhuman Canadian or Alaskan. Many people started in full wetsuits. Within a few hundred meters, I heard people complaining about overheating desperately. As a native Californian that cold-trains for sandstorms at WTM in Las Vegas in November, I felt the same way in my pseudo-wetsuit bottoms and windbreaker top, so I quickly stripped my windbreaker off and carried it. I was still sweating bullets. Every person around me in a wetsuit had done similarly by opening the zipper of their suit and letting it hang around their waist. After the event and as I lapped people, I heard that people who weren't running as fast found the wetsuits helpful and necessary.
After the sprint lap, I was overheated and didn't know that all obstacles would be open, so I chugged a little Tailwind for 10 seconds and grabbed a granola bar to try to make the most of the obstacle-free time. I munched on the bar as I made it through the first few obstacles near Lindsay Webster, who is super friendly during races! I settled into a nice comfortable pace that didn't tax my legs much on the flats. However, in lap 2 I started getting a painful twinge in my left hip flexor when I power walked up inclines. This was irritating and messed with my power walking form, but wasn't too detrimental because it didn't affect the flats or downhills.
In true ultramarathon form, I refuse to run on any appreciable inclines so I power walk. If the incline is steep, it takes more effort to lift both feet off the ground (the definition of running), so it's more energy efficient to power walk. I've been told by reputable sources (Melissa "Sharkbait" Dugan) that my power walk is as fast as a slow jog for some. That comes from practice. If you want to work on this, I suggest spending some quality time below 75% of your max heart rate (220-age in years) powerwalking on a treadmill set to 15% incline. By quality time, I mean 60-90 minutes.
This technique allowed me to chip away at the next few laps in 52-58 minutes per lap, which was on pace to give a little time buffer to hit 40 miles. To hit 40 miles in precisely 8 hours, you needed an average 1-hour laps including the sprint lap and not including a 30 minute time buffer after 8am. I found myself at 2:35am feeling moderately under the weather (I had a nasty head cold and cough). I knew that the course B included a huge amount of incline, so I pushed myself a little to make sure that I started a lap before the 3:45am cutoff that would push me onto course B. Anyone that missed that cutoff would have to run super-fast on crazy hills compared to my easy mostly flat miles. Speaking of super fast, Ryan Woods lapped me in the end of this lap going at a crazy clip. He had won the sprint lap earlier and was absolutely crushing it. I finished lap 4 at around 3:30am, and had a nice mostly obstacle extra lap on course A. During that lap, Lindsay Webster caught up to me and passed me again. We were running neck and neck for a decent amount of time. As Chad Trammell and another elite person caught up to lap up before Devil's Beard, she sped up a little and I relaxed my pace. Ryan Atkins lapped me near the end of the lap close to the modified Berlin Walls. He was looking strong and was happy that Lindsay was doing so well. As I finished that lap, I dreaded course B. In 5 loops of course A, my Garmin read 2100ft of total gain. I knew that course B had at least 1500ft of technical climbs per lap. That would slow me down more than any obstacle could.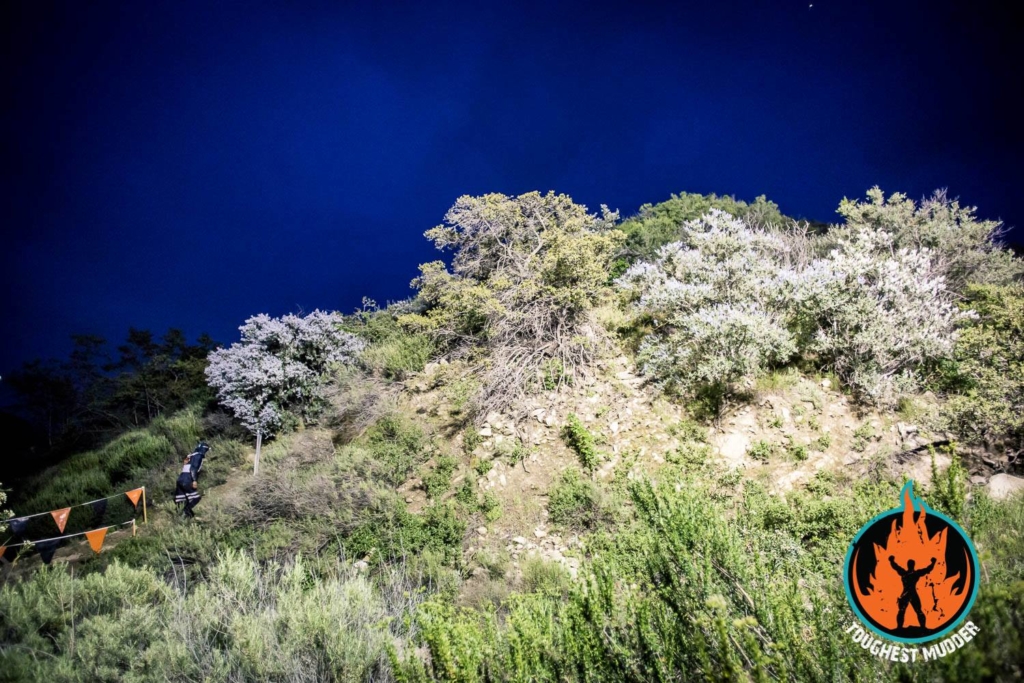 Course B: 3:45am to 8:30am
The Ridiculously Hard Course
The basics: each lap of this counted as 5 Toughest Mudder miles. My Garmin 310XT watch clocked the it as 5.3mi including two roughly 0.1 mi penalties and it had around 1,500ft of gain without including the pit area. This included the main full-Tough Mudder signature obstacles like a modified King-of-the-Swingers, Funky Monkey the Revolution, Arctic Enema, Kong, and, of-course, Electroshock Therapy. It also included signature Toughest Obstacles like Stage 5-Clinger and a "mystery" obstacle: Operation. Those of us who have done WTM in 2015 or 2016 either love or hate the electrical obstacle called Operation. Personally, I am bad at it, so I dread it. I try to avoid expressing emotions like love or hate towards inanimate objects. I prefer to direct that love and hate towards course designers.
As I started my first lap around 4:30am, I made sure to encourage every fellow Mudder that I passed. This made me feel better about being entirely exhausted. My motivation was fading, but by seeing other people out there going through the same thing, I felt empowered to keep on moving. As I got to Operation, I saw Miguel Medina fail and go to the penalty. That meant that I was close to him! I hadn't noticed when I passed any of the 30+ people that finished the first lap ahead of me other than the very friendly Lindsay Webster, so this showed me that my continued persistence was paying off! I was catching up to someone!
I pushed the pace a little and finally caught up to him in Birth Canal. We ran together for a while and talked about trying to hit 40 miles. Prior to that lap of the ridiculous course, we had built up a good hour-long buffer to spend climbing these hills. It'd be a long, hard effort to do, but together we were going to try to make it. If I hadn't talked to him, I probably would have settled for slowing down a tad and hitting 35 miles. Instead, we were going to push the pace. As we ended the lap, my skill on Kong and short pit stop put me ahead, but his success and my failure on KOTS put me behind. That first lap was in 1:20. To complete 40 miles, we needed to run 2 ridiculous laps in 1:17. We both shifted up a gear and gave no excuse to slow down. I caught up to him again right around Balls to the Wall, so we got to enjoy the technical climb of Cliffhanger together. Again, my skill on Funky Monkey and Kong launched me slightly ahead going into the pit stop. Lap time: 1:12. We had done it. The only thing I did to pit was give my headlamp to my pit crew. I didn't even slow down. I was on a mission: to do it again.
Miguel caught up to me soon after Death March and we ran together with Blair, who was one lap behind us. We all knew that we needed to push the pace to finish. When we were 3 miles out, we saw that we had 1 hour left. To us, that meant success. We could do 20 minute miles. At this point, my fatigue started catching up to me. I started lagging behind Blair and Miguel after the inclines more, and I caught up less on the declines. I passed them both on Reach Around simply by doing the obstacle super fast: my technique was solid and efficient. The sand bag carry for operation slowed me down as I walked it and they jogged it. My body just didn't want to keep up the high effort, so I watched them go off into the distance. As they were getting father and farther away, I sometimes mustered the energy to go quicker, but it didn't last. I could power walk to victory, but I had no chance in keeping up with them.
My watch's battery died about 2 miles into the final lap, so I kept on asking the time to anyone I passed. I was worried that I couldn't maintain 20 minute miles through the crazy hills. I kept getting accurate answers as to time, but no one told me a correct distance. One volunteer at Balls to the Wall told me I had 33 minutes to go 1.5-2 miles. In my head, there's a huge difference between 1.5 and 2 miles at that point in the race, so I just had to keep on trudging till I finally reached the peak of the mountain and it was all downhill from there. When I came around the corner to see Funky Monkey, I heard Sean Corville announce that there were 10 minutes left. I thought: "I can totally do Funky Monkey, Kong and 400m of power-walking in 10 minutes!" So I walked confidently through the obstacles and took them in stride.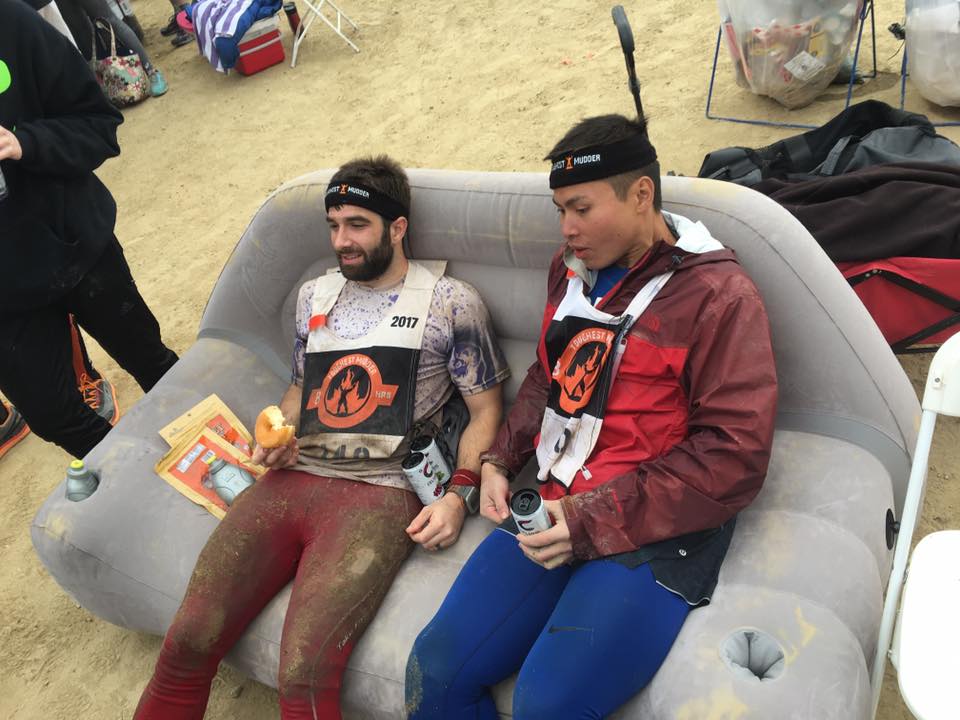 Post-Race
As I crossed the final timing mat, I dropped down to my knees then lied face down in the ground. I had worked harder for those 40 miles than I had for any race in a very long time. I had pushed myself to the point where I could barely move further. I stayed in the dirt face down for at least 5 minutes. At some point, I turned around to lie on my back and talk to people. After at least another 5 minutes, well after the time cap had passed, I was able to stand and waddle over to the finishing ceremony.
Concurrently with my final effort, Ryan Atkins and Chad Trammell were out trying to finish their 10th lap to get them 50 miles! Chad started the lap first, so Ryan was desperately trying to catch up to him. I saw Ryan blow by as Miguel and Blair were fading into the distance in front of me, but I never saw Chad. In the end, both had finished 50 brutal miles! That probably included 6 laps of the flatter course and 4 laps of the brutal course. Lindsay ended up winning it all for the women with 35 miles. Given that she was ahead of me going into the second course, she probably didn't make the insane push for 40 miles that Miguel and I did.
Initially, I had planning to complete a Sunday Funday lap of the normal Tough Mudder course, but I knew that my body was spent. I needed to go home and sleep for the day to recover. Many other veteran WTM athletes felt the same way: they had planned on Sunday Funday but Toughest Mudder had taxed them so hard that they knew the extra lap in the morning would not be a good idea.
The overarching conclusion was that Toughest Mudder felt harder for most than WTM. Perhaps this was because the hills were ridiculous on course B and the obstacles were mildly harder, presenting new and difficult challenges. Perhaps it was that we're early in the racing season so our bodies are not trained enough to handle these huge stresses. In the ever-changing realm of obstacle racing, it seems like Tough Mudder is constantly trying to modify what they do and how they do it so that participants always feel like they're needing to adapt to new changes. I expect that almost every Toughest will present a unique challenge that will define the event. In San Bernadino, the hills dominated. The next Toughest is April 29th in Atlanta, which surely will not have the elevation that we saw here.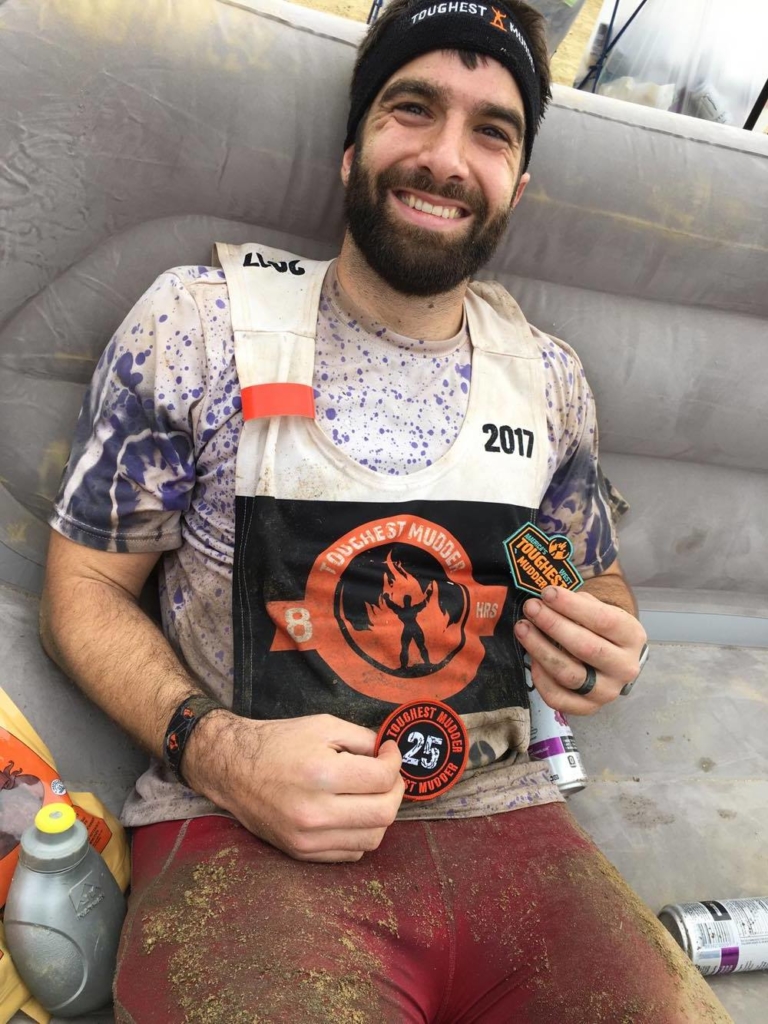 ---
Things I learned from Toughest Mudder
This is a quick list of overarching new or important lessons that I learned from this event:
Never give up till the timer stops. This attitude allowed Ryan Atkins to win with 50 miles, even though Chad Trammell was ahead going into the final lap. It also allowed me and Miguel Medina to hit 40 miles despite being exhausted.
When in need of personal motivation, providing encouragement to your fellow mudder can motivate you to continue pushing as hard as you can.
Wetsuits are not required for Toughest Mudder. Corollary: no matter what the weather in Lake Las Vegas is projected to be, wetsuits are required for WTM.
Toughest Mudders will want to be able to do toes-to-bar all day long. Completing part or all of that motion was critical to Skidmarked, Top-shelf Berlin Walls, Reach Around/Stage-5 Clinger, and King-of-the-Swinger's Hanging-Tough.
Toughest Mudders will want to be comfortable hanging by their hands while swinging from wet bars, rings, and ropes. You should expect to navigate multiple transitions between different objects while swinging. You probably don't need to fling yourself from one object and grab onto another object but if you're a super gymnast that can do that confidently, it could simplify your Toughest Mudder life.
Frogskin bottoms can include an elastic around the ankle. If you're jumping feet first into water, this will keep water out of the clothing. If you're fully submerged, this will keep water inside the leggings after your climb out, requiring you to drain the leggings or run with extra weight as the water drains itself as you run.
Tough Mudder does not take down water stations that are already on course, so if you're okay with serving yourself, you can get more than one free water station during Toughest.
---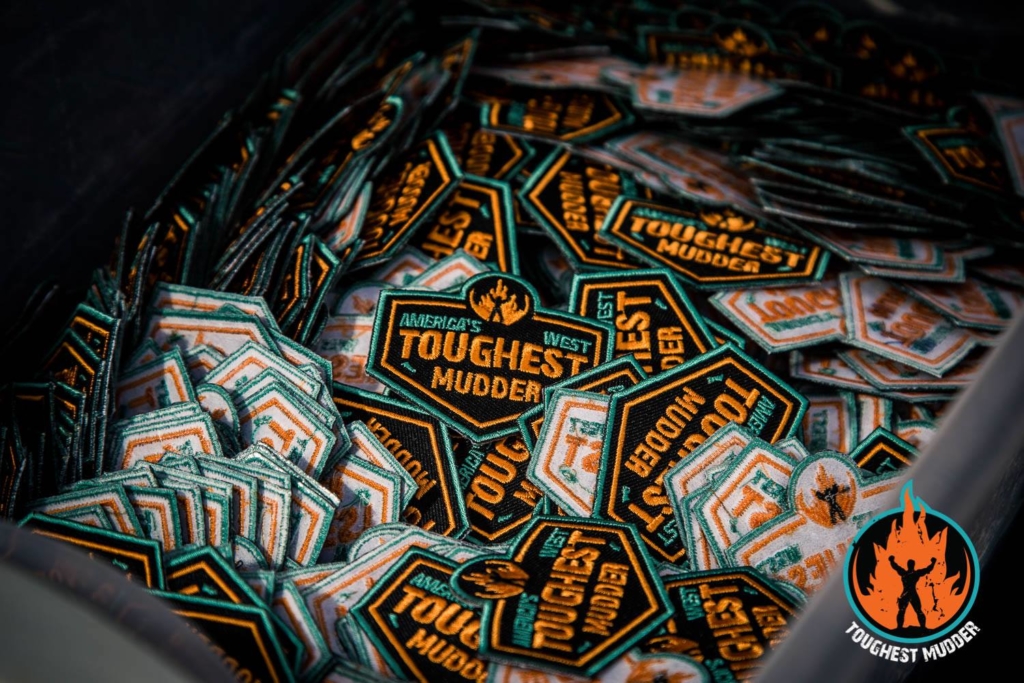 Items to Watch for Change
Since this was the first Toughest Mudder, we all expect changes and tweaks to occur. Here are the highlights of some of the frustrations that were had on course:
Course markings
I seem to be a course director whisperer on most courses because I almost never get lost. This course was no different. During the daylight hours, the course was exquisitely marked with every possible tape and arrow to make sure you were on course, except for the King of the Swinger's-Hang Time penalty. During the night, however, the bright orange tape and arrows they use aren't reflective or produce light, so they're next to impossible to be able to see. The first lap of both courses was dedicated to navigation and trying to memorize the turns so that I could run the best course lines. Despite my course-director whisperer skills, there were bunches of times when I suddenly came upon an isolated pole in my path or was expecting a course to turn one way because I could see markings under a light in the distance, but as my headlamp got closer, I saw the course turned the other direction. If I had trouble, then most people got lost at least once. Many people have posted about going off course mistakenly and having trouble following.
Here are a few ways course markings could be improved: using fluorescent chemical lights at key dark portions; using reflective tape and arrows; or having someone inexperienced with racing who didn't mark the course walk the course using only a headlamp to guide them (I volunteer Melissa, but I also have no power over these matters, or any TMHQ matters.). The course walker can mark where they felt the course was leading them one way and instead they turned another.
Pit spots
Calling the pit area chaotic is like calling boiling water mildly warm. For one, there were more participants than available spaces. There are reports of racers utilizing more than one space because there was no enforcement of space numbers. Each of the spaces was small, and most people brought a lot of stuff like they were prepared to do WTM. To some extent, that's on the participants for being over-prepared, but it's also on the race organization to recognize what's going to happen no matter what they publish prior to the event.
Secondly, the single small entrance to the main pit tent is ideal if you want to keep the tent secure during the day. It's the exact opposite of what you want if you want to reduce traffic and time in the pit during the event. Thirdly, the limited time between 10pm check in and start-line presence at 11:15pm made it a hectic experience, even for the organized among us. Expanding the time available to set up would allow for troubleshooting of any problems that occur. Lastly, Sunday Mudders needed the pit area to be completely cleared prior to bag check. This created a huge bag check line and a headache for those scrambling to walk, let alone clean up their area after giving their all.
What happened at Toughest West to combat these difficulties was that the entire Mudder Village became a pit area. People used whatever space, tables and chairs that were at their disposal to help them. The only issue with this is that as Sunday Mudders are filing in, you've got a problem with pit clean up.
---
Find a Tough Mudder or Toughest Mudder near you…
---
Coordination of Volunteers
With the two-course format, there were insufficient volunteers to staff both courses in the transition, requiring the second sprint hour that we talked about above. This allowed for large mileage to occur, and for perceived obstacle density to go down. For different Toughest venues, we might see a single course format to accommodate the number of volunteers that can be recruited for overnight efforts.
Obstacle Density and Difficulty
This is not so much an item of struggle, but an expectation that Tough Mudder is setting. The prevailing take home message from many participants is that Toughest Mudder West was harder than WTM. The primary reason for this was the hills. Since this was not WTM, the obstacle density was diminished compared to WTM, but it was similar to a regular course.
The modification to the obstacles gave Mudders additional challenges and new skills to work on. To some participants, this came off as too easy, too hard, or catered towards certain of people (i.e. tall people or people who enjoy electrocution). Personally, I feel that any obstacle course should include a variety of easy to difficult obstacles that should put you outside your comfort zone and challenge you to learn new skills. For this course, the obstacles did some of that, and the hills just slapped you in the face that everyone needed to do more incline training. For some, this emphasis on incline training seems like a cop out obstacle because no construction was required. For those that know the minds of Tough Mudder, they view elevation as a hidden obstacle that they will seek out at almost all costs. If at all possible, Tough Mudder will find the hills at the venue and maximize them. If you're expecting that they're going to hide that facet of their collective personality when they're giving you a taste of WTM, you'll be sadly mistaken.
Elite Contender & Contender Status
The 25 mile mark that TMHQ to qualify as a WTM contender was achievable by many participants. It was the primary goal of most people out there, and it was achieved even though this course included more incline than any other Toughest Mudder will. My prediction is that "contender" status at WTM will be earned by 75% of the participants because the completion rate was high here, and other events will be easier.
The next mile marker was 50 miles, which Chad Trammell and Ryan Atkins hit, and had trouble doing so. I think this was the intention of TMHQ to set a high bar that few could meet. The middle ground to identify key people named "elite contenders" was the top 5 at the event. This first Toughest was star studded, so there were many big players that appeared. This made it so the top 10 men and women can safely be viewed as elite athletes that can be expected to crush at WTM. We have to wait and see how future Toughest Mudders will be attended, but I'm sensing that the elite contender status will be a rare commodity that truly will identify the people vying to win WTM. There will be many athletes that the community identifies as elite and skilled that won't earn "elite contender" status. I'm eager to see what that will mean for what types of superhuman performances we will see at WTM this year.
---

Detailed Obstacle Run Down
Course A: the easy loop
This started with Mud Mile: a series of deep pits of water with mud ledges that you need to climb up. For the first wave of a Tough Mudder, these pits can be almost impossible to climb alone. However, after a full day of Tough Mudder, easy paths are dug into the ground so this basically consists of getting wet below the waist and hopping over some mild mud stacks without much difficulty.
The next obstacle was Devil's Beard which is a 200 to 300ft-long cargo net tightened across the course. You must crawl under this cargo net. For the first wave of a Tough Mudder, the cargo net can be super tight and force you to get on your hands and knees. Similar to Mud mile, by the end of the day the net has been stretched out so the main challenge is getting your headlamp, hair, clothing and hydration packs caught in the net. The best way to make it through this is to keep your head down, butt up and put your pack on your chest. Your butt doesn't have sharp edges, so the net goes over it without problem. You just need to swing your arm in front of you to lift the net over you. Without much ado, you're through. This is easier to do with multiple people because they help lift the net.
After a quick roll down and up a hill, we came upon Quagmire which is a knee-deep water pit that's easy to walk out of. Soon after that, we came upon a Rub and Tug which was two sets of 6ft large tires with deep treads lined up against each other. We had to climb up the treads to get over the tires. My trick is to put my foot in a deep tread 1-2ft up and use that as leverage to vault myself over. I swing my legs over the tires and I'm through in no time.
Next came the worst hill of the course on a small trail. This slowed most people to a slow walk. It comprised most of the 400ft of elevation gain and felt hard on the calves and quads. Little did we know; we'd be wishing that this was the worst hill of the course. After a long ascent, there was a steep and rocky descent that you could build up a quick pace on, if you were experienced with technical downhill running in rocky and mildly sandy conditions by light of a headlamp. (That's a super specialized skill that most people don't have, except competitive trail runners and OCR athletes.)
Right at the bottom of that nice decline was Blockness Monster. This is a super fun water obstacle. It consists of two huge rotating rectangular prisms. You stand in 4-5ft deep water and need to jump up to grab a corner of the prism. If you're quick and strong, you do a fast pull-up before the prism rotates towards you, and makes your pull-up ineffective. If you've got mudders below you, they can steady the prism so it doesn't rotate. If you've got mudders above and below you, they can rotate the prism away from you so you take a nice little ride. One key team aspect of this obstacle is that once you're over the top corner, please turn around and use your body weight to keep the prism rotating forward. As the person on top, your body weight provides the greatest force for rotating. The other people are using their muscles to rotate. Most competitive male athletes above 5ft 9 can complete this on their own, but shorter racers and those not comfortable with pull-ups will need help.
After a short jaunt on the dirt bike courses, we came upon Skidmarked, which is a wall leaning towards you. The lip of the wall is 8-9ft tall. There are wood planks on the underside of the wall for leverage. If you're tall enough and have the "ups" you can jump to grab the lip, then lift your feet on the wood plank while hanging. You can push against the wood plank with your feet as you pull the lip of the wall towards you to swing your body over the wall. Key skills to work on this include jumping, toes-to-bar and any pulling motions like bent-over-rows.
The next obstacle after the half-way point water station was Pyramid Scheme. During non-competitive Tough Mudders, this obstacle involves building a human pyramid for people to climb up a slick, slanted wall. For competitive Tough Mudders, you need to be able to complete the obstacle on your own, so they drop ropes. This basically makes it a slip wall that you repel up. If you trust your grip and lean back, friction will hold your feet to the wall and you can just walk up. If you lean towards the wall, you will fall.
After a nice little jog around the dirt bike courses, you came upon Shawshanked. This version of Shawshank included pipes that are slanted upwards and away from you with a rope inside. You need to crawl into the pipe and pull yourself up the tube. At the end of the tube, you'll find yourself looking up suspended over a 5-6ft deep pit of water. If you're worried about being cold, you want to avoid submerging your head, so you can fold your body to jump feet first into the water. If you're hot, you can just drop your body into the water and swim to a cargo net that you can use to pull yourself out of the water. As stated before, I was on the warmer side, so I saved time by dropping myself into the water and submersing myself.
For Toughest Mudder, TMHQ modified Berlin Walls so that they were top shelf, literally. There was a 4ft platform at the top of the 10ft wall. They also were kind enough to sand down the uprights so we couldn't grab them as easily. I completed this one on my own by placing my left foot on the 3ft-high wood ledge on the wall, then reaching between two walls with my right hand so I could pull myself up to reach the lip of the ledge. The lip of the ledge had a friendly two-by-four on it that I could get my left, then right hand on. I hung on the ledge and lifted my right foot to stomp on the upright and launch myself over. That sounds technical because it is. If you're comfortable climbing, this won't be too bad for you. If you're not a climber, prepare to have trouble. Key skills that you can work on to improve your technique on this obstacle include jumping, bouldering, gripping, hanging, and toes-to-bar.
As we reached the final mile of the course we hit some quick and easy obstacles. Soggy Bottom was a large puddle that you could easily run around. Kiss of Mud 2.0 is barbed wire with a water pit and hay bales in the middle. My technique for this is to roll with my hands above my head to make my shoulders thinner. If I need to, I put my feet down in the water pit to speed myself up. I roll up the hay bales as well.
Lastly, we had the signature Tough Mudder Half obstacle: Everest 2.0. This can be completed with a decent amount of effort by a small number of super tall and athletic people. In my peak form at the end of 2016, I could get up it myself. At this point in my training, I can't. For us mortals, they included an option to throw a grappling ball into the point of a triangle at the top of Everest. Once you or a mudder in front of you did this, you could climb up the rope to make it over Everest. If you completed the grappler at WTM, you know that once the rope is up there, it was super easy to climb. At WTM, however, it was super hard to get the rope up there (I had a 10% success rate.). At Toughest, the opposite was true: getting the ball up was hard but not bad. Climbing up and round the lip at the top of Everest was hard. You needed to somehow grab the rope past the lip and then pull your weight over. If all you need is a single helping hand for Everest 2.0, this isn't a big deal. If you need more assistance to get over Everest 2.0, then you needed similar assistance to get over this version.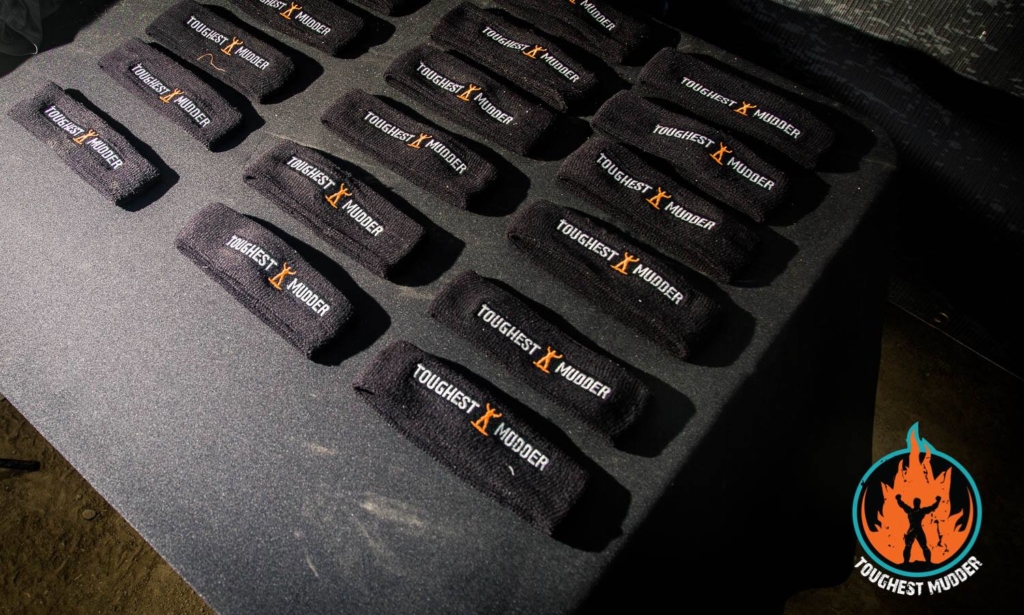 Course B: The Ridiculous Course
Not to waste any time, the first obstacle was a supercharged King-of-the-Swingers (KOTS) that course designer Eli likes to call "hanging tough" and described it before the event as like escaping a pirate ship. The usual KOTS includes jumping off a 12ft platform over deep water to grab a bar that swings like a pendulum towards a bell. Your goal is to launch yourself towards the bell and reach ultimate toughness by ringing it with your hand. (If you want a special challenge, try ringing it with your face or chest.) No matter if you succeed or fail in ringing the bell, you drop into water and swim. In long endurance events, water will suck temperature from your body so you need to expend energy to heat it back up, so you'd like to avoid water at all costs. To do this at Toughest West, the bell was replaced by a netting of ropes suspended onto a wire that ran from the top of the obstacle down to the safety of the ground. Your task was to grab this rope netting without falling into the water, then wrap your legs around the wire and scoot down to safety.
My first time on this obstacle, I tried to do it the fancy way: by releasing the pendulum bar and grabbing the rope netting with both hands. You'd think that this would maximize your grip on the rope, but you'd be sadly mistaken. If you're flying through the air, you need to use your grip on the rope to hold yourself up and stop your momentum. If you've got the acrobatic skill to do this, then go ahead. I failed miserably.
After I failed, I was advised to utilize a simpler strategy: the netting was close enough so I could reach out and grab the net while still holding the bar. Then I could use both the bar and the rope to stop my momentum and hold myself up. Once the momentum ceased, I could switch to the rope along and shimmy down. I tried this on my second round through and only caught the rope with the tips of three fingers. I attempted to readjust but the loose rope wouldn't let me, so I fell into the water. The second time I tried this technique, I got a good grip and shimmied down the rope and wire, which was surprisingly tiring. That wire is long, so even Ryan Atkin's successful shimmy couldn't be captured on a single Snapchat (10 seconds). It included at least 30 seconds of hanging by your legs and hands.
If you failed this modified KOTS, you needed to do a 0.1-0.2 mile long but flat penalty run that was poorly marked and included non-intuitive turns like a zig-zag. Many competitors talked about getting horribly lost on this penalty. If that was intended as part of the penalty, then the course designers are cruel and unusual people, which is a distinct possibility. If it wasn't, then they should have used more tape, light producing markings, or reflective markings. Personally, my speed in this penalty was reduced by confusion, but I never got lost. I just got confused.
If you were worried about getting wet in KOTS, then you certainly were dreading Augustus Gloop that made its debut appearance at WTM16. This includes wading through a 5ft pool of water, and then climbing up a ladder inside an upright tube. The kicker is that the tube has a "fire hose" at the top pouring water down onto you. Inside the tube there is a ladder to your right and left. You can climb up both simultaneously, but that gets awkward for us humans with shoulders. Instead, I wedge my back against the tube and climb up a single ladder. I also found a tube that the wate didn't cover the entire tube, so I could minimize the amount my head got wet.
One of the important unmarked obstacles on the course was here: a gigantic incline that sucked more energy. This time it was up a smooth, moderately sandy hill that was easily 40% grade, if not more, and was at least as tall as the "hard" hill on course A. To come down this incline, we needed to use ropes to repel down the slope (Abseil). If you were comfortable running down steep inclines, the ropes were longer than you needed, so you could save time by jumping off early and using your feet.
If you felt like that was bad, you got to experience Arctic Enema, the Rebirth next. This is the third version of Arctic Enema and includes sliding down a tube into ice cold water. You know it's ice cold because you can see a layer of ice on top. Once you're in the water, which is at a level so to get out of the tube, you have to submerge your head, you find that you're under a wire grating. You need to dunk your head under water again to swim under the wire grating and a wall. The key to this obstacle is do it as fast as possible to minimize your exposure to cold. When you dive under the grating, you can use your hand on the far side of the wall to pull yourself through and know where safety is. To get warm, you must at least jog to utilize as many large muscle groups as possible to generate heat. If you stand and wallow in your misery, you will get colder.
After that, the "fun" of course B started with Death March. This obstacle is just a fancy name for a super big hill that will burn your quads and calves, and will slow you down substantially while sucking your energy. It sounds great, doesn't it! And it doesn't even require a construction team! This death march took us through a single track "trail" where there was a crevice in the hill that we could climb up. Once we reached the peak of the hill, there were additional rolling hills on fire roads with huge rocks that slowed our pace and taxed our legs.
As we reached the back side of the course, we came upon two obstacles next to each other: Reach Around/Stage 5 Clinger and Operation.  Reach around was a wood ladder slanted towards us. I climb this like you would a usual ladder with your hands and feet, except I grip the far side of the ladder with one hand so I don't need to hold most of my weight with my grip. Instead, I can use some arm muscles. When you get to the end of the ladder, you have to swing yourself onto a platform using technique similar to Skidmarked above.
For Operation, we use a metal pole with a hook on it to grab a plastic ring. The hard part is that you're standing in water, which is a great conductor of electricity, and the metal pole has to be stuck through a 4-inch diameter hole with electrified metal lining. If the pole hits the lining, then you get shocked. Between WTM15, WTM16 and Toughest West, I have attempted this obstacle a total of 2 times: once at WTM15 and once at Toughest West. Prior to the event, I got lots of advice about the optimal technique, so I spent time implementing this technique. I got shocked hardcore and could not get the ring, so I took the penalty. At WTM15 and WTM16, this penalty cost me 20s versus someone that had great technique. That was a calculated risk I was happy to take because it would take me much more time to properly learn the obstacle. When I tried the penalty at Toughest West, which was a 0.1mi walk with a 10-15lb sandbag, I made a similar calculated risk: the penalty wasn't hard enough to force me to learn it. Thankfully, the people running at a similar pace to me agreed, so no one lost or gained positions here. (One of the people who ran around my pace is an orthopedic surgeon that conducts operations for a living.)
After a quick downhill jog on a road (yay a friendly road!) we found ourselves at Birth Canal, which was called Black Hole on the map. Black hole is just Birth Canal with black tarps. Birth canal is a series of water-filled tarps that you need to crawl under. The technique for this is to go sideways, and knock the water with your shoulder, then quickly sneak underneath it as it swings back at you. Rinse and repeat, and you'll smoke your friends.
After quick jaunt through the forest, you find yourself at Balls to the Wall. This is a 12ft tall wall with ropes and wood planks as foot holds. If you're not a climber, you use the rope to hold your weight as you lift your feet from ledge to ledge. There's also a rope and wood plank ladder on the far side to climb down, but you should ignore the rope and use the simple ladder. If you're a crimp climber, you can climb up the wood planks and impress all your friends.
On the course map, it appears that you've got a friendly downhill run along a road. If you want to make up time, you could do it here, right? Nope. Instead of running on the road, they took us through a small, rocky river bed that made you go slow in fear of breaking an ankle.
Just as you felt like you could run along the road for any appreciable distance, you take a quick turn up a crease in the hills for another big climb called Cliffhanger that was just as big as Death March and unequivocally larger than that "big" hill on course A. After running on more rolling fire roads on the ridge line and down more steep declines that make you fear running fast, you were a quarter mile from the finish!
In true OCR form, there had to be multiple hard obstacles right before the finish. The first was Funky Monkey, the Revolution. This is an incline monkey bars to a series of rotating wheels. To navigate the rotating wheels, you have to use your momentum and trust your grip. The obstacle itself looks much harder than it is. Personally, I think it's just super fun.
The final obstacle was Kong, which is a series of suspended rings raised 30ft in the air. Your challenge is to swing across them to the other side. If you fall, then you hit an air bag and have to complete Electroshock Therapy (EST). As anyone who has done a Tough Mudder knows, EST is electric wires that you have to run through. They're not strong enough so you get electricity burns, but they're strong enough to force the muscle they touch to contract and surprise you.