Where to start. 
It's hard to capture a race weekend that features 20 miles of running and over 200 obstacles and lots of adventure.
My weekend started early Friday morning. REALLY early Friday morning. Walking with all my camping gear to the train station and then to the bus pickup spot in Utrecht, Netherlands. I was accompanied by teammates Daan, Wesley, and his girlfriend Nicole. And joined at Utrecht by Laurens and Ewoud. As part of the Dutch Mud Men, we prepped to head over to the United Kingdom to invade Rat Race Dirty Weekend.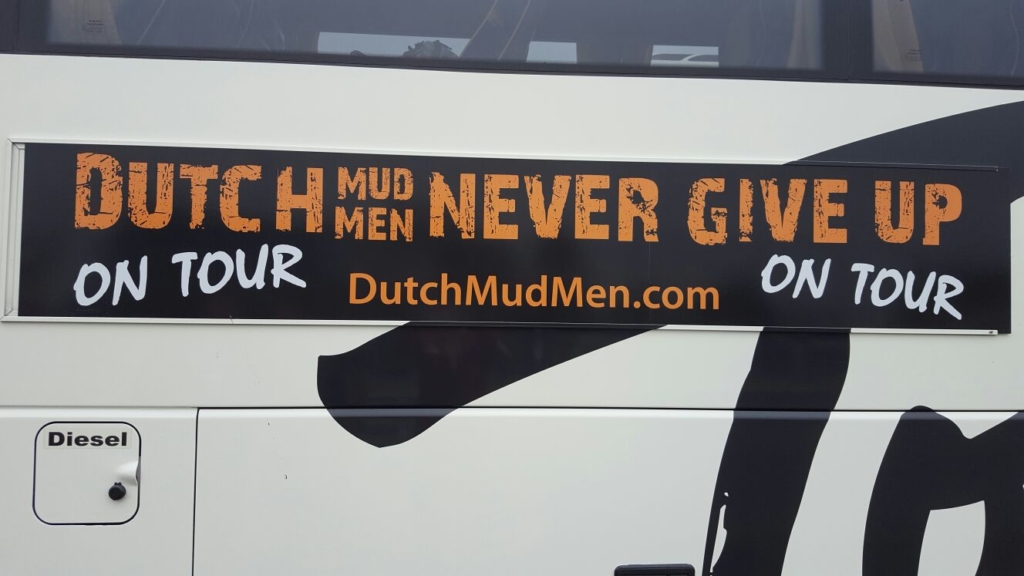 We ended up in the back of bus 1. Captain Spil's bus! After picking up the rest of our team we traveled to the Calais tunnel to hop on the shuttle to England. We had music, food, drinks, so a perfect weekend so far! The microphone got passed around to make sure the scariest part of the weekend would be covered: presenting yourself to the bus in 10 seconds.
Once reaching the event site we made sure everybody would be aware of our arrival by making as much noise as possible and almost flipping the first two buses on their sides.
We quickly unloaded and went to the campsite. I headed straight towards the RAM UK camping spot. I was so happy to see those guys again! Most races we are only around other Dutch so this race weekend was special with our UK brother and sisters surrounding us.
After picking up our registration kit we headed to food. That night we had an excellent burger, a ton of laughs and then off to bed fairly early.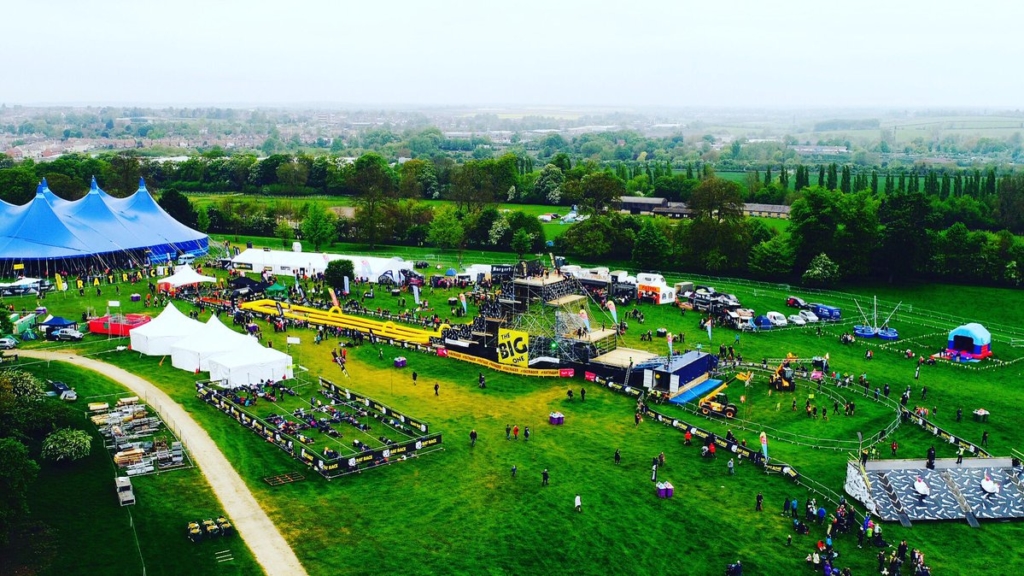 Saturday morning I was up early. The DutchMudMen/Mudstacle wave was at 9:15, but my wave started 8:15. I really didn't want to get out of my sleeping bag. It felt sub zero celsius in my tent. Quickly, got my racing gear on in the sleeping bag and stuffed my face with leftovers. I met up with the UK team, getting ready to start the race. It was seriously cold, so I decided to put on my baselayer and team shirt over that.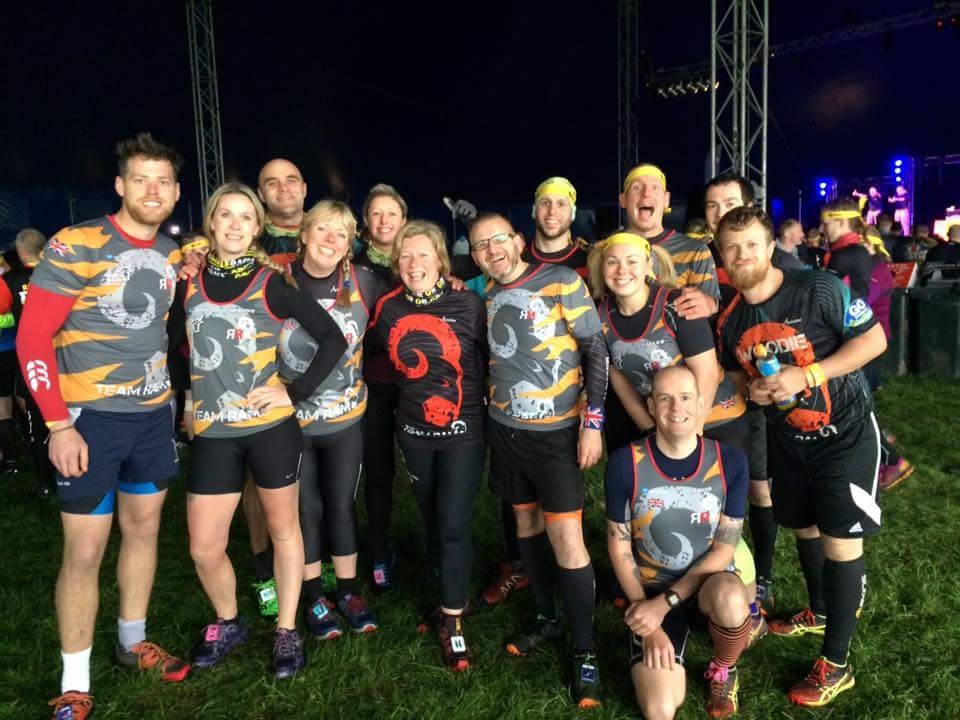 Once in the starting area, I started to get the pre-race buzz. We got amped up by the guys on the stage, did a quick warm-up, prepared our watches and where off at exactly 8:15!
Since it's a 20-mile course with 200 obstacles these are the highlights.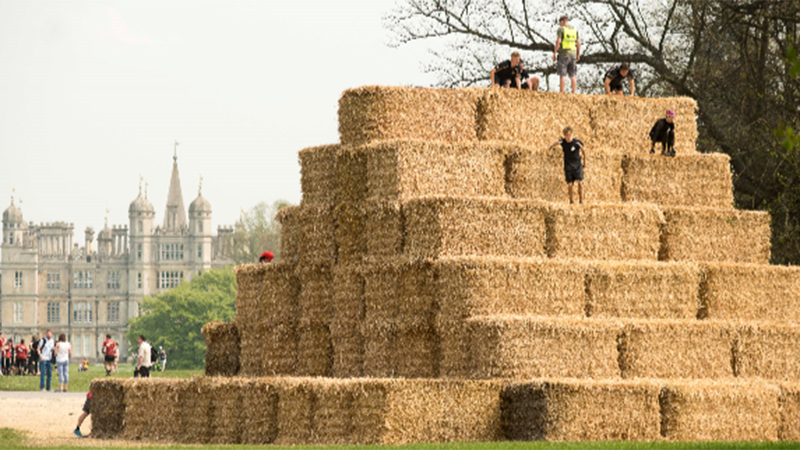 The first few miles were a lot of running through fields surrounding Burghley House. It didn't take long for me to heat up. I decided to keep the baselayer on until after the water obstacles since I heard from a teammate those would be around the 5-mile marker. The obstacles where mostly gates, walls, and nets. I was keeping up with UK teammate Chris and his brother.
Around 4 miles in was the first muddy obstacle. A muddy ditch, about knee deep, with fences over them we had to crawl under. Didn't want to use my hands. I didn't think of rolling on my back at that time, so had to use my hands.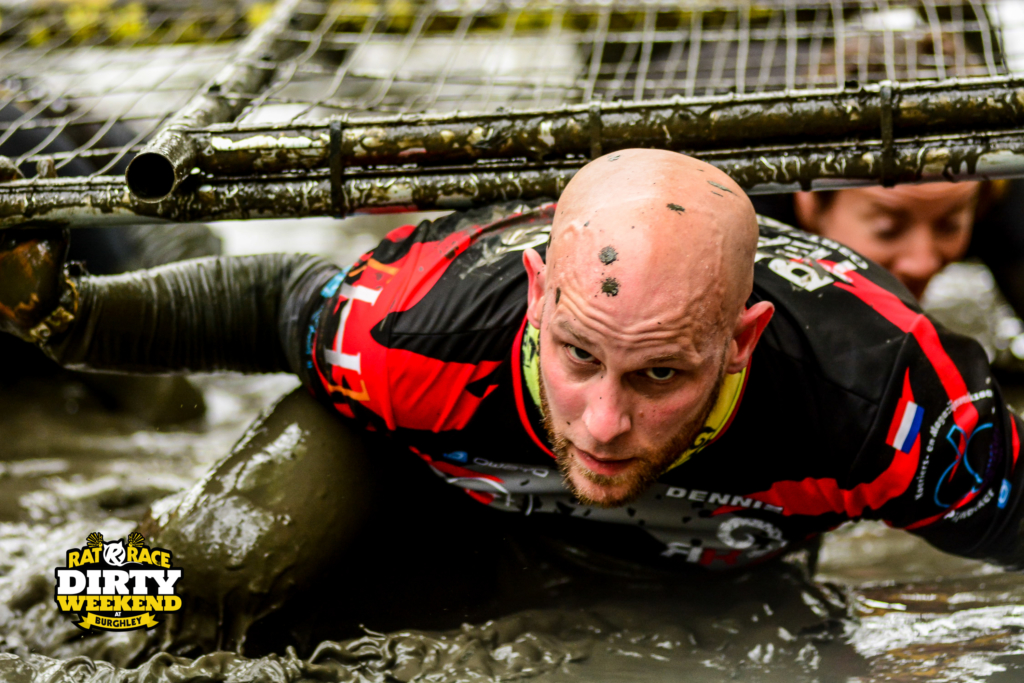 Thick, stinking mud! Trying not to get it in my mouth. Under the second fence, I crawled over a sharp rock, causing a shot of pain through my shin. I stumbled out of the water. All I could think was "walk it off". Man up and move on! Luckily, we had to cross the river right after. First knee deep, then a sudden drop to neck deep (in my 5'9″ case). Around me, I heard people gasp because of the low water temperature. I was glad I didn't take my base layer off. Cooling down I needed to pick up the pace to get warm again.
At first, I thought we had completed all the water obstacles. Until a few miles later where we received a lifejacket.
The Jump! 
Remembering the cold water I didn't really want to get dunked again, but I surely wasn't going to skip an obstacle! I quickly made my way several stories to the top of the tower. I'm not really afraid of heights, water or jumping, but that platform was HIGH!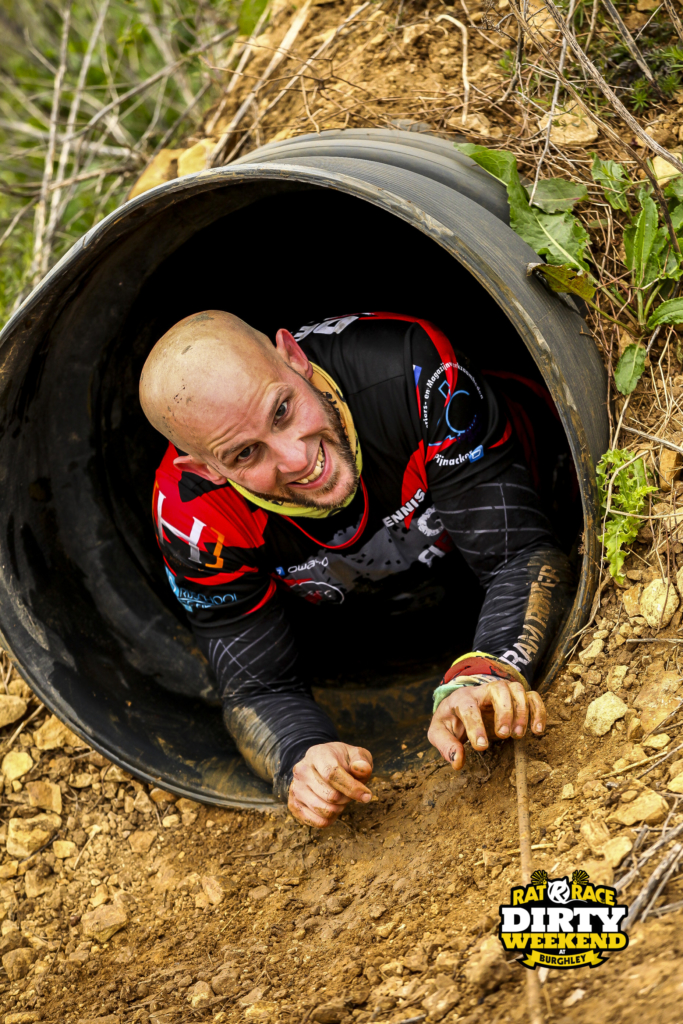 I watched the guy next to me jump then I decided to go for it. Over the edge, plummeting into the freezing water. Quickly climbing out. I was then expecting to be able to take off the vest, yet around the corner, a slide. Sliding into the water and then crossing a section of a small lake. The next obstacles were a bunch of floating structures. First Monkeybars. They were wet, slippery, and halfway in there seemed to be a missing bar. I managed to get across without falling into the water. Even though we had to get wet after that anyways. Swimming, hopping over wooden beams, a wall, and back into the water for another lovely freezing cold swim.
I picked up speed to get warm until I ended up in an area with lots of hills and The Pit. Crossing a few wooden beams and hills, then into a pipe. Two pipes slightly angled down and not exactly in line with each other, making it really dark inside. I moved on to the second set of tubes out of the Pit. The girl in front of me went through on her back, holding the rope on top of her to pull herself up. Once she was out I was able to crawl through.
Next we entered the forest. 
With a lot of wooden obstacles to climb on, through, over and just generally monkey around. I felt good. Cold, but no issues with getting across the obstacles! Back out of the forest came a huge water cage. Stepping in I felt the water temperature was about as cold as all other water I had been through. Next, to me a guy got in, got on his knees, grasped and was breathing loudly while pulling himself through the water.
So it was THAT cold! 
I had to do it, so I got on my back and pulled myself through. Next over a few high walls and trenches and more running. After a log carry and another river crossing (this time running over underturned kayaks), we were back at the area with a bunch of obstacles. The famous Dirty Weekend Yellow Hoppers, washing machines, and more weight carries.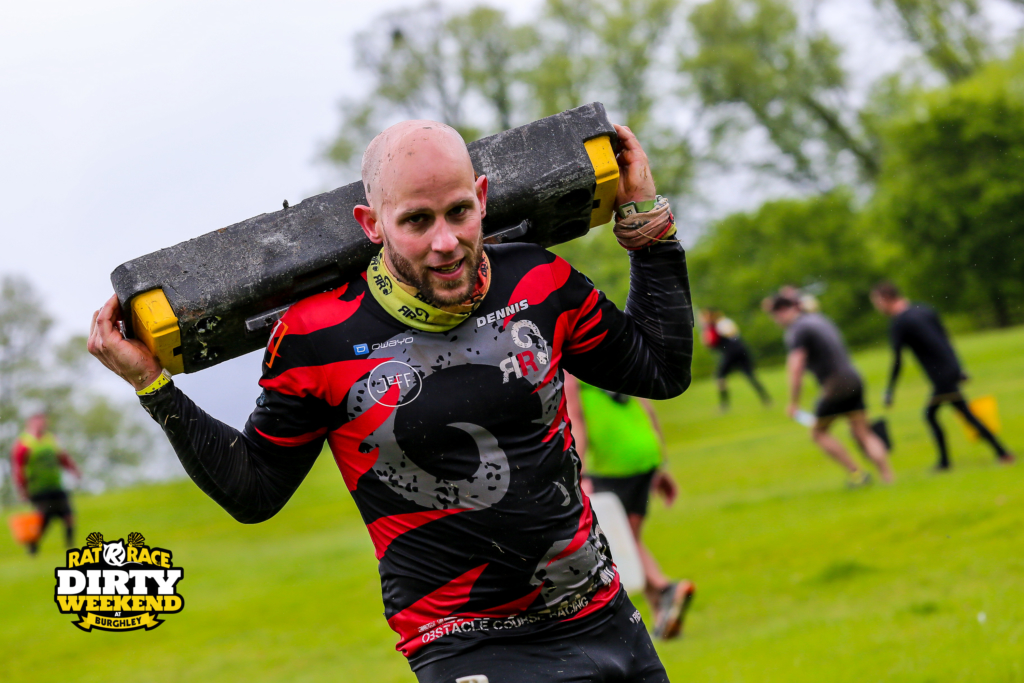 Next a bunch of fun obstacles. Climbing over nets, walls, swinging through rigs with rings, ropes, barrels, jumping into a huge airbag and crawling through huge obstacles. All towards the mother of monkey bars. The Guinness World Record Rat Race monkeybars.
The monkey bars are set up into sections so we can rest as you try to take on over 150-meter long monkey bars. The first part my hands were wet, covered in mud. The amount of bars and the thickness of them made me fall off half way in. I had to try again! This time I swung forward, skipping bars to swing across. Finishing the first section with ease.
I knew we where allowed to let go between the yellow bars. Since I really wanted to do the entire distance, I decided to use those stops. Took the first, just to get the hang of it. Skipped the second and took the third. Skipped the fourth and took the fifth. Skipped the sixth and decided the seventh was going to be the last stop. Once I let go I noticed something was different. The drop down was a lot longer then the other stops. I could already barely reach the bars on the others, so it was hopeless at this stop. The seventh and on had more distance between the bars and the ground. Had I known that before I never would have let go. Tried climbing up the sides but got told not to by the marshals. Shouted at them they could've told me the bars would be higher there, took my loss and moved on.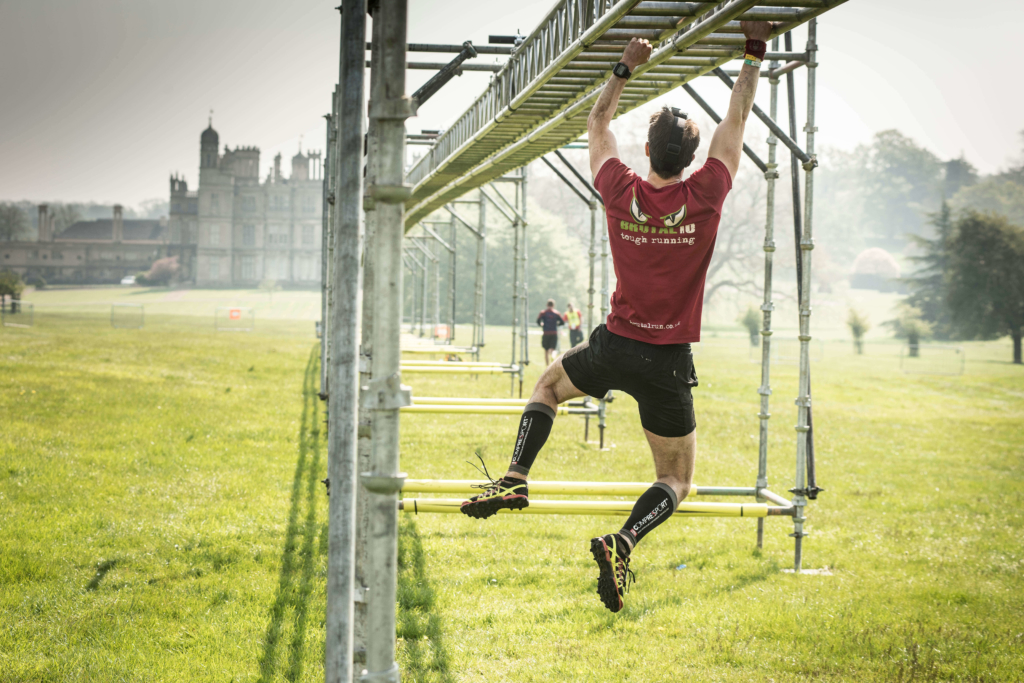 At that point, things started to get blurry. Since the monkey bars, I started to shiver violently, making my teeth chatter. The next approximate mile is a blur. During the next section, my body started to warm up as I ran.
The final 10km of the course had some okay obstacles, mainly walls, nets, climbing rigs and more walls. Filling up the course with as many obstacles as they could. I started to feel tired. At this point, I was a bit demotivated by several Double Muckers who were skipping obstacles but bragging about the golden medal they would receive that evening.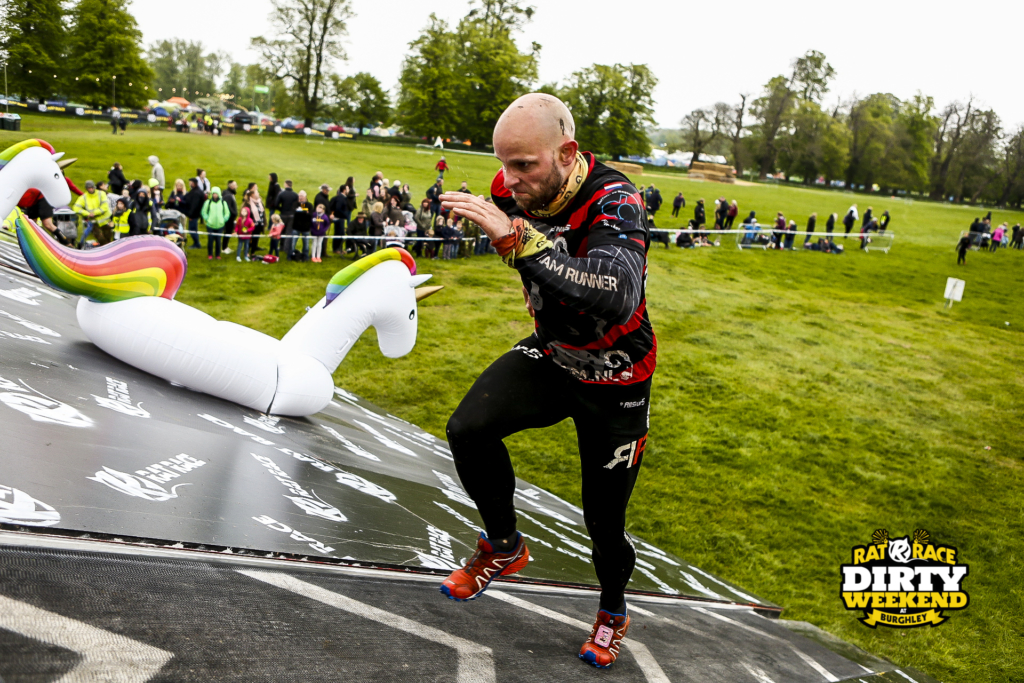 Trying to run my own race I continued on towards the last segment. A long stretch of running. Back at the main area, there was a small rig to cross ( the one we had to go underneath earlier on). Running down the other end my feet slipped. I slid down and hit the ground. I managed to stay upright but felt a sharp pain shoot through my lower back.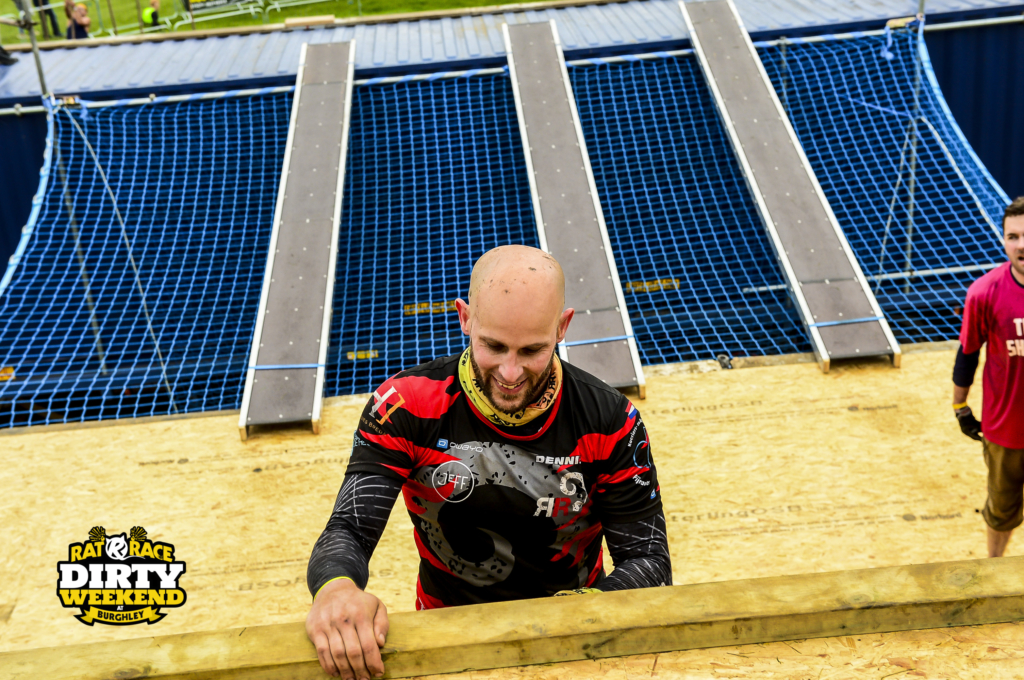 The Final Stretch!
I crawled through the next obstacles while being shot in the face with water guns by kids. Then ran towards a ramp with reversed treadmills. At that point, my legs felt heavy. The guy in front of me almost face planted on the treadmill. I waited for him to move over and shot up the ramp. I went all out on the treadmill and was on before I knew what was happening. Then past a short rope climb and up the huge final rig. Climbing up I realized I was almost there. The finish! But first that (ridiculously high) slide! The height didn't bother me, I looking forward to sliding down!
It didn't disappoint. Almost ended up at the end of the slide. Quickly up on my feet to get that "not golden" medal!

I did the Full Mucker!
Ended up finishing at 4:59:30.
Right about what I was aiming for!
I then completely missed the photo booth, so made a finish photo a couple hours later with teammate Wesley. I made a run for my clothes and the showers, which turned out to be HOT! Might have been in there a bit long, but I really needed that! Next a lot of food, drinks, music and laughs.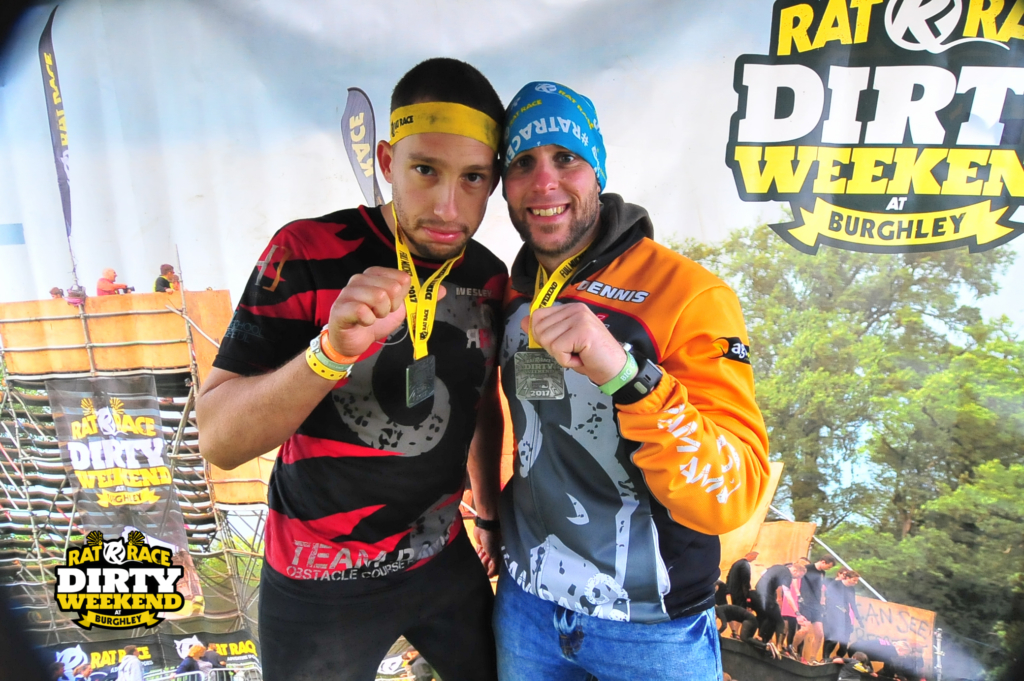 The next day we packed up early in the morning and were off for another 12 hour drive back home. This time a lot less music, lot more sleeping but also a lot of fun!
Rat Race, you will see me again next year!
---
Have you done a Rat Race Dirty Weekend?
Leave your own Rat Race Dirty Weekend review and feedback…