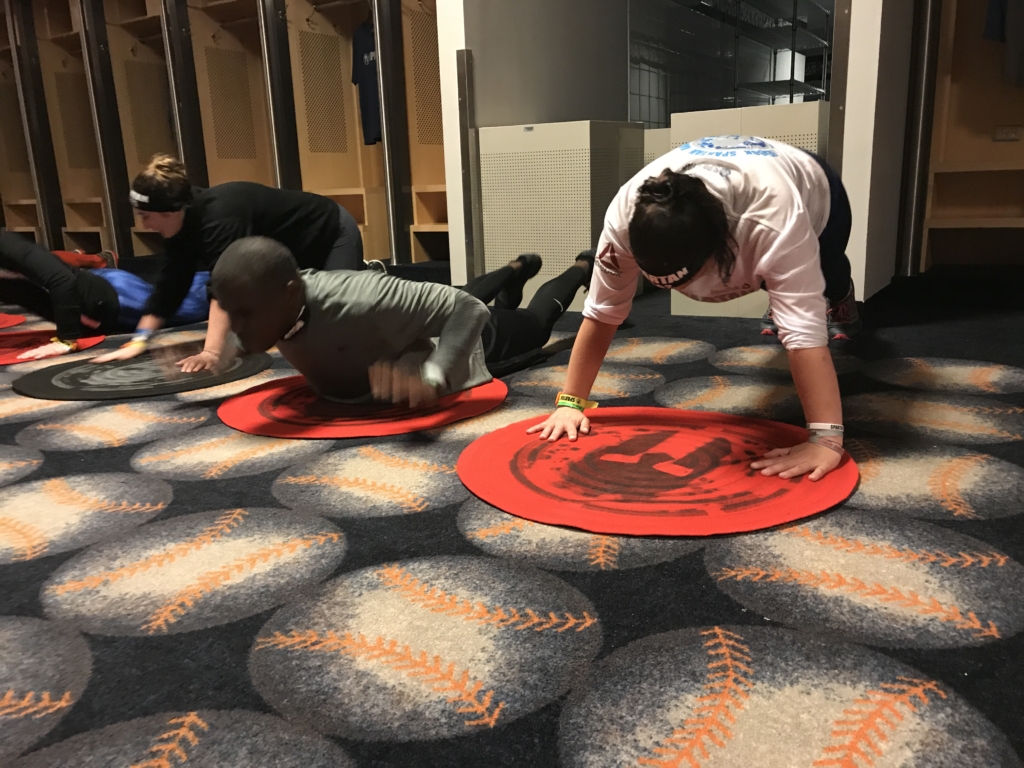 Since so many people have been complaining that Spartan Races are becoming stale, they decided to call upon the weather Gods and order a huge rainstorm for the Spartan Race sprint at Citifield to mix things up. OK so maybe this isn't true, BUT the weather was another obstacle we had to deal with. The race takes place up and down concrete steps so slipping was something we had to be mindful of. Luckily the weather did not stop anyone from having a good time and smiling while getting an inside look at the home of the New York Mets.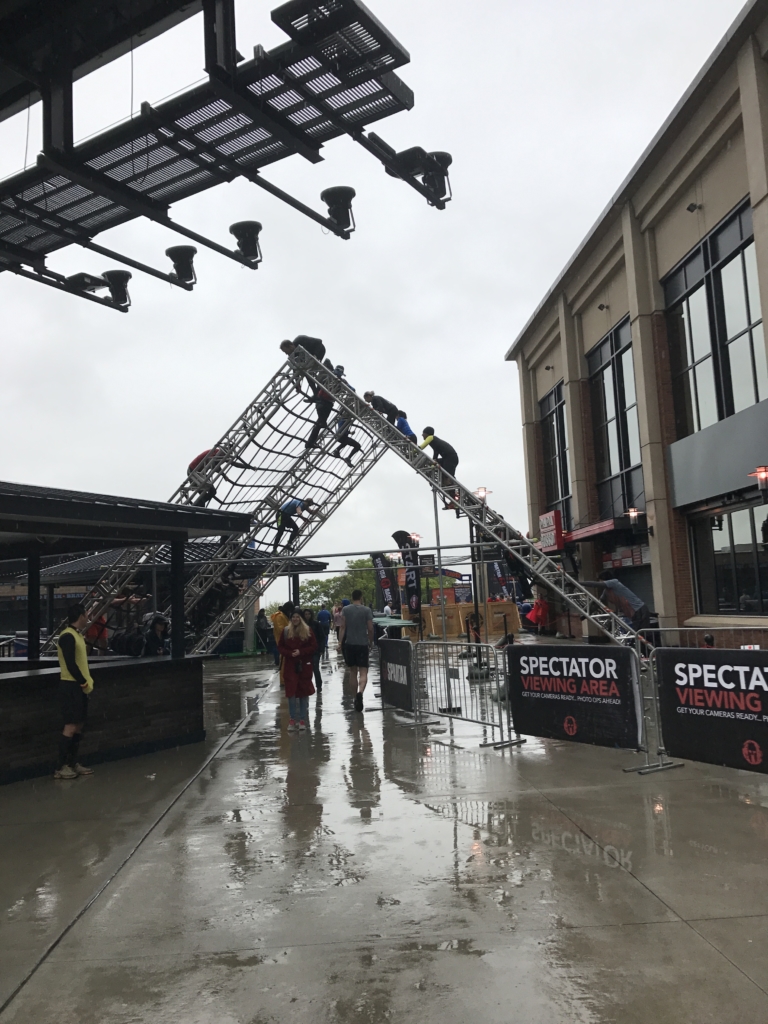 The starting line was a bit of a disappointment to me. Just like my heat at the New Jersey Beast, there was absolutely no speech before we started. No,"I am Spartan" speech and not one single Aroo! I understand with people leaving every ten minutes or so it's hard to give everyone a full blown speech but something to get us excited would have been nice. Stadium races feel more like an hour-long CrossFit workout than suffer fests but it's nice to have different racing experiences.
Many of the obstacles at a Stadium do not show up at a regular spartan race and some that you are used to will not make an appearance here. Bear crawls take the place of a barbed wire crawl. This is where they set up ropes on stairs and ramps and you have to make your way to them. I noticed though that there were a lot less of them set up this year.  Totally missing was the water jug carry up and down the steps which I actually enjoy. What we did have was Rolling Epic. This sounds more challenging than it is. It's a little platform on a wheel and you go into a plank and pull yourself across a lane. You feel it in your core and it kind of makes you feel like a kid again!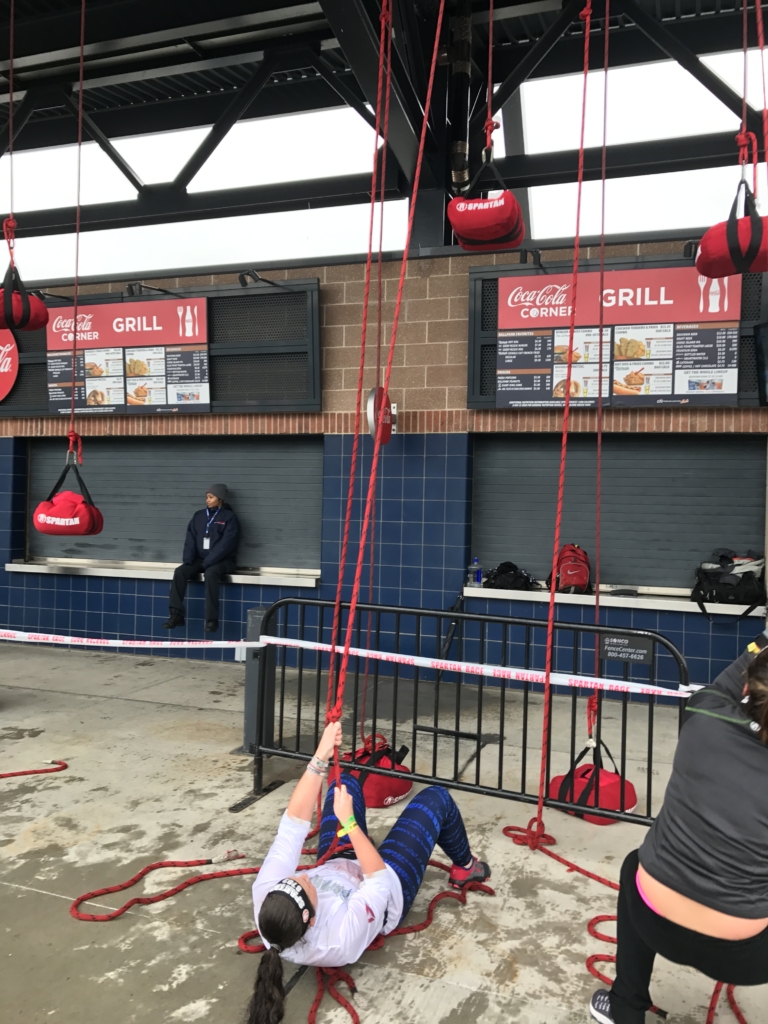 So much about this race made me feel like I was at the gym. There were ball slams, weighted jump ropes and push ups. The ropes seemed lighter to me than I remembered too. I don't don't know if this is because it was or because I am getting stronger. To push myself a bit I carried the men's sandbag which I was told was 40 lbs. The pushups were hand release push ups done in the visitor's locker room. Now, this is great.
How often do you get to see inside the locker room at a major stadium? 
This was a definite hot spot for pictures. The herc hoist was done right in front of a food stand to drive home the fact that this was not an ordinary race.Though the format is a bit different from their other races Spartan can not leave out their signature spear throw. We did this in the parking lot along with the extremely slippery monkey bars and a slightly altered Z wall.
---
---
If you are looking for mud a stadium race is not for you. But because these races are not as challenging the atmosphere it definitely a lot more light hearted. There was a man racing dressed as Santa Claus and two people raced in full-on dinosaur costumes. The race also brought out a lot of first timers. This is always so nice to see. Stadium races are a great way to get your toes wet in the OCR world. I did hear a lot of people saying that it was super easy and they aren't sure why so many people get hurt and are sore the day after Spartan races. I sincerely hope these people don't think all races are like that and underestimate the amount of training needed for other races. If anyone doing this race was hoping for an epic fire jump picture they were sure to be disappointed because since we are actually running on the baseball field we run through CKO bags at the end instead.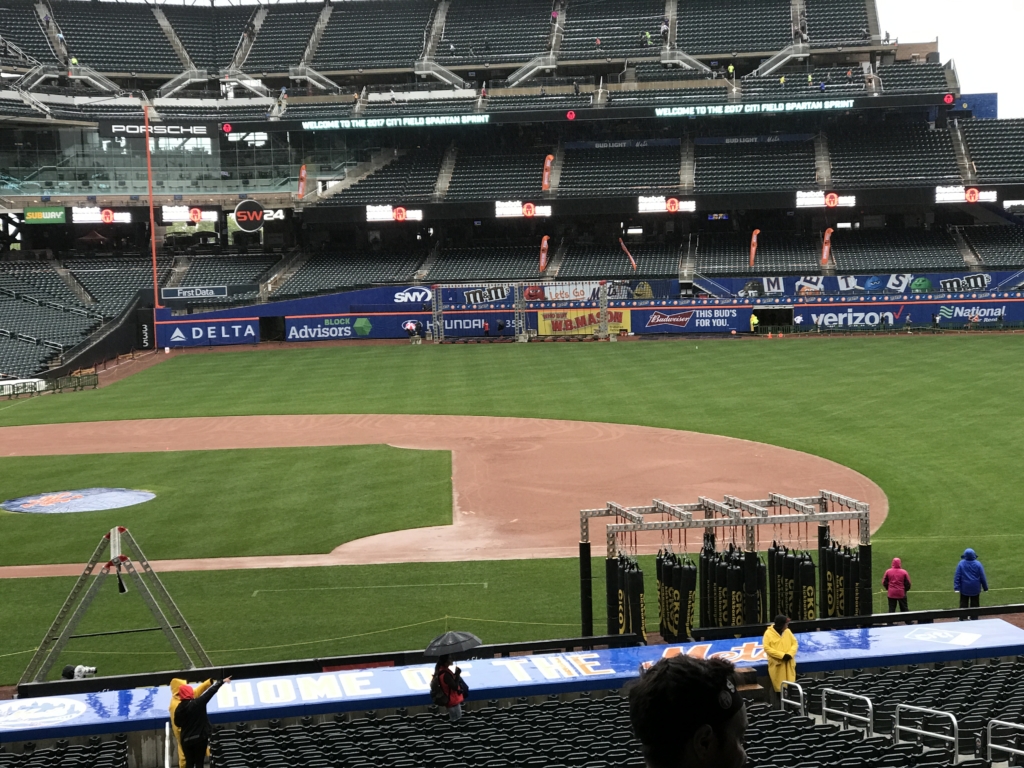 I missed my Fit-Aid at the end but there were definitely a lot of samples to check out. Enlightened crisps were a snack I have never tried but am glad I did. They are little packs of roasted fava beans that are only 100 calories and have 7 grams of protein. Even though it was cold and rainy I stopped by the Yasso tent to the what they were serving out of their little coolers. This was delicious Frozen Greek Yogurt on a stick that they were serving in many different flavors. I rounded out my after the race with snacking spree with a stop by the Munk Pack tent which never disappoints.
I was happy to knock 19 minutes off my time last year despite the slippery conditions. I met up with friends I only see at races. I got to take pictures in the dugout and see the view of the stadium only the baseball players get to see. And I added a sweet medal to my collection. All this and I did not wake up sore the next day…though I may have had the sniffles thanks to mother nature.
---
Have you done a Spartan Race?  Leave your own Spartan Race review and feedback…
---