Every so often you find a race that really does fit your personality.  For me, it is Mud Hero, and yes, I like getting dirty, I like romping around with lots of obstacles to keep me entertained and I love a flat course so I don't overdo it. This race returned to Commando Paintball located just outside of Ottawa.  It creates the most effective apocalyptic background for this event as you wind your way through decaying boats, buildings and wooded areas.
Upon entry to the village you are welcomed with music, excitement and the fervor of racers coming and going in various stages of race day preparations. Some are heading to pick up their kits while others are preparing for their final nervous pee. We found the village very well marked and had no troubles finding the registration desk, which was quick and easy and then headed off to do bag check for a nominal fee of $5.00.  It is nice that this money goes towards a local charity (Special Olympics) and is well worth the convenience when you are wet and cold and wanting to head off to the showers post haste.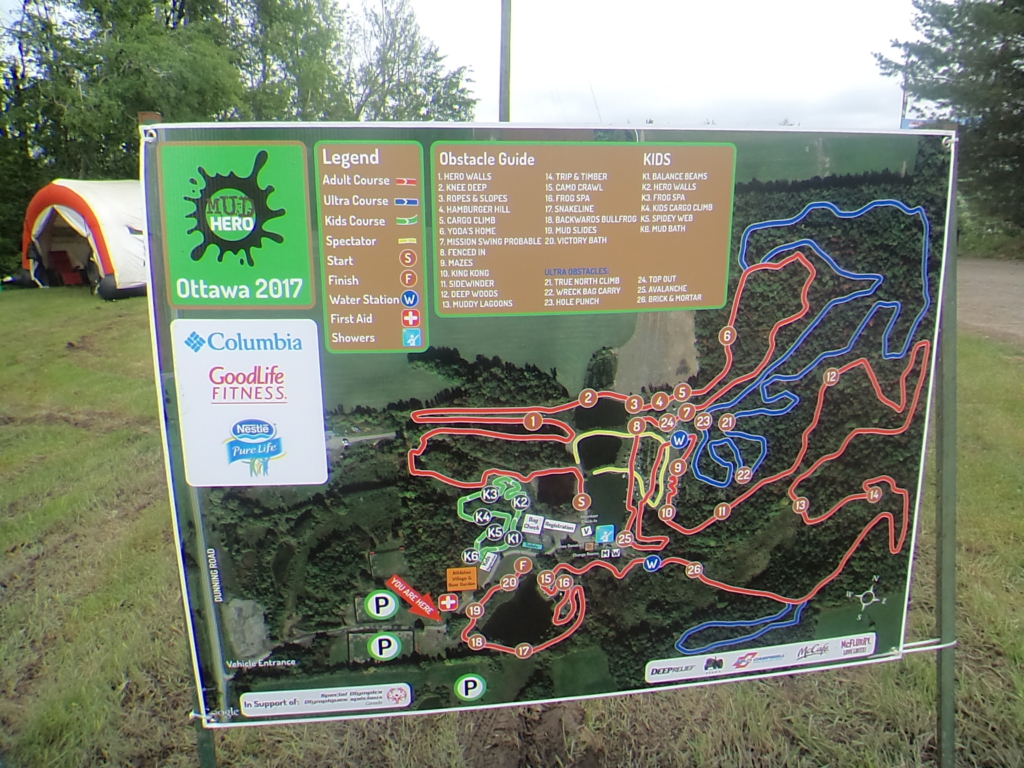 Our heat was at 9:15 but we got a bit delayed in one of the registration lines, so it was nice that you can pick any heat available and join in. We chose the 9:45 heat and waited in anticipation as the MC had us dancing and jumping to get the blood flowing. Some racers came in simple costumes like the popular Wonder Woman gear while others chose a minimalist approach knowing the amount of mud that awaited them.
Right on time we were off and heading into the well-looped trail that took us out over 6KM of wooded and dirt track trails.  The obstacles are great fun and they had some of the original deep pit mud swims where you drop off up to your neck and then they added a few new ones like the overhead bar walk.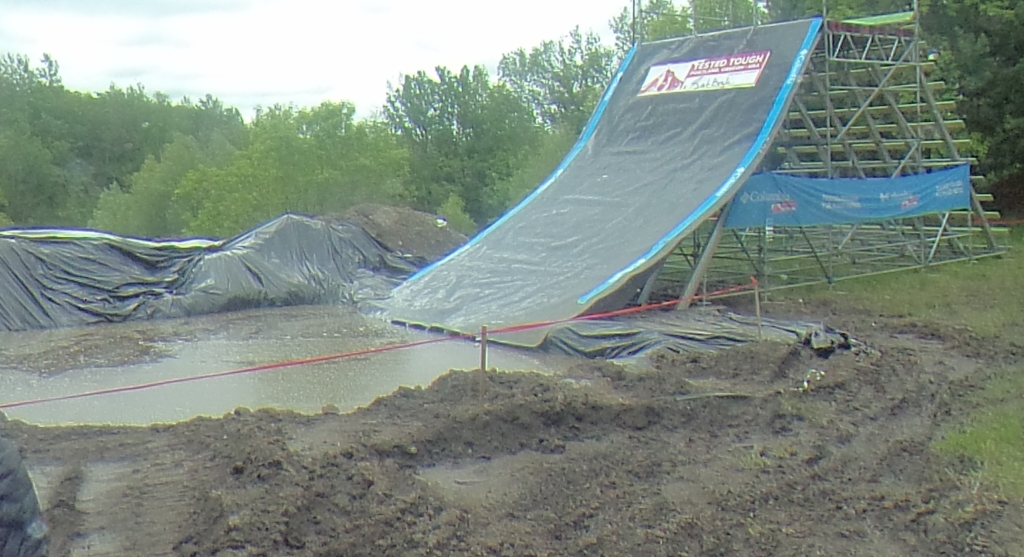 We loved every minute of it with one exception. A few participants felt that it was not a race and that it was a lineup type of event. At the warped wall, there were open ropes and people were lining up and avoiding the use of EVERY rope.  We waited a bit and then moved through the crowd to the empty ropes not wanting to lose anymore time as this was an OCRWC qualifier.
Communication was excellent leading up to the event and racers were provided with racing guide and rules prior to race day to prepare accordingly.  Registration online was quick and racers received their bar code for quick scanning the day of the event. I was disappointed that we did not get the headbands this year and reverted to the traditional bibs, but they quickly got covered in mud unless you moved them up to our chest before some of the slides and crawls.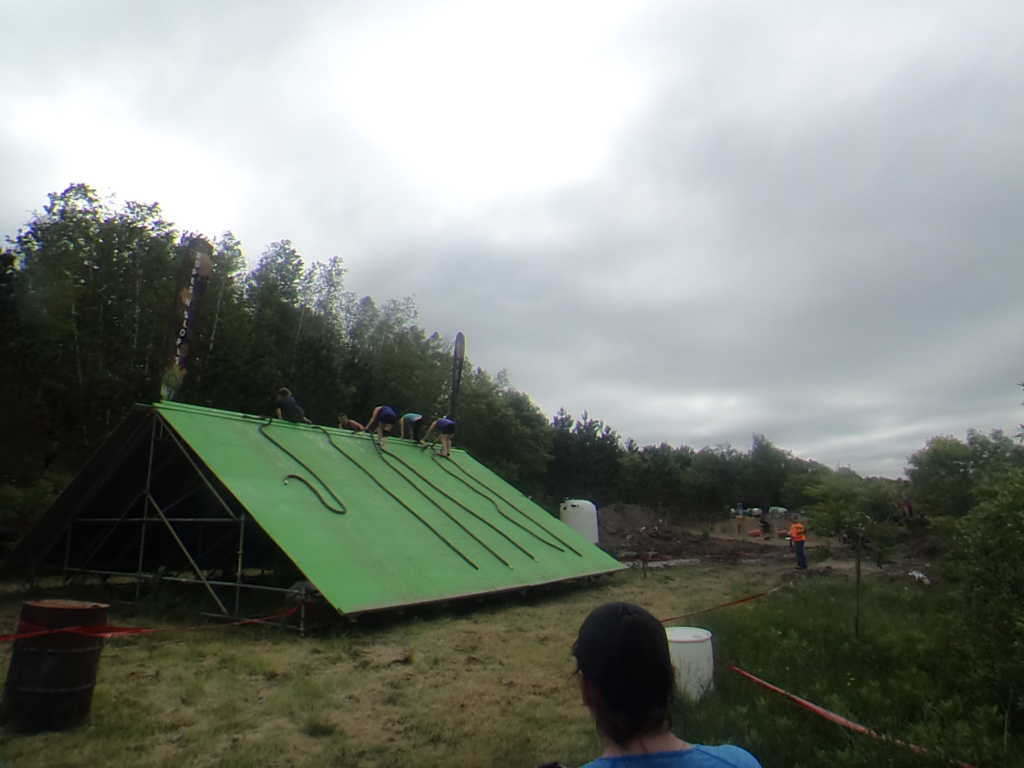 The village is well laid out and you can enter a draw with Goodlife Fitness and interact with other sponsors like enjoying a free McFlurry and McCafe, free samples of Nestle water and DeepRelief, as you roam around the finish line or enjoy the beer garden. Spectators had a few great spots to sit and enjoy the fun as racers plunged down the fast water slide into the muddy pit as the photographer captured the moment for posterity.  You want to hold onto your hat for this one, I am sure there were many goodies found when they drained that pit!
Zoomphoto.ca provides free photos to everyone, but there were no finish line photos that we could find, again, this may be due to the mud covering numbers during the final mud swamp cargo net and I still have not had the chance to search through image by image to find them.
This is a family friendly event!
For the avid racer, you can opt to do multiple laps or tackle the 10K Ultra.
Each participant received the traditional beer opener medal and cotton tee shirt.
Recommendations for racers:
Bring an extra change of clothes, you will be very dirty and wet;
Bring ample towels to stand on and dry off with;
Bring large garbage bags for your wet clothes and towels;
Shoes (IceBugs) with treads are required for this course (no spikes allowed);
If competing for OCRWC get to the front of the pack to avoid lineups;
Check for ticks upon return to hotel/home from grassy areas; and
Gloves are optional for this event as the mud is quite thick (sticks).
Recommendation for organizers:
Go back to the headbands so numbers are more visible for photographers;
For race results check out:
http://www.mudhero.com/en/events/ottawa/
The volunteers this year were great, motivated and friendly and were appreciated throughout the venue. Thanks to the organizers who have yet to disappoint when it comes to putting on a great event!
5/5 paws
---
Have you done a Mud Hero?
Leave your own Mud Hero review and feedback…
Use discount code MRGMUD17 for $5 off your next Mud Hero registration!