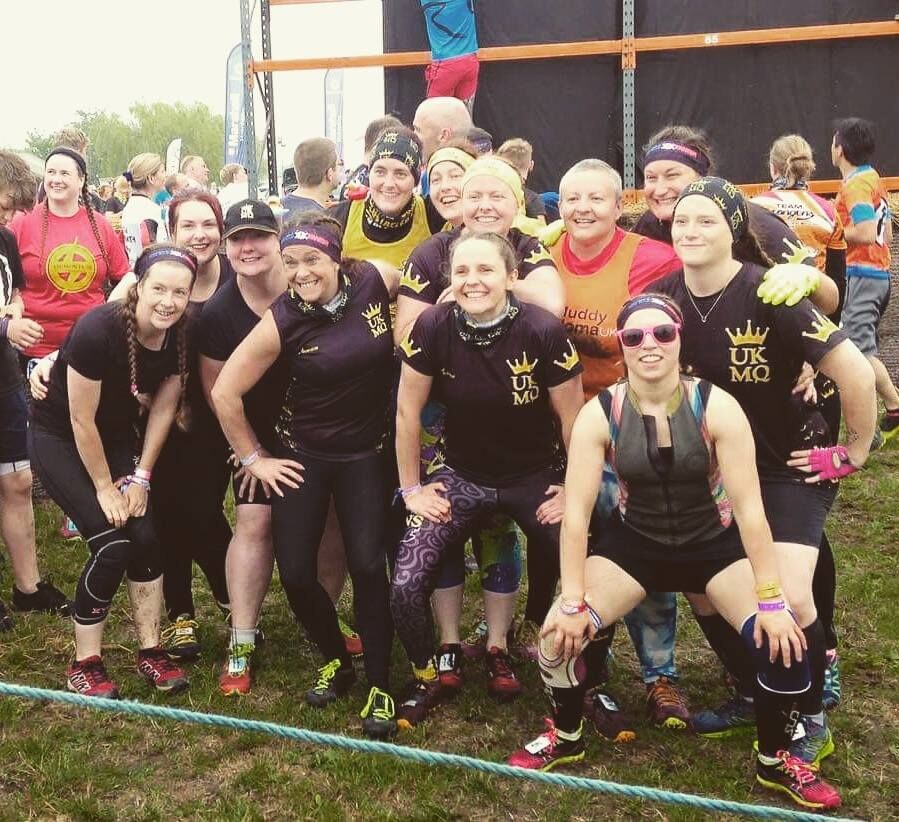 In the OCR community, I find that more and more people are getting together from all fitness levels and backgrounds to form teams. The teams then take a course by the horns, ensuring that each team member starts and finishes together. I find teams of women empowering, and when I think of the UK Mudd Queens, three words come to mind: Empower, Encourage and Teamwork.  I first heard about the UK Mudd Queens (an all women's obstacle racing group based in the UK) from members of the Canadian Mudd Queens and I was intrigued.  I wanted to feature the UK Mudd Queens in my article series as they welcome all members both locally and internationally with open arms and open hearts. This team is about having fun, getting dirty, and being there for one another.
For those of us that don't know, who came up with the UK Mudd Queens group name and why?
Essentially we all wanted a place where women could chat about all things OCR, so when we got together at a race we had a quick chat ('quick' being the whole way around the 12k Dirty Dozen) and set it up as soon as we got home. Well, except for poor Fay who had to go to hospital with a broken ankle (after rushing back home to shave her legs first, naturally!). We reached out to the Canadian Mudd Queens and asked if we could fly the MQ flag over here and they were all for it.
When you think of the term "Mudd Queen", what does that mean to you?
It's support. It's encouragement. It's having someone by your side. Empowerment. Non-judgement. It's being really good friends with someone you've never actually met before.
What are some of the proudest accomplishments for the UK Mudd Queens Team?
Good question. I think the cherry on top of the Mudd Queens is the amount of money raised for charity, but there's so much more to MQ's than that. We're proud of how the MQ's inspire each other. Last year we had a few MQ's running the Brighton or London Marathons, so we tracked them on the group and kept everyone updated on their progress. By the end of the day over 20 MQ's had signed up for the same race next year; seeing other MQ's run a marathon made them believe they could do it too, so they did! This could also be said for Winter Tough Guy 2017. This race is known as one of the coldest, mentally tough, races in the UK and is always the one you never quite getting around to sign up for. Well, this year we had over 200 MQ's on the start line all raring to go! A few Queens wanted to sign up but needed some encouragement, so naturally everyone piled on top of them volunteering to sign up if they did it too. We managed to get them a great group discount which led to, we think, the biggest team turnout for the whole race. It was a sea of black and yellow at the start line, each woman there because she's supporting the woman next to her.
As a team when you think of the word "OCR" (Obstacle Course Race), what does that mean to you?
Mud! For a lot of people I suppose it would mean times, podiums and competitive waves, but for us it's just an excuse to act like a big kid clambering over stuff in the mud. Of course we're super proud of all MQ's who do push themselves for better times and top category positions, but it's also important to celebrate those who may not have podiumed, but are absolutely smashing it regardless.
In terms of training do the UK Mudd Queens have any groups that train together?
I wouldn't say we have specific training groups, but a lot of MQs meet up with other local MQs to go on runs etc together. That's really nice to see! We're also just getting to grips with Parkruns, which sees a lot of MQ's meeting up and running together. You can now set your official Parkrun club to Mudd Queens, which gives everyone a bit of team spirit rather than just running for yourself. One of our lovely members Hannah Perrin kindly creates a map of all the Parkrunners, so it's become a bit of a goal for people to get their crown on the map!
You proudly state that you are a support network. Tell us about that.

It's only recently that we've come to see just how much of a support network Mudd Queens truly is. Originally setup to focus on OCR it's now morphed into something far bigger for a lot of women; people now turn to the group for general life advice, help with relationships, or just to rant about something because they feel they can't speak anywhere else. MQ's have always been super helpful, and as we encourage the rule of 'post positive' people never receive criticism or backlash, just pure support. We see so much in the media of the woman vs. woman narrative, it's incredible to see the strength that MQs provide to one another. In fact, the same can be said for the OCR community in general. The way the whole OCR family rallied around a MQ when her partner passed, and how people stepped up to help Helen Chapman get a new blade (prosthetic) so she could continue doing what she loves… okay, we're getting goosebumps, it gets a little emotional.
Being Badass Women of OCR means many things to many people. How do you define being "Badass"?

Constantly pushing the barriers of what you're capable of. For some women this is running 30 miles, for others this is running 30 minutes. Whatever the achievement it's completely Bad-Ass if it's something they couldn't do before, but worked at it and got there. This is definitely what MQs are made of! One MQ in particular, Emily Red, is pretty Badass, she's built herself up to the point where she casually runs 24hr ultra-marathons on a regular basis – she also ran WTM last year.
I see that you do a lot of fundraising and Charity runs. Is there a way that us international folks can participate or donate?

We try! We host Virtual Races, and international folks can certainly sign up (just message us to sort out postage). We set a challenge, put together a medal, sell the tickets and watch as all the MQ's take part. We try and make the challenges appropriate too; one year a poor MQ got heckled as she went out for a run (she only ran at night as she didn't want to be seen). She posted on the group, we encouraged her to get out there and it only bloody happened again. So we set the group a challenge of going for a run in daylight. Some people even ran with crowns or tutus on just to show you can look like a wally and live to tell the tale, it was so nice to see the support. People usually post selfies of themselves after their run, which sets the motivation level in the group to +10000 and encourages everyone to get involved.
So far we've raised nearly £7,500 for three different women's charities…! We choose charities that support women in particular (previous charities include Rosa, Girls Out Loud and A Mile in Her Shoes) and 100% of the proceeds go to the charity after postage and medal costs. We're very lucky that an MQ (Ginger Lacey) helps us out with this and deals with all the spreadsheets involved if it wasn't for her hard work we wouldn't be able to keep doing them.
Last year we also had a birthday raffle. We like to celebrate our MQ birthday and are very lucky that lovely Race Directors donate prizes to hand out. We thought we'd raise money for a fellow-MQ who needed a new prosthetic leg, so we sold tickets for the raffle and donated all the proceeds to her new blade. We're so pleased she can get back out there and carry on OCR-ing when she's able to.
What is a little-known fact that you wish to share with us?
Lucy has a not-so-secret crush on Jamie Fraser. Fay is the only one of MQHQ that doesn't have a tattoo (she is the Posh One, after all). And Jojo is a hermit (who hates it when people use 'lol').
MQs however, are pretty much an open book 🙂
If people want to reach out to you on social media, what is the best way to reach out to you?
Facebook: UK Mudd Queens