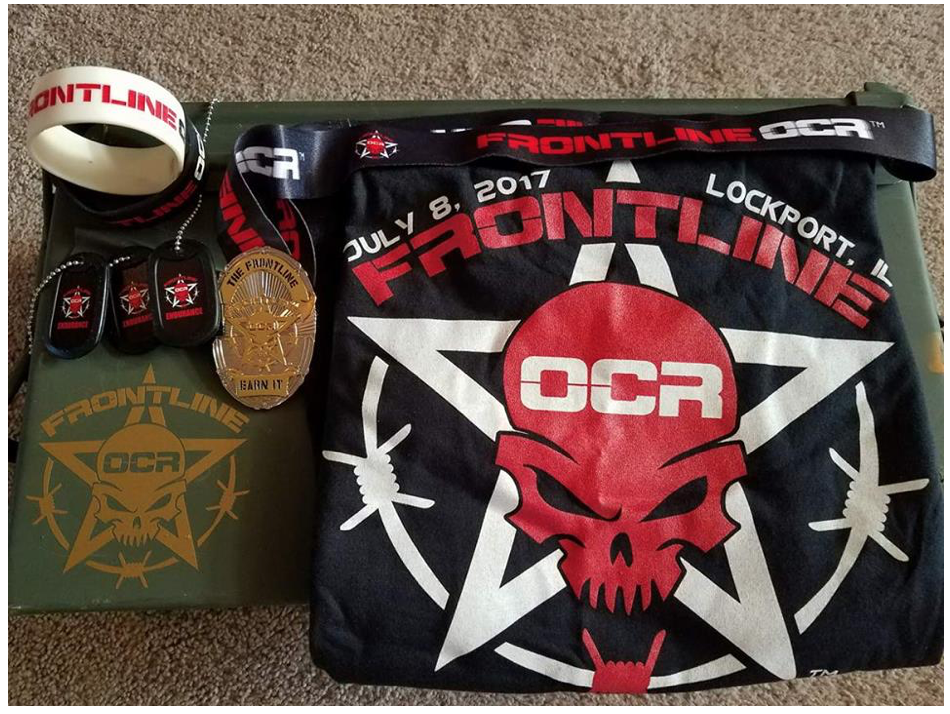 In a world where OCR events have become a dime a dozen, it's hard to take a new race series seriously. A lot of us have fallen victim to events fresh to the market that fell extremely short of their claims or were downright dangerous due to lack of experience or foresight, or both.  Let me be clear when I say that Frontline OCR is NOT one of those events.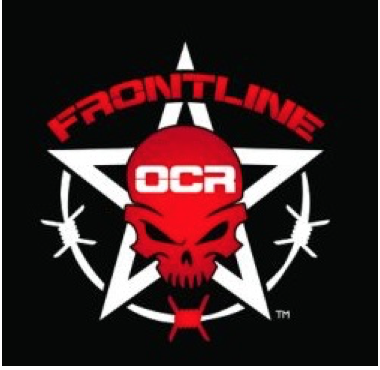 Frontline shot out of the gates late last year with an aggressive marketing campaign, in the form of free bootcamp-style workouts.  It drew the attention of several OCR enthusiasts in the northern Illinois and surrounding areas, and with good reason: Race Director Ed Leon (and his team comprised of Mike Janicek, Jay Nichols and Margaret Cordero) had a mission to create a unique event centered around the theme of honoring those on the "Front Line" – our military and first responders.  Most of us either know someone close to us who have served in this fashion, or have served ourselves somewhere along the line, so it's easy to get behind this kind of mission statement.  In addition, Leon (a Federal Probation/Parole Officer himself) has an aura that shows he genuinely cares about providing a quality event that people would talk about for years to come.
As attention to the event grew and their marketing campaign spread, it caught the eye of the OCR World Championships.  The OCRWC granted Frontline the status of being a qualifying event for their race, an honor typically bestowed only to older, tested events.  The child prodigy aced the exam without even having to study, so to speak.
Frontline had a major hurdle of being scheduled to run the same day as two other big name races: the Indiana Spartan Sprint, and the Chicago Badass Dash.  However, the inaugural event (held in Lockport, Illinois) still drew several hundred people despite being up against two comparative Goliaths in the OCR field – a testament to an effective marketing strategy.
Race day itself was abuzz with excitement:  Parking was a non-issue and on-site (and FREE!!), packet pick up was smooth.  There was a tent provided for the biggest team, complete with plenty of tables and chairs and located in the middle of the festival area where a lot of the action was.  The one and only Coach Pain was the announcer of the event, who always breathes inspiration and energy into every start gate send off.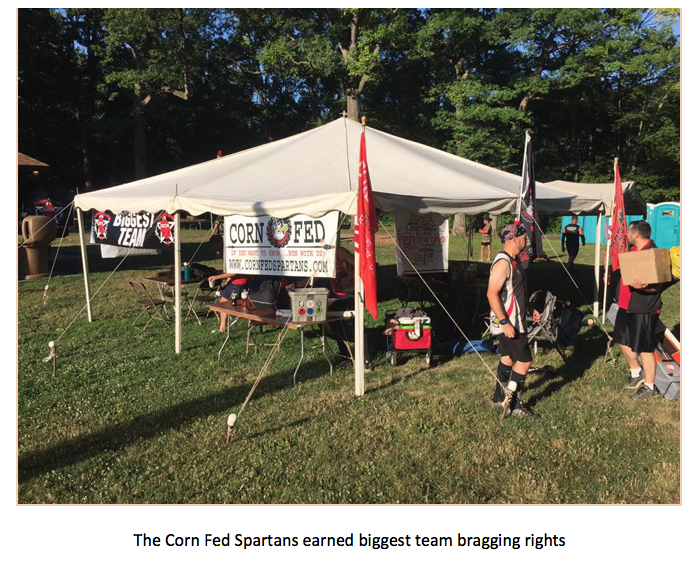 The race itself was broken down into three options:
Competitive (aka Special Forces): this elite wave requires mandatory obstacle completion. Every competitor wears a race branded 15-pound weight vest for the entire course. Instead of the classic "lose your band" punishment for failing an obstacle, Special Forces racers lose their vests.  Racers who complete all obstacles get to keep their vests as a "Badge of Honor."  Finisher placing is determined by the percentage of obstacles completed, followed by finisher chip time.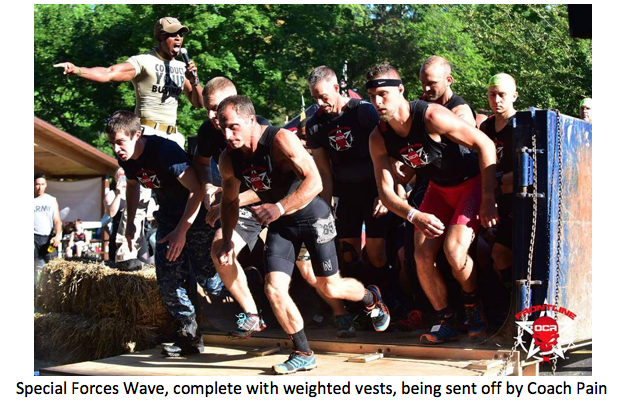 Open: While still chip-timed, obstacle completion is not required.
Endurance: For those who feel one lap is a warm-up, this class allows competitors to rack up as many laps as possible before the cutoff time.  Each finished lap earns a competitor a special dog tag, with a different colored tag if 5 or more laps were completed.  The dog tags are awarded in addition to the finisher medal that is collected when racers finish for the day.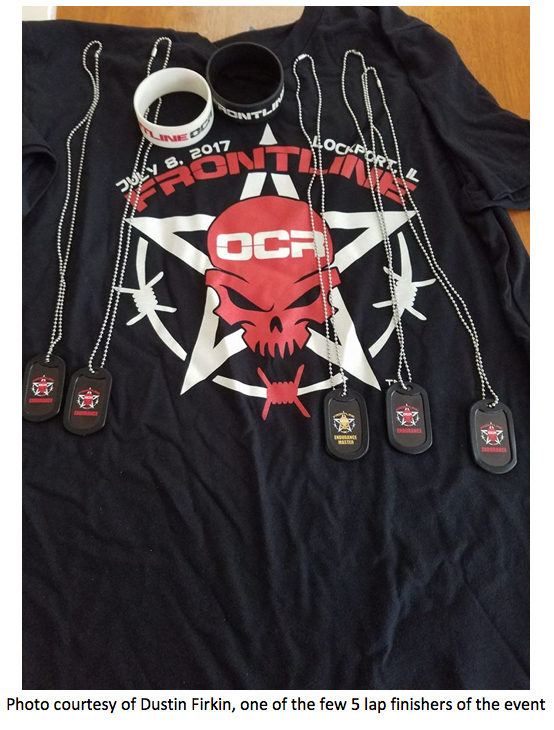 The course itself spanned 5 miles, with 37 obstacles.  Again, with OCR reaching a state of maturity, it's hard to come across new and unique constructions; Frontline, however, hit one out of the park with several obstacles that I'd never encountered before.  Among those were:
The Bangalore Torpedoes: Vertical hanging 6" round PVC pipes that needed to be traversed without touching the ground.
Open Parachute:  A set of hanging ropes that needed to be traversed, again without touching the ground.
Below Deck: A unique construction consisting of 2×10 wood planks and a steel pipe that was used to swing/shimmy across a deep trench cut into the ground.  The positioning of the wood planks was such that it interfered with a good body swing, forcing you to use sheer muscular strength to power through this obstacle.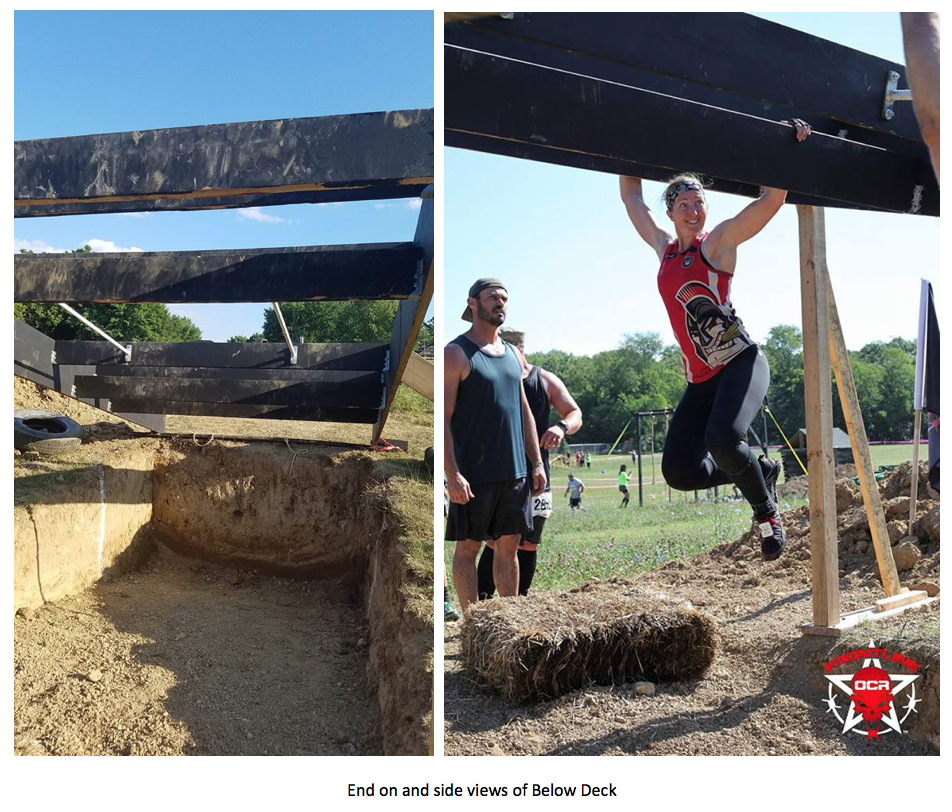 Short Circuit: A series of balance beams and overhead traverses along 2×4 wood planks, suspended from the ceiling by chains so the planks would rock/rotate as you gripped them.
Frontline also took some classic obstacles and put their own spin on it.  Among my favorites:
Casevac:  Those who have done Spartan Race are likely familiar with the concrete block tractor pull.  Frontline took it a step further by making the concrete forms cylindrical instead of cubic, which meant that they rolled unpredictably while dragging them, making it that much more difficult.  A barb wire low crawl was added in the middle of this drag, forcing you to push the concrete while slithering through a muddy, marshy grassland, thanks to the sprinkler system that was installed by the FLOCR team.
High Tide: Take your classic warped wall and add 4 feet to its height.  Then add another 4 feet of vertical for the Special Forces wave.  What you end up with is a monster of a climb that liked to eat the vests of the elite racers.
Cliffhanger  (Courtesy of another great event, the Abominable Snow Race):  This obstacle consisted of a classic traverse wall with a 20 foot 2×10 plank that needed to be traversed by hand before landing on a second traverse wall.  This one tested balance and grip strength significantly.
Another unique facet of the course was an obstacle called Fate – the direction you chose dictated whether or not you got another obstacle tacked on to your route.  Those who chose the round tunnels had an added ¼ mile to their course and needed to traverse an obstacle similar to the Weaver, navigating over/under sets of horizontal 4×4 wood posts, in 2 separate sections.
Of course, the very last obstacle before the finish line was the Platinum Rig, a signature feature of many an OCRWC qualified event.  This particular rig was courtesy of OCR Unleashed.  The low monkey bars at the very end of this obstacle were the final nails in the coffin for several Special Ops racers, forcing them to lose their vest.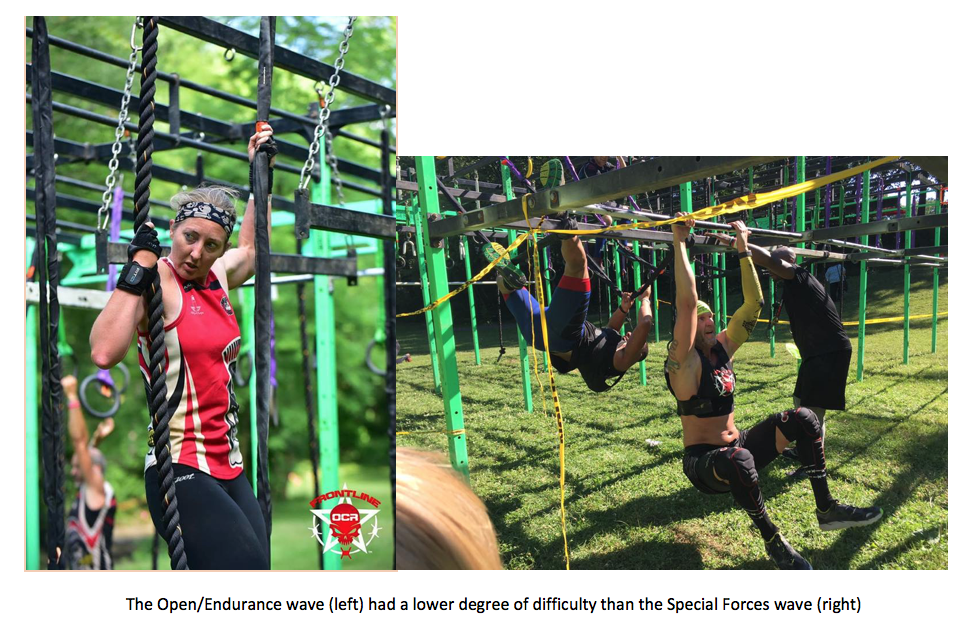 Other big pluses of this event:
Excellent use of terrain – in an area of Illinois famously known to be flat, Frontline made use of every hill they could find…some so steep they required ropes to get up/down.
Men and women were treated as equals in this event – meaning the women carried the same weights and did all of the same obstacles as the men. The exception to this was at the Platinum Rig (women were allowed to use a lane with more footholds).
The volunteers were all very kind and helpful – and the race directors treated them with the respect they deserved. From my observations, they were well-fed and provided ample breaks.
There were plenty of food options in the festival area – and the biggest team was provided with free pizza from the famous local haunt, Aurelio's.
The race staff was genuinely interested in feedback post-race.
Unique Police Badge inspired medals put a smile on every racer's face as they crossed through the finisher's chute.
The top 2 men and women of the Special Ops wave proceeded to a short course called the Blitzkrieg – intended to exhaust the racer over a very short distance with the use of weighted sled drags, broad jump burpees, medicine ball tosses, tire flips, box jumps, and an assault tower built similarly to that which first responders train on during drills. The male and female winner of this event each took home a $500 purse.
The Blitzkrieg Assault Tower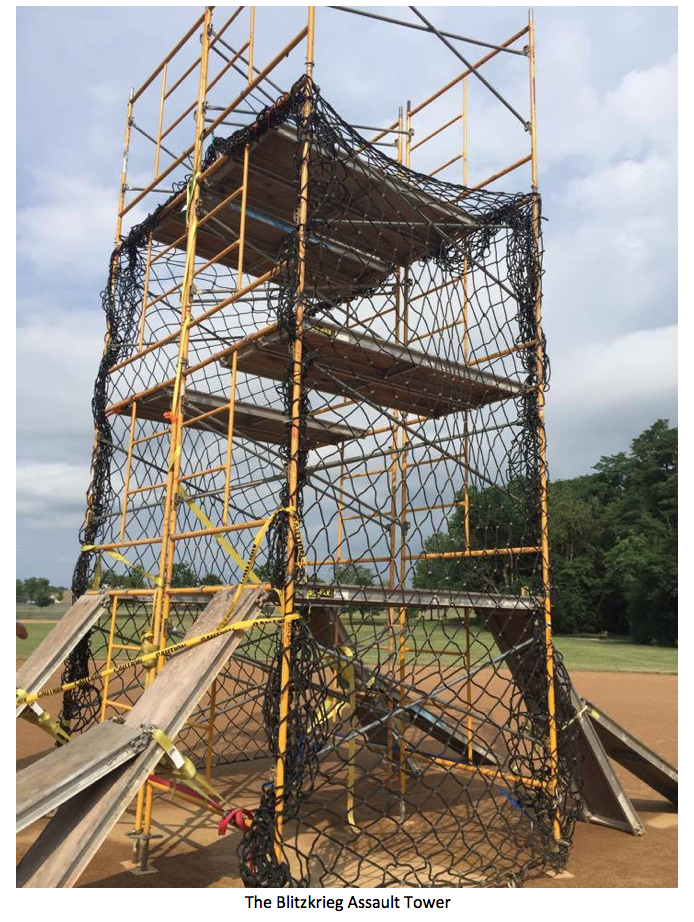 It's hard to pull off a stellar race from the get-go, but Frontline succeeded in a top quality event that rivals the larger, more heavily sponsored races.  Short of failing to send out a pre-race day "final instructions" email, no stone was left unturned when putting this event together.  You could tell that those in charge of the event poured their hearts into something they hoped would be great – and a great event, it was. I look forward to seeing Frontline become even bigger and more spectacular in the coming months.  This race is a must-do for the OCR enthusiast!
Rating: 5/5
---
Have you done an Frontline OCR?
Leave your own Frontline OCR review and feedback...