Confession time. Most Saturday's I can be found racing and on Sunday I am usually hiking with my husband. Anytime it's too hot or the trails are too hilly or I step in mud during the hikes I whine….A LOT. My husband always asks me why I smile in my race pictures when I'm covered in mud and sweat and bruises yet while out with him I act like a princess. I explain that at the end of the race I get a medal and a shirt and at the end of the hike all I get if I am lucky is an iced coffee. Don't get me wrong I love the hikes, I really love my husband and spending time with him and I would have never met an iced coffee I didn't lust after but for some reason the swag we get at the end of the race makes all the suffering seem worthwhile. Last weekend I found a way to combine the two! I did the Lost Tribe Search and Rescue Race which indulged my love for hiking while adding a new medal to my rack. And added the title "Endurance Racer" to my resume.
I am an "act now and figure it out later" kind of girl. So when I saw an ad for this race on my Facebook page and saw how close to home it was I signed up right away for the team option and thought I would figure out the details later. I had no idea what it was exactly nor did I know if I would get anyone to sign up with me. But that didn't matter..I wanted to try. There was a 3 HR single person option or a 6 HR team option. Teams could be made up of anywhere from 2-6 people. I figured I could at least get one other person to sign up with me; who knew I would be able to put together a full team?? I knew 4 of my teammates through other OCRs and one person was someone we had never met who was just looking to join a team. Out of the 6 of us, only one of us had done this before but we were all up for the adventure.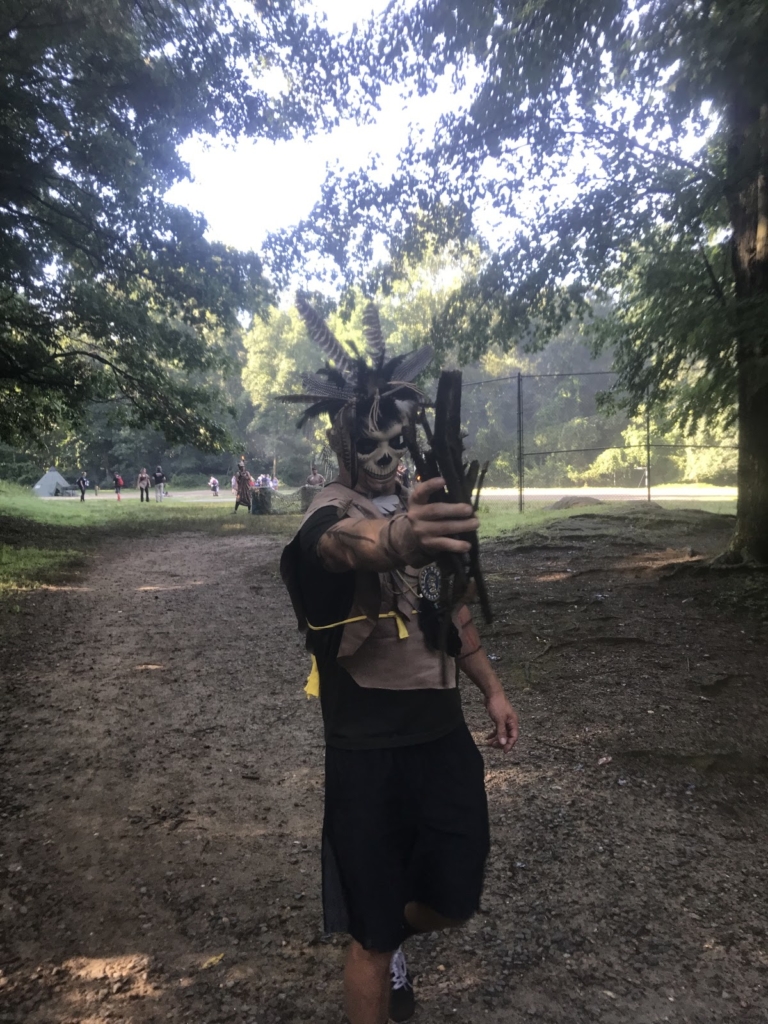 Two weeks before the race we received a mandatory gear list which included a 3ft long rope, a knife, and a compass. Knife???? Rope????We would be out in the woods for 6 hours on unmarked trails trying to capture as many checkpoints as we could. I had no idea what this meant but that has never stopped me from doing anything before. My husband thought this was so funny because it was an orienteering race and we had to be able to read a map and a compass and I am lucky if I can follow trail blazes when we are out. I didn't panic until about 4 days before the race until I realized last year's race was 30 miles and we only had 6 hours. How was I going to keep up a 5 mile an hour pace while bushwhacking and looking for hidden things in the woods?
Turns out I wasn't. When I got there two of my teammates were already there and had been given the map and were plotting our day. We didn't have to cover the whole 30 miles. There were 42 checkpoints spread out over the whole course and it was up to us to plot our way from point to point and decide which ones we wanted to go for. We had to get as many as we could in the 6 hours. Each checkpoint was assigned a different point value depending on how hard it was to navigate to . If we ran 15 minutes past the 6 hours we would be disqualified.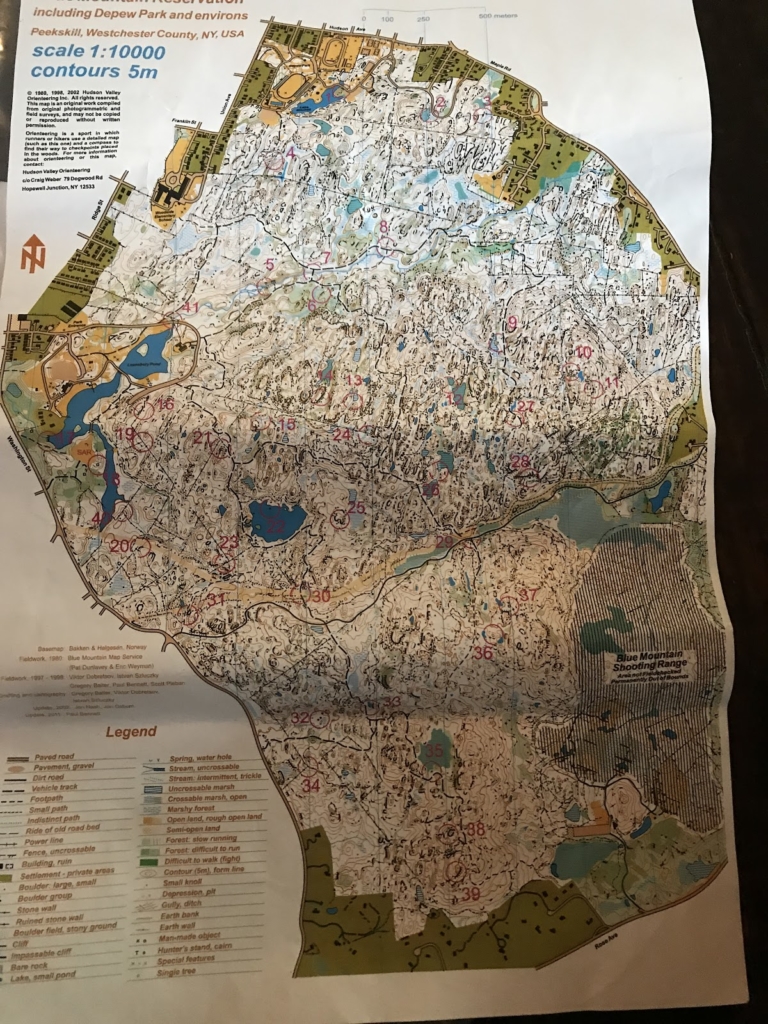 Along with the map we were given a whole story that the day was to follow. We were pretending that there was a plane crash and there were indigenous people we were going to encounter. If this sounds way different than any other race you have ever done you are right!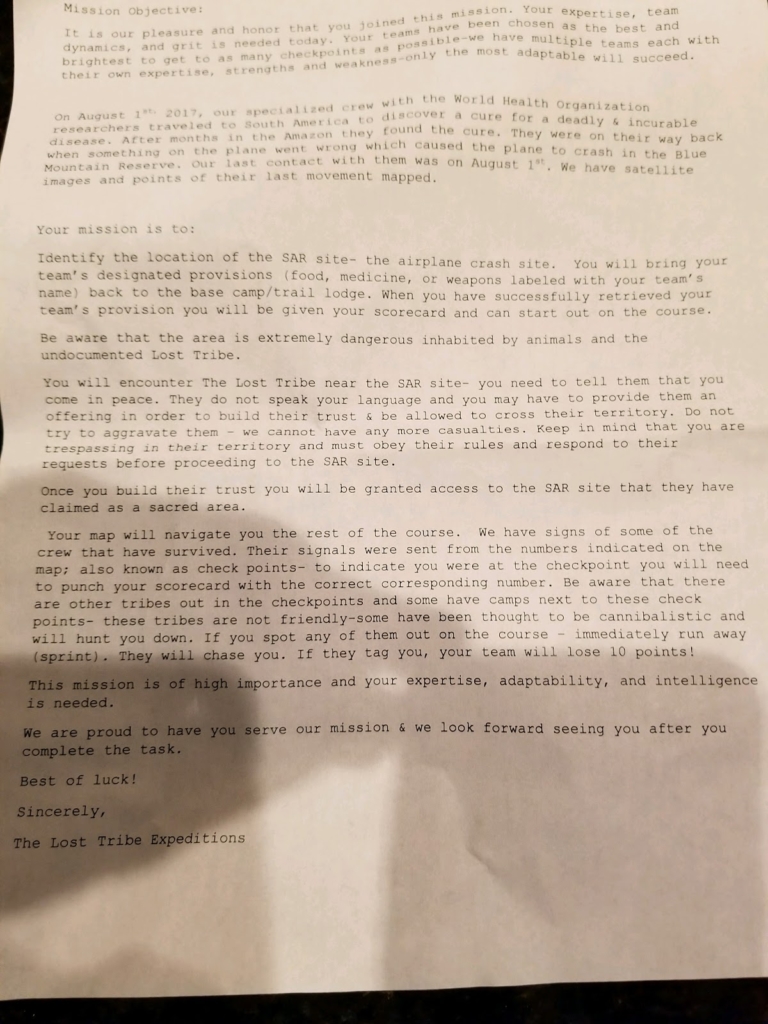 On our way to the "crash site," we encountered some of these people and had to offer to give them a peace offering from our packs. I gave them a Honey Stinger waffle and they seemed happy. Then we went into a tent where there were more strange characters and were given a playing card. These cards were used during a grueling 20-minute workout we were put through even before the race started! Think burpees, jumping jacks, mountain climbers, squats, planks. We started the race dripping with sweat and stayed that way the entire day. I have actually never finished a race smellier than I finished this one.  When they pushed us to our limit, colorful smoke was released into the air and we had to find a log with our team's name on it and carry it back to the starting line. I am pretty sure we were the only 6 person team as we definitely had the biggest and heaviest log. Though I must admit there were two women and 4 men on my team and the men did not make us women carry the log. Then we were off into the woods!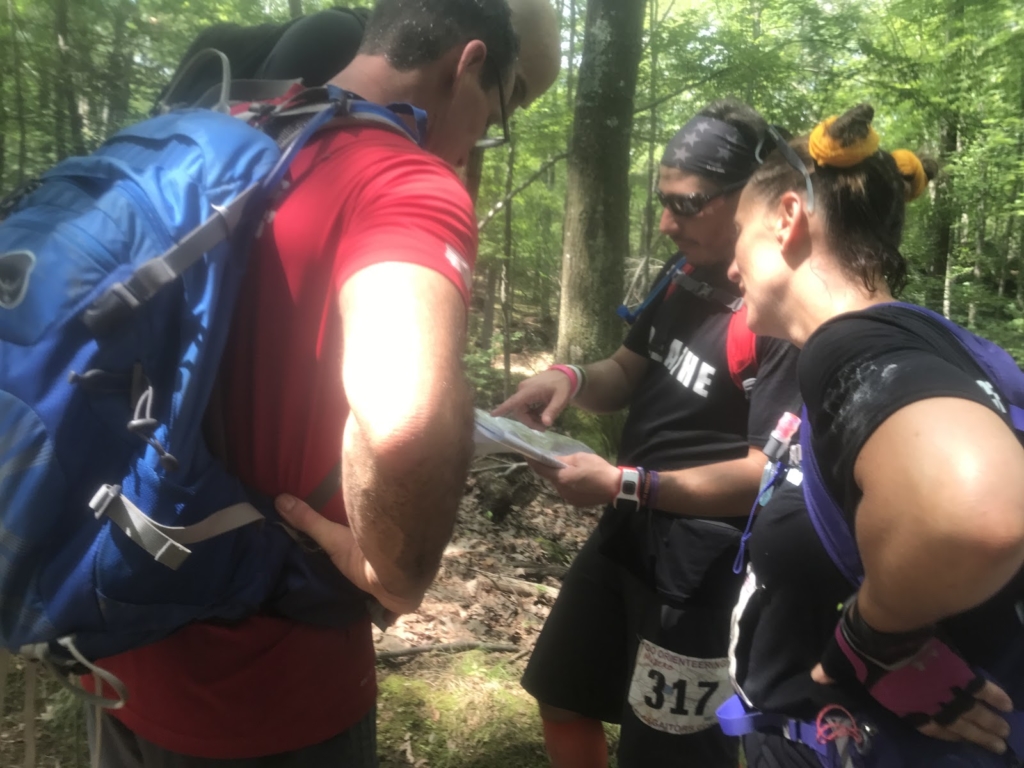 To say my team was good map and compass reader is an understatement. My lack of map knowledge worried me a little because I really wanted to contribute more. I have pretty good eyesight and when we were near a checkpoint they would let me know and I was able to spot a few from far away so that made me feel a little better about adding value to the team.   It was just like playing scavenger hunt in the woods. We had so much fun and got along great. At one of the checkpoints, we weren't able to punch our card until we all did 5 burpees and ran a little sprint. At another one, we were chased by some of the "natives" and when we were caught we lost ten points. Right after that, there was a station set up with Zico coconut water, soda, water, gummy bears and trail mix. YUM! They also had some Skin Laundry cleansing wipes to clean off any dirt and mud we had sticking to us. Some other races take a few pointers here..this was all a welcome sight.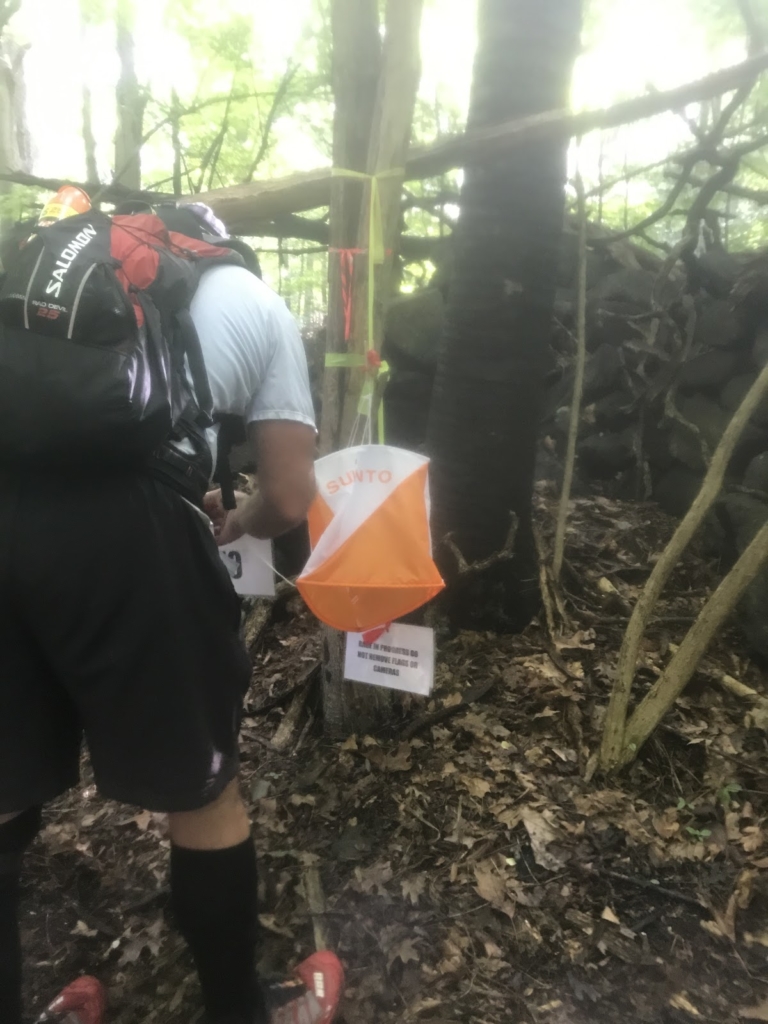 When we had an hour left we decided to go for one more that was pretty close to where the race ended because we knew if we went for the others we were missing we would not have made it back in time. That checkpoint had dummies worth 50 points each but by the time we got there they were all gone but we did manage to punch our card and get the points.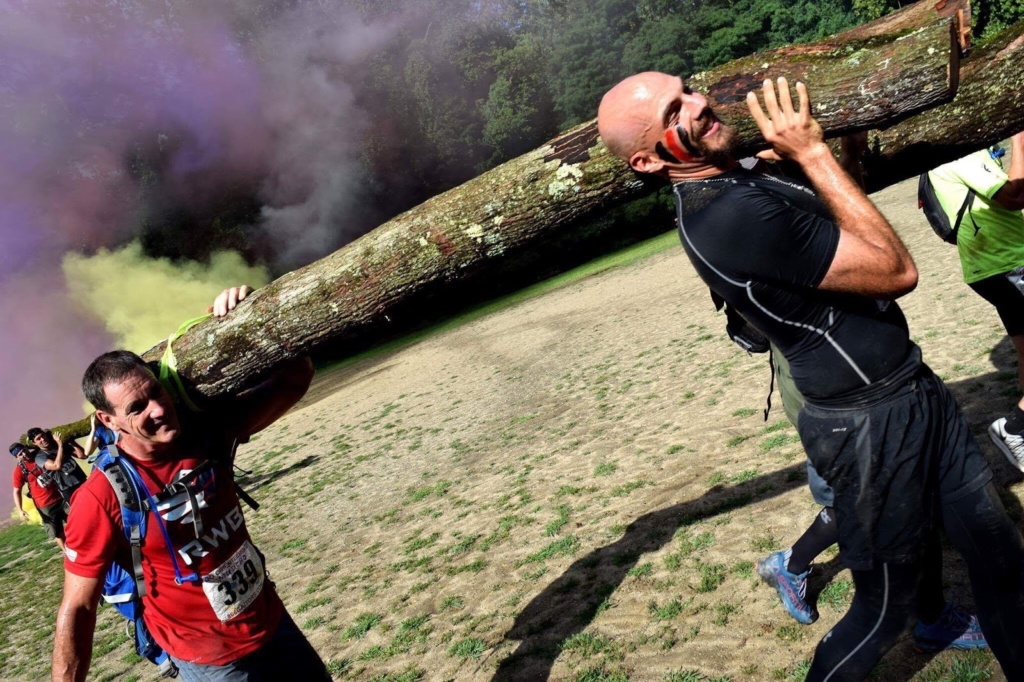 For virtual strangers, we communicated great and managed to find 36 of the 42 checkpoints which put us in 8th place. The medals are gorgeous and the women got a tank top as a finishers shirt which I personally love! Oh yeah, and there was a free buffet set up after with hot dogs, chips, sodas, water and a beer keg! It was so nice to be able to do something as a true team. I saw a father/son team out there as well as an older married couple (who I think said they found all the checkpoints!)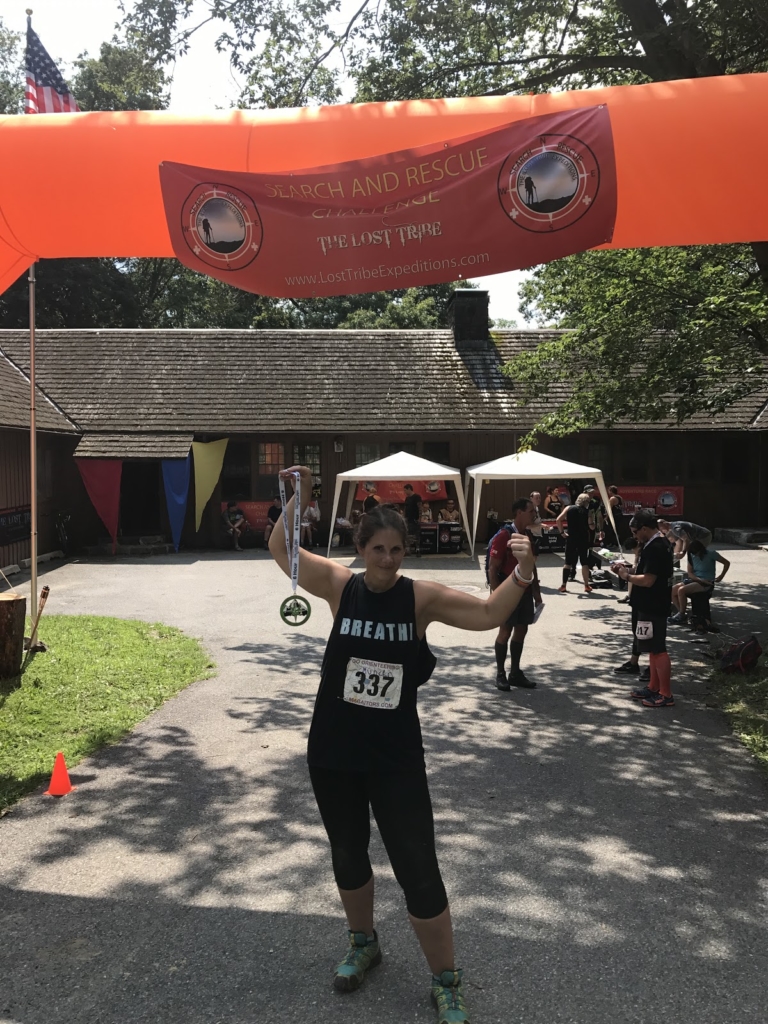 What did we do with the knives and rope? Nothing! Absolutely nothing! Maybe it was a scare tactic or perhaps had we chosen other routes they would have come into play?  I have another confession for you. I have been doing this for so many years and have completed so many races that I was feeling a little burned out. Getting a little bored. This race that made me "Adapt and Overcome" has re-energized me.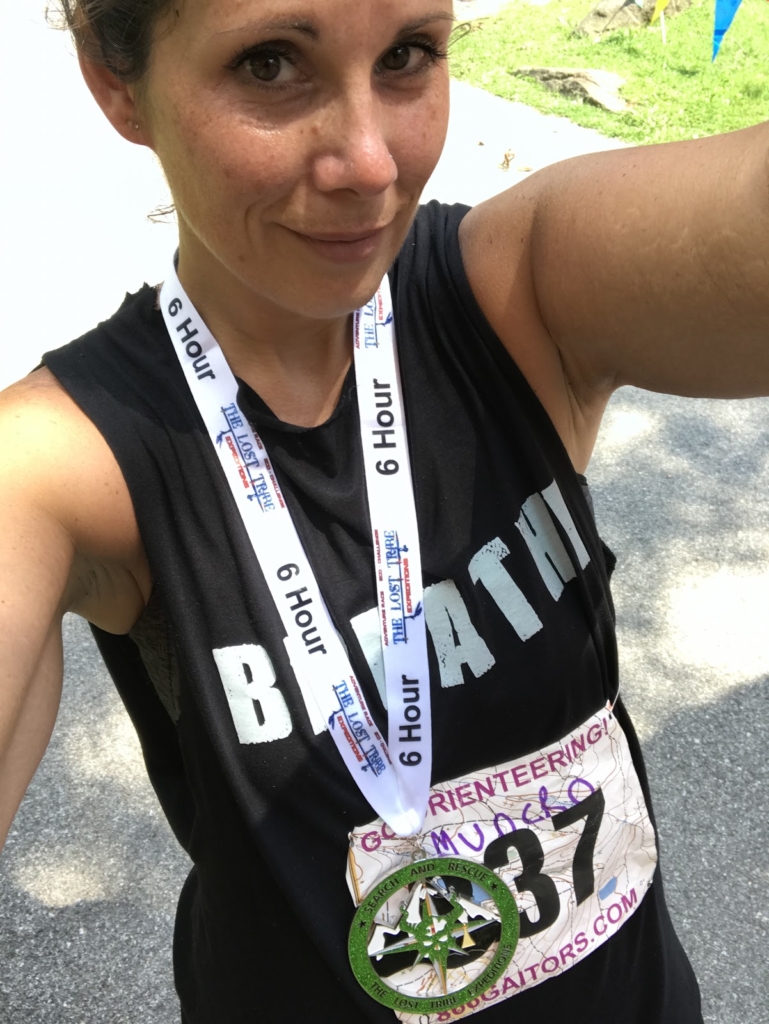 This was one time where my "Look before you leap" attitude paid off and I am so glad I got to be one of the 100 or so people who participated in this race. When we got back to base we saw that there were a lot of logs that had not been picked up. We asked one of the race directors why and she said a lot of people get nervous when they realize what they have signed up for and back out. I was almost one of those people..ALMOST. I hope many of you get to try one of these races next year; it will definitely help get you out of your OCR rut. See you on the course…..
Rating: 5/5
---
Have you done an Lost Tribe Expeditions?
Leave your own Lost Tribe Expeditions review and feedback...