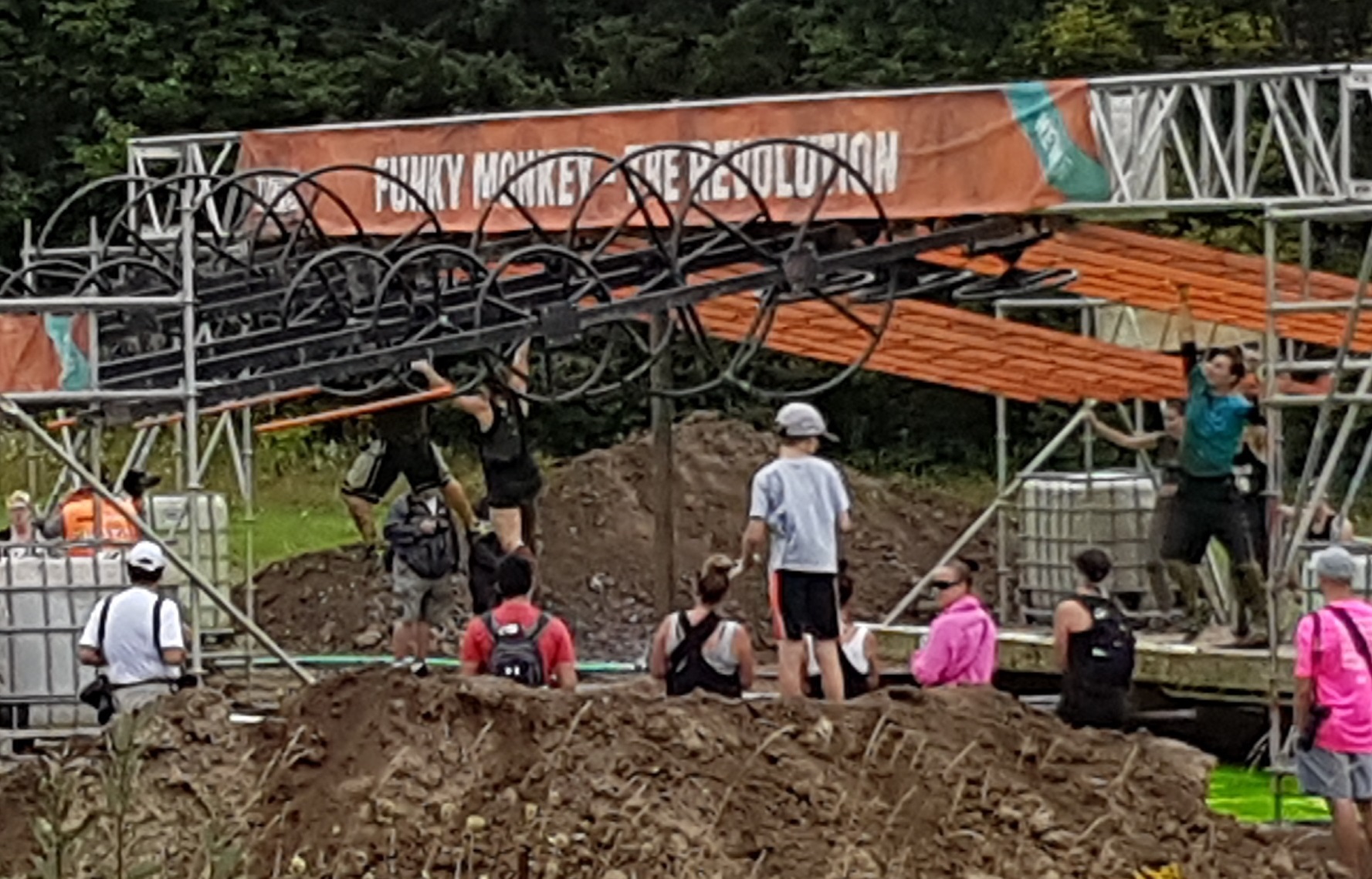 Ever since starting my journey into the world of OCR, I had heard about these so-called 'Tough Mudders' and quite honestly, I never understood the desire to race to that extreme for a mere headband.  Fast forward five years later and over 114 races and I finally decided to see what all the fuss was about.
We booked our hotel well in advance and decided to stay in Orillia at the Best Western Plus.  It is conveniently located about 30 minutes from the main venue and is close to many shops and restaurants for our pre-race meal.
We decided to head up to the mountain early to confirm the location, access, and parking status and found it well laid out and already set-up with excellent signage etc…. then back to the hotel for a quick bite and a hot tub before heading to bed early.
Race Day
The next morning, we headed off early to get there 45 minutes before our scheduled heat time of 0800hrs.  We managed to find great parking in the main lot and had no line ups to pick up our race bibs and get our wristbands for beer and bag drop. We were super excited as we had a small glimpse of the excellent obstacles that awaited us and were eager to get going while the weather remained overcast and warm.
We dropped our bags ($10.00) in the indoor facility and appreciated that paid security guards were there to ensure our items were safe and accounted for. It was also nice to be able to use the indoor washrooms and meet with some of the volunteers before heading off to the starting corral.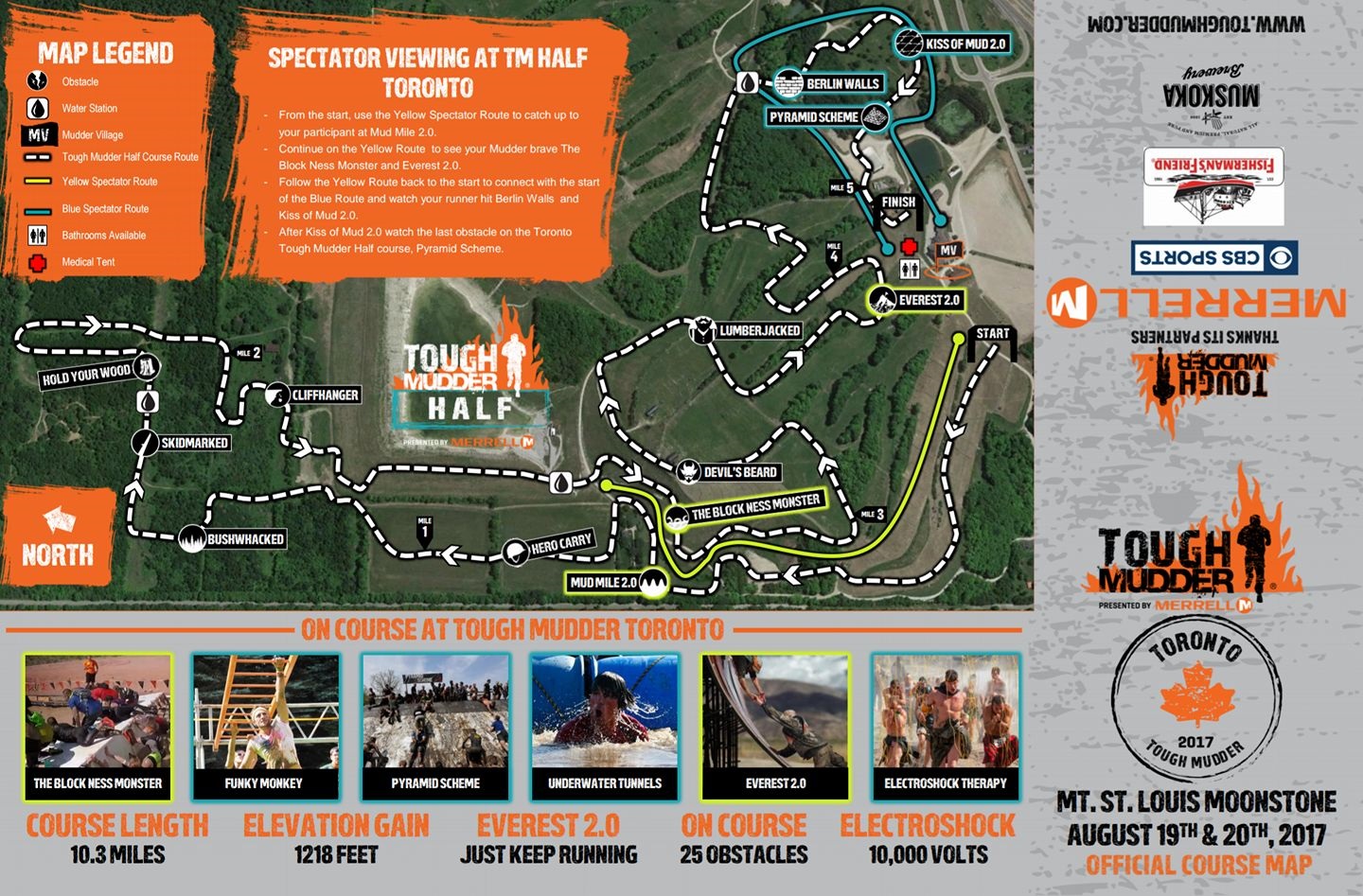 Race Details…
We had some fun on the way to the start line where we got our pictures taken, sponsored by Fisherman's Friend, where they green screen in some action behind us like boiling lava and splashing water and then email them to all of us for posting on Facebook.  We loved this booth!
Costumes are also encouraged and some get quite explicit and then there are the usual teams of super hero's etc….it adds a fun touch when you are slugging up the side of the hill again and again.
The MC for this event was 'Coach' and he comes across as a funky 70's retro dude with a quick wit that kept us engaged and laughing until our final release just shortly after 0800hrs.  It was a proud moment to hear the national anthem play as we stood there on the side of the mountain appreciating the freedom and acceptance we have in this great country of ours! It set the tone as we raised our right hands and swore the TM oath.  Then we were off….
As we climbed the first slope, first timers could be heard doubting what lay ahead, while seasoned TM racers encouraged them on with high fives, slaps on the back and big smiles that motivated even those feeling nauseous about the journey they had begun.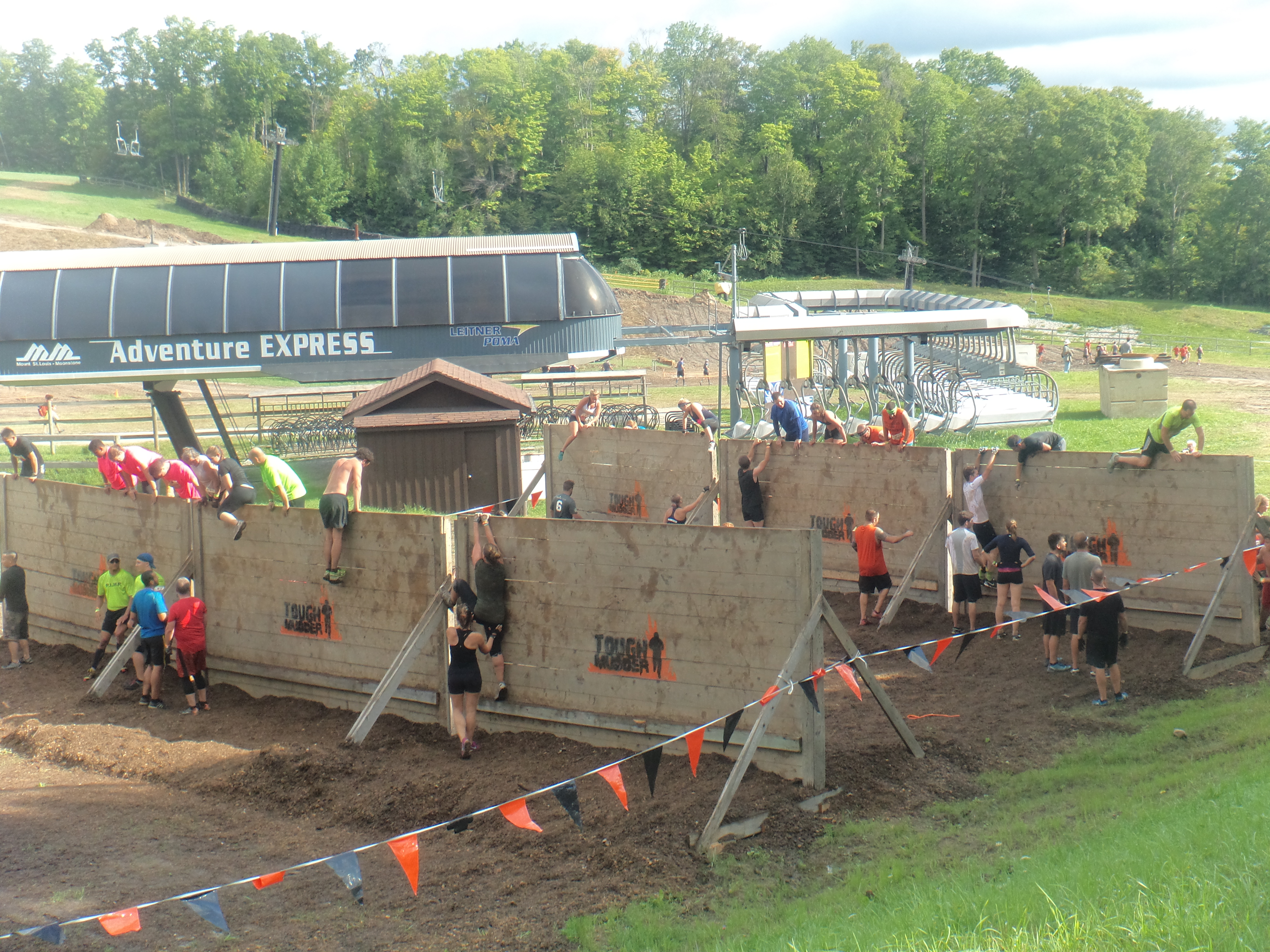 I must admit that any hesitations I had were lost as we wove our way up and over the slopes and began to crawl under fabulous mud with barbed wire overhead.  Each obstacle was well built and solid and the volunteers were there to ensure your safety and to inspire you to try it. It was refreshing to have such a team focused event where the time you spent out there was not a penalty but promoted as we helped people climb out of deep mud pits or scale the 10' walls as they overcame their fears that would usually hold them back such as heights or the fear of failure.  It was a positive experience that left you feeling supported, a part of something great and a sense of accomplishment without the normal pressures of how long did it take and did I make the cut into the top X %?
Water stations were ample and well situated and for those tackling the longer Full Mudder event there was the offering of Stinger gel packs to give them the extra little boost to continue and complete the remaining course.  Washrooms were also located along the route and were a welcome sight to those who had hydrated well during the morning.
Spectators had some great views and were invited to walk along and take some shots of those they supported or they could opt to watch the fun of Electro Shock and Kong while sipping a cold beer or snacking on some great poutine, one of the many vendors located in the main village.
The MC for the Electric Shock obstacle was one of the funniest I have heard! She kept everyone laughing and energized as they lunged and crawled as the dandling tentacles snapped and popped when the struck the racer dodging their way in knee deep water and over bales of hay to add some elevation.
At any time, a racer could opt to bypass an obstacle and safety was a consideration throughout with medics well marked and lined up along the course easily accessible by radio and by motorized vehicles that toured the course often to ensure no one was left behind.
The course itself was well marked and easy to navigate, at no time did we hesitate or lose our way and the kilometer markers encouraged us to continue.
Other great obstacles were the team log carry and Block Ness -where you spun a team over into the water and helped to spin the next group, we honestly would have stayed in this area much longer as it was such a blast!
Climbs, crawls, carries and walls and that is not even including the additional 9KM that the Full Mudder entailed where they looped back out and added some great upper body challenges like Kong where you are elevated and must swing between rings or the Funky Monkey where you challenge your grip strength across a watery pit.  Each one offered a creative challenge to test your strength and will power.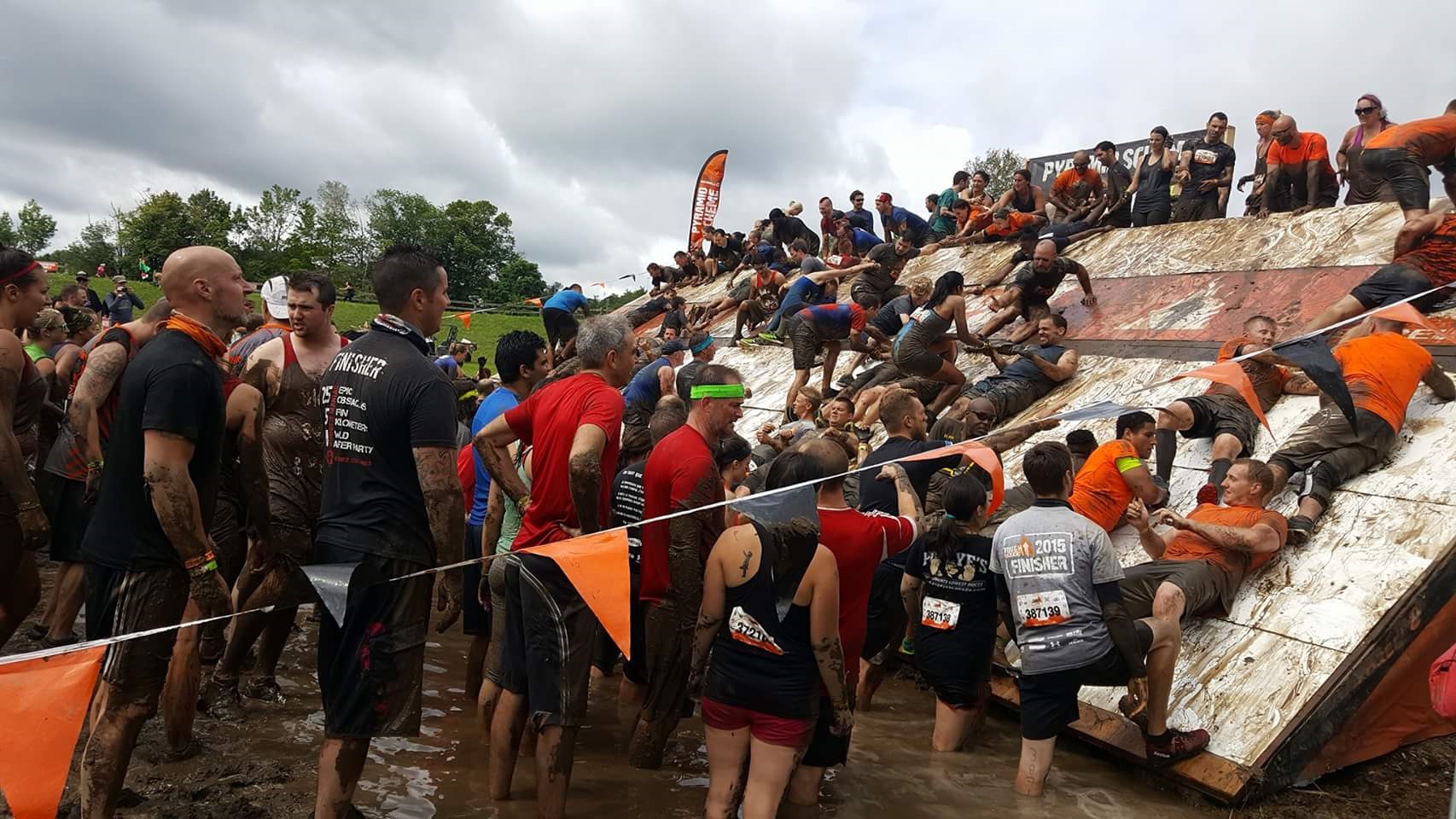 The final obstacle for the Half was the Pyramid Scheme where teams climbed 5 members high to scale a steep and slick wall attempting to drag and pull their team mates up and over. This was where we were the longest as racers crawled over us and became 'personal' friends as bums and boobs were dragged, pulled and pushed to get the person up and over with the least amount of effort.
After the Race
Music could be heard throughout the day and the beer garden had ample seating for everyone with a variety of beers for those who are connoisseurs.  One free beer was offered to each racer, who was of age, and each finisher received the coveted headband and a fabulous charcoal grey tech tee.
The merchandise tent was well stocked and offered some unique and fun tees, tanks and hoodies for those who wanted to remember the event and advertise their achievement.
Change rooms and showers were available and there were more than enough port-o-potties to accommodate the large crowds with little to no lineups anywhere.  Well done!
I must admit, I went from hesitant participant to avid fan within minutes of starting this epic course.  Fun from start to finish.
Well organized, well advertised, and no BS from start to finish, providing us with a stress-free and fantastic day!
Thanks to all the volunteers and organizers. This one is going in the books and has gone on our list for next year to tackle the Full!
Thank-you also to That's a Rap photo booth for the fun instant photos, nice touch!
Gear Guide…
Garmin 220 watch, IceBug Zeal2 shoes, Road ID, and QALO ring.
Recommendations:
None, keep up the good work!
Local Food:
Tops in Pizza in Orillia, great food at a great price!
Thank you to everyone involved. EPIC DAY!!
5/5 paws
Rating: 5/5
---
Have you done an Tough Mudder?
Leave your own Tough Mudder review and feedback...