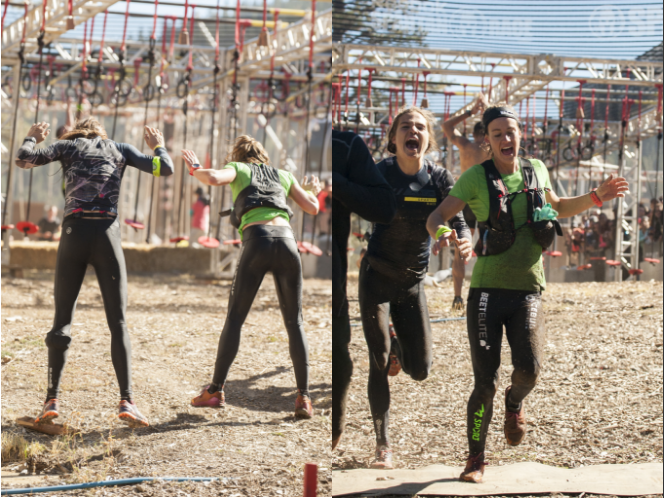 This could finally be Lindsay's year, make no mistake. Barring another episode of barbed-wire hair-gate or some other unforeseeable calamity, the Canadian badass with the perma-smile will likely be standing atop the ladies' podium when the dust (snow?) settles. Read on to find out how and why.
The Course
As always, much will depend on the course and obstacle selection presented by Spartan Race. Here is what we know so far:
"We've pulled out all the stops to make this another memorable World Championship experience. The course has multiple challenging climbs, screaming descents, an alpine swim, and over 35 obstacles spread nicely over a beautiful 16.5 mile course. You can expect around 4800' of climbing. The starting elevation is 6200' above sea level and the highest point on course is 8700' above sea level (considered "high-altitude")"
There you have it boys and girls: Spartan Race itself saying "high-altitude"! The validation of my brilliant op-ed lamenting yet another go-around at a high-altitude venue for a World Championships. End of digression.
The biggest factor by far here is the significant increase in race distance/time. The past 2 years have seen courses of around 14.5 miles and winning times of 2:25 for the men and 2:50 for the ladies. The extra 2 miles has Spartan pegging the fastest time at 3 hours, meaning the top ladies will be out there for close to 3.5 hours or more depending on conditions. I mention this because the leading barometer of how these women will perform has been the (now completed) Spartan US Championship series.
The Series consisted of 4 Supers and 1 Beast, so all the races but 1 were won in less than 2 hours. The West Virginia Beast was won in 2:24, which is at least 1 full hour shorter than the Tahoe race will be. None of the Spartan Series contenders have raced for more than 2:45, never mind 3:30. Except for one.
Lindsay Webster – 1st
The runner-up each of the last 2 years at Tahoe will, I think, finally get her due and come away with a tough win. In 2015, she was only in her 1st full year of competitive racing, and last year she had the race well in hand before a major bonk dropped her well off the pace and into the instant-classic burpee-off with fellow Canadian Faye Stenning for 2nd place.
Adding to her impressive Spartan Race pedigree are her performances at the Spartan Race US Championship series, going undefeated for the title in 2016, and clinching it again before the final race in 2017. As with Hobie Call, Lindsay was forced to race the final event in the series this year or forfeit her title and prize money, and with nothing on the line still came in 3rd. That being said, the 2017 women's field was much more competitive at the top, with 4 different women taking home wins. We need to look elsewhere to see how Lindsay has evolved as a racer this year.
Her involvement in the Toughest Mudder series in 2017 is what I think sets her apart from all the other top women, and will take her to the win this year in Tahoe. For those who don't know, Toughest Mudder is similar to the World's Toughest Mudder in that it is a timed race during which racers try to complete as many laps as possible. Instead of 24 hours, the TM races are 8 hours long and start at midnight. Lindsay won every race she ran, hitting 40 or 45 miles in each of them. Unfortunately, the final race of this series was on the same weekend as the Spartan Series, so Lindsay had to miss that one and give up an all but assured series win there as well.
As we can see, Lindsay has everything needed to win here this year: she has an exceptional record in this location, having finished 2nd twice, she has shown she can handle Spartan obstacles (with the notable exception of the spear throw, which she has only hit 2 or 3 times in competition) by winning the US Champs series each of the last 2 years, and she clearly has the endurance to cover this long distance with plenty to spare. A word from the lady herself is that she has some newfound confidence in her spear throw as she has been diligently practicing and nailing it, so we might see another cartwheel this year if she can bring that proficiency into play when it really counts.
Just like last year, Lindsay will be coming off a 3-week altitude training and taper period, so she should be rested and mostly acclimated to the elevations at Tahoe.
Past 2 Tahoe SRWC – 2nd and 2nd
Spartan Series results – 2nd, 2nd, 1st, 1st, 3rd
Zuzana Kocumova – 2nd
We only see her once or twice a year on this side of the pond, but every time we do, she kicks some serious butt. Zuzana came in out of the blue, much like Jon Albon did in 2014, to rock the Spartan World and take the win at Tahoe in 2015. She followed that up with another win last year, proving she was no flash-in-the-pan fluke.  In fact, she had served notice a bit before showing up last year, as she is the 2-time winner of the Spartan European Championships, taking 1st in Scotland last year and again just last month in Andorra.
The only other time I recall her racing in North America was at the 2016 OCRWC, where she finished 4th behind Lindsay, Nicole, and Karin Karlsson of Sweden. That may have been the first mandatory completion OCR that she'd done to that point, so a solid result against a deep field of racers.
Her strengths are her strength and a huge engine – she comes from an Olympic cross-country skiing background, and those people are VO2 freaks. She is obviously very proficient at Spartan obstacles, is a beast on heavy carries, and seems to have little trouble racing at the elevations encountered in Tahoe.
The reason I have her 2nd instead of 3-peating is the length of this race combined with Lindsay's successes in the Toughest Mudder series.
Past 2 Tahoe SRWC – 1st and 1st
Yoie Bohlin – 3rd 4th 5th
Who? Jolanda aka Yoie aka Rasta Runner is the best mountain runner in women's OCR. Full stop. She's their equivalent of Jon Albon, a woman who is legit world class in trail and mountain running and the vomitous Vertical Kilometer races.
She's fairly new to OCR, but by no means a rookie. Before venturing into the technically demanding Toughest races, she had been a competitive triathlete, boxer, soccer player, and a phenomenal trail runner. She "…emerged into public focus on August 20, 2016, when she out of nowhere (to) beat the reigning skyrunning world champion Emelie Forsberg and the world cup #2 Malene Haukøy by 15 minutes in the 33km Stranda Fjord Trail Race in Norway."
For those who don't know, Emilie Forsberg is the Killian Jornet of mountain running for women. If you don't know who Killian Jornet is, he is by far the best ultra and mountain runner in the history of humankind. He's the guy who set 2-speed records on Everest this Spring. Without oxygen. Twice in the span of 7 days. He is mountain running's "mic drop" incarnate.
Back to Bohlin…that tells us what class of runner she is. But wait, as they say in infomercial land, there's more! She spends time in Kenya during the summer, so may not be terrible at altitude…at the least, she will know what to expect and how her body reacts. She has sub-17 minute 5km speed and a 2:52 time for the marathon, so she has both speed and endurance to go along with her technical trail running skills.
Finally, she just finished 2nd at Spartan European champs (about 8 mins behind Zuzana), following up on her 3rd place finish at the 2016 Euro Champs. Word is that she had a fever this year and so was not at 100%.
Her biggest challenges have been to stay injury-free and to learn the obstacles. Despite racing the demanding Toughest circuit, she had been able to keep herself in the running (ha!) by blazing through the penalty loops and skipping some obstacles, although she has clearly been working on her technical skills.
Past performances – none…Tahoe rookie, which could be a benefit or a hindrance.
 
Rea Kolbl – 3rd 4th 5th
Rea seems to be peaking at the right time, winning the series finale in West Virginia after steady improvement during the season. WV was the longest race of the series, and one of the more vertically challenging, so it bodes well for her handling of the course in Tahoe.
Kolbl has been improving in all facets of OCR since her big-time coming out at last year's SRWC, and it's going to be interesting to see if she can put it all together and hold it for what will be the longest race of the season. If either of the top 2 falters for any reason, Rea is as good a bet as any to swoop in for one of the top 2 spots.
Past Tahoe races – 7th in 2016
Spartan Series results – 5th, 5th, 2nd, 2nd, 1st
Alyssa Hawley – 3rd 4th 5th
If there is a grip gauntlet at the end of this race – which there almost certainly will be – then Alyssa is one athlete who likely won't be worried about it. She is the Atkins equivalent "queen of grip" on the women's OCR circuit, so if she's within 4-5 minutes coming into the finishing gauntlet and ladies start doing burpees ahead of her, she could vault several spots right at the end.
Along with Zuzana, Hawley is likely the strongest woman out there. She puts the hurt on her competitors in heavy lifts and carries, and has enough foot speed and endurance to challenge for the win at most Super and Beast distance races. As with the other Series contenders, that final hour will tell the tale.
Past Tahoe races – 4th in 2016
Spartan Series results – 1st, 3rd, 3rd, 4th, 4th
Nicole Mericle – 3rd 4th 5th 6th
Living and training in Colorado mean that last year's OCRWC runner-up won't be hampered by the elevation at Tahoe. This is bad news for her competitors, as it will allow her to fully use her running ability, which is one of the best in the women's field. Pair that with good obstacle proficiency including an impressively improved heavy carry, and the only question I have with Nicole is if her speed endurance is up to 3.5 hours long race.
Past Tahoe Results – 12th in 2016
Spartan Series results – 3rd, 1st, 9th, 5th, 2nd
Faye Stenning – 4th 5th 6th
Faye had a stellar season with Spartan last year, finishing 2nd in every Series race to eventual champ Lindsay Webster. When Lindsay passed on the final race, having locked up the series win, Faye took full advantage and got herself to the top step of the podium. The season was then capped with the finish line burpee-off against Lindsay at the 2016 SRWC.
This year, for whatever reason, Faye hasn't seemed to have the extra gear needed to contend for the win. She finally had what she considered a good race, coming 3rd at Asheville after being deep in the pain cave for pretty much the whole race. She was completely wrecked at the finish line, taking several minutes before being able to talk and hug out with the other top finishers. That type of effort is what she has had difficulty finding this season, but she did it once and there's no reason to think she can't do it again.
Faye is a very strong runner, although gnarly descents tend to slow her down a bit. She's shown good and consistent obstacle skills, and has recently mastered the spear throw which could give her a nice 2 minute leg up on some of her competitors if she can execute on the day. This will be her 3rd rodeo in Tahoe, so she will have that experience to draw upon when the going gets tough.
Past Tahoe races – 9th in 2015, 3rd in 2016
Spartan Series results – 4th, 5th, 5th, 3rd, 7th
Amelia Boone – 4th 5th 6th
For several years, Spartan race on the women's side was almost synonymous with the name "Amelia Boone". After a lengthy recovery and rehab from a nasty femoral stress fracture, Amelia looks ready to go full throttle again, and the sport is better for it. Welcome back!
She ran 2 of the Spartan Series races this year in Monterey and Pennsylvania, finishing 7th and 4th respectively. The extended podium finish was a treat to see, as her competitors seemed almost as happy as she was to have her showing real signs of getting back to 100%.
Normally the length of this race wouldn't even register on Amelia's radar, as this is the same woman who owned World's Toughest Mudder and was most people's pick as the best prospect for a woman hitting the 100-mile mark in that event. We can't be sure how her volume of training has progressed, but that phenomenal base is still there, so there's a good chance we'll see a highly competitive Amelia, back in her playground.
Past Tahoe races – 4th in 2015
Spartan Series – 7th, 4th
Dark Horses
Kristin Saad -10th last year and finished 8th, 6th, 8th and 6th at the last 4 Series races this year.
Myriam Guillot-Boiset – finished 8th last year despite doing some 300 burpees, this diminutive and always smiley French athlete can climb the legs and lungs off anyone in the race. The multiple times' adventure racing world champion and podium caliber Xterra athlete could be a dark horse if she's figured out the obstacles. She did 1 Series race this year. Finishing 7th in Pennsylvania.
Alyssa-Lindsay-Nicole-Faye-Rea
Nicole-Lindsay-Alyssa-Rea-Faye —boone 7th
Lindsay-Rea-Alyssa-Amelia-Faye —Nicole 9th
Lindsay-Rea-Faye-Alyssa-Nicole
Rae-Nicole-Lindsay-Alyssa-Leigh—faye 7th
Seattle
| | | | | | |
| --- | --- | --- | --- | --- | --- |
| Racer | Bib | Age | Gender | Time | |
| 1 | Alyssa Hawley | 10 | 27 | F | 1:36:40 |
| 2 | Lindsay Webster | 4 | 27 | F | 1:38:26 |
| 3 | Nicole Mericle | 22 | 28 | F | 1:41:55 |
| 4 | Faye Stenning | 8 | 27 | F | 1:43:18 |
| 5 | Rea Kolbl | 14 | 25 | F | 1:44:44 |
| 6 | Laurel Shearer | 32 | 37 | F | 1:47:17 |
| 7 | Allison Tai | 44 | 35 | F | 1:49:07 |
| 8 | Timmie Brann | 10537 | 37 | F | 1:51:23 |
| 9 | Leigh MacCarthy | 9003 | 26 | F | 1:51:38 |
| 10 | HEATHER GOLLNICK | 60 | 47 | F | 1:53:26 |
Monterey
| | | | | | |
| --- | --- | --- | --- | --- | --- |
| Racer | Bib | Age | Gender | Time | |
| 1 | Nicole Mericle | 0022 | 29 | F | 1:22:35 |
| 2 | Lindsay Webster | 12314 | 27 | F | 1:22:43 |
| 3 | Alyssa Hawley | 0010 | 27 | F | 1:23:52 |
| 4 | Rea Kolbl | 0014 | 26 | F | 1:25:28 |
| 5 | Faye Stenning | 0008 | 27 | F | 1:25:52 |
| 6 | Rebecca Clifford | 2431 | 22 | F | 1:31:09 |
| 7 | Amelia Boone | 11110 | 33 | F | 1:32:29 |
| 8 | Kristin Saad | 7702 | 34 | F | 1:32:35 |
| 9 | Leigh MacCarthy | 10612 | 26 | F | 1:32:52 |
| 10 | Laurel Shearer | 10611 | 37 | F | 1:33:29 |
Pennsylvania
| | | | | | |
| --- | --- | --- | --- | --- | --- |
| Racer | Bib | Age | Gender | Time | |
| 1 | Lindsay Webster | 4 | 28 | F | 1:52:52 |
| 2 | Rea Kolbl | 14 | 26 | F | 1:57:37 |
| 3 | Alyssa Hawley | 10 | 27 | F | 2:04:15 |
| 4 | Amelia Boone | 2 | 33 | F | 2:04:50 |
| 5 | Faye Stenning | 8 | 27 | F | 2:05:42 |
| 6 | Kristin Saad | 20 | 35 | F | 2:06:07 |
| 7 | Myriam Guillot-Boisset | 17605 | 38 | F | 2:09:19 |
| 8 | Leigh MacCarthy | 18903 | 26 | F | 2:10:28 |
| 9 | Nicole Mericle | 22 | 29 | F | 2:13:26 |
| 10 | Alex Roudayna | 18 | 27 | F | 2:16:53 |
Asheville
| | | | | | |
| --- | --- | --- | --- | --- | --- |
| Racer | Bib | Age | Gender | Time | |
| 1 | Lindsay Webster | 4 | 28 | F | 1:34:01 |
| 2 | Rea Kolbl | 14 | 26 | F | 1:34:30 |
| 3 | Faye Stenning | 8 | 27 | F | 1:34:50 |
| 4 | Alyssa Hawley | 16535 | 27 | F | 1:36:07 |
| 5 | Nicole Mericle | 22 | 29 | F | 1:39:41 |
| 6 | Alexandra Walker | 12547 | 32 | F | 1:44:32 |
| 7 | Tiffany Palmer | 16914 | 32 | F | 1:47:00 |
| 8 | Kristin Saad | 20 | 35 | F | 1:49:39 |
| 9 | Laurel Shearer | 32 | 37 | F | 1:50:27 |
| 10 | Janet Barry | 878 | 27 | F | 1:53:58 |
West Virginia
| | | | | | |
| --- | --- | --- | --- | --- | --- |
| Racer | Bib | Age | Gender | Time | |
| 1 | Rea Kolbl | 14 | 26 | F | 2:24:20 |
| 2 | Nicole Mericle | 22 | 29 | F | 2:24:25 |
| 3 | Lindsay Webster | 9788 | 28 | F | 2:24:44 |
| 4 | Alyssa Hawley | 10 | 27 | F | 2:29:03 |
| 5 | Leigh MacCarthy | 6714 | 26 | F | 2:34:02 |
| 6 | Kristin Saad | 20 | 35 | F | 2:39:32 |
| 7 | Faye Stenning | 7026 | 27 | F | 2:44:57 |
| 8 | Janet Barry | 48 | 27 | F | 2:55:44 |
| 9 | Laurel Shearer | 32 | 37 | F | 2:55:53 |
| 10 | laura cummings | 7089 | 29 | F | 3:00:54 |
2016 Spartan World Championship
| | | | | | |
| --- | --- | --- | --- | --- | --- |
| Racer | Bib | Age | Gender | Time | |
| 1 | Zuzana Kocumova | 9916 | 37 | F | 2:46:55 |
| 2 | Lindsay Webster | 9584 | 27 | F | 2:58:24 |
| 3 | Faye Stenning | 5452 | 26 | F | 2:58:25 |
| 4 | Alyssa Hawley | 2308 | 26 | F | 3:03:02 |
| 5 | Rose Wetzel | 9608 | 34 | F | 3:03:38 |
| 6 | Sara Knight | 2888 | 30 | F | 3:14:26 |
| 7 | Rea Kolbl | 2903 | 25 | F | 3:14:49 |
| 8 | Myriam Guillot-Boisset | 2197 | 37 | F | 3:15:50 |
| 9 | Sara Woodward | 9740 | 38 | F | 3:21:19 |
| 10 | Kristin Saad | 4947 | 34 | F | 3:21:54 |
2015 Spartan Race World Championship
| | | | | | |
| --- | --- | --- | --- | --- | --- |
| Racer | Bib | Age | Gender | Time | |
| 1 | Zuzana Kocumova | 5649 | 36 | F | 2:53:02 |
| 2 | Lindsay Webster | 8492 | 26 | F | 2:58:01 |
| 3 | Rachel Paquette | 6838 | 27 | F | 2:58:42 |
| 4 | Amelia Boone | 3001 | 32 | F | 2:59:19 |
| 5 | Rose Wetzel | 3028 | 33 | F | 3:06:25 |
| 6 | Alex Roudanya | 3019 | 25 | F | 3:09:25 |
| 7 | April Dee | 3009 | 36 | F | 3:12:13 |
| 8 | Claude Godbout | 4893 | 29 | F | 3:12:41 |
| 9 | Faye Stenning | 7923 | 25 | F | 3:21:06 |
| 10 | Tereza Janeckova | 5428 | 31 | F | 3:23:04 |