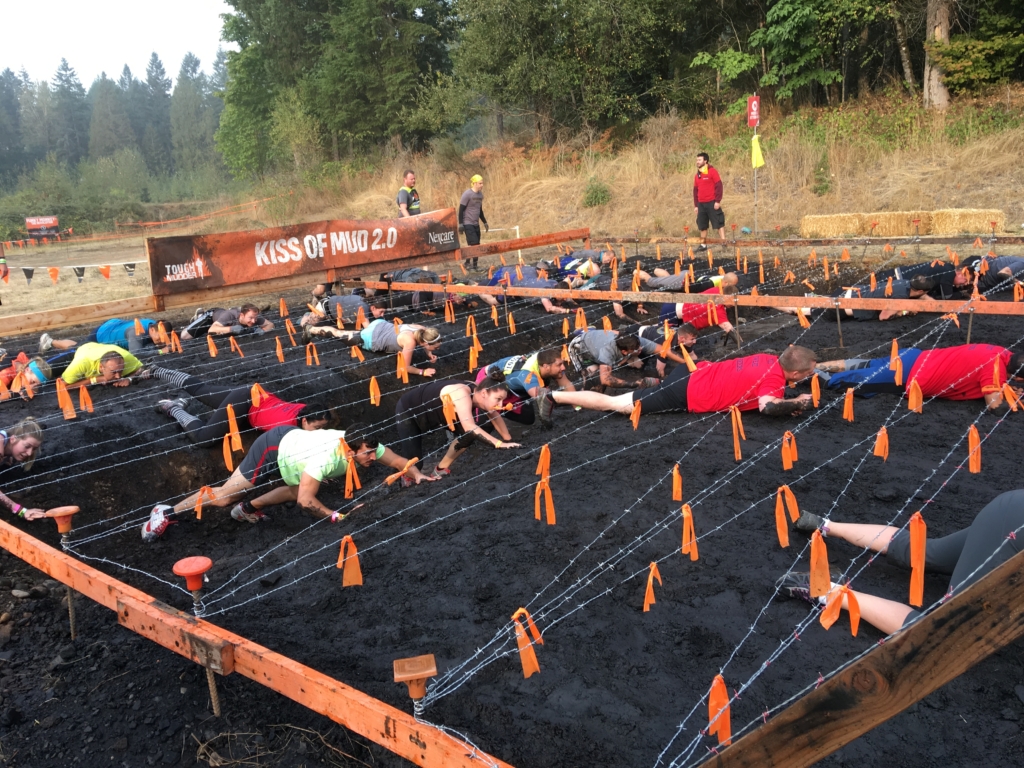 This past weekend I traveled up to beautiful Seattle, WA to participate in my first ever Tough Mudder event. My grandparents even flew out from Michigan to cheer me on throughout the course! With this being my first Tough Mudder event I wasn't too sure what to expect. I assumed it would be challenging and I would face obstacles, unlike any other race. I had assumed correctly. The 10+ miles of hilly terrain as well as 20+ obstacles made for a very challenging but exciting course. Those who are looking for something a little less challenging can register for the Tough Mudder Half consisting of 5 miles and fewer obstacles. Whether you choose to run the full or the half, you're guaranteed to have an awesome time proving your grit and endurance on both courses.
Just 45 minutes south of Seattle sits Black Diamond, WA where Tough Mudder was held. My family and I stayed in a hotel in Black Diamond so the commute to the venue was less than 20 minutes. Getting to the event proved somewhat challenging due to a lack of signage directing mudders to the event site. A few of the signs had been either ran over or nonexistent. This problem appeared to be fixed later on in the day. Tough Mudder offers a couple different levels of parking for the events. General Parking ($15) is a cheaper option but walk to the Muddder Village/ Check-In is at least 1⁄2 a mile. Premium Parking ($35) gets you right up front parking just outside the Mudder Village.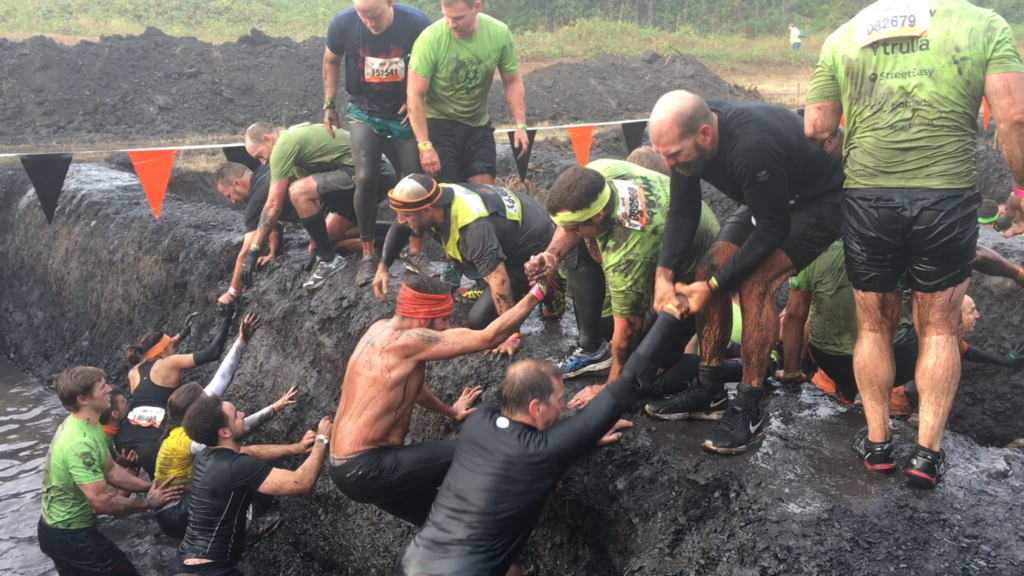 At the start line, groups of mudders were gathered with an epic pep talk and a much needed warm up before heading out on the course determined to conquer each and every obstacle between them and the finish line. The course itself was great! Minus a few areas with holes and unlevel terrain which made running rather challenging. A good portion of the course was on small, one-person trails. If you are planning on running this event for time/speed I would highly suggest running either Tougher Mudder (first wave) or getting into one of the early start times. With the trails being so narrow running at speed was difficult due to mudders choosing to walk the course.
The obstacles on the course were unlike any other I've faced in my time of OCR! 
One of my favorites was the Mud Mile. This consisted of five, six foot deep trenches. The only way to successfully complete the Mud Mile was by the help of your fellow Mudders. The trench walls were very steep and extremely muddy! I also loved the Hero Carry simply for the comedic aspect it brought to the course. Mudders would pair up, either with teammates or strangers, and piggyback them until the switch point where you would switch positions to the end. Let's all hope you have light friends because this one takes a lot out of your low body!
There was also a few rigs that were both fun and challenging. Funky Monkey the Revolution and KONG were two of my favorites! Funky Monkey was a rig suspended over a pool of water where mudders would scale the inclining monkey bars reaching out to a vertical, free spinning wheel followed by two horizontal wheels and a bar to shimmy across to the end. KONG ( a all new Legionnaire specific finishing obstacle was a huge rug with six suspended "O" rings where mudders would swing their bodies across hoping to reach the end. For those not yet Legionnaires (first time Tough Mudders), your finishing obstacle is the ever so anticipated Electroshock Therapy. This field of dangling wires delivering a punch of 10,000 volts of electricity is the last obstacle between you and the finish line.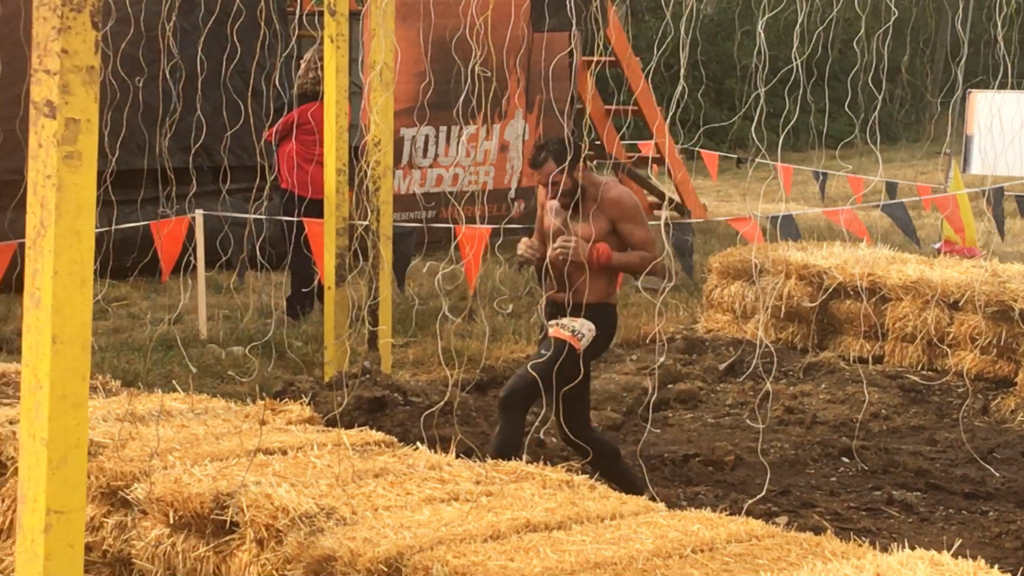 Tip: Stay low and go fast! My other favorite obstacles were The Arctic Enema and Snot Rocket/Agustus Gloop. I have a love/hate relationship with the Arctic Enema.
Running with a bag of ice then pouring it down a pipe where you slide down into a pool of the coldest water ever is a great way to cool off but it's also the COLDEST water ever. Agustus Gloop was challenging for sure. Mudders start off by jumping into a pool of water and scaling up a tube with extremely cold water pouring back down against you. Luckily, volunteers are at the top of each tube telling you how much further you have to the top because looking up is not possible with all that water forcing you back down.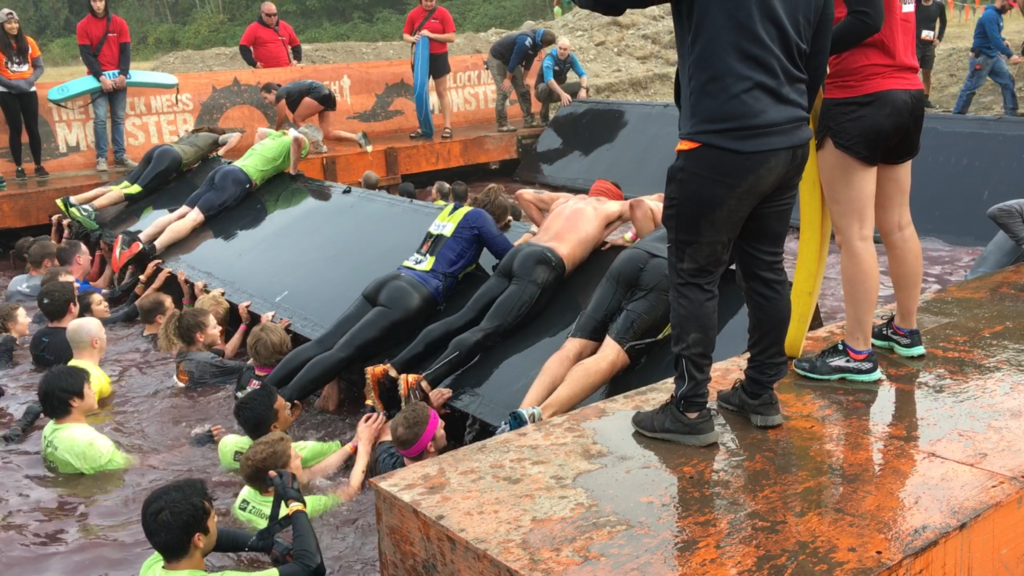 Tough Mudder may have taken the spot of "favorite race" in my book. The obstacles were all so unique, challenging, and exciting. My favorite part of Tough Mudder is the camaraderie you encounter out on the course. The course is long and some of the obstacles you just can't-do alone. It seemed like everyone out there understood that. Every Time I got to an obstacle there were mudders everywhere offering a helping hand and encouraging others to keep moving. I will most definitely be returning next year to complete another Tough Mudder; Seattle!
Rating: 5/5
---
Have you done an Tough Mudder?
Leave your own Tough Mudder review and feedback...