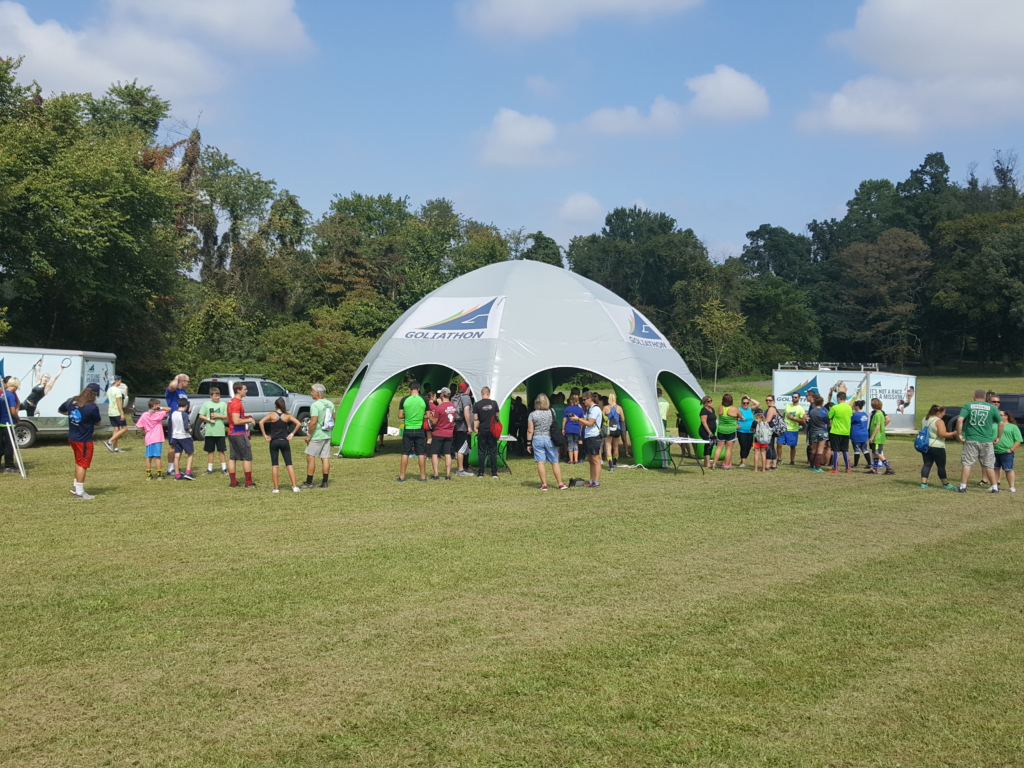 Green, orange, and blue may not be the new red, white, and blue. But these are definitely the colors of a unique obstacle challenge in South Jersey. Mix in a little yellow and you've got the all-American Goliathon.
The colors represent the different levels of difficulty an athlete may choose to attempt. You aren't locked into a tier. At each obstacle, you get to choose which tier you would like to attempt. You can try G3 for 5 points on one obstacle. You may think the next obstacle is harder and so you elect to go for G2 worth 3 points. G1 is worth one point. Today was TTOD or Try the Obstacles Day. No points and as many tries as you want on any tier. So I had the chance, along with about 200 other athletes, to spend about 20 minutes on six different obstacles.
Goliathon Try The Obstacle Day Experience
The festival area was open, located just across the Fairgrounds from the huge parking lot. On event day, that area will triple in size to include vendors, food, and fun. It will also move just up the path to the pavilion area. Today, registration, water, and Goliathon gear were all under some very nice custom tents. An adjacent grassy area provided plenty of space to warm up the athletes and provide a few announcements. Then we broke into six crews of about 30 each and took off for the obstacles.
I began the day on Ninja Killer. This obstacle lives up to its name. While the kids thrilled to multiple laps on the G1 green (easiest) side, a few also tried the intermediate G2 orange. Very few tried G3 blue. Those who did were humbled. I had no problem on the green. Made one technique mod on the orange, and had no problem after that. Blue was a whole other story of "you got a lot to learn pal" on the blue side. Time to build a reversible salmon ladder in my backyard.
Hangman was next. I got the feeling that these names included a body count. There was an old country graveyard just across the street from the venue. Hangman was all about grip strength and ropes. Trouble is, for this execution, you had to climb your own gallows just to get to the ropes. The climb for blue looked like a Destroyer. So said Larry Cooper, its inventor.
Now here's the thing about Goliathon that is so different. It's not a race. No chips. No time. It's all about receiving your bands at each obstacle. That means no failure. Some obstacles, like Ninja Killer and Hangman, are a single attempt. Others allow up to three attempts. Many also include yellow "no touch" zones. In other words, if you use girders on Hangman to steady yourself, you're out. Course marshals are abundant to help make the calls. Even though there are only twelve obstacles on this course, taking a few hours to complete it is very reasonable. There is no room for error. There is plenty of room to catch your breath and shake off tight muscles in between.
Half Dome was next. From the approach, it looked like a half dome tower with a rope for an easy climb. Looks were deceiving. Around the front, the tower assault was a choice of a peg board for blue, 3/8" grips for orange, or holes for green. Once atop, the rope was to help you rappel down. At the bottom, you had to land on a colored pad. Miss the pad and you lose your band. The pads, of course, were not directly beneath you. To hit them, you had to push off the wall, backwards, blindly, to land both feet on the 2 X 2 foot pad.
Balancing Act appeared down the hill in what appeared to be a swampy area. The green beam was high and dry. The orange beam had a muddy bottom. The blue beam was cattails, bullfrogs, and water below. The first two beams were doubled up two-by-fours. The latter was just a single cut into various shapes, all of them very difficult for both shape and instability. Up to this point, I had no problem doing any obstacle of the green and orange variety. I could do bits and pieces of the blue side.
The Rope Cross was my chance for redemption. This roughly 100-foot traverse over water was one I dearly wanted to beat. Green was an over/under set of ropes for hands and feet. Orange was a basic single rope. Blue had obstacles tied in the middle. It was all mine. My knee may be on the mend but my grip strength was undefeated.
The last obstacle of the day was Over the Moon. Better known as the warped wall, the three versions here had three variations of difficulty. The take-off ramps were actually shorter for the lower walls. Green also had ropes. In the nice hot dry weather, the walls were very sticky. So no problem for most people here.
Everyone had plenty of time to experiment on every obstacle. We had lots of interaction with our hosts. Staff member and Goliathon co-founder Doug Horton led our group. Everyone here is a volunteer. Their work is first class. The obstacles are solid making safety self-evident.
During the warm-up, Doug shared the vision of Goliathon. Its purpose is to raise funds that provide clean drinking water to needy people. This year, a new well will be dug in Ethiopia. When the project is complete, a video will post to the event website so people can see where 100% of their proceeds go to. It's exciting to see where $149,000 of OCR cash to date can do a world of good. While we get to sweat, hang ourselves, or get killed, our race fees go overseas to help impoverished peoples have lifesaving potable water.
It's a great cause, a great course, and a great crew. It's all capstoned by a unique group of athletes called "David". Anyone who completes the G3 blue course without fail earns this title. Mind you, roughly 1000 athletes attempt this course twice a year. Over the past three years, only ten different athletes have done it. Jamie Rahn of ANW has done it four times. I have a prediction. Now that word is out and athletes are training harder, smarter, and on higher levels of difficulty, I suspect that one day soon Goliathon will add a G4 level to their course. It will be black. It will be totally badass, unlike anything was ever seen in OCR.
But here's the coolest thing of all. Goliathon is the only non-timed qualifying event for the OCR World Championships. Find out more or register for the October 21 event visiting Goliathon page.