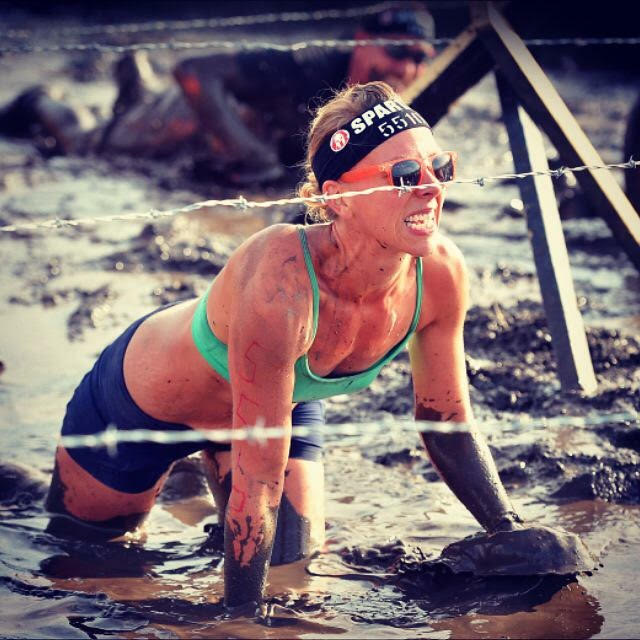 With Jen Hamel, I have been following her / talking to her online for a couple of years now. She is very humble, hardworking and isn't afraid to open up about her story. She has a generous and loving heart and has gone from being over 200 pounds and a pack a day smoker to someone that pushes her own mental and physical limits when it comes to racing.  I wanted to feature Jen in this article series, as I want people to be able to relate to all the strong women in this sport. To me, Jen is bad ass because she never gives up and works hard every day to show her kids they can.
Please tell us a bit about yourself.
I'm 34, a mother of 2 crazy kids, a wife, a Personal trainer and group exercise instructor.
Have you always been athletic? 
No, for many years I was an unhealthy smoker who ate lots of fast food and drank 2L of pop/day.  After having kids I was depressed and weighted over 200lbs. I was motivated by my kids to lose over 80lbs and my love of fitness grew from there.
What was your very first OCR race? Tell us about it. 
My very 1st OCR was the Calgary 2012 sprint. A friend of mine in Toronto wanted to run a Spartan for her 40th birthday and since I couldn't make it out to Toronto I decided to do the next closest one which was Calgary. I have never thrown a spear or climbed the wall in my life but I was determined to give the race my best effort. I don't remember how many Burpee's that I did during that first race but I remember crossing the finish line with such a sense of satisfaction and accomplishment I knew I was hooked.
Please share with us a list of races that you have completed.
I'm not sure if there is enough room to list all the races I've done lol. I've completed many Spartan races since the 1st in 2012. I've attempted the UB 3x completing it in 2016, I've run 5 half marathons, 3 full marathons, a few 25km trail races, a 50km Ultra Marathon, the 1st half of Sinister 7(over 70km my longest run yet), leg 4 of Death race, a few HH and many other OCR's like mud hero, foam fest and X Warrior as well as OCRWC.
What's the one thing about OCR that keeps you coming back?
The community that surrounds this sport has become a second family to me. The motivation and inspiration from my OCR family has pushed me and continues to push me to new limits.
Is there a race that you won't do? If so why?
The Spartan Agoge, as much as I love endurance events and team building exercises, if I'm doing an event that lasts 60hrs I want it to be my race and at my pace that way if things didn't go according to plan (as they sometimes don't) I would only be letting myself down not all the others in the challenge. I do however still want to complete a 12HRHH one day.
Please share with us the story of your first DNF.
In 2015 I attempted my 1st UB in Sun Peaks. At that time I'd never run more than a marathon and that's what I'd trained for. It turns out the UB was over 52km that year. I started my 2nd loop pre hypothermic wrapped in an emergency blanket, my teeth chattering, no feeling in my hands and not enough time to finish but I was determined to go as far as I could. I completed over 46km in 10hrs and was pulled when I missed the time cut-off. I vowed to get redemption the next year and I did just that.
Do you prefer longer events (endurance) or shorter ones? why? 
I love endurance events! My goal for next year is to complete my 1st 100km Ultra Marathon.
What does training for a run/race/event look like for you?
I'm always training for something. I love running and have become an avid trail runner thriving on windy single track. When I'm not running I cross train, lifting weights, teaching Bootcamps and playing at the park.
What is one obstacle that you struggle with? What are you doing to overcome it?

The rig is still a struggle for me. I have been practicing rings more and I'm getting better.
Anything using grip strength.
Who do you look up to in the sport of OCR and why?
There are so many OCR racers in the family I look up to Allison Tai who doesn't let anything stop her and my friend Kyla Presley who has been an unstoppable force in OCR making the podium at 2015 & 2016 UB in Sun Peaks. I want to be like Kyla when I grow up.
If given a paid plane ticket to any event in the world, which event would you do and why? 
Spartan UB in Iceland would be amazing or OCRWC if it goes overseas next year. I have done very little traveling in my life and I would love to be able to compete in foreign lands to explore and share in other cultures. Does Mud Run Guide need a new travel blogger????
Looking back at your racing career, what is the one piece of advice you would pass down to your younger self? 
Keep training, keep trying, you are stronger than you know. 12 years ago as an overweight smoker I would have never thought I could run a 5k let alone an Ultramarathon or any obstacle race.
Have you ever dealt with an injury during training/racing? Please tell us about that.
Yes, in fact, this year I suffered a foot injury after my marathon in August and was not able to walk much, hike or run at all for almost 4 weeks leading up to the Sun peaks UB this, unfortunately, was part of what led to my DNF at this year's Ultra Beast.
What is one little-known fact about you that you are willing to share?
Every year I organize a run to hand out backpacks filled with winter essentials to the inner city homeless. This year the goal is to fill 400 backpacks.
Do you find that some OCR race series are looking to push or punish their athletes?
I think race directors and course designers are always looking to push their athletes but sometimes it can go too far and become unsafe. Athletes will realize this and start to shift toward races that care about the athletes not just their pocketbooks.
In your own words, why do you feel like you are a "Bad Ass" in the OCR world?
This is the hardest one to answer because most days I don't feel like a bad ass. I'm just a girl, a wife, a mother, a runner and a friend doing what I love to do and surrounding myself with real badass' that inspire and uplift me.
What is to date your proudest OCR result/experience? Please share it with us.
I have won a couple open heats before which felt awesome and gave me the confidence to start running elite. My proudest OCR moment would be crossing the finish at the 2016 UB having my family and friends there to cheer me on. Knowing that redemption was mine, there is no sweeter feeling.
When it comes to OCR there is physical strength and mental toughness. How do you train for the mental suck of some events?

Last year I did hill repeats all by myself to train through the suck and to focus on myself and keep going even when it gets hard. I also have a tattoo that means determination and when in doubt I refer to that and keep pushing.
Please feel free to share anything else you want the readers to know
My main reason to keep coming back and pushing my limits is my KIDS. I want to show them that somethings in life are hard, not everything is easy but you can problem solve, be strong, believe in yourself and dreams can come true.
If someone wants to reach out to you on social media, where can they find you?
Instagram @isafitmom
Facebook: Jen (Hammer) Hamel