After running lone wolf at my very first OCR, the Spartan Race Sprint at Fort Campbell in August 2016, I admitted to my husband and step-daughter at the finish line that I was not likely to tackle another. Naturally, after watching the slow-mo recording of my first fire jump and nabbing a 7th place AG finish, the wheels started turning. I approached my first effort completely ignorant, so maybe a little help from my friends is in order before running blindly into another. One small problem—no one in my circles of friends, family, or acquaintances knew what OCR stood for, literally or figuratively. Not one to let that take the proverbial wind out of my sails, I did what anyone looking for reliable information would do—I took to the magical realm of social media.
I had a handle on Instagram prior to the race to track my training progress, but it wasn't until I started seeking out other Spartans that I understood the value of the active OCR community on IG. Seeking out my fellow crazy, I found obstacle completion tips, training routines, and great advice. Shortly thereafter, I got involved in some of the challenges hosted by teams. It offered a fun new way to train and challenge myself with the support of the community engaged in these efforts along with me. After I scored enough points for completion and creativity to snag a winning spot in one of the competitions hosted by Team Social Misfits, I knew I found my squad. I joined this group of weirdos early this year knowing I'd get just the support I needed to fling myself full force into OCR in 2017.
I know what you may be thinking. How can a bunch of strangers you've never met (until recently–more on that later) have such an impact? Let's break down the benefits of joining a team:
Encouragement:
Your squad will bring out the best in you. Nervous about a race coming up? These guys will tell you that you're going to crush it. Feeling good about setting a new PR? The crew will offer emoji high fives. In a digital world saturated with trolls, the positivity is a needed change of pace.
Challenge:
Sometimes the challenge is a formal, structured challenge (12 Days of Wreckmas anyone?) and other times you just want to see if you can top your own PR or maybe even your buddy's. You will be motivated to push harder, sometimes even more than you thought you were capable.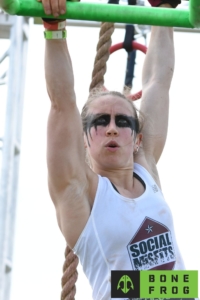 Accountability:
There are days when you won't feel like going for that run after work, but then you'll see your crew killing the miles and post about how great they feel. Or perhaps you joined an aforementioned challenge. Your teammates will inspire you to see it through.
Support:
Then there are times in ailment, injury or less than stellar race results where your team will step in with a boost. To illustrate: I fell into a mid-season funk where I felt slow and weak, put on a few pounds, and lost my mojo. I took an unannounced leave of absence from IG. A couple teammates noticed something was up and reached out to me directly to see how I was doing. This was an incredible boost for me to know my squad had my back. Which leads to my next point–
Camaraderie:
Chances are you'll make real connections with some of these people. Outside of the normal OCR babble, you are likely to celebrate and share other life victories with your crew.
Assistance:
I have largely covered teams based in the digital world, but there are groups that organize to complete team-based OCR events or help each other at races. If you've been eyeing a Tough Mudder headband but lack a local squad, this may be your answer.
*Bonus*:
In my humble opinion, the best teams work toward a greater good. With heightened exposure working as a unit, an exceptional team comes together to raise money and awareness for organizations that support worthy causes.
To bring things full circle, consider this: prior to joining a squad, I NEVER would have tackled a Spartan Beast. With the continued encouragement and support of my team throughout the year, I built the strength, endurance, and confidence to slay the "beast of the East" in Killington. It was here that I met a handful of teammates for the first time. I even had the pleasure of cheering one through her final leap over the fire. Though our face time together was short and sweet, we remain united in the digital realm.
So to the lone wolves out there, I encourage you to engage with the team that's right for you. Find your squad. I'm certainly glad I did.
---
Disclaimer: The viewpoints expressed by the authors do not necessarily reflect the opinions, viewpoints and official policies of Mud Run Guide LLC, or their staff. The comments posted on this Website are solely the opinions of the posters.