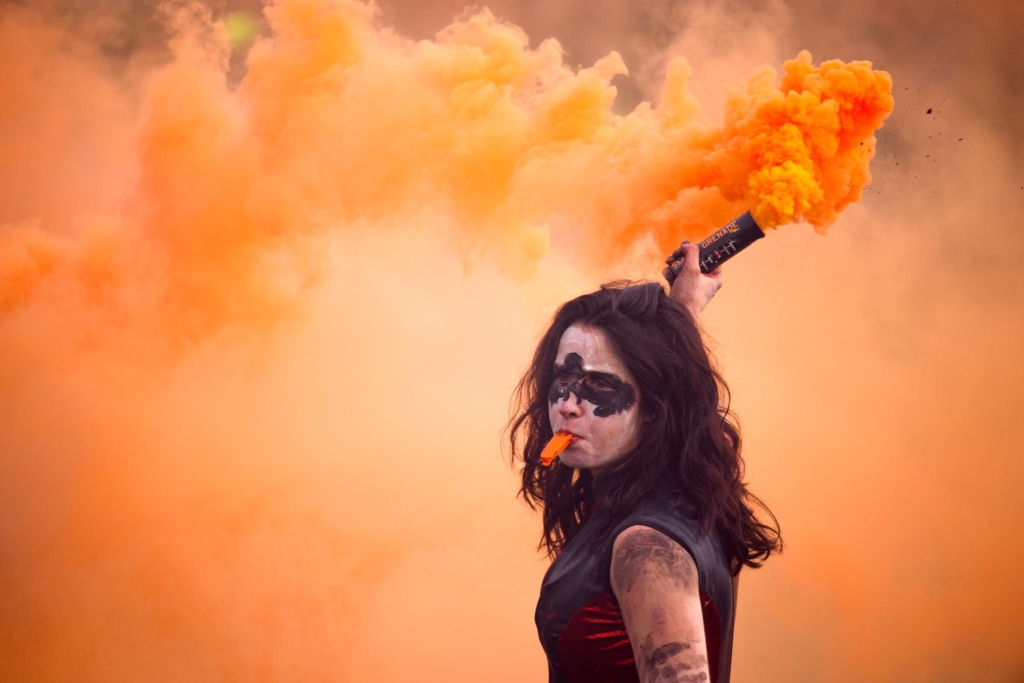 Francesca Chiorando is quite the interesting gal. She is a blogger, an avid OCR enthusiast, and part of the Ghost Squad (a band of misfits that help you when you need it the most on the course).  She has a passionate giving spirit and truly cares about those wanting to push themselves and reach new personal goals. Having just had a baby recently, Francesca shares her struggles with getting fit again and keeps it real.
I wanted to feature Francesca Chiorando in this article series so that we can all get to know this quirky, fun-loving badass. She may not think it, but one of the main reasons  I feel she is a bad ass in OCR is that she is open and honest about struggling with aspect life/training, and this makes her 100% relatable to the rest of us.
Please tell us a bit about yourself.
My name is Francesca, I'm 32 and live in Manchester, UK. I run a OCR based blog called Mud Is My Make Up. I'm currently recovering my fitness after having a baby in the summer, and looking forward to getting back on the racing scene.
Did you always consider yourself athletic?
Yes, since I was little I've always taken part in sports. My mum encouraged me to try whatever sports I wanted to, so I did everything from Gymnastics to Figure Skating, horse riding to trampolining. My favourite sports were Athletics (sprinting) and Skiing. I still love Skiing and do it as often as I can- I'd love to try ski cross! My only regret is I didn't take up Ballet as a child, but I made up for this by doing it as an adult. I think this multi-disciplinary approach works really well for OCR.
How did you get into the sport of OCR?
It was something I wanted to try for a while, but had only heard of Tough Mudder which I considered too long for me, and had no idea how to find any other events, so I didn't give it a go until someone suggested doing a 5km Spartan Sprint.
What was your first race like? Which one was it?

I did the Yorkshire Spartan Sprint in 2013, and I LOVED it. I thought I would but I was instantly hooked. I loved pushing myself, and I loved the competition. I enjoyed seeing how I had placed and making the decision to work on it and try again the next year. It genuinely felt like I had found the sport I had spent my life looking for.
Tell us about the races you have done so far.
Although we've seen a lot of brands close down in the UK we've had an amazing history and range of races, from Tough Guy which is the birth of OCR, to tiny one off events. Because of this I've done so many different races, it's hard to list them all. I've taken part in a lot of Spartans, because for the competition they're one of the best, and being my first race I do have a soft spot for them!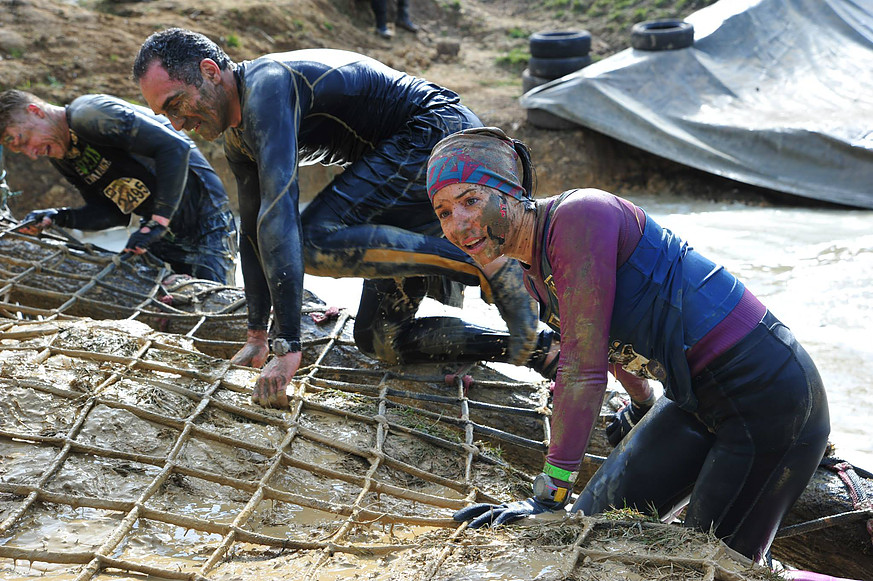 What initially drew you into the world of OCR? 
For me I wanted the chance to do something that you don't get to do in ordinary life. Like any people I enjoy the almost military side of these events, without having to actually be military.
Do you feel that due to strong women like yourself, that others are more willing to push their own limits?
Yes I do: my goal was always to encourage people -especially women- to try OCR. It's both a sport and a therapy, it's goal oriented and really spurs people on to stay fit; firstly out of fear, and then enjoyment. I'm currently training for Winter Nuts in March 2018, one of the toughest UK courses. In March 2015 I achieved first female on two laps, now after having a baby, I am struggling to run. I'm blogging my journey and hope women will see how I get on and join me in training. The take up on this event is currently 70;30 Male/Female and to me this is unacceptable. If I can inspire even a handful of women to take on the event, I will have achieved my goal.


On course what has been your favorite obstacle and why?

I love ninja rings, these are something I was never able to do, but after training, and specifically training with Doug Spence (Who used to run Dirty Dozen) it's an obstacle that I mastered. We worked on my flow, and it's an obstacle that I take a lot of pleasure in doing elegantly!
On course what has been your least favorite obstacle and why?

Whatever course they are on, I hate cargo net crawls. They're slow, they're always wet so make my shoulders and back wet and cold, and my hair always gets stuck which just annoys me. I find them totally pointless.
Is there is an OCR or endurance race that you will never do?

Out of morals: Tough Mudder. I'm very close to Mr Mouse and Tough Guy as I run with the Ghost Squad. I don't agree with what happened between Will Dean and Mr Mouse, and so won't support the event.
Are you someone that plans your race schedule in advance?
I used to sign up for things on the fly, but now with a small baby I have to be more organised. I've cut down on the number of races I do, and I need to plan them well. Also, there are very few races up North (UK) where I live, so every race requires a fair amount of travel. Whereas this didn't used to be a problem for me, times have changed.
If someone were to give you a plane ticket, and a paid race entry to any event in the world which one would you love to go and do?
It's got nothing to do with OCR, but I would do the White Thrill in San Anton. It's a cult skiing race, with a mass start (sounds a bit like Tough Guy!) which involves both risky downhill speed skiing, a and a short but lung burning climb uphill on skis.
With so many amazing women on course this year, do you find yourself becoming more competitive, inspired or both?

The female scene has changed so much in the last few years in the UK, personally I'm not as inspired by the elites as I was back in 2013/14. Nowadays what inspires me is the women who overcome difficult situations and circumstances. I've gone from trying to compete to struggling to complete and I have so much more respect for those who battle demons out on the course, but continue regardless.
What type of training do you complete for OCR training?
I like to mix it up: Crossfit, road and trail running, yoga, and ballet: the last one may sound weird but it's incredible for strength, balance, and endurance. Currently I am 3 months post-partum so my training is really low key. I am working on couch to 5k on advice of my physio, and have small workouts from my boyfriend Tom Nash, who is a PT, which literally take a few minutes each day. I want to get strong again, but I really don't want to cause any long term damage by taking it too quickly.

As a parent myself I know it is super hard to get in the time to train / be with the family / and even work. How do you keep a good life and work balance going so that you can spend time with your family?

It's tough! My boyfriend works irregular hours so we are often able to spend a few hours together in the middle of the day, and eat a late dinner together. He takes the baby when I need to run, but I know as I want to up my training,and as I go back to work it will become really difficult.
If you have one, what is an on course nickname people have for you?
Frantastic!
For someone that is newer to the OCR sport, what is one solid piece of advice that you wish to pass on?

Buy proper shoes, and don't wear cotton. Trust me, it'll change your whole experience.
Who inspires you?

This one has foxed me… I know who I admire, but I wouldn't say they inspire me… The urge to take part in sports and OCR, and the want to compete or get fit is just part of who I am. I'd say rather than who inspires me, it's what inspires me: A want to improve myself, to achieve something I am proud of, to be happy with who I am and what I can do. It's a very personal thing.

Whats the best way to reach you on social media if someone wants to reach out?
Instagram : @franchiorando
FaceBook: Francesca Chiorando