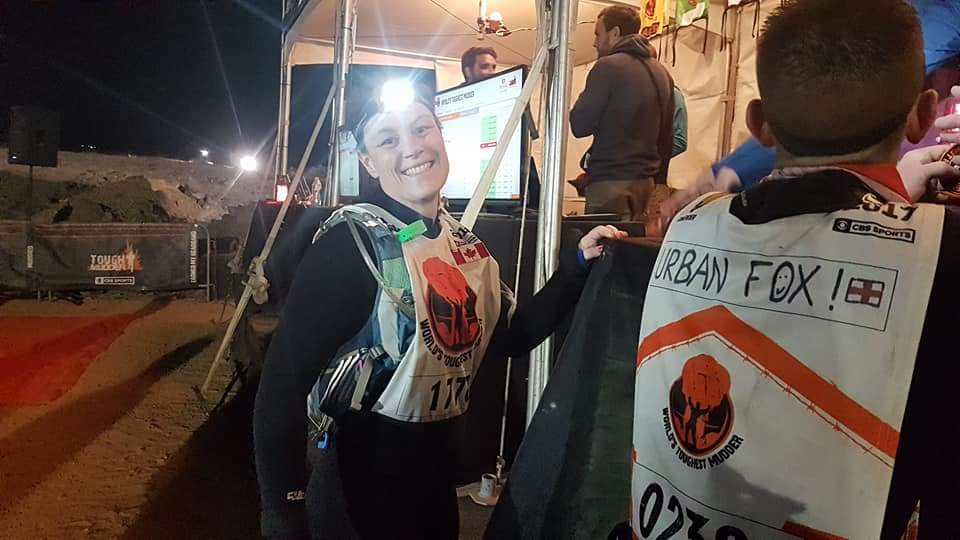 The VancityOCR Wolfpack (my home OCR team) is composed of a  variety of athletes of all levels and abilities. We range from those tackling their first OCR type event, to the very elite.  For someone new to our sport, it can be very intimidating to join in, as you never know where to start or who to talk to about an event that may interest you, but you decide to go and sign up for something anyways. Then you get to your first event, and you see the warmest most welcoming smile and voice of encouragement you have ever heard coming from someone you haven't met yet. This person makes you feel amazing about the race you are about to do and makes you feel on top of the world.
You do your event, and then wonder who your biggest random cheerleader was that day, as now you want to give her a huge warm muddy hug.
To me, that person is Shanny. She is always smiling, on the sidelines cheering everyone on, and encourages those around her to try something new and to push their own limits. I wanted to feature Shanny in this Bad Ass Women of OCR article series, as she not only motivates and inspires but puts in the work to improve her own racing skills while dealing with autoimmune disease.

Please tell us a bit about yourself.
I was born and raised in Oakville Ontario and moved to BC 16 yrs ago to start a new adventure. I have an awesome doodle that I train with. We can be found running or homing trails, paddle boarding I numerous locations around BC or climbing school plat grounds getting funny looks.
Did you always consider yourself athletic?
I grew up being very active as a child. I was involved in soccer, gymnastics and coached gymnastics for numerous years throughout middle school and high school. There were a few years where I got out of my active routines and participating in sports. Subsequently, I gained a lot of weight during that time period. However, I was fortunate I was able to get back into running and found a type of training that best suited my body which was OCR.
How did you get into the sport of OCR?
In 2012 several of my coworkers told me about a race that was coming to Canada for the very first time. We got a team together and completed our first Tough Mudder race. I was hooked from that moment on. Trying out different races made me realize my strengths and weaknesses so I knew what I needed to work on. I fell in love with the challenges, both mental and physical, that were present for me with each race.
What was your first race like? Which one was it?

My first race was Tough Mudder in 2012 in Whistler, BC. I really had no clue what I was getting into and the course kicked my butt. It was super challenging but it lit the OCR fire in me. I was hooked after that, I couldn't wait for next year to do it again.
Tell us about the races you have done so far.
Some of the races I've completed to date are Toughest Mudder Whistler, Tougher Mudder Seattle, various Spartan Sprints and Supers, Rugged Maniacs, Battle Frog X, Warrior Dash, Muderella and OCRWC in 2016 & 2017. I took on World's Toughest Mudder this weekend for the first time.
I know that you live with autoimmune issues. How that impacts your training/ racing?
Of course. It's something that definitely impacts my training and racing. It affects different aspects of my body and hormones. Sometimes it feels like my body has a mind of its own when everything is out of whack.  I work with a medical professional who monitors my medication and supplements. It's one big balancing act. I've learned that nutrition plays a huge role in this and that eating a certain way really works wonders for me. The thing that affected me the most this year has been fatigue.
My energy level is definitely not where it should be and hasn't been for some time. I have to adjust my training when this happens. It has taught me to listen to my body more and not just fight through my physical symptoms. I've learned to focus on the quality of my training rather than the quantity of my training.  It's constantly an evolving process that I try to take one day at a time and do what I can, and not let it stop me from doing the races I love.
What initially drew you into the world of OCR?
It was something so different and challenging from a regular road race. I loved the various terrains and the challenge of the obstacles combined with the running. I love the way how not only are the obstacles physically challenging but the mental aspect, the way they play with your head and push you way out of your comfort zone.
Do you feel that due to strong women like yourself, that others are more willing to push their own limits?
I hope that more women can look at the incredible athletes we have racing and be inspired by their individual stories, see the hard work they have put into training and want to work towards being the strongest and healthiest version of themselves they can be.
On course what has been your favorite obstacle and why?
I absolutely love climbing obstacles and I'm not sure if I could narrow it down to just one. I love Funky monkey, Twister, Skull Valley and any sort of rigs. I think I love these ones the most as they are the greatest challenge for me, I can't always complete them but love the challenge of trying.
On course what has been your least favorite obstacle and why?
I hate anything with electricity and getting shocked. I'll gladly take the penalty overdoing it most of the time if that's an option.
Is there is an OCR or endurance race that you will never do?
Not at this point, I think I'm pretty much up for the challenge of any of the OCR or endurance races. If you had asked me this a few years I would have said World's Toughest Mudder but as you train harder and get stronger your goals also change and you're willing to take try races that you use to think would be impossible.
If someone were to give you a plane ticket, and a paid race entry to any event in the world which one would you love to go and do?
I would love to try some of the races in Europe and the Nuclear race. I've watched them online and they look amazing! With OCRWC being just announced in London hopefully that dream (fingers crossed) will become a reality.
With so many amazing women on course this year, do you find yourself becoming more competitive, inspired or both?
I think a bit of both. I've been so lucky to have shared some course with absolutely incredible women this year. I can be super competitive so I know that it makes me push harder and dig deeper to keep up with them but at the same time look up to their amazing talent and hope that I can be as strong and as fast as them one day.  Its great motivation and I love cheering them on as they go by me!

What type of training do you complete for OCR training? Tell us a bit about that.
I train at a few places to get the best variety of workouts. The last few years I've trained at BeFit which is a boot camp style of gym. Each day offers a different workout focusing on a different area of the body. I find the variety amazing and never get bored of the training. Your body never has a chance to get used to the workouts.
I also train at Vancity OCR doing the Spartan/ OCR classes when I can make it to them and go to the open gym time to work on my grip as that is definitely a weakness for me.  A few times I week I also try to hit the trails with my furry sidekick. He's the best training partner there is.
If you have one, what is an on course nickname people have for you?
Most people just call me by my nickname, Shanny Shan
For someone that is newer to the OCR sport, what is one solid piece of advice that you wish to pass on?
One thing that I have heard a few times is run your own race and it's so true. Don't compare yourself to all the other women running beside you. Everyone comes from different backgrounds and have different abilities. I find if you start watching everyone around you and not focusing on yourself you get in the wrong mindset. Just focus on the obstacle in front of you at that moment. If you're able to do it, awesome!! If you fall off no big deal, let it go, don't dwell on it and focus on the next task. Have fun!! This sport is about challenging yourself, supporting each other in an amazing community and having a blast. Always remember your body is way stronger then you think it is. You are strong and can do it!
Who inspires you?
I follow Coach Pain and love the inspirational messages and encouragement he gives. His messages really hit home with me.
I love watching the pro women of this sport like Allison Tai, Lindsay Webster, Michelle Ford, and Amelia Boone, they all train so hard and put so much dedication into this. Each one has a different story and races a different way. There is so much you can learn watching them tackle the obstacles.
I also have a friend that is just starting out in this sport and her fitness journey. She just recently completed her first Spartan race. I can't tell you how proud I was of her pushing through and trying every single obstacle no matter how scary it seems to her. Watching the pride she had in herself when she completed some that she thought she wasn't going to be able to do make my heart so happy. Watching people push through, be brave and try something new is the most amazing experience to be part of.
But I have to say the most inspiring people I get to witness first hand is the Vancity OCR Wolfpack. It's an amazing group of people with all different abilities that share the same passion for this sport and work their tails off each race. Seeing the hard work and dedication and goals they accomplish are absolutely the most inspiring this I get to witness.
What is one your one A race / bucket list race you want to do?
I have always wanted to do X Warrior Challenge, and Savage Race. Hopefully one will come closer to me or I'll travel out to one at some point.