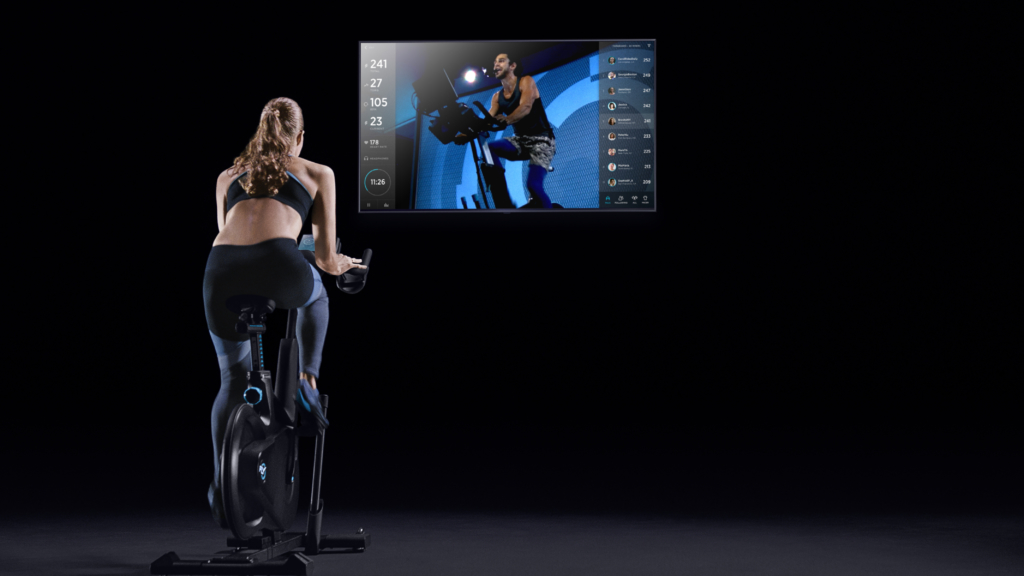 CYCLING FOR OCR
Training for an obstacle course race can involve a variety of fitness disciplines from running to weightlifting to outdoor or indoor cycling. For OCR athletes that want to improve their power production, aerobic fitness, and overall health, indoor cycling AKA spinning is a useful option. At one point or another, many OCR athletes have been unable to run or put much impact on their knees/feet due to injury. Elite OCR athletes may want to use other forms of cardio aside from running during the week and keep their long run for the weekend. Or, some OCR athletes may just enjoy spinning. Regardless of the motivation, indoor cycling works.
According to a recent International Journal of Sports Medicine study, women attending indoor cycling classes 2-3 times per week for 12 weeks improved their watts/power by 16% compared to the control group. Submaximal (steady state) heart rate at 120 watts was 10% lower at the follow-up period in the exercise group compared to the non-exercise group. Resting heart rate decreased 67 to 62 beats per minute in the exercise group. This means that a couple of indoor cycling sessions a week improved aerobic fitness which is a component of any length OCR. Not to mention, switching between standing and sitting combined with varying resistances mimics hiking up a mountain which is a common theme at many OCRs.
Indoor cycling is nothing new, as it was trending back in the 1980s. What's new is streaming in-studio classes right from your home via an app or built-in tablet. Even newer is Flywheel's take on at home cycling: FLY Anywhere.
WHAT IS FLYWHEEL?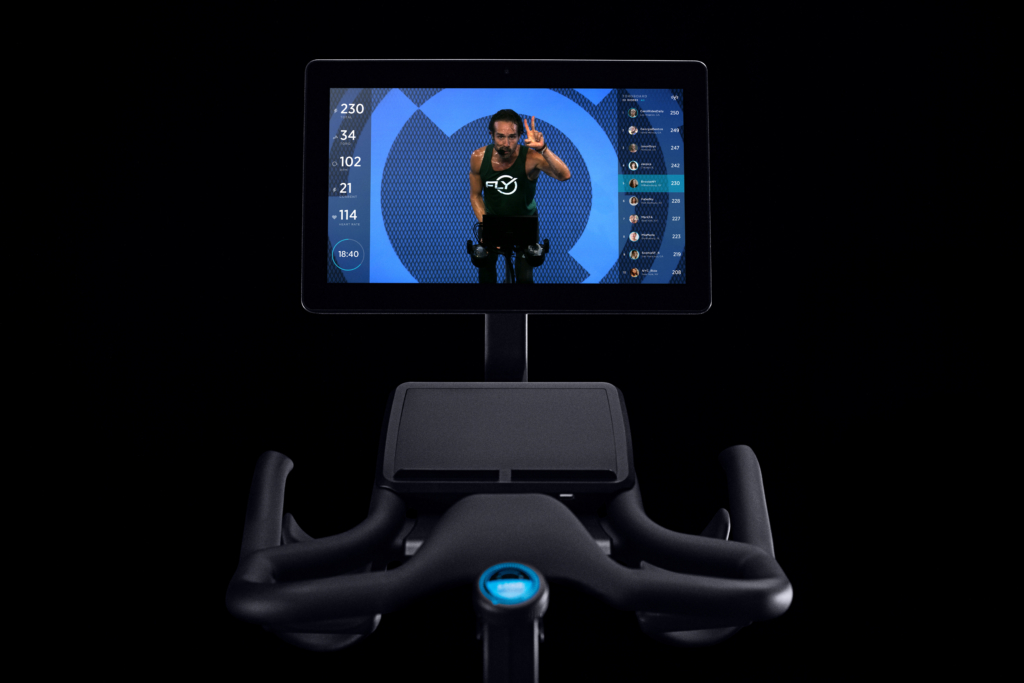 Founded in 2010, Flywheel Sports is a boutique fitness brand with 42 indoor cycling studios in the US. Many of the studios also feature FlyBarre which is a total body workout that includes light weights and core strengthening moves. I've taken in-studio Flywheel classes before and the layout is part movie theater (stadium-style bike positioning), part nightclub (bumping music and lights) and part sports performance facility (digital scoreboards). These scoreboards are called Torqboards and measure torque/power output during your ride. There are even in-class races amongst class members if you opt-in to have your username shown on screen. In-person, it's a great workout and your data is stored and tracked on the Flywheel Sports app. Flywheel decided to bring that experience to your living room with an at-home performance bike.
FLY ANYWHERE: THE TRICKED OUT BIKE
Fly Anywhere is the term for both the bike itself and the content platform that hosts workouts, playlists, friend lists and more. The comfortable bike has a device tray, USB port to charge a device, two water bottle holders, ergonomic handlebars and it tracks heart rate via Bluetooth. Stream all workout data from the bike to your device via Bluetooth and connect to your Apple TV using an iOS device like an iPhone or iPad. Roku and Chromecast will provide FLY Anywhere in 2018.
You can also get the FLY Anywhere bike that includes a built-in 15.6" tablet. This tablet has Bluetooth EDR + 4.0, Wifi, and a 1920 x 1080 screen resolution. The software and hardware are both made by Flywheel and come pre-loaded with on-demand workouts. So what are you actually watching on your device or the built-in tablet? Live or on-demand workouts.
DO IT LIVE
The live workouts are filmed at the FLY Live studio in Manhattan, New York where there are anywhere between 4-8 classes per day. There are more than 1,200 Flywheel fitness professionals but only eight teach the FLY live class so far. One of those instructors is Adam Wasserman, Flywheel Master Instructor, Lead Trainer and Schwinn Certified Cycling Instructor. Mud Run Guide caught up with him while trying out the bikes.
"Our Method and Power classes are executed with variable to high-intensity interval training (VIIT/HIIT) as a central foundation of the work," says Wasserman. "This kind of training is perfect for OCR athletes as it powers up their cardiac health (faster heart rate recovery and great stamina builder) and will undoubtedly increase their endurance and improve overall performance on race day."
Streaming classes live from home is my top fitness trend to look out for in 2018, and Flywheel has entered the market at the perfect time. For OCR athletes, the high-intensity interval training that FLY Anywhere provides should propel it to the top of your list if you're looking for a new cardio machine.
The FLY Anywhere offerings will expand to more than just cycling; there will also be a functional training class called Precision Training designed to improve strength, boost metabolism and support athletic regeneration. And aside from on and off the bike workouts, there's a lot of bells and whistles with the app/built-in tablet. You can customize the audio to hear the instructor or music louder/less, create a list of friends to compete against even if they aren't riding live, and you can visually try to beat your best-ever ride, most recent ride, or just aim for a certain pace.
"FLY Anywhere is a fantastic complement to any cross-training program and remember, variety is the spice of life," Wasserman says. "Mixing up cardio and stamina building workouts is essential for keeping your body firing smartly from all cylinders. A solid Power 30 or Power 45 class with Flywheel, 2-3 times a week along with some running and a good balance of weight training should set any OCR athlete up for success."
FINAL THOUGHTS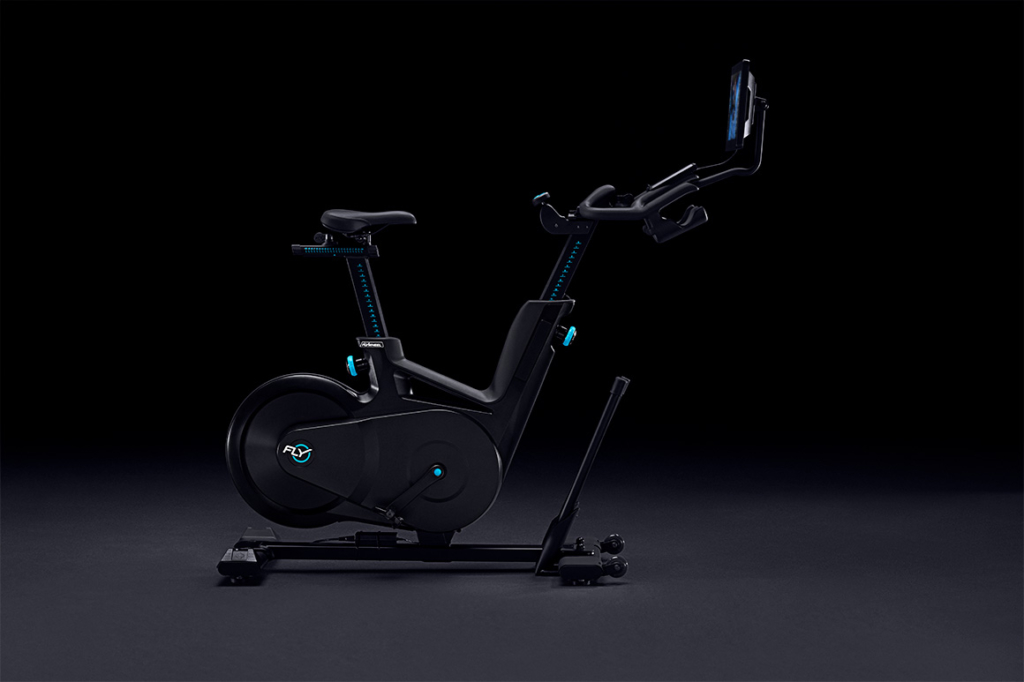 The Flywheel bikes you'll find at a studio are different than the FLY Anywhere bikes. I tried the FLY Anywhere bike (both versions) and I thought the experience was very immersive. Between Torq (power), revolutions per minute (RPM), calories, distance, and more, riders will get a detailed picture of what they and their friends are up to on the bike. A Facebook Group dedicated to the FLY Anywhere class will take this experience to a new level. A live chat on the tablet would be awesome but it should probably be disabled during the actual class since that would be distract from the performance purpose of the ride. As someone who is recovering from a foot injury. indoor cycling has become a part of my routine to train my legs to hopefully return to an OCR course. Even when 100% healthy, I've frequented Flywheel and other cycling studios to burn hundreds of calories and increase leg endurance quickly. That's my favorite part about Flywheel. It takes less than an hour to be dripping sweat.
You can test out a FLY Anywhere bike by visiting flywheelsports.com.
FLY Anywhere Bike: $1,699
FLY Anywhere Bike with Built-In Tablet: $2, 099
February 2020 Update: The Flywheel Anywhere bike is no longer available. Peloton is offering existing Flywheel at home users as free refurbished Peloton bike now.