It's that time of year again when resolutions are made and habits are both relinquished and started. We're on the bridge of a new year and obstacle course racers around the world are busy with off-season training and planning for the upcoming race season. This year, whether you're a weekend warrior or an elite competitor, I've laid out some racing resolutions everyone can make, and keep, this year.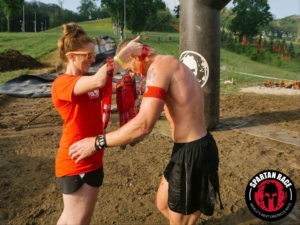 Pay it forward. Volunteer.
Many OCR events rely heavily on volunteers to keep their events running smoothly. I'm sure each of us can think of a time or two that a volunteer made our race experience better, or a time where a lack of volunteers made for a difficult experience. So, pay your dues to the OCR community and volunteer at an event. I can speak from experience that handing someone a cup of water, a finisher medal, or even working merchandise and seeing someone buy their first bumper sticker is so rewarding! (and, let's not forget that many races offer volunteer perks such as discounted race entries in return for your time.)
Run local.
While the 'trifecta', 'syndicate', 'toughest', and other big name OCRs are awesome, don't forget to look out for the little guy and support your local community. Smaller scale, local events are the backbone of the OCR industry, so show your support and set aside a weekend or two to run local.
Run far. Take a 'racecation'.
The racecation is a great concept for anyone trying to maximize their weekend and family time, while still fueling their racing desires. Combine your race schedule and vacation planning to travel more and race in a new place this year.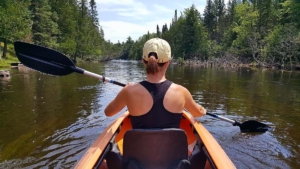 Change up your cross training
Obstacle course racers understand that hill repeats and grip strength are key to any training plan; however, let's not overlook the benefits of cross training. Cross training helps keep various muscles active as well as to prevent injury and burnout. The resolution here is to try a new cross-training activity. Whether it is rock climbing, kick boxing, swimming, or yoga – there are so many unique ways to condition your body for the obstacle course/trails.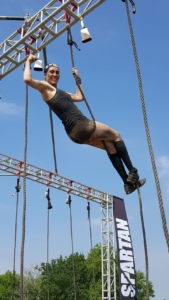 Choose a target obstacle, and nail it.
Whether it's the multi-rig, spear throw, or rope climb – choose a nemesis obstacle and vow to conquer it this year. Focus your off-season training, watch videos and tutorials, seek advice from fellow racers…discover the wonders that obstacle specific training can do!
Run to race. Run an event competitively.
Whether you typically race for the podium or for the t-shirt, I challenge everyone to run a race 'all out'. Run an event elite or competitive to really test yourself, push harder than you ever have before, and see what you can really do out there!
Race to run. Run an event for the pure fun of it.
Competitive racing has its place, but so does the fun-run. This time, shift your focus from time and rankings and resolute to slow down and enjoy an event. Take the time to help a fellow racer over a wall or stop to offer a rope climbing tip. You'll cross that finish line with a reminder of how amazing the OCR community is and with a heart full of pride knowing that you are part of what makes it so wonderful!
Recruit your squad. Encourage someone to run their first OCR.
Remember your first finish line and that feeling of confidence and post-race bliss? Spread that vibe! Think hard and I'm sure you can encourage of at least one friend, family member, or co-worker to lace up and get muddy! *Bonus points if you run the event with them! 
So there you have it, racing resolutions that apply and are attainable to us all!
I would love to hear what resolutions and plans you have for the new year, so leave a comment below!
Happy Racing!
---
Disclaimer: The viewpoints expressed by the authors do not necessarily reflect the opinions, viewpoints and official policies of Mud Run Guide LLC, or their staff. The comments posted on this Website are solely the opinions of the posters.