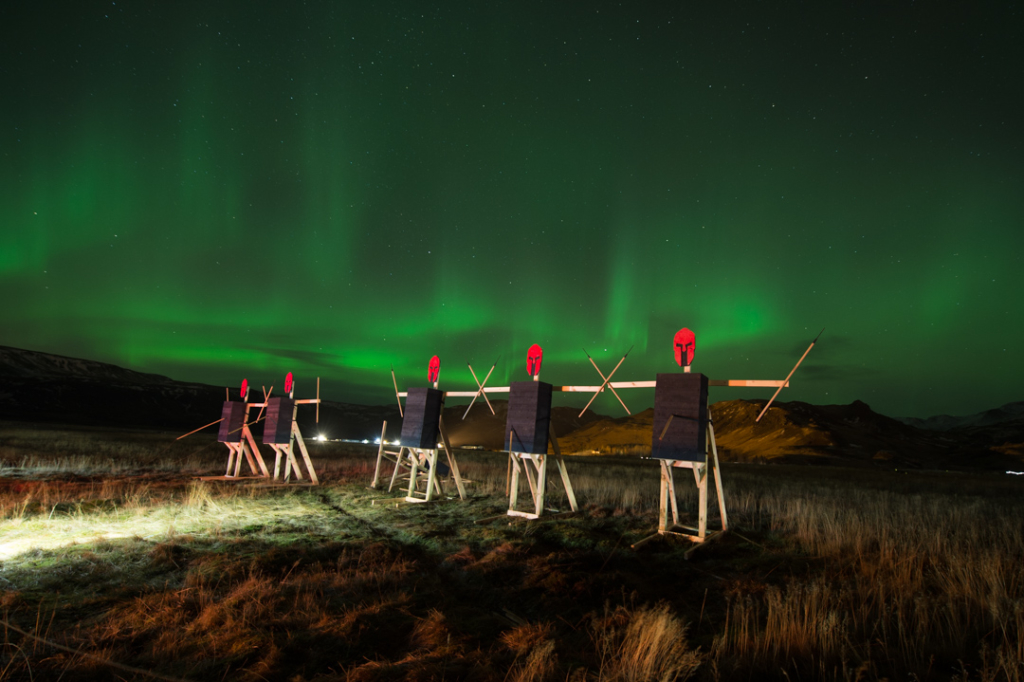 When you hear about an adventure or race, often times it is the elite or masters finishers that get the most attention. I am not going to lie, they are some pretty amazing people, and however, I like to hear all sides of the story. An Ultra event is an epic adventure no matter what category you are in as a racer / OCR athlete, and for the Iceland race, I wanted to get multiple perspectives from those that ran it.  I cannot wrap my head around how the athletes battled the cold, 20 + hours of darkness and their own internal demons to finish this event.
I reached out to a friend of mine, Ryan Berger who was making the journey and asked if he wouldn't mind sharing his experiences with the OCR community.
This is his story.
What was your experience traveling to Iceland?
Traveling to the race was pretty uneventful, I left Three Forks, MT Tuesday Night drove to the Canadian border. Wednesday I drove to red Deer and met up with my Adventure Buddies, and we went to Edmonton and spent the night there to make it easier to fly out Thursday. Flew out of Edmonton straight to Reykjavik and checked into the hotel with time to do a little bit of shopping and sightseeing in Downtown Reykjavik. That is in comparison to the 3 different flight changes before we even got off the ground Monday and a trip home from Red Deer that included the section from Lethbridge, AB to Helena, MT at an average of about 45 miles an hour!! 12 hours of driving for what should have been at most a 8 hour total drive from Red Deer!!
My essentials on the course were 6 scoops of Tailwind Berry Buzz and Tailwind orange in my race bladder and then just my mandatory kit; Three headlamps, 2 red flashers, extra windproof layer, extra thermal layer, backup Toque, and Gloves. In the TA I had Endurance Tap and Honey Stinger gels, Oatmeal, Chicken Cup of Noodles instant soup and Pearsons Nut roll Candy Bars. I was wearing a Thermal Team Canada Toque, Black Diamond Headlamps, The North Face Winter fishing jacket, Russell Thermal Base layers with my Legendbourne race jersey and Russell thermal running pants, Saucony Xodus Trail shoes and a pair of Earthgroove Activewear Trail gaiters for my kit layers and the first lap a pair of MEC hi-viz running safety glasses.
As an open racer, what are you doing to prepare for the obstacles / extra weather element?
As an open athlete for this event my training was geared toward as much grip strength as I could possibly gain, long trail runs in the dark at night, figuring out how to set up a strategy for the race(disclaimer – my strategy lasted until the first climb up the mountain and then went out the window and I was purely winging it the rest of the way!) and mentally making the decision at the start line that there was NO WAY that I was DNFing this race like I had at the Sun Peaks Ultra Beast!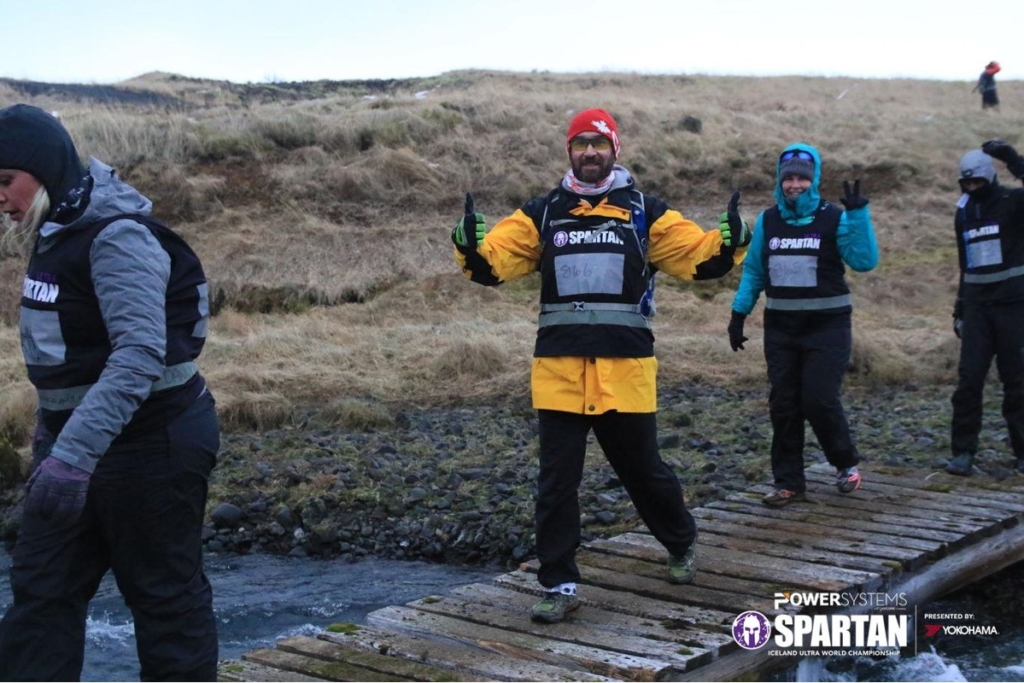 With this race, what are you most worried about / struggling with?
When the race started the biggest thing I was worried about was the unpredictability of the Icelandic weather and what it was going to do to the course. When everything started we were told 5 laps to be a buckle finisher, and after 9 am to count toward the 24 hr. finish! I most definitely struggled with multiple weather and temp swings and that resulted in the massive cliff climb becoming almost like an ice slip wall in the middle of the course! The other worry was grip strength, and by the end, it was gone and playing a huge factor in how I was having to approach the obstacles trying to minimize failures!
What were your direct feelings about the burpee pit at the end of each lap, as opposed to having to do them at the obstacles?
I still don't know what to think about the burpee pit, I understand the theory and method behind it to ensure that the elite wave didn't have the usual arguing about who did and didn't do their burpees, but it had to be kind of soul-crushing for them to have to do them right there with everyone watching, so yeah, I don't really know about that.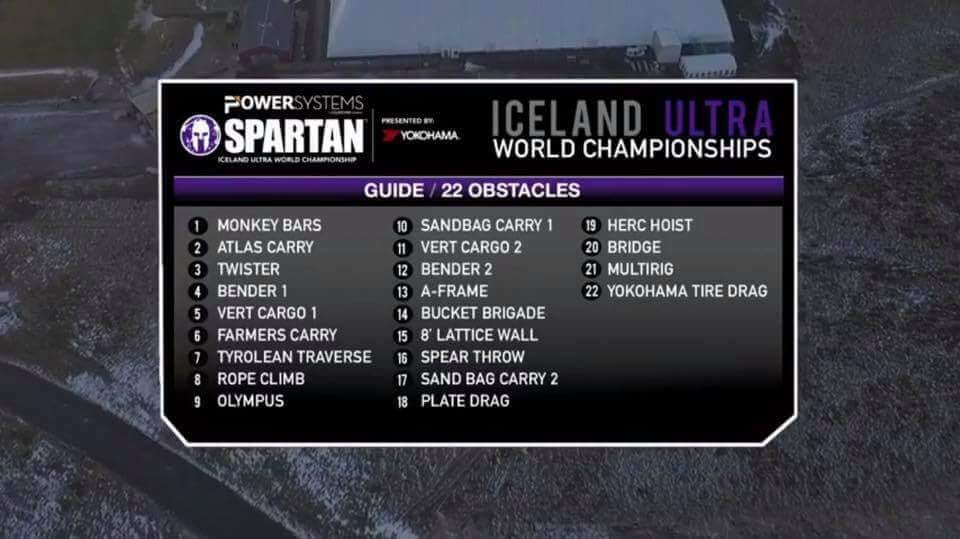 A slight correction to the above – The tire drag was the first obstacle, not the last, and the massive mountain climb/slip wall was between two farmers carry and the Tyro traverse.
Not directly comparing one ultra-event to another, but in your opinion what worked well and what didn't? What did work compared to what didn't?
Hmmm, honestly this was one of the best-run Spartan Races I've ever done. The volunteers were knowledgeable and supportive, the transition area was a pretty good set up, the prologue through town was a blast, the obstacle difficulty, especially in the heavy carries, were made to be epic and they were. If I was to change anything I would have moved the multi-rig inside so everyone could see athletes as they came through and made the entry/exit to TA and the start/finish just a little smoother.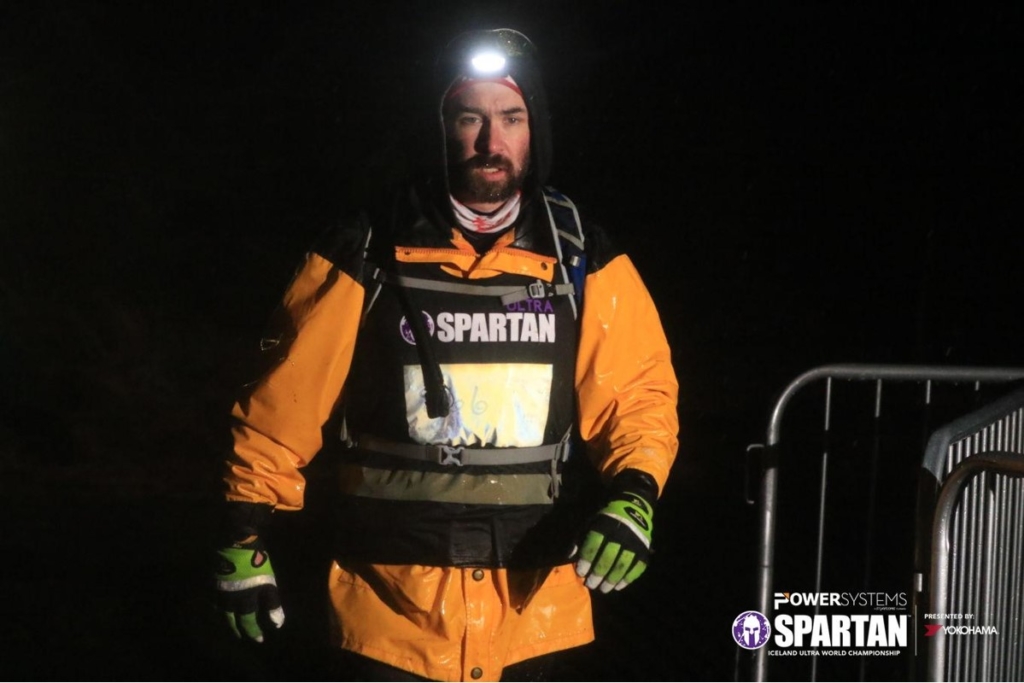 What on course did you personally struggle the most with? (the cold, physical or mental roadblocks), and how did you overcome them?
On course struggles. The weather was the major player for me. I could literally change every 2 minutes from snow to rain to calm to 100km plus winds on top of the mountain. You just had to figure out a way to convince your body to keep going and tell you mind to 'SHUT THE F*#K UP!!" It was one of those races where if you listened to the common sense in your head you were going to DNF. Once you got over that it was just trying to figure out how to keep moving and not spend too much time in the nice warm cozy Transition area!!
As an athlete if someone wants to do their first Ultra event or endurance race, what can you recommend they do for training?
If you want to do your first Ultra, first thing is convince yourself to sign up, once that money is paid, you REALLY don't wanna have a DNF for all the money you just spent!! If it is a Traditional Trail Ultra, all you need is a way to carry water and nutrition, a good pair of trail shoes and an ability to not listen to the little voices that say 'You cant do this!!" Get a good training plan that can be found on several trail running groups pages and follow it and you will be fine. Ultra-length OCR add in a good grip strength training plan through your local gym or a KNOWLEDGABLE local racer and add to the running plan. Then, honestly, plan for the worst and hope for the best, because there is a saying that goes with trail running!
If you want to get healthy, run
If you want to change your life, run a Marathon
If you want to speak to God, run an Ultra
If you REALLY want to know yourself, Run a 24 Hour Ultra Marathon in Iceland IN the Winter!!
(yes that last part is mine!)