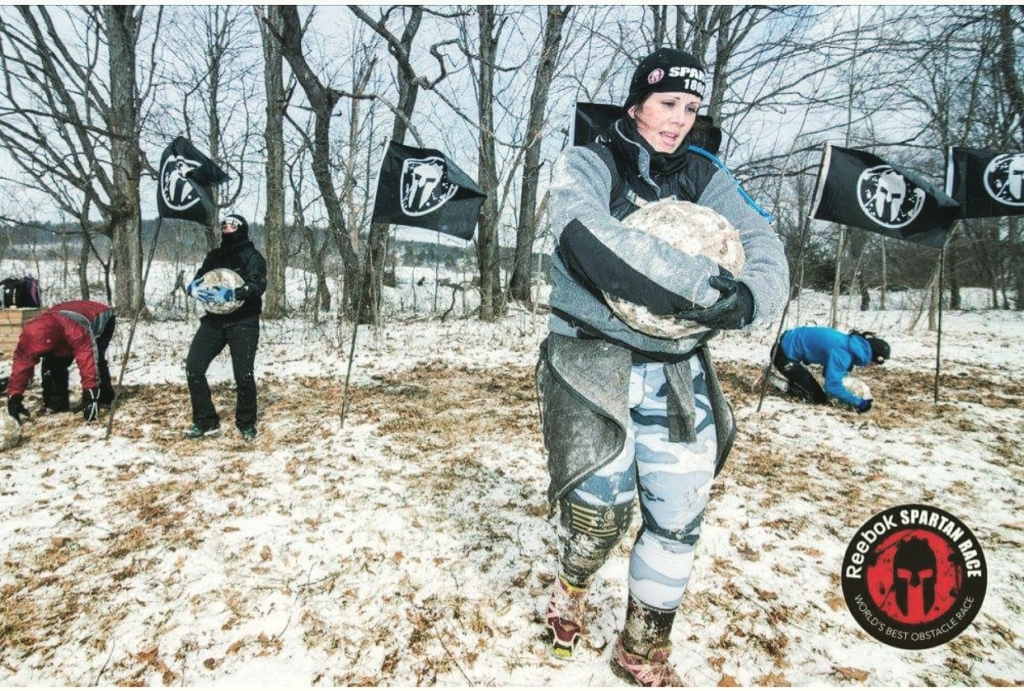 So you heard about the North American winter Spartan Race that was rolled out last year and you are considering doing it this year but you have some questions? I traveled to Greek Peak Mountain Resort in Cortland, New York last year to participate in this inaugural race and I enjoyed it so much I am heading back there on March 10 to do it again! Let's see if I can answer some questions I've been seeing and get some more people to step out of their comfort zones and give it a try.
What should I wear for this race?
Well, it was about 10 degrees last year when I took off at 8:45 AM  so layers were a must. I had on two pairs of pants with Under Armour heat gear pants closest to my body, wool socks from Vermont, two compression tops including an Under Armour heat gear top closest to my body, a north face jacket and full finger Dgearog gloves. I took it a little far and was also wearing another sweatshirt but after the first hill I was sweating and took it off and tied it around my waist. The gloves were great because they kept my hands warm and helped with grip.
Are there water obstacles?
No last year there were no water obstacles. The only time we came in contact was during a creek crossing. They had wood planks set over it and unless you lost your footing you stayed dry.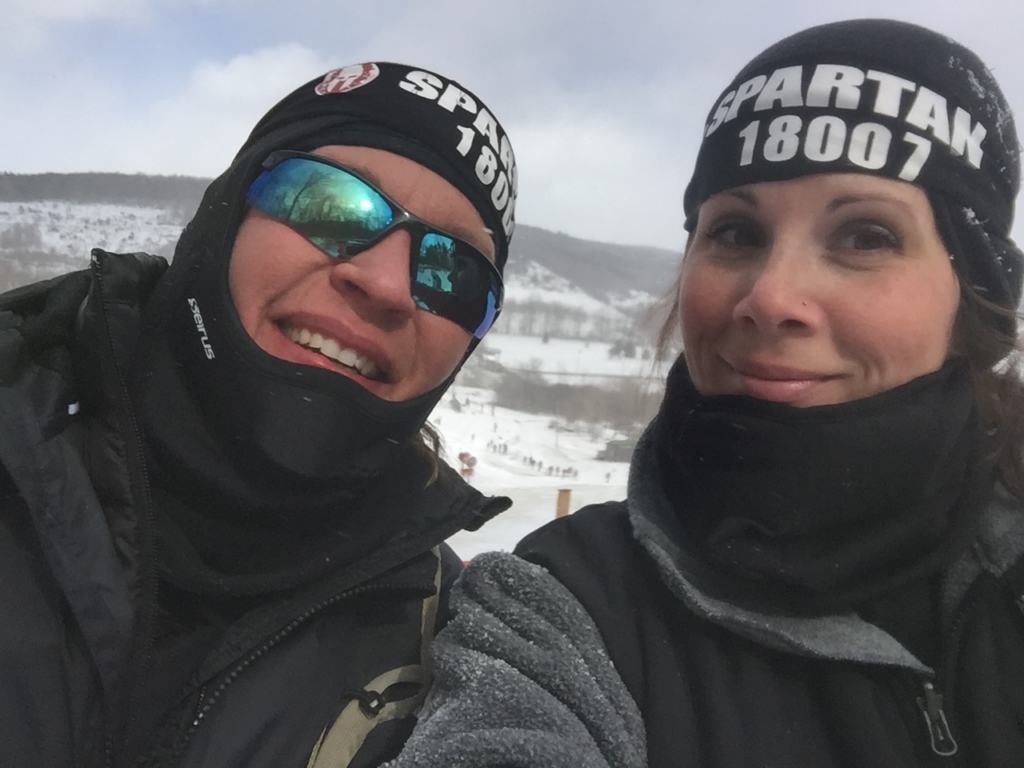 Are there all the usual obstacles?
There were walls and hurdles and an atlas carry and even the dreaded bucket carry. The sandbag carry was a lot more fun than usual because it was done on a steep icy hill and many of us were sliding down on the pancakes. Instead of mud mounds, we climbed up and slid down ice mounds which were super fun. There was supposed to be something they called Snowball Throw (or something like that in place of the Spear) but it never happened. And all your other usual suspects were there like rope  climb..rings..herc hoist. Which is why it's important to keep your hands warm.
Are hand and feet warmers a good idea?
Yes! For the above reasons I stated plus its definitely possible snow will get in your shoes so this way, your feet will stay warm.
Can I wear spikes on my shoes?
No Spartan does not allow spikes of any kind on the bottom of your shoes for obvious reasons. It is a danger to any other racer around you. However, if you wear the proper shoes you will be fine on the ice. I wore my regular Solomon Speed Cross 3 sneakers and I was fine.
Does this count towards my Trifecta?
Yes, it absolutely does! It's a sprint and it definitely counts.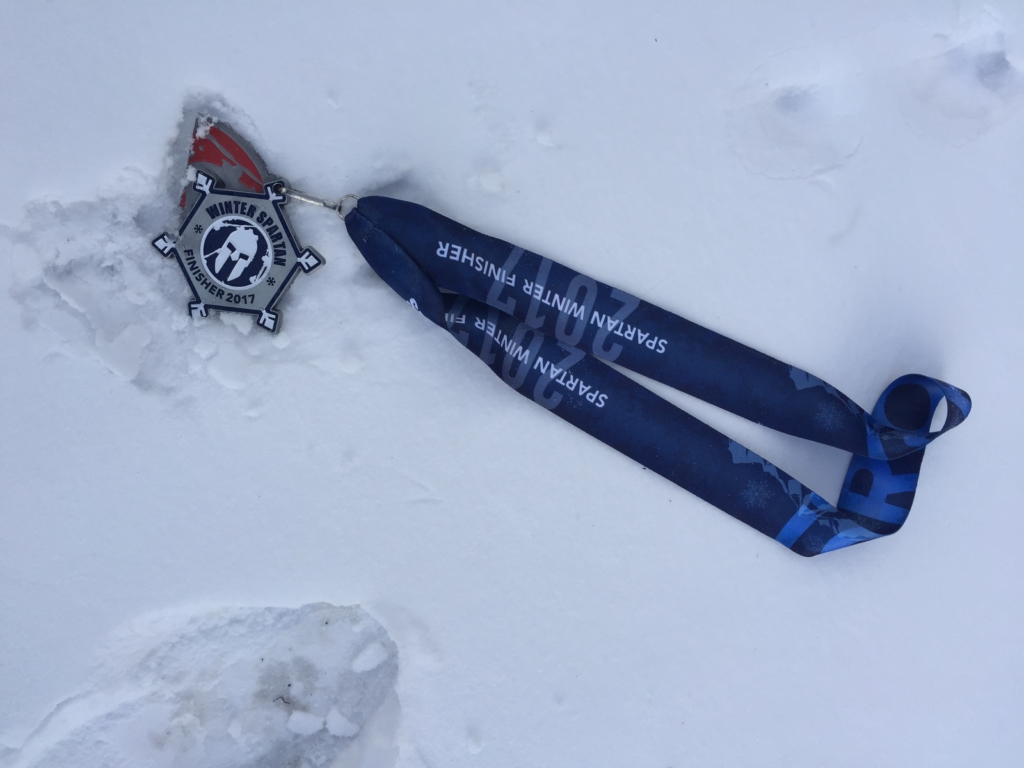 Is there a special medal?
Yes, there was last year and it was epic. It was a gorgeous snowflake and looks amazing hanging on my medal rack
What about the finisher shirts?
Last year they were white long sleeve moisture wicking material. There were some issues with them being dirty from getting wet outside but Spartan sent everyone a replacement shirt (though it took a bit longer than they promised).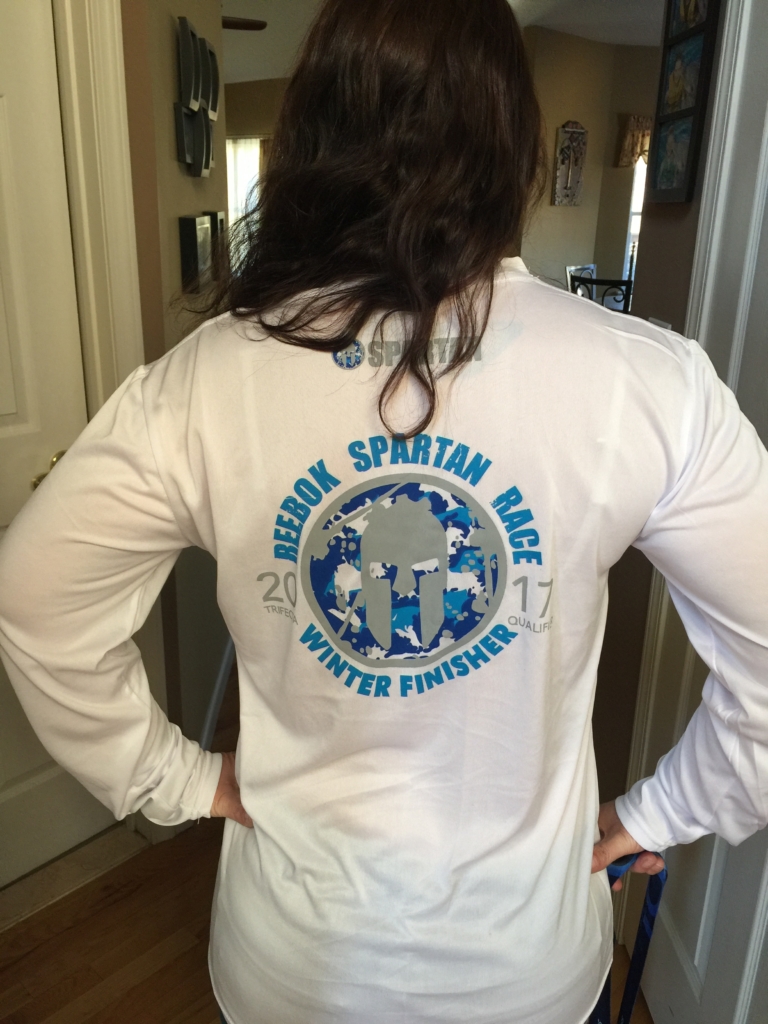 Was it really any different than a regular Spartan Race?
Yes..one hundred times yes! It had a much more laid back vibe and anyone I spoke to said they felt like kids playing out in the snow with their friends. There was so much laughter and as long as you were properly dressed it really was a totally cool experience!
Is it only a Sprint?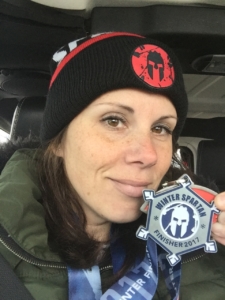 It was last year, however, this year they have added a Hurricane Heat. Talk about challenging yourself!
So there you have it. If you have any other questions please don't hesitate to leave a comment and I will try and answer them. I will say my daughter goes to school in Cortland so I did not have to stay in a hotel but most people did and did not have any trouble finding affordable rooms as long as they looked early enough. One low point. Since it was their first year doing a winter race like this registration was a nightmare. It was supposed to be held outside but it was so cold that the computers were freezing. At the last minute, they moved it inside and it was chaos. There were no clear lines and there were so many people crammed into one room. I'm sure they have learned their lesson and will change this process and it will run much more smoothly this year. So PLEASE if you are considering this race…DO IT!!! There really isn't anything to be afraid of.  Yes, it was cold…but we knew it was going to be and we were prepared.
Hope to see you there…