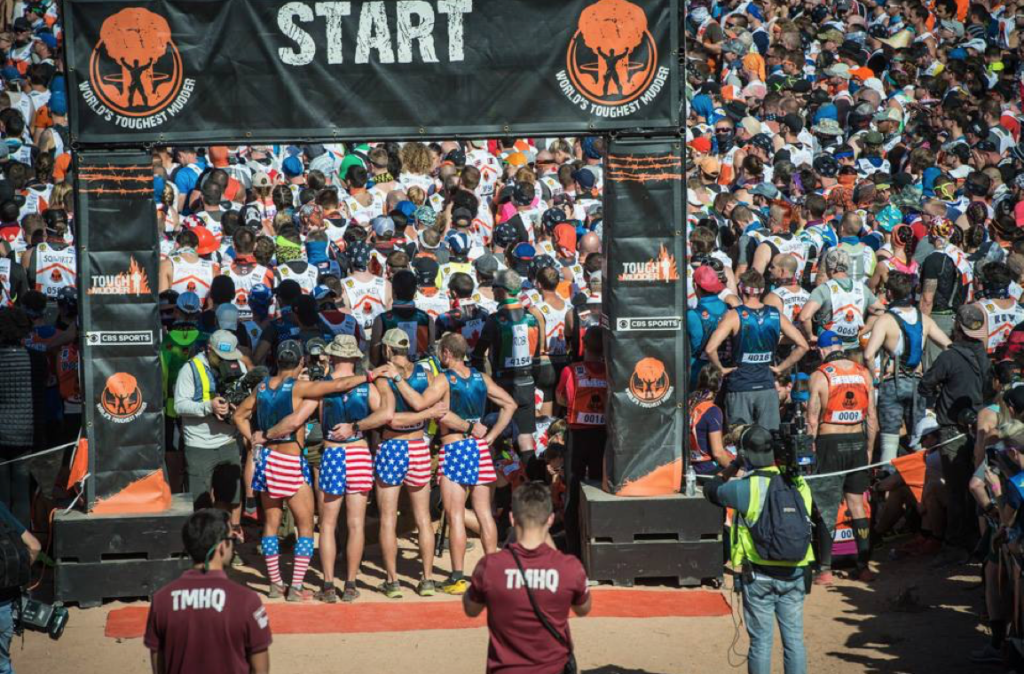 As one of the biggest ultra-obstacle course races, World's Toughest Mudder (WTM) frequently is the highlight and peak of people's racing year. As someone who specializes in the toughest and longest events, that puts WTM at the top of my racing calendar and I structure the rest of my year around preparing for this race. However, things went a little differently this year. Early in the year, we found out that the money and professional racers were mostly going into the individual or team relay divisions, so I felt some pressure to consider going team in hope to place well, and (spoiler alert) it worked!
The below is a race recap of the journey that Team Merrell had in our struggle towards earning 2nd place 2+ person team. Team Merrell was made up of Evan Perperis and myself, who both are Mud Run Guide contributors. I will include headings so that you can skip to sections that you're particularly interested in. Also, if you've ever read one of my race-recaps from WTM or a long event, you know that I'm not succinct.
The basics: World's Toughest Mudder is a 24-hour obstacle course race where you complete as many 5(ish) mile laps of a course within a 24(ish) hour period. Of all the 24-hour OCRs, it has the reputation of being the toughest, mostly because water and cold are a big part of the race. There are four competitive divisions: individual male, individual female, 2+ person team that stays within 1 minute of each other at each timing mat, and 4+ person team relay that runs the first & last lap together but otherwise has at least 50% of the team on course at all times.
Pre-Race Hype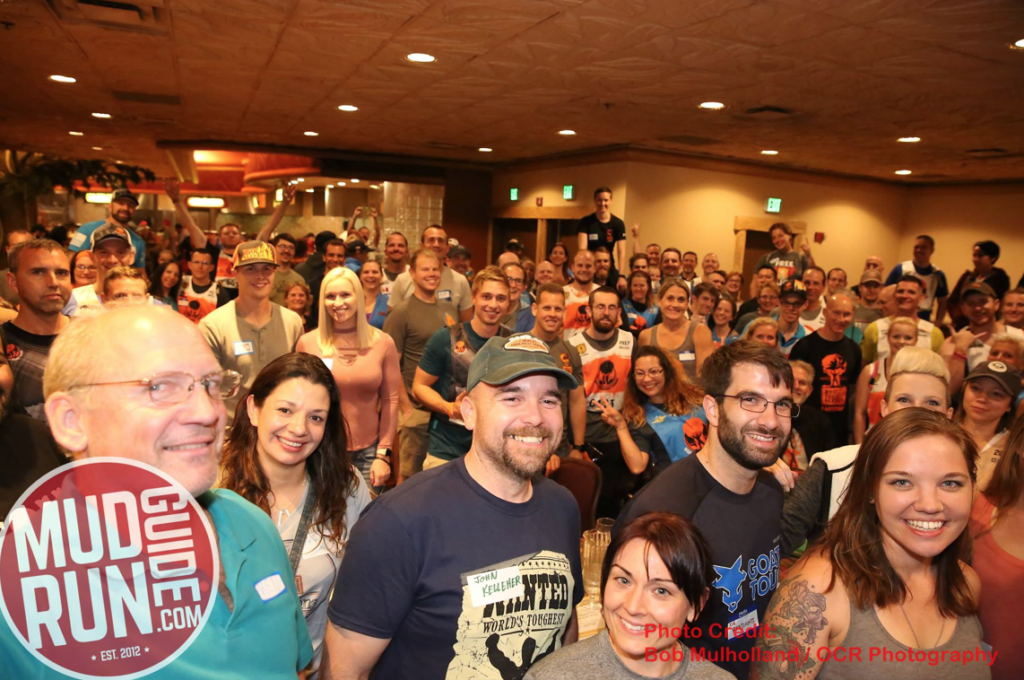 As a famous destination and peak race, the WTM isn't just the weekend. The festivities really last all week long. On Thursday night, there's the SAWCK dinner where socks are sold to raise money for charity. Matty Gregg is the main driving force behind these efforts and he's raised hundreds of thousands of dollars for St. Jude's and, this year, Team Rubicon. On Friday night, there's a buffet at the Fiesta Casino with everyone to have one last meet up before the big day. These events are chaotic and exciting! On Thursday, we brought my young son and he met so many people, but it was also a lot for him. On Friday, I went on my own and saw so many people that I had only seen on Facebook. It's great to finally put faces and bodies to pictures! The key is to not get exhausted from all the excitement before the big day.
On Friday morning, the main excitement is pit-set up and check-in. This year your performance at the six Toughest Mudders (8+ hour overnight events) defined how early you could check in. Top 5 at any event or a previous WTM champion and you were an "elite contender" and checked in at 8am. If you completed 25+ miles, you and about 500 other people were a "contender." After that, were the Team Relay teams, the Holy Grail completers (Tougher Mudder, Toughest <25+ miles, and WTM), and then the Open division. Evan Perperis and I had both finished in the top 10 at a Toughest with 40 or 45 miles, so we checked in with the "contenders" and claimed a good pit location. Even though contender check-in wasn't until 9am, people had lined up from as early as 6am. When we got there at 730am, there were already about 100 people in line. Everything after that, was routine with checking in at the Westin then speeding over to the race site and claiming a pit spot. We got a good spot right behind the elite contender reserved pit locations, then went home to rest.
On Saturday morning, the day of the race, we slept in as much as possible then made our way to the event site. Everyone wants to show up late, so it's important to show up just a little early. We got there at 9:30am for a race start of 12pm. We spent the time sitting down, getting gear on, going over the race plan with our pit crew, and lubricating all the bodily surfaces that need excessive lubrication. At around 10:45am, we made our way to the start line and sat in the shade as long as possible until Tough Mudder Head Quarters (TMHQ) pushed us back so the Elite Contenders and Team Relays could start ahead of us. That was a new thing this year because of the CBS/TMHQ emphasis on the races with prize money and professional competitors. However, after Sean Corvelle's inspirational speech, the lines compressed and we were only a couple bodies behind the start line.
Starting the Journey: 12-5pm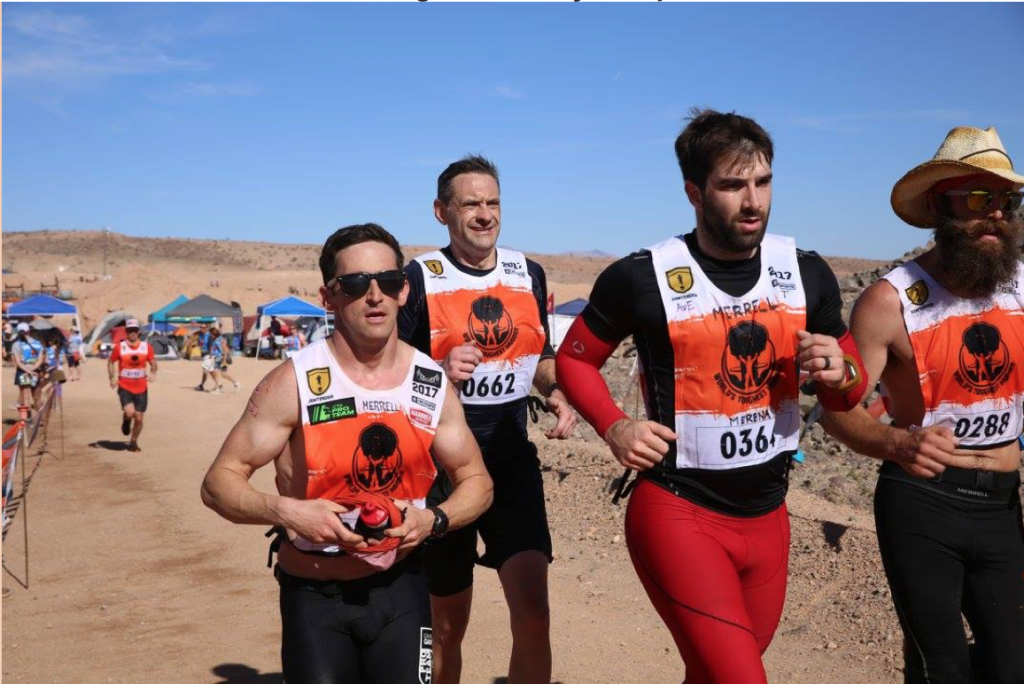 As we counted down to high noon, my heart started racing with excitement then slowed as I breathed slow and prepared myself for a long 24-hours of racing. Right as the clock reached 11:59:59, we charged up the hill that started the course. (We like to count-down too fast and use every second.)
A huge crowd of competitors ran out of the gates fast. Evan and I run a calculated race, so our plan to was to run comfortably. As expected, my comfortable was a tad faster than Evan's comfortable, so he stayed on my tail for most of the lap. Who we thought our main competition was, Joel Forsyth and Nicholas Allmond, sped ahead looking like they were going to crush it. We let them go. As we rounded the second mile and approached the first large hill, we spotted them again. We overtook them by staying comfortable up that hill. Over the course of the rest of the lap, we saw some of the top names like Trevor Cichosz also run by us comfortably. As we rounded the finish line of the first lap, we suspected we had won something rare: the green sprint bib given to the team who finished the first lap first. That was Evan's first and my second green bib.
After that, we settled into a fast but comfortable pace and expected obstacles to open one after the other. Our first goal was to get past Rope-a-dope at the 2.5 mile marker before 1pm so we could skip it. That blew by quickly. The first obstacle we did was Kiss of Mud 2.0, which was strategically placed on a patch of rocky terrain so it was more like Kiss of Rocks. We completed Balls-to-wall and T-Boned (modified 10ft Berlin walls) that were combined to be called Double Dipping without much issue because those are staple Tough Mudder obstacles. As we came around to Funky Monkey, we expected it to be open but it wasn't. We kept on going past obstacle after obstacle, but none were open. We passed by Everest which was early in mile 1 and they mentioned that they opened at 3:30pm. We thought that they misspoke. Clearly, they meant 2:30pm, right? However, as we completed four laps before 3:30pm, we realized that they weren't joking. The majority of the hard obstacles opened at 3:30 or 4pm, which lured us into a false sense of security that this was going to be an easy year. After all, if we completed 25 miles before 5pm, we might have a shot at running 100 WTM miles.
Everything changes at sundown: 5pm-11pm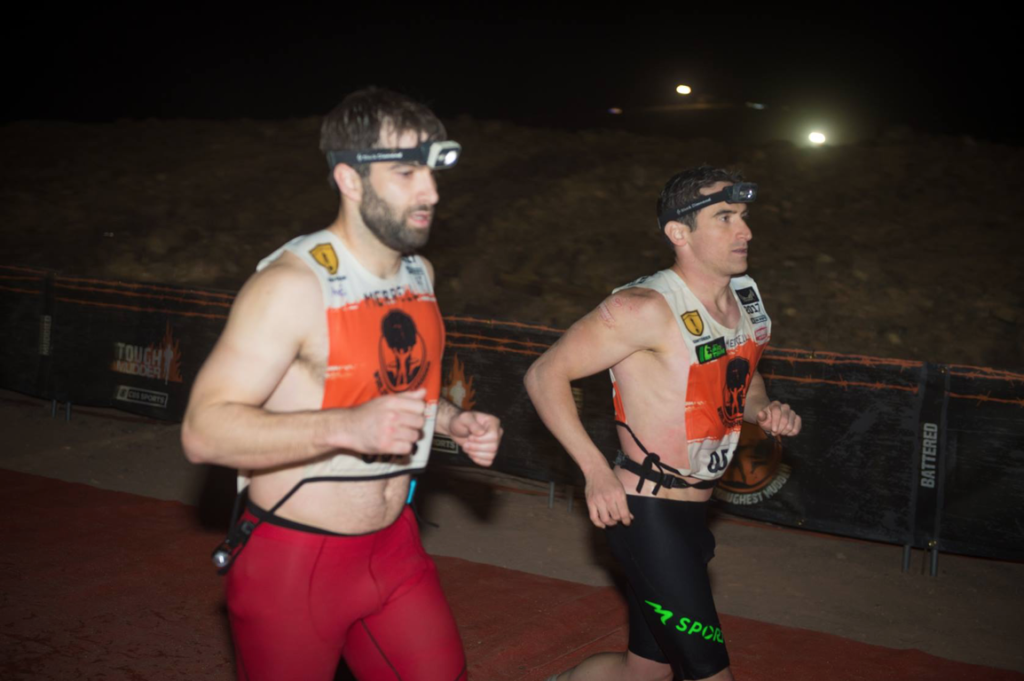 As we reached sundown, the real obstacle race was on. All the obstacles were open and people were breaking out the wetsuits in anticipation of a long night. For anyone who saw us out there, they know that our strategy was vastly different. We lived by the principal that wet is cold and dry is warm. The fastest drying material is human skin, so we took off everything except our Marena Sports tights and our racing bibs. (We are both sponsored by Marena Sports.) Throughout this time, we kept up our comfortable pace knocking out obstacle after obstacle. I only failed one obstacle, Hanging Tough, once during this time.
However, as the temperature dropped from 8pm to 9pm and to 10pm, we both started getting colder. Eventually Evan started adding layers and breathing like he was cold. We could only burn so hot for so long. As we finished our 10th lap at 10:15pm, we knew that something was going to change at midnight and the temperature was dropping below 60F. That meant our skin-strategy had to change and we moved to full wetsuits. Once that happened, Evan said that he didn't have a lot of run in his legs anymore so we started the power walking and jogging the down-hills. The German Team, Fit-One, passed us and we lost our first-place position. That started our trend of me gaining ground on him for the running portions and him catching up on the obstacles. I was the rabbit and his was the obstacle master. We each challenged each other to be better.
All of the changes to crush your soul! Midnight-6am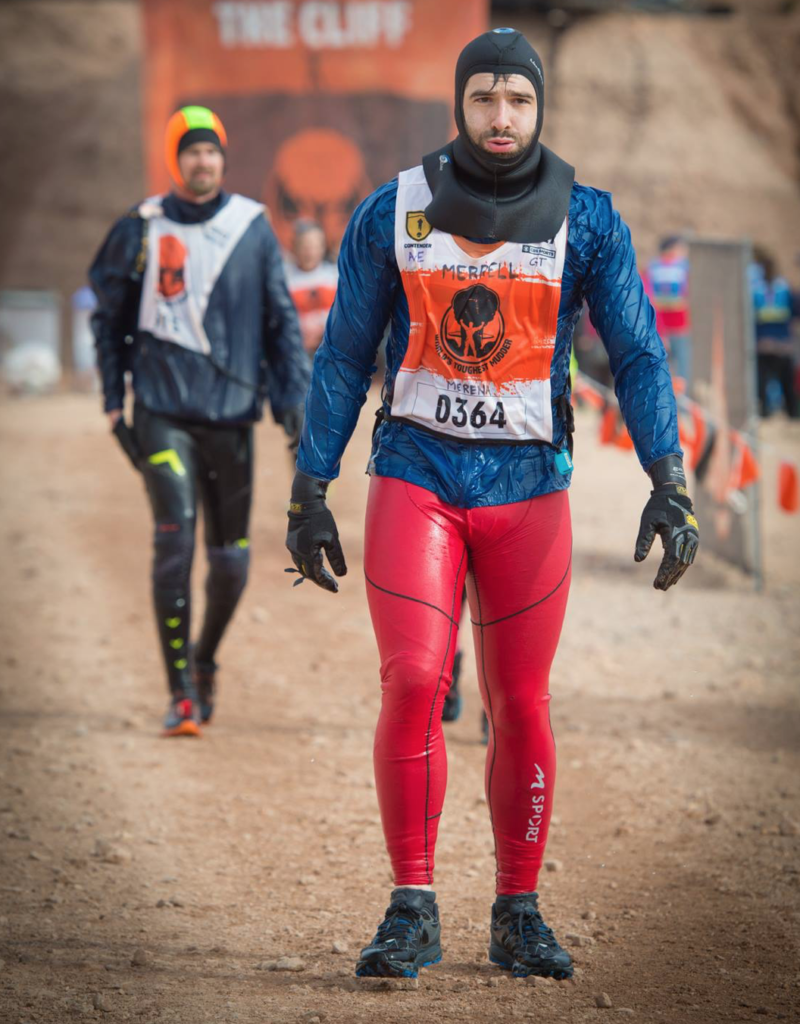 That first slow lap was slow so that we came up onto the 40ft cliff just after midnight. That meant that we had to jump off the cliff. While Evan has no qualms with the cliff, my original fear that Tough Mudder helped me overcome was heights. When Tough Mudder had to Walk the Plank, a 12ft jump into the water, I hesitated. Ever since WTM moved to Las Vegas, we have had a 37-40ft cliff jump on course. Every year I have tolerated it and hesitated at the top, but always went off. Each year I hesitate a little more, but the race and the community of Tough Mudder help me overcome my fear. Yes, before this event I had jumped off the cliff at least 20 times over my 240 WTM miles in Vegas, but it scares me every time.
That was just the start of the fears. Sean Corvelle's inspirational speech this year has featured a theme. When you reach an obstacle, you feel Fear. Stop. When you get a hard diagnosis, you feel Fear. Stop. The benefit of Tough Mudder, other OCRs and 24-hour races is that we practice the opposite. When we feel Fear, we don't stop. We overcome all fears and refuse to stop.
In this case, the half-mile that we skipped from going off the cliff was replaced by two extra swims and another hill climb with Ladder to Hell on top. That made our 1:42 slow lap extend to be more like 2:20-2:30. We were constantly wet, constantly climbing a hill or both. This relentless feeling sucked the run from Evan's legs almost completely, so we just kept trucking.
The wet also slowly wore down my grip strength in the final grip gauntlet of Shawshanked to get your hands wet, followed by Funky Monkey The Revolution with an Arctic Enema penalty if we failed, then Hanging Tough (a Kong modification with rings), then Kong Infinity (more rings). As the night went on, my hands swelled from my wetsuit and my failure rate increased and increased. I had gained substantial muscle this year from Crossfit and working on obstacle strength, so my wetsuit was tighter, resulting in less venous and lymphatic drainage and causing more swelling.
Since, as a team, we both failed if one of us failed, we settled into a strategy of me powering forward on the distance portions while Evan tried to keep up. I would attempt an obstacle and if I failed, Evan could quickly fail and move to the penalty. If I succeeded, Evan would quickly go through the obstacle and we'd keep on trucking. By the end of the night, my failure rate was near 90% and we surely felt that we were out of range for any mileage goal or placing. Surely other teams had fared better than we had.
The final charge: 6am-12pm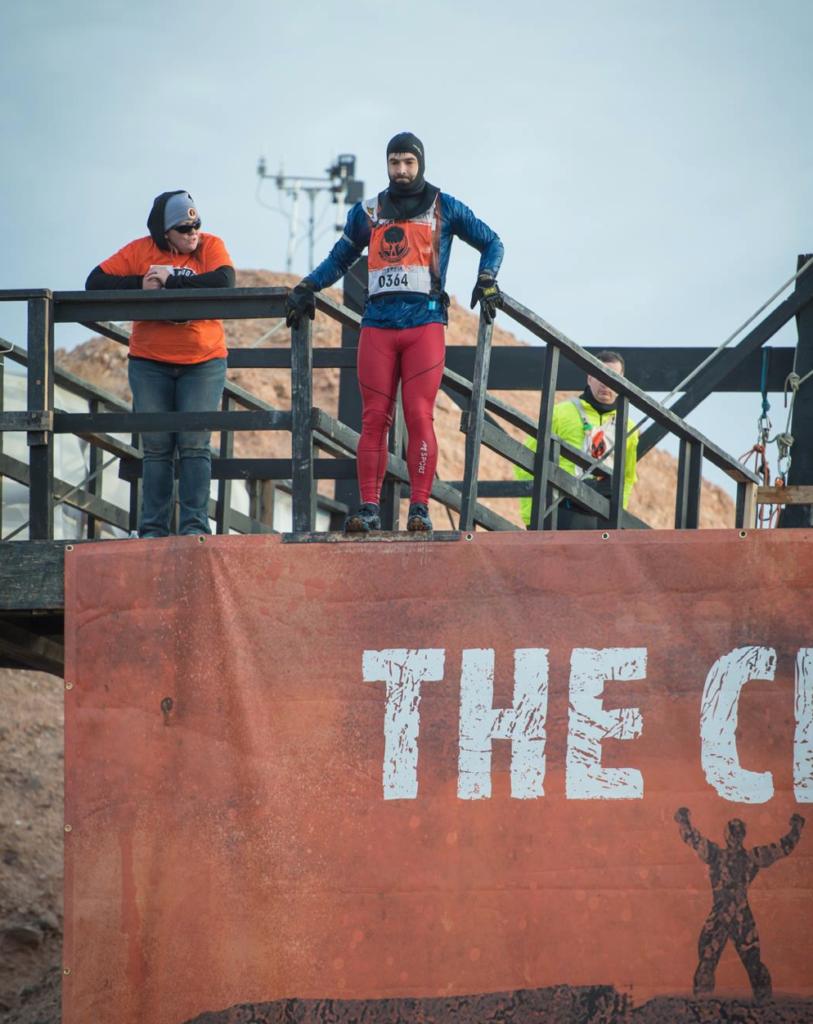 As the sun came up, I always get a charge of energy. I believe that 24-hour racers are like plants. The sun gives us hope and energy to continue. As the sun rises, we feel as though we are stronger and the paces show that. Both Evan and I started walking faster and making it through obstacles faster. Of the obstacles we could do, which was everything except the grip gauntlet, we started succeeding faster.
As we completed the lap after sunset, our pit crew told us the surprising news: we were still in second and the Germans were only a mile or two ahead, as best we knew. We even saw them around a large corner. Also, the third and fourth place teams were between one and two laps behind us, so we had second locked in place as long as we refused to stop moving. That competitive drive gave us the motivation to go faster and harder. I still kept failing the grip gauntlet, but our lap times dropped to around 2-hours each.
As we hit the 70th mile at around 7:30am, we were told that Book of Job and Community First (3rd & 4th) were running 1:42 laps and were gaining on us. The Germans were looking rough, so we had a shot at first. The first three miles of that lap were super fast. Evan found the run in his legs again and I tried to keep moving him forward.
However, in a 24-hour race, there is only so much push that you have left. At the three-mile mark, Evan's pace slowed again and I started feeling the pain. Our pace slowed again and we went back to the power walk that we had kept up all night. When we finished that lap, we were told that the Germans were scared of us. Book of Job and Community first were only 10 minutes apart so they were pushing each other to go faster. Both Evan and I were exhausted, but as we finished the lap, we opted to pit for as little time as possible so that we could death march the last lap. The teams behind us didn't have a shot at hitting the 80th mile, but we did, so if we just finished this lap, we'd be second. Maybe we could even pass the Germans.
That was a rough lap. We didn't talk much and Evan's pace slowed. I needed to wait for him a little before timing mats. Similarly, I felt less comfortable with obstacles so I knew that the grip gauntlet was just going to be repeat failures. We took the penalties as they came and as we finished the lap, Evan told me that he had nothing in his legs to even attempt an 85th lap, so we finished that 80th lap strong, jogging hand-in-hand across the finish.
Post-Race Delirium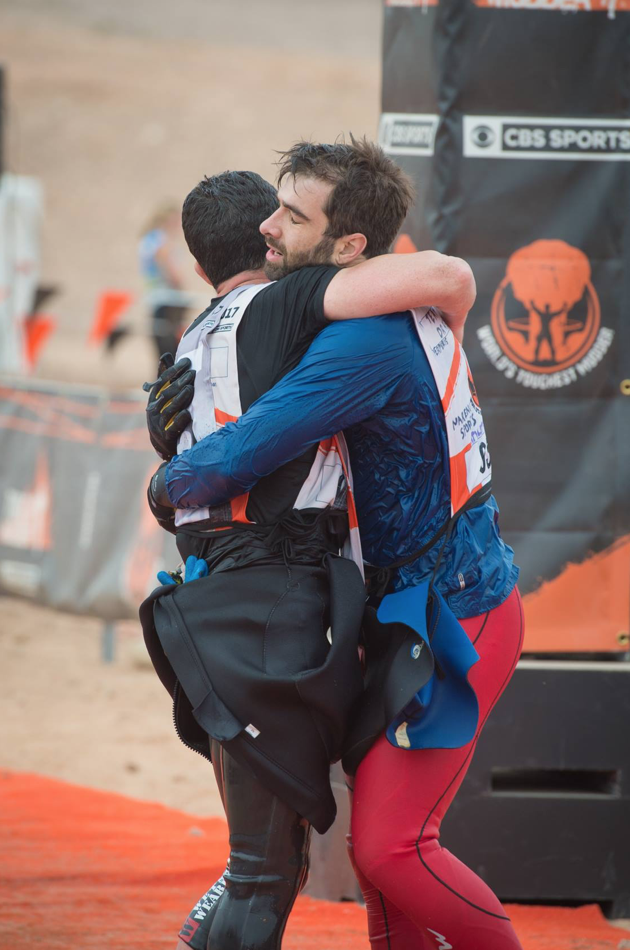 That's when we got told that the Germans were so scared of us that they went off to complete the 85th mile. We were also told that Book of Job and Community First had stopped. That put us in second. We had both earned our first podium at debatably the biggest ultra-OCR and we had done it together.
In the delirium after the race, we congratulated each other and watched our fellow racers finish the grueling course. We saw the overall winners come in with lots of fanfare, and even saw Rea Kolbl finish her 90th mile, which is one of the great achievements of female ultraOCR.
After the event, people were exhausted and either elated that they had gotten their mileage goal or disappointed at how hard the course was. Lots of people had completed 50 miles in 2016, then repeated for 50 miles in 2017. In my opinion, that means that they had trained much better and gotten much stronger in the year. WTM had given us the opportunity to overcome much harder challenges than we expected, and many of us had risen to that challenge. After all, that's what we came to do.
Take-Home Points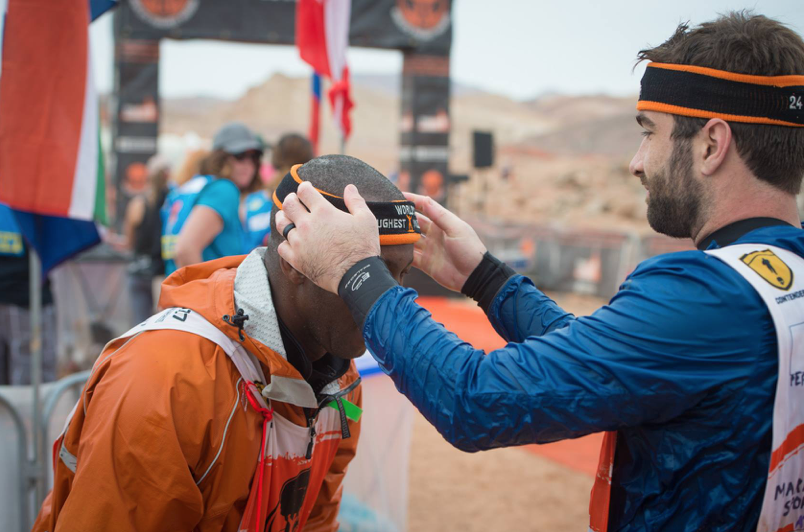 This year at World's Toughest Mudder, TMHQ designed a course to lull us into a false sense of confidence before they crushed our souls with a gauntlet of elements, obstacles, and distance. Since 2016 was a quick and mild year, they overcompensated to make 2017 compete for the hardest WTM ever. Evan and I had taken the additional new challenge of tackling this together and even though both of us would have gone farther on our own, our partnership had accomplished things that neither of us had done alone: a podium finish.
Brief summary of other dramatic subplots
What about the money? the 2+ team category
About 6 weeks before the event, Tough Mudder Headquarters (TMHQ) announced that they pulled the money from the 2-person team category that was the focus of WTM 2016. Their motivation was that the team category was less competitive and comprised "<1%" of the WTM racers. However, we learned that 46 separate teams were present representing at least 92 competitors or 5.8% of total registrations (1,533). That's more teams than ever had signed up before. Instead of money, TMHQ rewarded the 2+ person category with registrations and at the last minute, Merrell added money prizes to the 2+ person category. Of course, since we ran there we're super appreciative of Merrell for that!
Crushing our souls, crushing the fun & team
As discussed above, our souls were crushed at midnight with the addition of more mileage, more elevation, and 3 more water obstacles. The grip gauntlet of Shawshanked to get your hands wet, then Funky Monkey with an Arctic Enema penalty going into Hanging Tough and Kong Infinity was extremely challenging for the non-obstacle specialists or elites. Some also said that with the lack of King of Swingers and the frequent water, there was a lack of emotionally uplifting and fun obstacles. Combined with the fact that there were very few team-required obstacles, the morale and uplifting camaraderie on course was not as apparent as during other WTM's. However, as someone who competed in the ice storm of 2012, the sandstorm of 2014, and the water gauntlet of 2015, I know what Sean Corvelle means when he says, "Fear. Stop." As Tough Mudders, we buckle down and refuse to give up. That can put us into our own world and reduces the feeling of teamwork and camaraderie temporarily because each person has to overcome the feeling of utter exhaustion and desire to quit on their own. Overcoming these fears is part of what brings me back to WTM and Tough Mudder over and over again. Each time I overcome a fear, I become more resilient.
Also, if you look at the number of people who earned 75+ miles as a marker of difficulty, this year 40 people earned that mark compared to 62 people in 2016, 20 people in 2015 and 17 people in 2014. That means that either (1) this course was easier than all years in Vegas other than the mild 2016 or, more likely, (2) many people got much stronger.
The injuries
This year there were a few high profile injuries including the elite contenders. Morgan Mckay fell off Funky Monkey Revolution and her head hit the edge of the final platform resulting in a concussion. Adriane Alvord fell off Stage 5 Clinger, which was about 10ft up, and struck her back and head also resulting in another concussion that took her out of the event. These and other injuries made some question if TMHQ had enough emphasis on obstacle safety. While the obstacles that TMHQ put on the course were hard, they were all very similar to staple obstacles on the Tough Mudder course throughout the year. The only new obstacle was Rope-a-dope, which was similar in nature to the dismount of Hang Time (modified King of Swingers at Toughest Mudders this year). While I feel bad for everyone that got hurt, our sport has risks that we can try to minimize but we can't ever make an event with zero-risk. Even straight trail running has risks of sudden death, hyponatremia, and rhabdomyolysis.
For more pictures of WTM taken by Brad Kerr, who was an official Mud Run Guide photographer for this event, please see this link. Brad Kerr took all the above pictures except those marked as taken by Bob Mulholland
Rating: 5/5
---
Have you done an Tough Mudder?
Leave your own Tough Mudder review and feedback...