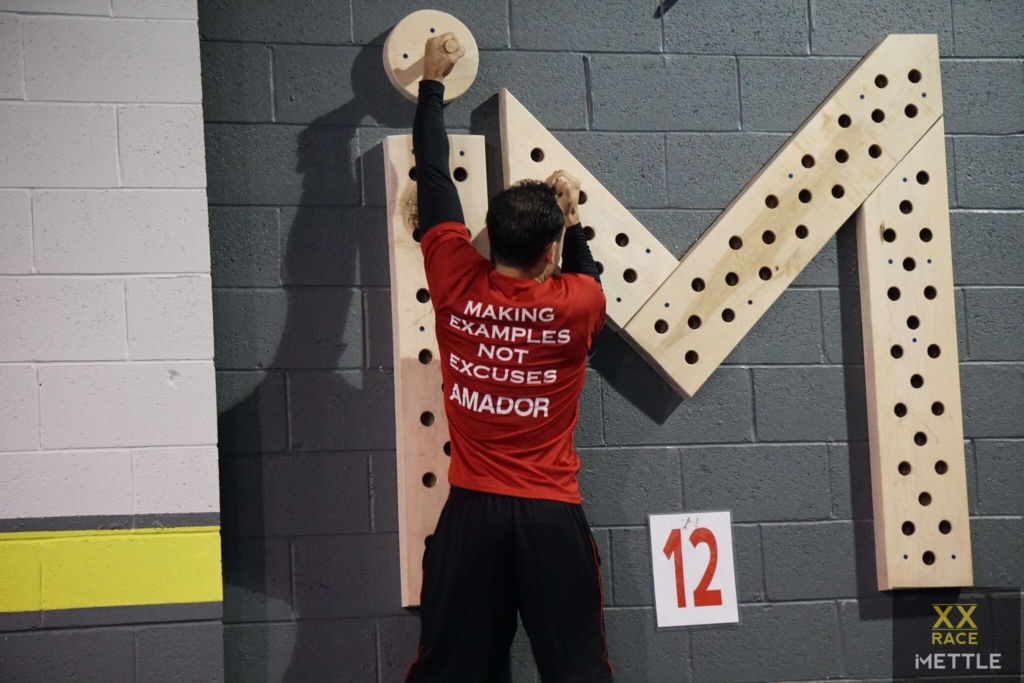 The XX RACE is an indoor obstacle course race at the iMETTLE gym in King of Prussia, Pennsylvania. The entrance can be a bit hard to find as it is around the end of the warehouse that it shares with a Le Bus Bakery. The logo on the door was easy to see as you drive by though letting you know you had found the right place.
My race day was different than a typical due to the snowy forecast. The children's race had been canceled due to the snow travel advisory. The snowy forecast also kept some racers at home.  This, however, gave me a lot of time to talk with the owner about his plans for the gym and races. Even with a lighter turnout, there were 1st timers to seasoned runners attempting and conquering the course. iMETTLE's founder, Jhoon Chang says his goal is to present a course that is as hard or harder than most race courses. Today there were three rigs, monkey bars, rope traverse, herc hoist, rope climb, sandbag pushes, warped walls, and even a pegboard just to name a few. It was not mandatory obstacle completion today and the penalties were designated by a roll of 2 dice. If you were lucky, you had to do 2 burpees, unlucky 12.
The owner Chang said that a good turnout could be 100+ racers. The XX Race happens monthly at iMETTLE and typically is different every month. This race was a shorter race at about 2 miles and 20 obstacles. The mileage was obtained today running laps around the gym floor. This event is self-timed and today's times ranged from 48 minutes to over an hour when I surveyed runners. Previously the longest race they had planned was around 6 miles. A normal race involves the use of the outdoor area around the building as well as the inside the facility. This allows for a longer race than today and is typically 3-4 miles long. While currently there is no swag given out Change said it is a possibility for future events.
The Gym: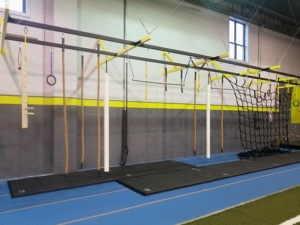 Chang opened this gym and started these races because he felt there was no training available that was really like an OCR and could prepare you properly. He feels strongly that the better your strength to weight ratio is the better all-around athlete you will be in the OCR environment. He also is a firm believer in balancing training and recovery to avoid over-use injuries.
Besides the monthly races the facility also offers boot camp, hybrid training, OCR training, Spartan SGX Classes. They also offer performance testing, personalized training, and training plans.  You can also get one on one training for those who need help in specific areas. In 2018 they plan to add more obstacles and an expansion of adult and youth programming. They will also provide more open gym hours which will allow people to come in and use the equipment on their own to workout and just to get a feel for the building and equipment availability.
Future Plans:
When I asked him about the goals for 2018 Chang has a lot he hopes to accomplish. The sport is still new, and it is split with Spartan and running events vs. none running like American Ninja Warrior. Is there a middle ground?  He feels yes. New obstacle events that could re-define the OCR, such as the upcoming iMETTLE Games. Think Crossfit games meets OCR. Chang is tight-lipped about the details but said that the event will be an individual and team-based competition, not a race, but will identify the best all-around OCR athletes, in a different competition format and a traditional OCR race.
Wrapping up:
As a whole, this gym is a great place to try out an OCR event.  There is equipment for everyone at any level. There is also skilled help there to help you succeed. Everyone I spoke to today was friendly and encouraging to everyone around them. While I did not race I give the race a 4 of 5. It was coordinated well and challenged those who did participate. I look forward to seeing what Chang has in store for his facility for 2018. I am optimistic that it will be spectacular.