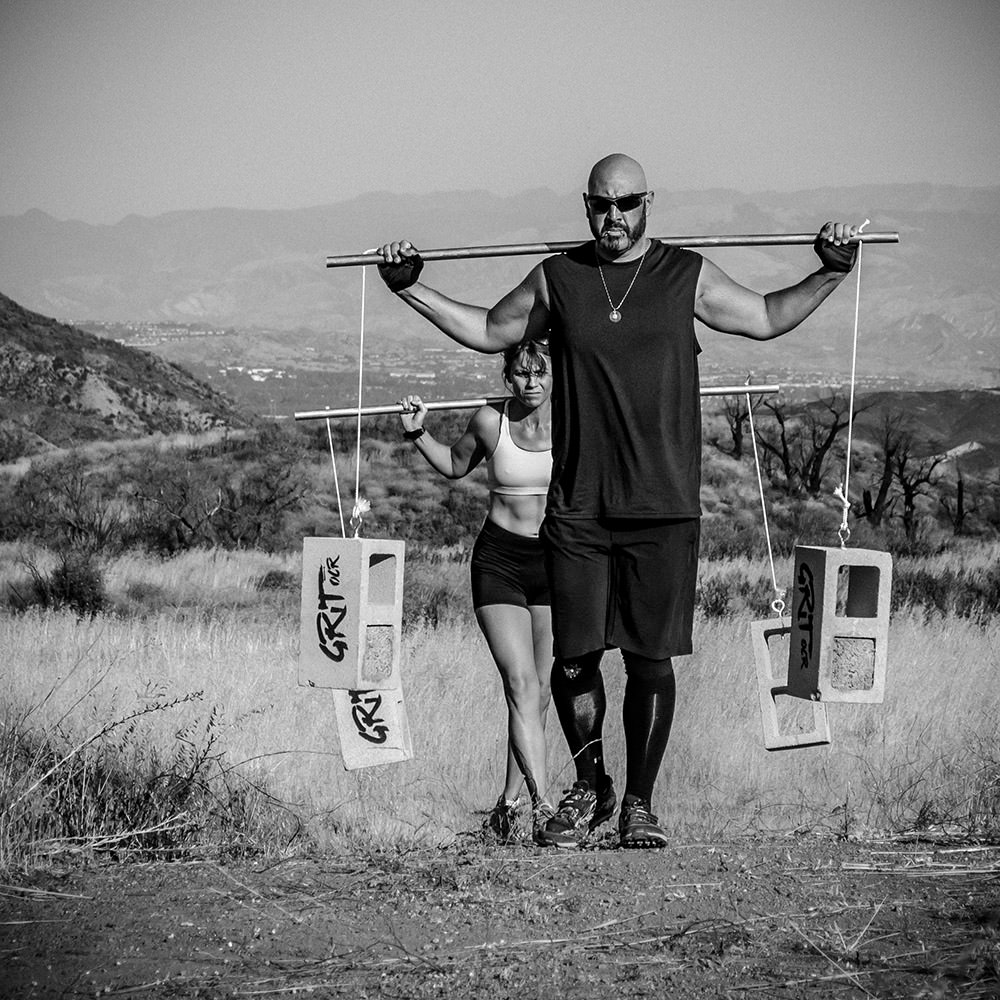 Over the last weekend, I had the pleasure of experiencing the inaugural Grit OCR event in beautiful Santa Clarita, California. Previously Grit OCR was planning to develop an OCR fitness center, however after participating in the spectacular SPACEROCK Trail Race organized by New Global Adventures, an organization that specializes in trail running and endurance event including the VALENCIA Trail Race and Silver Moon Race. The Grit team decided to partner together with New Global Adventures to create their first Obstacle Course Race (OCR, for short) and it vastly exceeded my expectations.
Terrain & Course
I initially volunteered to run this race with a friend from my local Crossfit gym who was excited, yet nervous about running her first OCR. I assured her that it would be a great starter race since it is a brand new event, and generally, the newer brands have easier obstacles and build from experience. Incidentally, I might have lied. The terrain, the hills, and the elevation were KILLER! Oops.
The morning started off with a sprint to the top of East Walker Ranch, ascending 2100 feet, followed by a six-foot wall and a barbed wire crawl. I was ecstatic to discover that no mud would be involved in this race, although the inner wimpy kid in me did miss having a smooth, bruise-free cargo net crawl. Luckily, bear crawling through seemed to suffice, and the crawls were spaced evenly apart and not too low, so it ensured racers would not be on their hands, knees, and elbows the entire time. The break was much appreciated, as I encountered several different climbs and crawls throughout the six miles of course.
Closing in at mile two, we made our way through  "Flaming legs" which were several hill sprints through a heavily wooded area leading us to a row of giant cargo boxes, standing at about six feet tall and wide.  The mission was to flip the boxes three times out and back then continue running the trail or to forfeit the obstacle and complete 20 Log Squats in the penalty loop. Guess who was way too hungover and physically exerted to lift those boxes? This chick. Those boxes were a real challenge for a lot of women, and it was the only obstacle that had one set weight for both genders. At least now I can confidently say I know what I will be working on, and it involves dead-lifting and pushing a box twice the size of me.
In spite of the difficulty I faced with the box flips, I ran my cranky butt back through the trail up and over the slip walls. Shortly after, I came up with something called "Out of Gas" – two 30 pound jerry cans that you needed to carry for 600 meters through the trail and back.  I genuinely thought my shoulders were gonna fall off and whined about it to whoever would listen. As soon as I dropped those suckers off, I ran for the hills, as my legs were eager to give my arms a break.
After the trails and various military-inspired obstacles (a rope climb, a hanging traverse wall, a sandbag carry, the works…) I approached my new nemesis: Yoked.
This deranged carry had simulated a barbell with hanging cinder blocks on the sides. The blocks would swing with each step I took, and the barbell was wedged awkwardly behind my neck. I struggled, but my friend sprinted her way right through and inspired me to tough it out. After more running, we came across the last obstacle, a cubed monkey bar rig followed by a cheering crowd and friendly volunteers handing out finisher medals. Overall, this course was sufficiently brutal, yet I quite enjoyed the pain. It was geared towards runners, with a slight focus on weight training and grip strength, and it served as a brilliant example as to what is expected in the Obstacle Racing world.
Festival, Sponsors and Miscellaneous Goodies 
Grit Ocr collectively stood out in my mind for three reasons:
1) They were fully prepared to pamper us with race goodies (Ummm HELLO complimentary enchiladas, egg rolls, and pb&j sandwiches!)
2) They had incredible vendors and sponsors eager to hook us up with snacks, coconut waters, and post-race beer.
3) The support and friendly faces of the volunteers and staff on duty set the tone for a pleasant race day experience.
BIB numbers were easy to locate, buses were running throughout the day, the festival area was stacked with fun activities and various snacks to inhale, and the overall demeanor of the canyon was a happy go lucky blend of excitement and joy. Although it was a reasonably warm afternoon, no one seemed to be experiencing a moody temperament, and staff members/ people in charge were intent on delivering the best racing experience possible.
Beyond that, GRIT has partnered with some pretty spectacular sponsors, my favorites being That's It – a company with incredible all natural fruit bars,  and TuMe – Tumeric infused waters and sports drinks, which were highly quenching after a long and brutal course. Also, available to sample was a chickpea product that I had never heard of: HIPPEAS. Delectable baked chickpeas were ranging in flavors such as Sriracha, BBQ, and White Cheddar. It was the perfect post-race snack.
Overall
Overall, I was impressed. It's not easy for a brand new racing brand to get their inaugural race off to such a successful start. GRIT had all their bases covered and delivered a simple, yet challenging course which was accurate in distance, obstacle detail and support. I wish this company the best of luck, as they plan to initiate several more endurance events throughout the year. Thank you GRIT for giving us the opportunity to awaken our mind, body, and spirit with this beast of a course. Whether it was loved, hated, or feared, you did your duty to test our strength and push us to greatness.
Rating: 5/5
---
Have you done an Grit OCR?
Leave your own Grit OCR review and feedback...