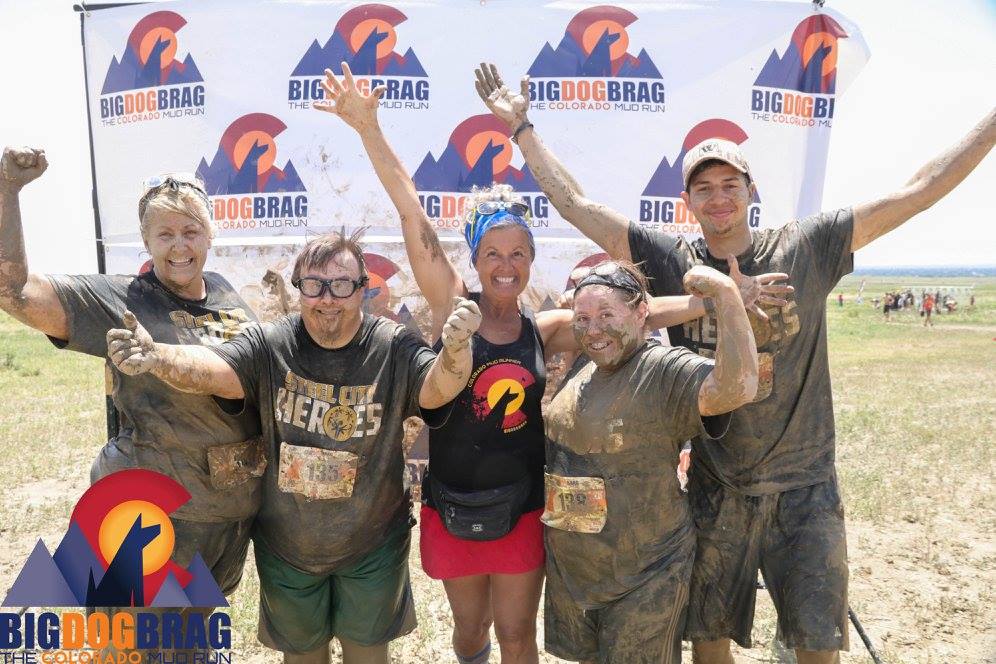 THE BIGDOGBRAG has become a small obstacle race staple in Colorado. While some areas of North America an obstacle race or two can easily be found every weekend, other locations are not that lucky. The BIGDOGBRAG was born seven years ago after founders Ron and Misty Banta saw a need for more local obstacle course races in Colorado.
Seven years ago, the only race that came to Colorado was Spartan Race at Fort Carson. While today there are more options THE BIGDOGBRAG continues to be a thriving small race series in Colorado Springs, Colorado. This year the small race has also expanded to a second location, Pueblo.
Like many small races, BIGDOGBRAG is all about the community and offers participants free finish line photos, finisher dog tags, a race t-shirt, and free beer coupon (21+). Spectators are free and six viewing points are set up along the course to watch friends and loved ones. Additionally, they offer all-day music, games, DJ and a tug-o-war mud pit. The goal is to not only create an event for participants to run but also a community event for all to enjoy and make a day of it.
If you are looking for a unique and different experience in 2018 BIGDOGBRAG is one to put on your radar and get a real taste of Colorado.
What was the first event like?
Up until THE BIGDOGBRAG, Colorado Springs had only experience The Spartan Race on our military base, Ft. Carson, so BDB came along as a family friendly, any level of fitness can do this race.  We had 1100 people show up the first year and several hundred spectators.
People came in costumes, with their kids, with their friends and in every combination of fitness levels and sizes of teams.  The night before the event, there was a huge wind storm that took down nearly all of our directional signage on the track (which is very problematic on a Motorcross track that has many trails merging and lots of places to get lost).
We arrived at 4 AM to not only this disaster but our 2 10 x 20 tent canvases were 100 yards down the road and completely destroyed by the windstorm, so we had registration under a skeleton tent with the most amazing group of friends and volunteers that made the most of the situation and welcomed everyone as though nothing was awry.
It's kind of funny to look back on it now, but that first year was as they say "a big learning" experience and most people had no idea that when they left from the starting gate that we had volunteers on the back part of the course still re-marking the course!
I have to say that the 150 volunteers that worked the race the first year made all the difference for our participants…they encouraged and smiled and pointed them to the next obstacle and cheered like they were watching Olympians get through their obstacles.
Bottom line was that there were a LOT of happy faces and FUN was the buzzword of the day! Families were so excited to do a course that had real obstacles that both adults and kids could do together.
What was your motivation to start a mud run?
Ron and I have a non-profit that is called Adventure With A Purpose…it basically is non-profit that takes people on 24-hour adventures in the mountains of Colorado to do experiential learning about things like TRUST, SPIRITUALITY, HOPE.  We didn't want to do another "gala" at some boring restaurant and at that time obstacle/mud races had really just taken off in our part of the country, so we thought it sounded ADVENTUROUS and since our non-profit is about ADVENTURE, it seemed like a good way to raise money for the cause.
What are some of your signature obstacles or unique offerings?
What makes the COLORADO MUD RUN…BIGDOGBRAG unique is that it is ALL ABOUT COLORADO….we use canyons to traverse across, real boulders to climb up, the 40 ft. MASTIFF WALL CLIMB actually comes out of one of the canyons and is a rope climb that is pretty impressive.
We use the hillsides to create real mudslides…not a blow-up slide.  We also have a 60 ft. super dog slide that is on a hillside with a high-grade slip n slide material, The TARZAN SWING was "born and raised in Colorado" 3 years ago and folks swing from one rope to grab another ….most usually end up in the mud pit below.  We have the floating 20 ft. "doggie dash", Cargo net climbs and tire climbs go up rocks and canyon faces so all in all, the COLORADO MUD RUN features as much of the Colorado terrain as we can.
We have been in the same location for all 7 years and the track in Colorado Springs is a monster truck track that has hills and rocks and multiple types of terrain to work with.  The Pueblo track is just east of CSU-Pueblo and takes participants through the beautiful, unique arroyos of the high desert.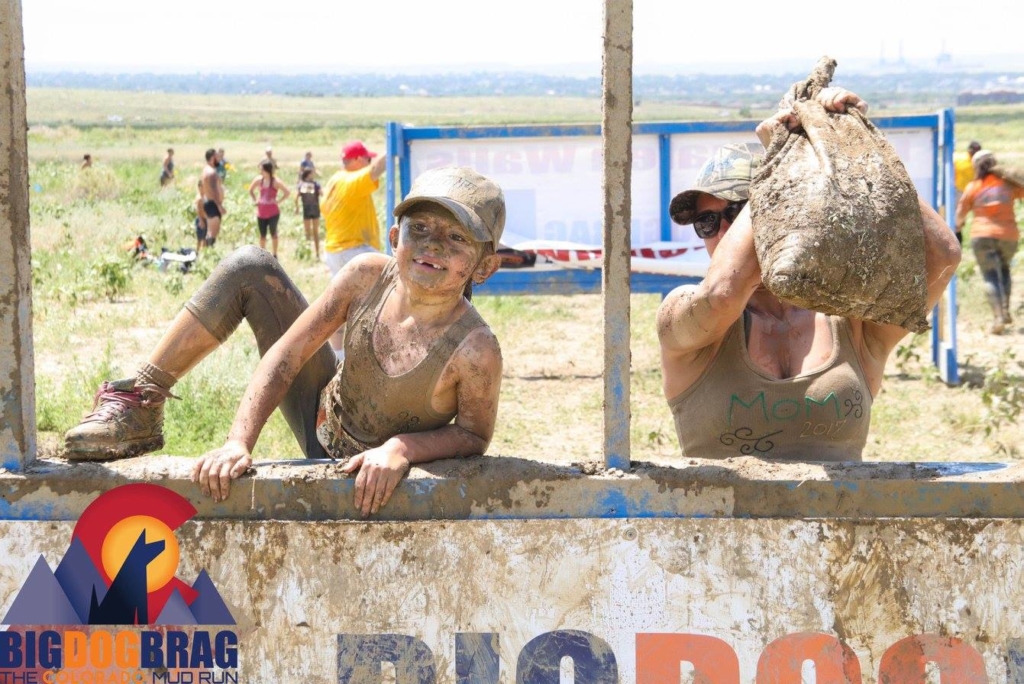 What are your top three reasons for someone to check out your event?
THE COLORADO MUD RUN…BIGDOGBRAG is THE MUDDIEST 5k and 2k around….15 mud pits that are deep and MUDDY with the most obstacles on a 5k course that we know of….26 on the 5k and 15 on the 2k.
The uniqueness of our race is that we work with the natural terrain to create cool obstacles and a true COLORADO experience AFFORDABLE and FAMILY FRIENDLY…Our 5k starts at $35 and kids ages 5-11 are always only $25.  The 2k is the first half of the 5k so adults love doing the race with their kids and kids are challenged and not just jumping over hay bails!
Do you have any new innovations for 2018 you are offering participants?
Every year we switch out 2-4 obstacles.  This year there will be a huge canyon foam pit and other surprises and ways to get MUDDY for returning participants.
This year BIGDOGBRAG expects over 2,000 participants at their Colorado Springs event and close to 1,600 participants at their Pueblo event. Small independent races fill the gap between the big national and international series visiting an area and keep the obstacle racing industry alive. If you haven't tried a local event, consider finding one in your area for the 2018 season.
---
Use discount code MRG5 for $5 off your Big Dog Brag registration!