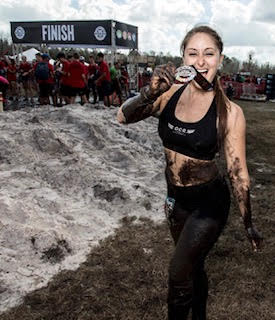 In life, often we feel that things should go in one direction, but a life event opens our eyes and leads us along a new path.  In Jessika Poppe's case, this was very true. Initially, she wanted to be a nurse, but after the loss of her Grandparents she realized instead of treating the sick, she wanted to help people live healthy and happy lives. As it happens, she stumbled upon OCR in 2014 (with her first event being Tough Mudder) and hasn't looked back. I wanted to share Jessika's story with you, to show you that life isn't a straight line, and often a single event can change everything. She has embraced health, strength, bodybuilding, and OCR as a way of life – proving you can do anything you want to do, and you can make change happen.
Please tell us a bit about yourself. 
I am 27 years old. Only Child. Born in Palm Bay Florida. I moved to Orlando in 2009 to pursue nursing school, however, fell victim to stress and depression which lead me to be a mild alcoholic and cigarette smoker. I gained approximately 35 pounds and I felt awful about myself. My grandparents passed away in 2011 two weeks and TWO days apart and I knew I had to be strong because my Momall and Popall would want me to. Something switched in my head, and I knew I couldn't keep living the way I was.
Nursing wasn't making me feel whole. I wanted to help patients BEFORE they got sick. So, I turned to Sports medicine school and achieved my Associates of Science degree and Personal training certificate while competing in two bodybuilding competitions in Florida! I lost those extra 30 pounds and put on relatively lean muscle mass! I found the sport of OCR to be so badass and strong while EMBRACING every body shape and size and I LOVE THAT !! Since my two shows in 2015-2016, I have worked with the TOP supplements companies doing brand ambassadorships, and sponsorships. I have even landed a promotional marketing job with Savage Race in which I travel to CrossFit gyms to help promote the race! No plans on finishing nursing school because my heart is in entrepreneurship and marketing!
Did you always consider yourself athletic?
My mom and dad signed me up for softball when I was younger and needless to say I missed every outfield ball there was. I would rather dance in circles and pick flowers. However, my mom knew maybe dancing was my calling. So, I did recitals here and there and then got the courage in high school to try out for our HS team. I made the team and became captain my following year. I stayed on the team all four years of high school on Varsity.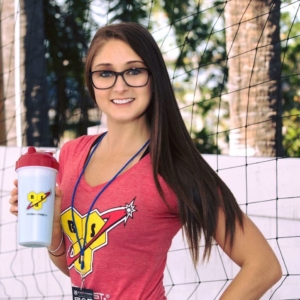 How did you get into the sport of OCR?
When I was in school for my AS in Sports Medicine (Keiser University-Orlando) our class decided to do tough mudder (2014) and I was freaking out! I was NOT conditioned to do the 10+ miles, but somehow, I DID IT! The next one I did was Savage Race in 2015, and then didn't do another until 2016 and since then I can't even count how many more!
What was your first race like? Which one was it?
Tough MUDDER! I was so much fun! I don't even remember how long it took us. I just remember that post-race beer and how It never tasted so damn good!
What initially drew you into the world of OCR and adventure racing?
I wasn't obsessed like I am now until around 2016. I had a few friends who were SUPER into this crazy OCR life, and I figured "why the hell not" and began doing races essentially EVERY SINGLE SATURDAY! I met the awesome running group of MudRunFun and felt right at home. These were the people in my life that I never knew were missing. I am truly thankful for OCR and meeting the people that I have in the past two years. They truly saved my life and made me feel whole. I had an eating disorder from my previous bodybuilding shows and had a little bit of anorexia. This sport pushed me out of my comfort zone and taught me to FUEL my body to be able to climb mountains and jump over fires. This sport is EXACTLY what I needed and IM SO THANKFUL I found it.
Do you feel that due to strong women like yourself, that others are more willing to push their own limits?
ABSOLUTELY. The world needs to see women being BADASSES and getting down and dirty just like (IF NOT BETTER) then the boys. We like nice things sure, but nothing makes me happier than getting in the mud and running trying to hit a PR and run a clean race.
What has been your favorite obstacle and why?
My favorite obstacle has got to be Sawtooth at Savage Race. Purely for the fact that it scares the absolute shit out of me. I have only completed it one time in my 6 tries at it over the years. When I completed it I began crying right there because I felt so accomplished. Not even getting on stage made me feel those emotions and I can't wait to relive it at Florida Savage in March when I complete it again!
What has been your least favorite obstacle and why?
The least favorite obstacle has got to be the Atlas stone carry at Spartan. Its just boring and a time waster. I'd rather just run passed it honestly. (SORRY SPARTAN)
Is there is an OCR or endurance race that you will never do?
Never do? I like the word never. I will ALWAYS push myself and try my best. I said I'd never do a half marathon and just two months ago I did two right back to back. I'd love to do TM 24 Hr or the OCRWC 24hr Enduro run cause again "WHY THE HELL NOT"?! BRING IT!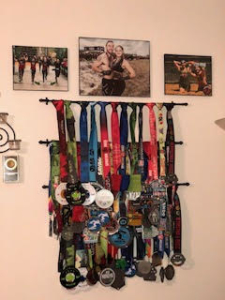 With so many amazing women on course this year, do you find yourself becoming more competitive, inspired or both?
Definitely both. I am a competitive athlete to the core. Since competing in dance in high school and winning State championships and being my team's captain it has been a big part of my life. The whole sport, in general, is inspiring. I've seen Blind Pete take on some tough courses, and groups of teammates pull a woman through a course who could not walk and was in a wheelchair. It truly gives me goosebumps to see what one single sport can achieve in bringing people together.
What type of training do you complete for OCR training?
Lately, I've been doing Ashley Horner's Whiskey Tango Foxtrot (WTF for short, haha) training programs. It mixes cardio conditioning with strength and AMRAP's (As Many Reps or Rounds As Possible) for a total body workout with a great SWEAT!
For someone that is newer to the OCR sport, what is one solid piece of advice that you wish to pass on?
HAVE FUN!!!! It doesn't have to be taken so seriously all the time. Yes, If you want to go to worlds and stand out on the roster then you will have to train and focus. But, if you're just getting into it then have a blast. Meet new people. Encourage each other on the course and help out a fellow runner! Positive vibes for someone else will help you get through a tough course and finish with a smile on your face because you made someone else smile.
What is one your one A race/bucket list race you want to do?
Right now, I'm excited about OCRWC in London in October; however, I would LOVE to be able to do the Hawaii Trifecta Spartan Race Weekend. This sport truly brings us racers to awesome venues, and we get to travel the world doing what we love!
Is there anything else you want to share with us?
Just that you literally can do whatever you put your mind to. It might sound cliché but its so true. I decided back in 2011 to change my LIFE style not just "go on a diet," and here I am living this LIFESTYLE for the past seven years. Of course, I've slipped up, ate too much pizza, beer, and donuts, but you know what?! IM HUMAN! And you're human, and we all have to be easier on ourselves and thank our bodies for being strong, powerful and damn right beautiful. Fuel yourself to go further and reach new heights because the view at the top is breathtaking.
Reach Jessika Poppe: 
You can find me on Facebook- Jessika Poppe, Instagram- Jayfitxo, Or My website- Jpopfitness.com