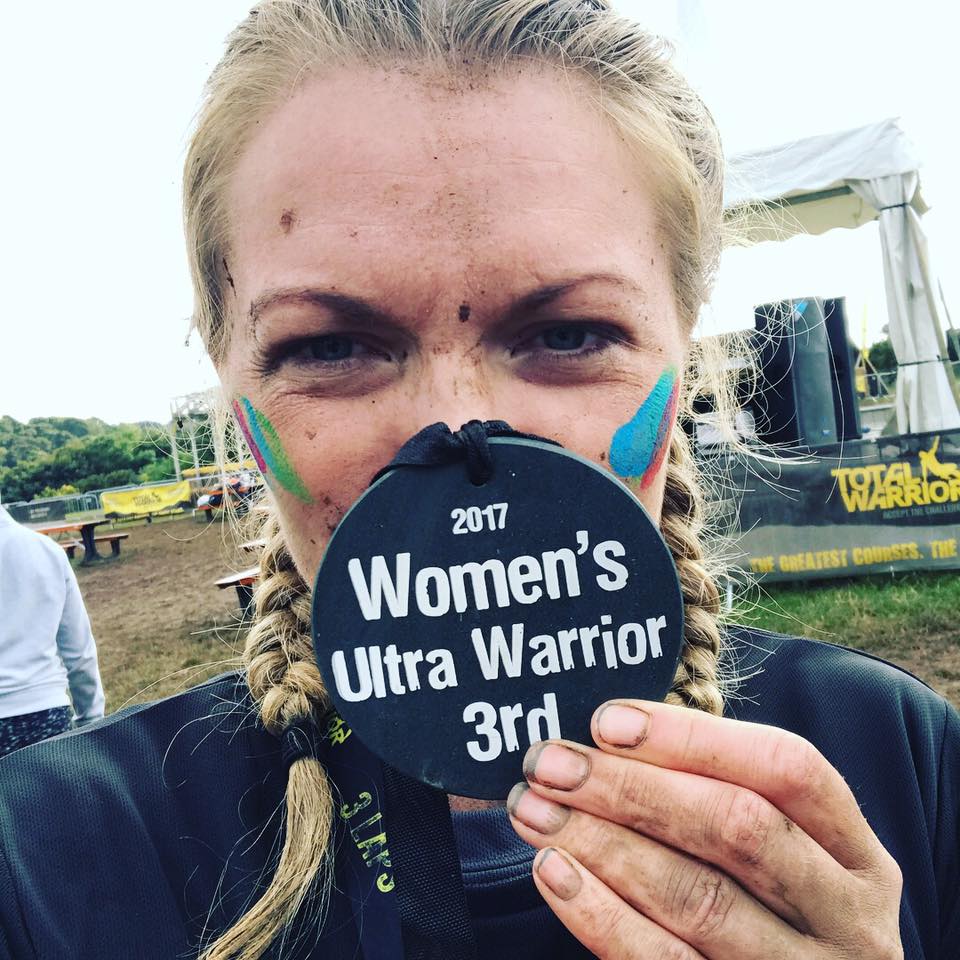 I was really excited when Sarah Horsburgh agreed to be featured in this article series. In the OCR community, we all come from a variety of backgrounds, families and well lifestyles. Sarah Horsburgh is no exception. This 31 year old single parent chooses to embrace a healthy lifestyle with her family. Taking her love of fitness and lifestyle to the next level, Sarah created the Sharklife Obstacle course race – a course designed for kids by kids, which I find super fascinating.  I wanted to feature Sarah in this article series as she is bad ass for being inspiring, motivating, and for allowing her love of mud and OCR to be a driving force in her life.
Please tell us a bit about yourself.
I'm Sarah, I'm a 31 year old single parent/OCR runner/blogger/student from Scotland. I'm a fully qualified Personal Trainer and am currently in my 3rd year studying for a Bsc (Hons) Physical Activity, Health and Well being. I blog about my life, my kids, my races and I am passionate about getting people active whilst promoting positive mental health and well being. I love reading, and learning, and I absolutely love being outdoors. I am a keen OCR runner, and spend a lot of my time running races and then writing about them afterwards.
Three years ago I went through a traumatic life event and it opened my eyes to the fact that life is really short, and that being happy and being positive and just doing what makes you happy, with the people that make you happy is the most important thing in life.
Did you always consider yourself athletic?
I suppose I was always sporty at school, I played hockey and then represented my country through Golf but I was never a runner or a gym goer until about 2013. My marriage broke up and I found myself comfy, with a bit of baby weight to lose. I started running on the treadmill, then started going to gym classes, and then found weights and never looked back. Exercise completely changed my life, and I decided to retrain to have a career in the fitness industry so that I could help inspire other people. I was sterilized after the birth of my third child which actually has caused me some health issues which has caused me to gain some weight, and as such I don't feel as 'fit' just now as I have in the past but it's an ongoing process. For me being fit isn't something you do just before a holiday or a wedding, it can absolutely change your life and I am so thankful that I made that step to go to the gym that day.
How did you get into the sport of OCR?
Tough Mudder Scotland 2015 was my first OCR race. I signed up the night before so my friend wouldn't run alone. It took me to the first obstacle to realise that this was something I would become utterly immersed in. That race holds so many fond memories for me, it was one of the best races I've had. After that I signed up to the Total Warrior Scotland event a few months later and again had an absolute blast. TM and TW remain my favourite events to this day and I am lucky enough to know some of the incredible people that make these events happen. OCR fell smack into my life at a time when I was going through a lot personally and it really helped me gain some focus and some drive that had been lacking. It is something that ticks so many boxes for me; fitness, challenge, problem solving, strength etc. I love it from start to finish. Except when I'm doing it, then I hate it and wonder why I ever signed up for it in the first place.
For other single parents in the OCR scene, are there any tips / tricks in balancing work / life and OCR life?
This is the one thing that is the hardest. I have three girls and their Dad works away a lot so for 5 weeks at a time I have the 24/7. I also work and study and am trying to run a business so sometimes exercise is way down the priority list. But I would say, get a kettlebell, find some 20 min workouts on YouTube or wherever and even if you can't run tens of miles a week of train every day, do something! Any training is better than no training and sometimes getting up at 6am to do a HIIT workout is the only time I'll get in a day so I just get it done. If I don't train I feel worse so it's important to me that it features heavily in my week. When it comes to races I take my girls with me! We spent all summer last year flitting from race to race with our tent and it was some of the best times we've had. My eldest daughter is a keen OCR runner and she loves going to the Total Warrior events and seeing everyone race, and we always volunteer in the afternoon. We've made so many friends through OCR it's such an amazing community to be a part of. I'm lucky as well that my Mum will take the smallest one so that we can go off on adventures. It's all about priorities, and OCR is a priority for us as a family so we fit things in around it.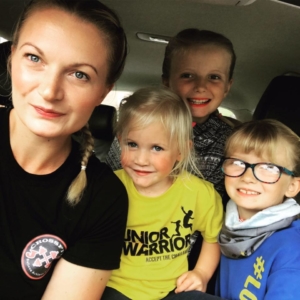 Please tell us about the Shark Life obstacle course races? What inspired you to start this up?
I'm really passionate about getting children and families active and after my experience of OCR I wanted to create something that people could do and love, that was entirely inclusive and something families could do together. Shark Life launched in June 2017 as a 3.5km and a 5km race whereby kids could run with their parents/carers and experience OCR as something fun and memorable. It is something I am incredible proud of and we had another sell out race in Aug 2017 and have two races planned for 2018. The idea isn't to make it so hard that people can't do it, the idea is that people can come, be active, challenge themselves at a level that is appropriate to them, and finish with a sense of achievement and accomplishment. Positive impact activities have such an effect on your sense of self and as a parent with young kids I want them to feel as though they can achieve anything. Shark Life will always be about the fun and the experience as opposed to the competition.
I've been told you did a 30 races for your 30th year of life (please explain why you decided to celebrate your 30th birthday this way)?

I wanted to do something memorable for my 30th, I had a party too but wanted to do something else. Two of my girls were born very prematurely so I came up with an idea that I would do a charity challenge to raise money for the hospital where they were cared for. Initially I was going to do 52 events, one for each week of 2016, but then realized that was probably too much so we scaled it back to 30 and 30for30 was created. I completed 30 different, mostly OCR events over the course of 2016 and it was such an incredible, albeit tiring experience! It has given me something I will carry with me forever, I have made friends who I will keep for life, I have experienced things I would never have otherwise, it is without a doubt one of the things I am most proud of achieving. When I crossed the finish line of my 30th event all my friends and family were there and I just burst into tears. In the end I raised over £4k for charity which made it even all the more worthwhile.
Is there is an OCR or endurance race that you will never do?
I've started and stopped a couple of times to train for Ultra races. I just don't have the desire to run really long distances. I'm a perfectionist as well and wouldn't do something if I wasn't prepared and I don't have a lot of time to do 5/6 hour runs at a time. For a while I thought that in order to keep pushing my limits I had to increase the distance but have come to realise that its more about what you love than the continuance of distance or challenge and so I would probably say no to anything really long. I also hate the cold so nothing that involved a lot of water or cold conditions. Having said that, RatRace have just launch their Mongal 100 and oh my…
Are you someone that plans your race schedule in advance?

I'll know roughly what I'm doing for the year. 2016 was very well structured and I am someone who LOVES a plan, but races make me happy so I do tend to just get carried away and sign up to things when I've said a hundred times that my schedule is done for the year. I don't really focus on early bird prices or anything; I would rather pay more money if it was something I knew I was going to really enjoy. Having put on races myself I can appreciate the time and cost that goes into putting on an OCR event and as such would never expect heavily discounted or free races.

With so many amazing women on course this year, do you find yourself becoming more competitive, inspired or both?
This is a funny one because I never started OCR thinking I would be any good at it. It had never crossed my mind that anyone did it competitively. I have had a couple of podiums which were amazing but I'm at my happiest when I'm having fun, and not worrying about speed or position. I think the likes of Amelia Boone and Lindsay Webster are incredible and they set such an amazing example of what can be done, but I am equally as inspired by them as I am by the woman who do it to prove to themselves they can, or to kick-start weight loss, or to raise money. Anyone who is out there completing one of these races is amazing in my opinion. My competitiveness is hindered by my own self-belief but this is something I'm trying to work on.
What type of training do you complete for OCR training?

When I did 30for30 I did more running than strength training, and discovered I don't really like running as much as I like lifting weights! Now I try and do about two or three weight sessions a week and I'll run twice. I have PT clients so I tend to workout with them as well but running wise I will do one interval session and one standard run, and for my strength sessions I'll go to the gym for an hour and mix HIIT with weights. I find being strong helps on the obstacles, more than being a speed demon does!
If you have one, what is a nickname people have for you?
When I got my first podium my friend Steve called me a Shark and it sort of stuck, and is why there is Shark in Shark Life. I'm sure when I'm moaning that I hate racing and what do I even do it for (normally mid-race) my friends call me worse but normally it's Shark or Sharkie.
For someone that is newer to the OCR sport, what is one solid piece of advice that you wish to pass on?
ALWAYS enjoy it. OCR is an incredible sport and such a special thing to be a part of, just enjoy it. The memories you will take from it will last forever, so relax, don't take yourself too seriously and have some fun.
In your own words, how do you define a "Bad Ass Woman of OCR?"
Anyone doing OCR is a badass as far as I'm concerned. Some of the races out there are hard. It takes guts and determination to start and finishing race and whatever peoples reasons for doing them are, the very fact they are out there makes them a Badass.
What is one your one bucket list race you want to do?
I would love to go to Worlds Toughest Mudder. I know I said I don't like the long distance but I think for the experience as a whole it would just be absolutely incredible. Tough Mudder really resonates with me as a brand and what they are trying to do to bring people together, so it would really round things off to experience their biggest event.
Is there anything else you want to share with us?
It was such a surprise to be asked to feature in this, I feel really honored. I in no way consider myself a 'Badass' or any more worthy than anyone else out on the OCR scene but it really is something that has changed my life for the better, even when I'm moaning that I don't like it!
What's the best way to reach you on social media if someone wants to reach out?
Instagram: sarah.horsburgh
Facebook Blog – 'Life and Lifting'