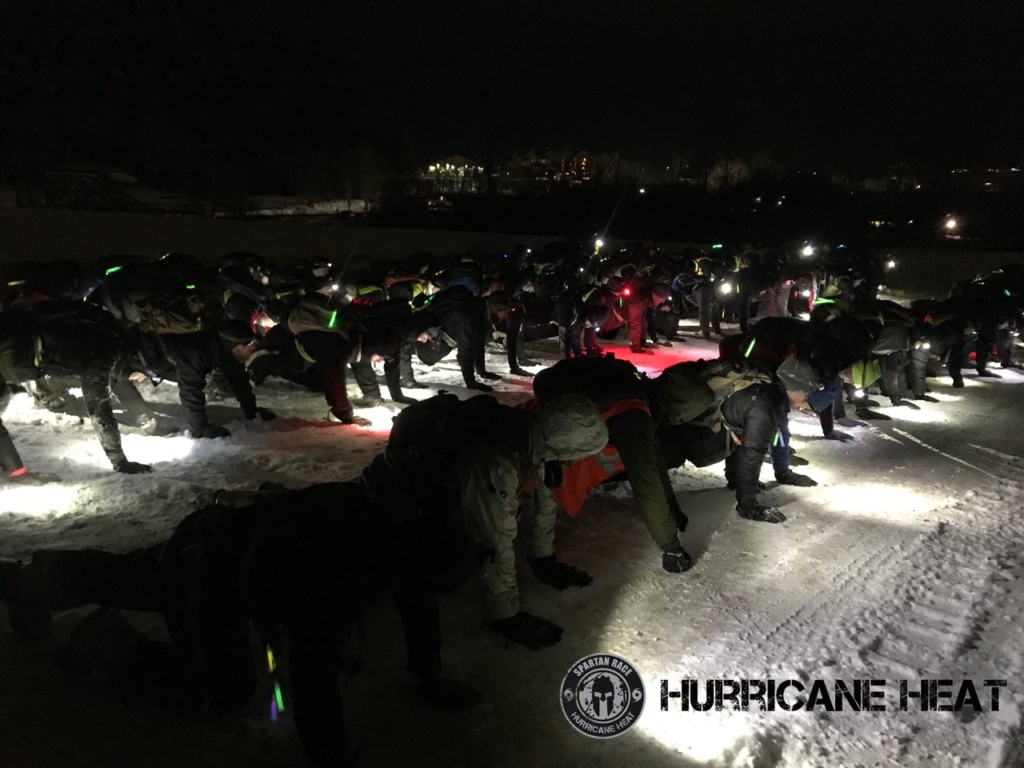 When MudRunGuide.com approached me to cover the Spartan Race, Greek Peak Hurricane Heat 6 Hour, I was simultaneously thrilled and nervous. At this point in my 5 year OCR career, I had never participated in any of Spartan's endurance events so I wasn't exactly sure what to expect. I have a love/hate relationship with the unknown. The following is my experience.
PREPARATION:
A Hurricane Heat begins BEFORE you even arrive at the venue. It had been made abundantly clear to me from past participants that the ability to follow instructions is critical. On the Tuesday before the event I received an email from Spartan Race with the "Mandatory Gear List" which when compared to others in the past was pretty mild:
1 – Black top (plain)*
1 – Headlamp (should be waterproof)
1 – Reflective safety vest or PT belt (to be worn outside of ALL layers at ALL times)
2 – chem light
50' – 550 paracord with bowline knots tied at each end
2 – Medium carabiner (does not have to be locking/load-bearing)
A line from the email that read "*Each team that does not have a required item will start their day with many, many burpees" created a sense of anxiety in me that forced me to quadruple check my gear before beginning my 5 1/2 hour drive to the venue.  It is an uneasy feeling knowing that YOU could be the reason that your whole team is punished.
I would be remiss if I didn't mention that figuring out what to wear for this event was a daunting task. Since this was the only U.S. winter endurance event scheduled since last year's, there wasn't a large group of experienced finishers to reference.  The weather forecast said to expect temperatures in the mid to low 20's with a light snow. The "Krypteia", Spartan Race's version of a Cadre, eluded on social media that we could potentially be going for a swim (YIKES)! I knew to use warm but breathable layers, but to what extent? I decided to wear more and shed layers in my ruck if needed. Because of the below-freezing temps and the fact that I didn't have an insulated hose for my water bladder, I opted for a 32 oz. Nalgene bottle which I hung from 1 of the required carabiners on the outside of my ruck to free up space inside. I also used those $1 hand and foot warmers inside my gloves and trail running shoes respectively.
ARRIVAL:
"Early is on time, and on time is late", is a general rule for a Hurricane Heat or any endurance event for that matter. With the event set to begin at 1700 hours, I arrived at 1615 and I'm glad I did. This gave me enough time to assess the weather and conditions as well as make last-minute decisions on what to carry in my ruck and what to leave in my car.  As much as I wanted to run the Sprint beforehand, I chose not to since I still wasn't sure what exactly to expect.

WARM UP AND PT:
At 1630, the warm-up began. We were immediately told to "line up in alphabetical order". Teammates asking questions were made an example of with different physical punishments. Within a few moments, we were all in a line by last name (which we hoped was correct). From there we were made to get into plank position. Here we stayed while the Krypteia took attendance and collected waivers from all 100 willing attendees and also while the frozen ground sucked the heat from our bodies. More incurred penalties were given out to members handing in folded waivers or for any other reason that the leaders dreamed offensive.
From here team leaders and their assistants were assigned and we were separated into 4 equal teams of 25. Once lined up information we began physical training (PT). A "tunnel of love" race between teams got our competitive drive going. The winning team was given a choice between options A and B. Not knowing which selection to be better or worse, the team leader chose option B which they were informed was to "pass on their prize for winning".
Each new exercise was met with its own military boot camp type flare. Smart answers from participants were met with even smarter responses. When asked "How many 8 count man-makers do you want to do", a faceless name in the group yelled "Just 2"! It probably goes without saying that it took an extremely long time to get through the second repetition as we doubled back and forth a great number of times before finally reaching the final count of 8.
EVOLUTION:
Now that the blood flow found its way back into our extremities, it was time to move to the first location. Through the snow, mud, ice, and streams we marched until we found ourselves at the base of a hill. Teammates that had run the Sprint earlier in the day immediately recognized the area as the beginning of everyone's favorite obstacle, the Bucket Brigade. Our instructions were direct: "There are over 300 buckets filled with rocks at the top of this hill, you need to bring them all down and empty them here… quickly".
The team quickly devised a plan.  We agreed to ascend the hill, single file. Once the first recruit reached the summit the entire line would stop and then we would evenly space ourselves apart on the hill from top to bottom (with the 100 members it was about 10-15 feet between each individual). Next, an old school fireman's bucket brigade would move the rocks down the hill ensuring that each one of us had received and handed off all 300 buckets. Finally, once all buckets were at the foot of the hill, each member should empty the buckets into the designated area (about 3 buckets each).
This task was grueling. If you've ever had the pleasure of completing the bucket brigade obstacle at a Spartan Race imagine it taking 10x longer, every time you put down your bucket to rest someone hands you another, and not being able to see the end. Brutal.

NEXT EVOLUTION:
With our undertaking completed, we were made to reorganize our teams. Several members were pulled from formation to form a 5th team labeled "Red Team". This new team was sent off on their own mission separate from the original four. I later heard that they were made to retrieve Spartan flags and other paraphernalia from the highest, iciest peak from the race.
The remaining squads marched on to our next objective. We arrived at our new destination which was originally the site of the barbed wire obstacle. Unbeknownst to the Krypteia, the obstacle had already been broken down by the Spartan build crew. Now I'm not sure what was originally planned for us, but this development caused a change on the fly. Our new assignment was simply to scale the snow tube hill and make our way back down through the heavier snow as quickly as possible. NICE!
Quite possibly the most fun ever experienced in any Hurricane Heat, this brought the inner child out of these hardened individuals. Hoots and howls could be heard as my comrades tumbled, log rolled and penguin slid down the face of the slope.  Once back at the base of the slope we were reunited with Red Team and so as not to be left out, we were told to repeat our previous assignment!
The result this next time was only slightly different. As we returned to the start one by one we were made to lay in plank position until the rest of the team returned. Being on the faster side of the crew   I was down there for quite some time. The lesson to be learned was that we were still a team and should complete the tasks as such. Live and learn. After a little more PT we were off to our next mission.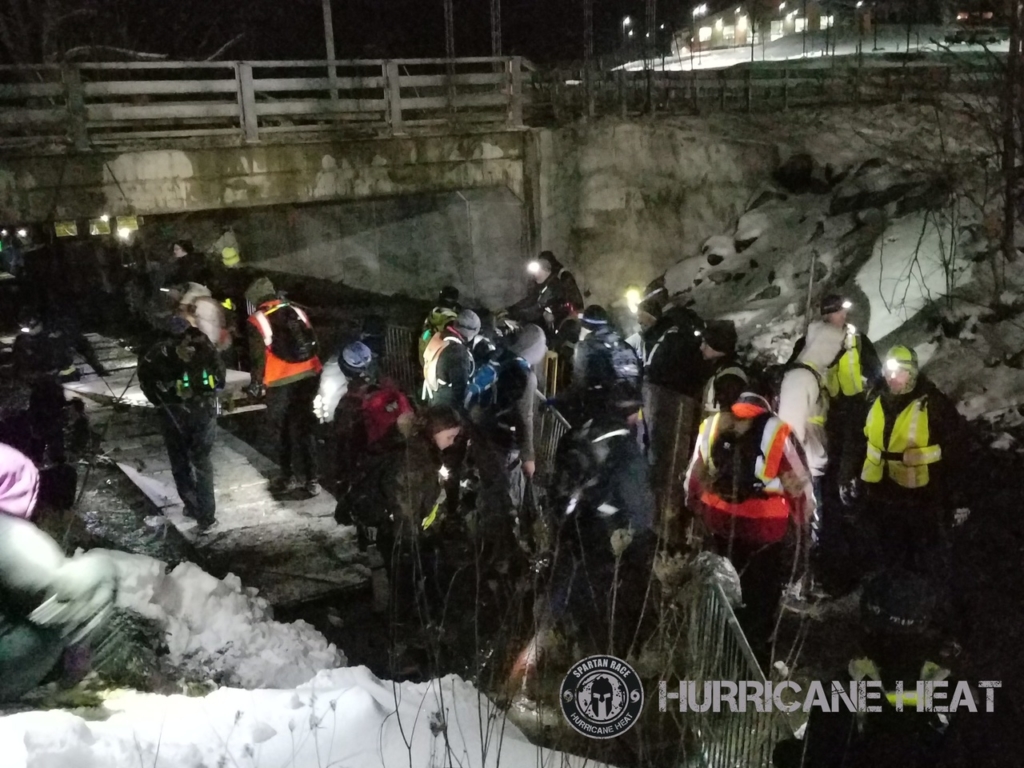 FINAL EVOLUTION:
By now you may have seen the race photos from the Sprint. Social media shows racers smiling and flexing as they run under a bridge on a makeshift dock composed of plywood, sandbags, and pallets. Our final assignment was to get into the stream, break down the platforms and barricades, carry them to the trailers and stack them neatly.
I have always found it best to dive right into cold water… like pulling off a band-aid, don't drag it out. However, we couldn't begin until all 100 teammates entered the water and given the size of this creek that took some time. After what seemed like an eternity all feet were submerged and we were instructed to commence. We made quick work of this errand, and before long we were lined up for one last time.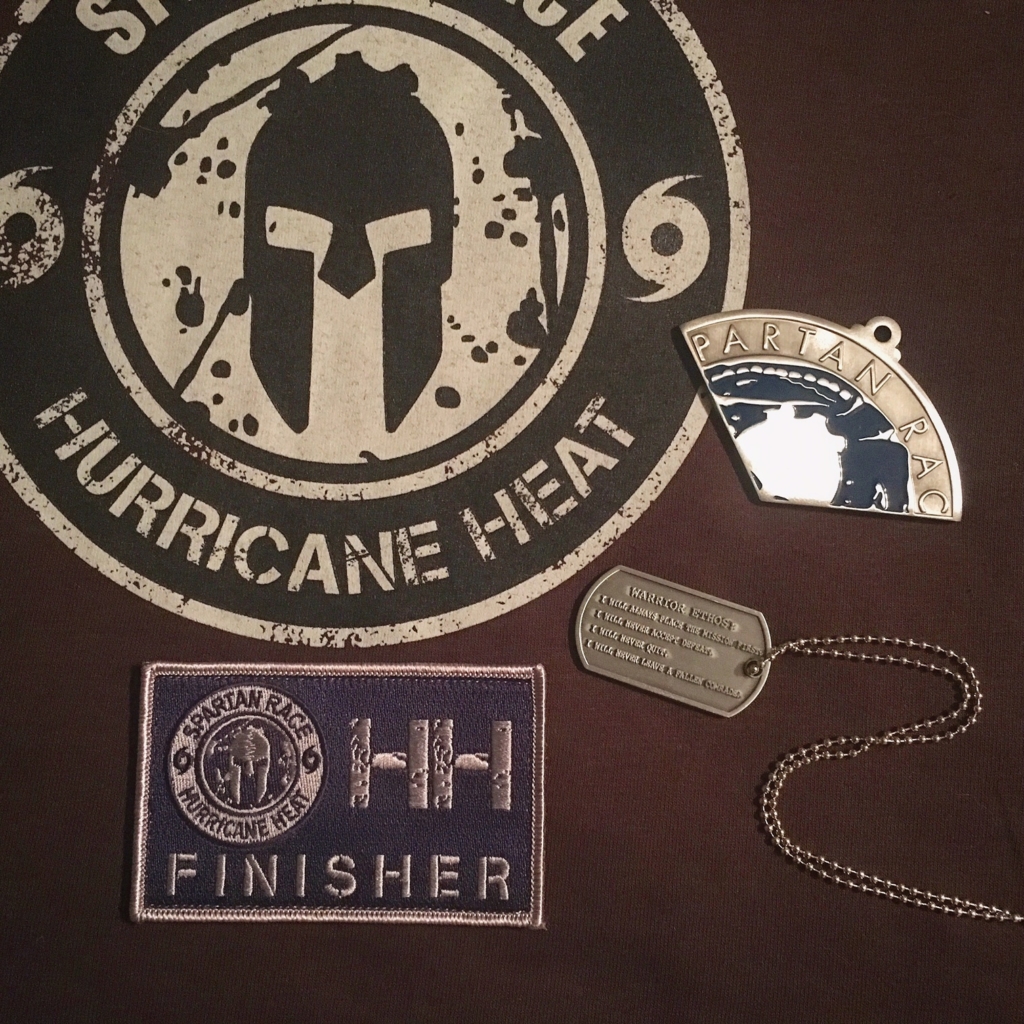 RESULTS AND TAKEAWAYS:
I truly valued this experience. I missed the feeling that I had on the way to the venue, of nerves and my mind racing because I don't know what I've gotten myself into. I wasn't sure if this type of adventure was for me but it was. I enjoyed being a part of something bigger than myself, helping struggling teammates and encouraging those around me to keep going when things were difficult. I advocate anyone thinking of signing up to pull the trigger. You owe it to yourself to see what you're made of.
And finally, my OCD sees the single endurance trifecta pie piece sitting on my dresser and is telling me that there is a Hurricane Heat 12 Hour in my area (Rutland, MA) on my birthday… chances are high that you will see me there. Thank you to the Spartan Krypteia for putting on an amazing heat, my teammates for kicking ass and MudRunGuide.com for sending me on this mission. You are all responsible for my new fascination.
Rating: 5/5
---
Have you done an Spartan Race?
Leave your own Spartan Race review and feedback...