Muck It Up with 20+ MuckFest MS Obstacles: Including Slippy Sloppy, Crash Landing, Big Balls, Swing Set, Triple Pits, & More!
The National Multiple Sclerosis Society and Event 360 today announced that the 2018 MuckFest MS event series will take place in seven cities throughout the U.S. to help raise funds for those living with multiple sclerosis. MuckFest MS is a 5K mud obstacle course that requires no training and is for any level — from beginner to the star athlete.  In 2018, MuckFest MS anticipates more than 28,000 participants nationwide mucking it up to help get us to a world free of multiple sclerosis.
Runners laugh their way through a 5K obstacle course as they slither through the Belly Crawl, jump into the Crash Landing stunt pad, and scale the mighty Mt. Muck-imanjaro. Other obstacles include Tunnel of Love, Spider Web, Shake & Quake, Swing Set, Spill Hill, Flying Muckers, Walk on Water, Skid Mark, Tight Rope, and more. Experience the obstacles here. After the event, participants gather in the MuckFestival area to celebrate their efforts out on the course with a free beer or soda.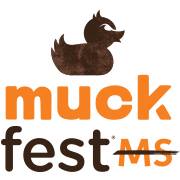 The 2018 MuckFest MS events will take place in:
Boston – Saturday, May 19
Philadelphia – Saturday, June 9 & Sunday, June 10
New Jersey – Saturday, July 21
Detroit – Saturday, August 4
Chicago – Saturday, August 25
Denver – Saturday, September 15
Dallas – Saturday, September 29
Over 90% of participants run on teams made up of friends, family, and coworkers. The event is free to spectators, and kids have their very own play area named Lil' Muckers where they can splish and splash.
Since MuckFest MS started, participants have raised $28 million for research. 100% of the funds raised goes to the National Multiple Sclerosis Society's efforts to bring an end to MS and to help those currently living with it. In 2017, more than 32,000 participants raised more than $3 million.
"We come together at MuckFest MS to lift up those who are affected by MS in an enjoyable and purposeful way," said Liz Strawn, Senior Director of MuckFest MS & Special Events, National MS Society. "Every year we see teams made up of individuals who either have MS or support loved ones that do and can't help but feel inspired by their determination. This event gives participants the opportunity to have fun and directly impact the lives of those living with MS."
---