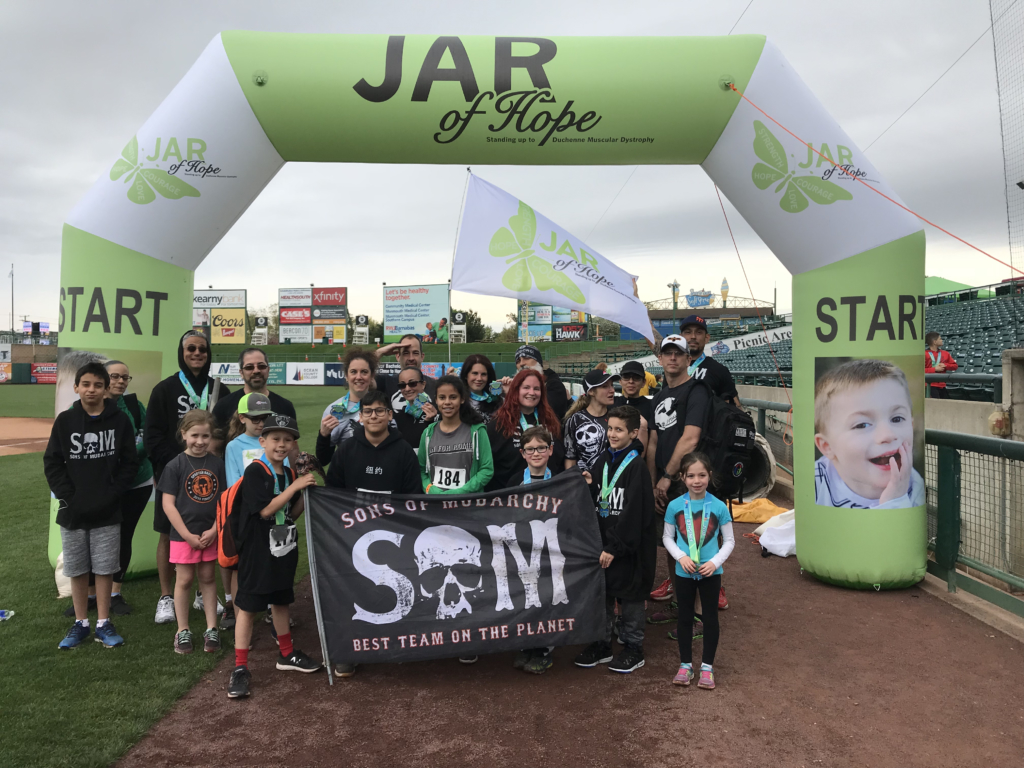 Why do we race? Sometimes we race to push our bodies to the extreme; sometimes for pure fun, sometimes we need that Delta piece to get our trifecta, or we want that color headband. Sometimes we race because we want to try something different or want to see our friends.
Last weekend I was signed up for a North Face Series Half Marathon and it would have been my second half and would have pushed me further in my journey, but then something more important came up. A race that gave me a new "why" and that was the Jar of Hope 2nd. Annual Fitness Challenge and 5k. This would be an opportunity to run for charity while honoring an extraordinary little boy and an exceptional friend of mine.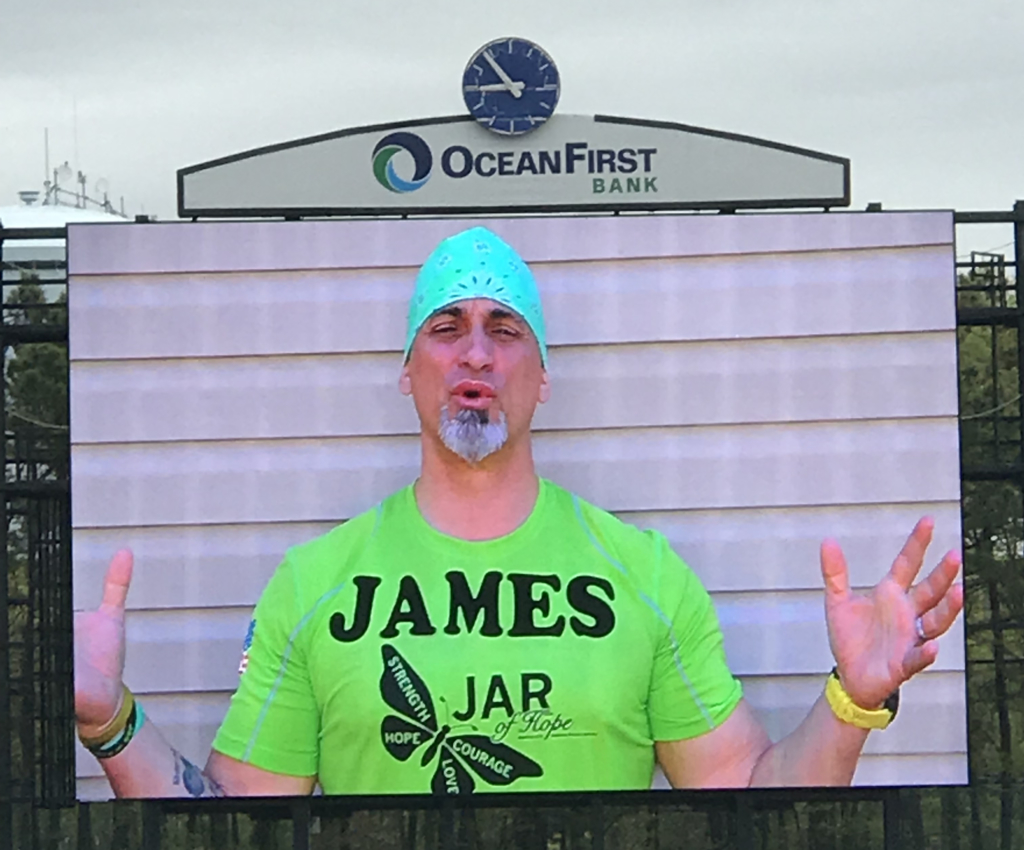 Jar of Hope was started by James Raffone to help raise money to find a cure for Duchenne Muscular Dystrophy which his son Jamesy suffers from. This terrible disease is fatal, and most people with it do not live past their mid-twenties. We learned that the Raffone boys were in France on a special pilgrimage to Lourdes and would not be joining us. They were doing everything they could do end his pain, and this was my way of showing support, so I put my half marathon aside and did what I felt in my heart was right.
The race was held at First Energy Park in New Jersey. I was there with my racing family MUDCRO as James was also using this day to honor our "brother" Jerome who passed away in February at one of his Go Ruck events. Jerome's two young children were there along with their mother, and they stood on the baseball field like a video tribute to their father played. Jerome was a volunteer last year and as was always the case instantly made such a huge impact on James that he selflessly decided to share this special day with him. The video was beautiful, and the tears were flowing. After this solemn moment, MUDCRO took a lap around the bases flying our team flag along with the flag of Jar of Hope to officially start the event.  
Volunteering
This was the first time I've ever volunteered at a race. Usually, I go and do my thing and then go home. I always thank the volunteers, but I never get to be one. The members of MUDCRO were each given a station to man. I was at the tire run, and I had a great time. Three boys from a local High School football team were there with me, and their energy was contagious.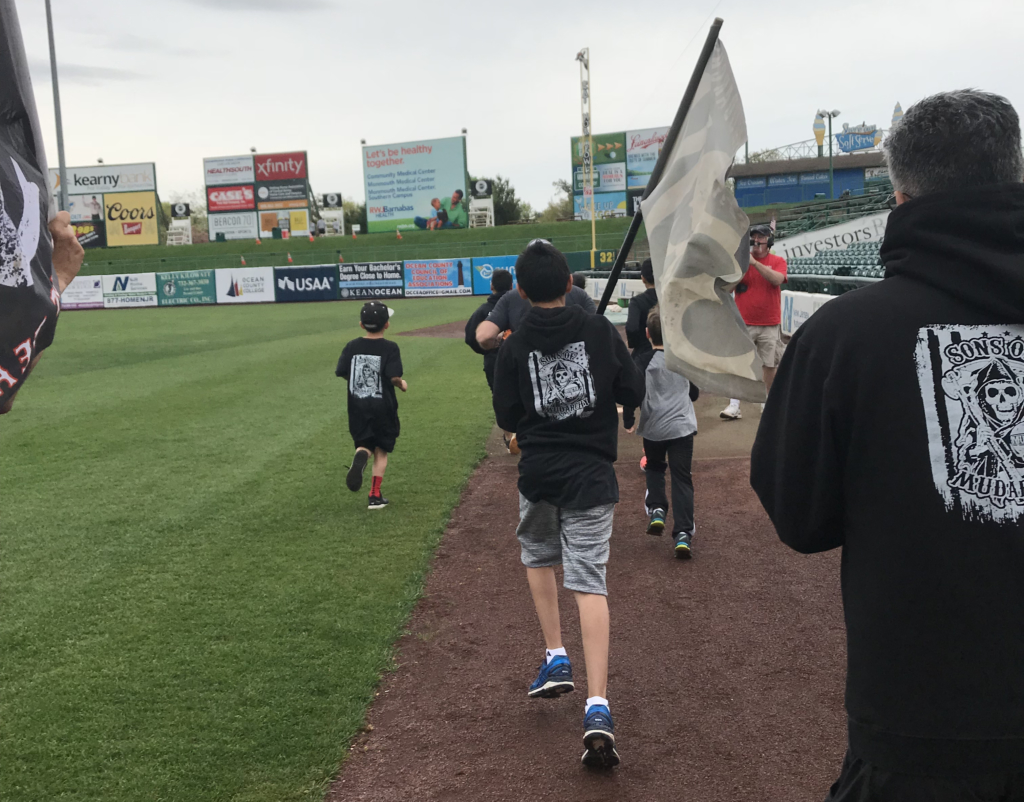 We had so many laughs as we guided the runners through our station. It truly warmed my heart to see these young men giving up sleeping late on a Sunday morning to do some good. I saw people of all ages pass me, and even a mother and father running with their teenage children. While all this was going on, there was a DJ playing upbeat music and even Zumba lessons going on. Everyone seemed to be having such a good time, and I was itching to get my chance to run this course.
MUDCRO
MUDCRO ran the last lap of the day, and we did what we always do…we stuck together.  This race wasn't my typical event. I didn't beat up my body, and I didn't get bruised. What I did get was a fun workout while I ran. Since I did the Beast the weekend before and took it easy at the gym that week, I appreciated that this pushed me just enough to get back into the swing of things.  We ran around the stadium and all around the parking lot. 
Think a Spartan Stadium Sprint on a smaller scale. We did bear crawls, jumped rope, squatted in stadium seats, carried a water jug and did sit-ups. The vibe was so much fun because there was no pressure to "win" and everyone was out there with the same goal in mind..to raise money to help find a cure.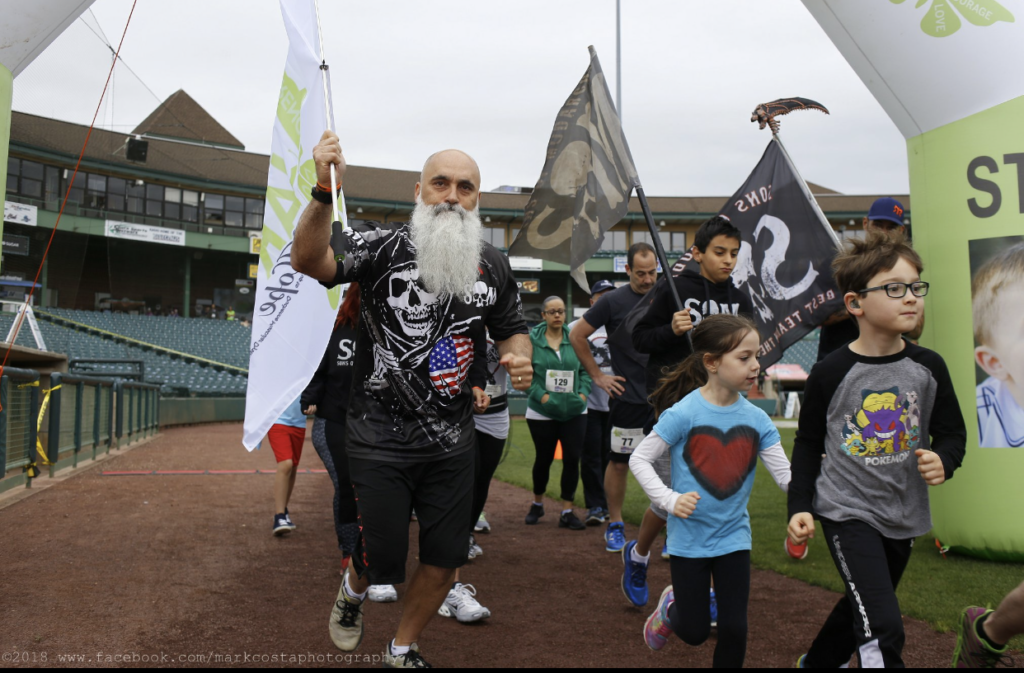 To finish the day, there was a kids race, and everyone got a medal. I have struggled with doing so many events and being away from my family so much in the summer. I don't chase trifectas and refuse to travel so far that I need to stay overnight. I was looking for some motivation to keep doing what I'm doing, and this helped. To be able to do what I love and help someone struggling to save their son's life reenergized me. It showed me that not every race has to be a total beatdown or all about how far I can run. I can mix it up with more meaningful events and feel good physically and mentally. I am going to look for more things like this to do and look for smaller local events. They are out there if you do a little research and they just may help you add to your "why" as many of these smaller races help raise money for charity. See you on the course….
I give this race a 4.5 because it did not try to be anything more than a fun way to give back. I also loved the workout aspect of the obstacles and the overall vibe of the day.