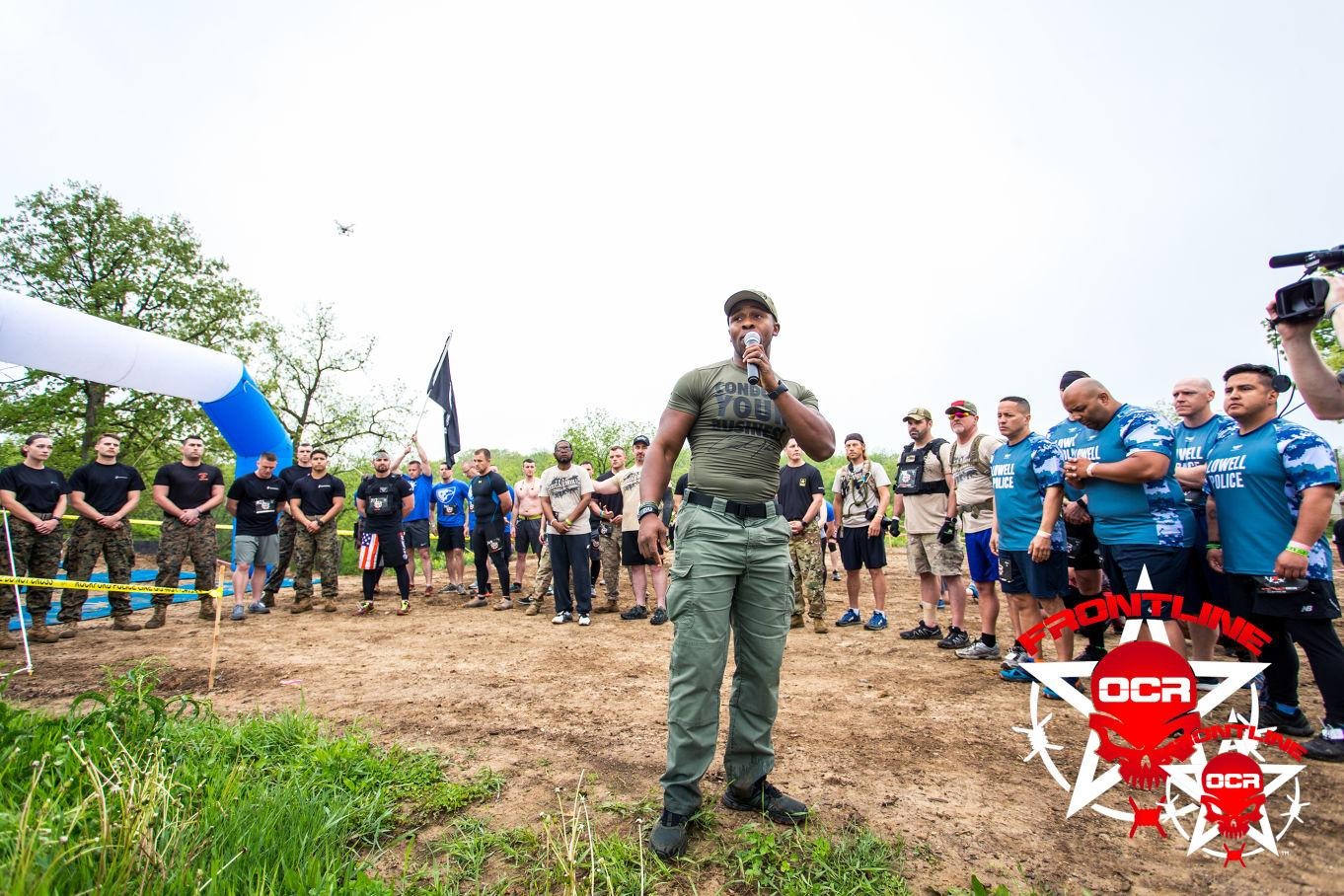 Frontline OCR in its second year has once again orchestrated a symphonic ensemble of suffering, to occur by no coincidence on Armed Forces Day.  Not only does the roughly six-mile course offer to grind both the racers physical strength and cardiovascular system into a fine pâté of goo, but this race is most importantly created in homage of those that are currently and have previously spent time serving our country.  Many of those brave men and women being honored making the ultimate sacrifice to secure our freedom and many more still make that risk each and every day. Working on the frontline is the noblest and selfless action anyone can possibly make, which is why I was so proud to pummel my body into oblivion as a tribute.


The way Frontline OCR works is that there are essentially three different races available.
(1) The Special Forces race. Completing obstacles is mandatory, and competitors get to wear a twenty pound vest.  (2) The Endurance race.  Run as many laps in the provided time period. Obstacle completion is mandatory.
(3) The Open Wave. One obstacle attempt. If you fail an obstacle you get the privilege of performing twenty-two penalty 9-1-1's                                                                                                                                                                                        (4) There is also a Heroes wave. Think of it as a bonus open wave for all first responders, active military, and veterans.
Penalty 9-1-1's are essentially an inchworm incorporated with a modified push-up at the bottom. Kick your feet apart as you travel to your chest on the push-up, and kick them back together as you reach the top of your push-up.
Terrain
Byron Illinois may have fewer residents than a deployed aircraft carrier, but it is home to the Motosports Park motocross facility, and the constant light rainfall from the day prior to race day created a ripe breeding ground for obstacle racing punishment.  The landscape has already been designed for dirt laden hills, winding mud riddled paths, and awkward uneven running surfaces with loose soil and gravel which welds itself to the bottom of your shoes like gritty peanut butter.
The lush natural dense treescape surrounding the park also added unique natural surfaces to weave around and navigate through, such as tight thin stream beds, and faint forest trails and fallen tree trunks.  The motocross park also conveniently had massive tubes that racers had the chance to run through.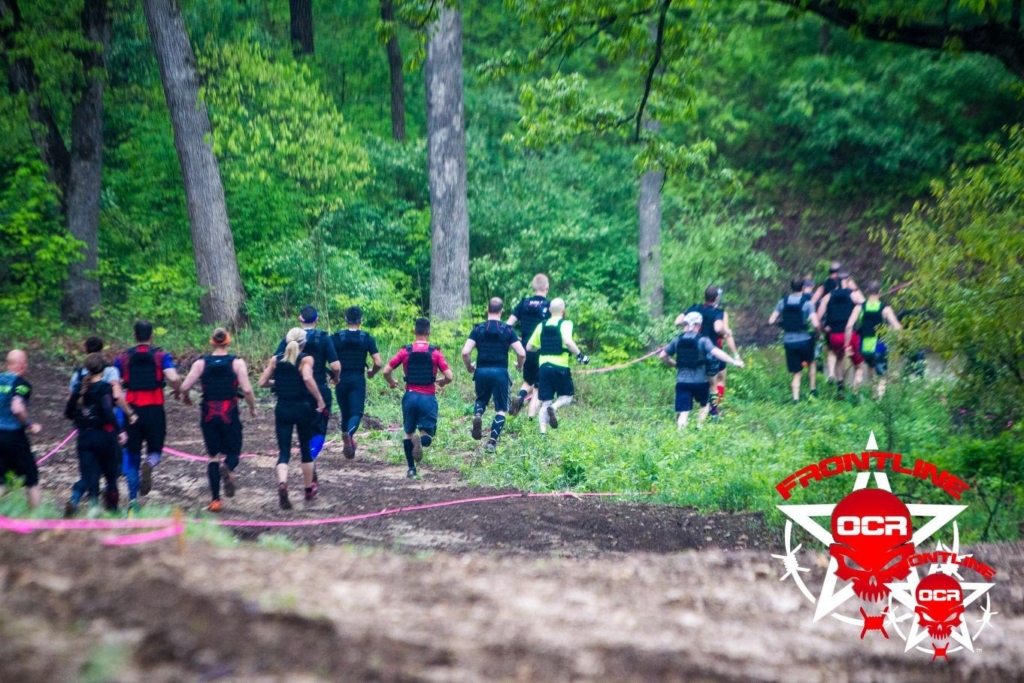 Rigs, Rigs, Obstacles, and More Rigs
Do you love rigs?  Because Frontline OCR is obsessed with them. Frontline has collaborated with many of the local region obstacle racing communities to concoct some original, sadistic, funky, and often frustrating challenges.  These structures of torture will inevitably wear your grip strength into silly putty.  My favorite obstacle at the end of the day was the over-under firehose lines. It was so odd trying to navigate and squirm yourself through such an awkward tangled mess that it was impossible to not have fun in the process. The incredible location provided fantastic natural challenges as mentioned previously in the terrain description.  I fondly remember jumping into the possibly six-foot deep water pit with my armored vest on and trying to think about how many gulps of dirty water it takes before I capsize and sink to the bottom. I would like to thank the first responders at this point for monitoring my ability to stay afloat as I dog paddled to safety.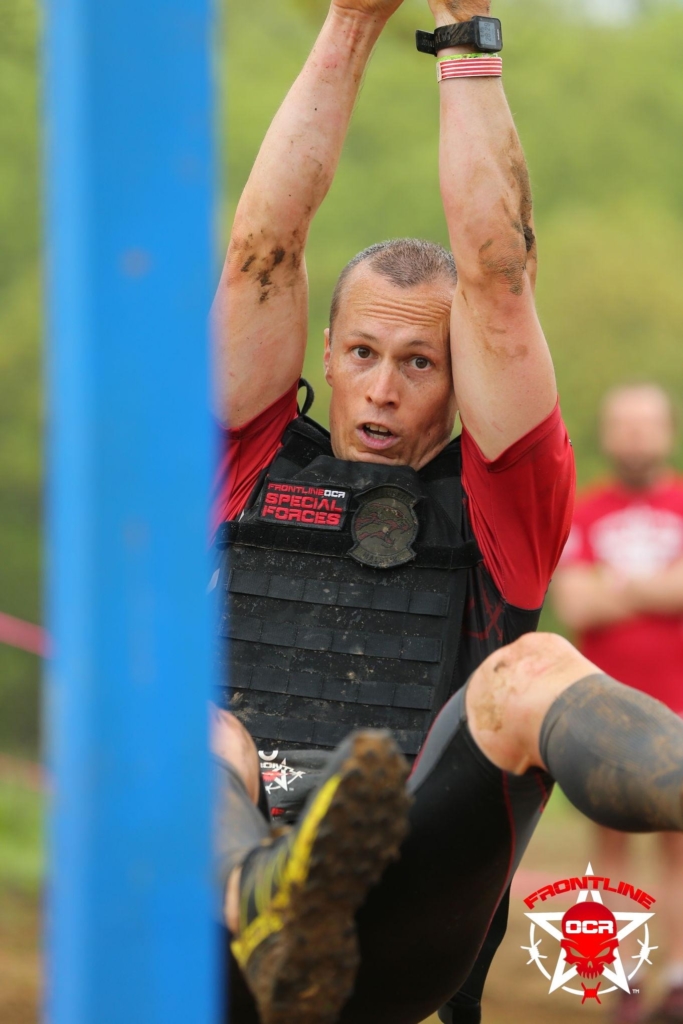 Event Village
Frontline OCR's food and drink game were phenomenal. The BBQ pitmaster needs a round of applause and endless kudos for creating catering worth of a royal wedding.  But there wasn't just barbecue available either. The venue had gourmet sandwiches, Incredible craft beers from an amazing local brewery, and all sorts of health bars.  Inside the village Coach Pain would motivate the racers before everyone ran into battle.  And ass a prize for everyone, the winners of the special forces wave got to perform a series of heart-exploding exercises in front of an audience, which included putting on a fireman suit, pushing a giant tire around, then pounding it with a sledgehammer. My journalistic excellence may have slipped a few details regarding this event, but It was a fantastic spectacle.
Mud
The day prior to race day had wonderfully sprinkled the area for hours upon hours. The rain didn't create the soupy mess that everyone dreams about of on race day, but everything was wet, and muddy including the rigs, the plants, and everything else.  I thought it was perfect conditions, to be honest, and the temperature was at the absolute best conditions. Cool enough to run, but warm enough to enjoy being in the village walking around afterward.
Logo
The Frontline OCR logo is what graphic designers drool over, and geek out about with their other slack-jawed friends.  It has nice sold colors that work well in a black and white image format. The logo has the ability to be stenciled or turned into a raised logo which works for larger 3D structures. It is unique and recognizable from a variety of distances, and truly represents the look and feel of the brand. The Frontline OCR logo is possibly the only logo I have seen that qualifies as tattoo worthy.  I give this logo a standing ovation!
Summary
Frontline OCR was a spectacular event.  Not only is it a very self-gratifying race from a fitness perspective, but when you really feel exhausted it is humbling to think of all the service men and women that experience this sense of fatigue in real life situations. It is astonishing how these true heroes continue to find a way to keep moving forward.  I feel thrilled to have been part of the evolution of this thriving obstacle race brand.  It is the most grip intensive race I have ever experienced, and cannot wait to catch the 3rd wave this October 27th again in Byron Illinois, and the reader should be just as ecstatic as well.
(Overall rating 5 out of 5)
Rating: 5/5
---
Have you done an Frontline OCR?
Leave your own Frontline OCR review and feedback...