Toughest Mudder – Go hard on the Mud?
Toughest Mudder – am I crazy?
I've done Tough Mudders, but this one takes the mud cake.  On a random whim thanks to a friend, I was convinced to do the Toughest Mudder rather than just the regular Tough Mudder (Thanks Matt /sarcasm.)  Joking aside, I can say it was the absolute hardest race I've done to date.  I ended up with a total of 20 miles official by the end of it, falling short of my personal goal shooting for at least 25.  I hit 27 unofficial miles from all the penalties I took on the race, due to a few unforeseen circumstances happening on the course.
Pit Crew – just yes.
The first thing to discuss before we get into anything else, is the pit area.  I was so grateful to have a pit crew.  I know you don't NEED or HAVE to have a pit crew, but it is so helpful to just have someone or a group of people be able to assist like when you have to do gear change or need to refill with food and liquids.  If you ever do this, the best piece of advice I got was to bring a thermos of hot soup.  Nothing could beat coming back to the pit, and take some good swigs of a hot freaking soup when your core is getting cold from the temperature changes.

Gear for the win!

Before I go into the review, I would like to make gear suggestions (not going to name brands to use because I don't know the best brands by any means.)  Definitely bring a pair of gloves, especially for obstacles like Rope a Dope (think rope climb, but harder).  I would not have gotten my last lap in if it hadn't been for the wetsuit top I used, so I would recommend a wetsuit for this, but know yourself too.  I only need a wetsuit top because I know I run hot, but my core can get cold.  My legs were fine the whole night, just my core got cold before I went into lap 4.  I'd suggest bringing in whatever food will help you, and looking into how to diet the day before the race.  Of course, MudGear socks are critical, I'd suggest compression socks, or at the least their race socks.  Bring lots of spare clothes just in case.  Towels, lots of trash bags, etc.
Course Review – the not mud mile of hell
 
Now onto the review.  First of all, for those that didn't know, they did a new thing for this course this year.  The basically made it to where Tough Mudder was 2 laps of a 5-mile course.  That's basically what Toughest was – just taking the 5-mile course and doing it over, and over, and over again.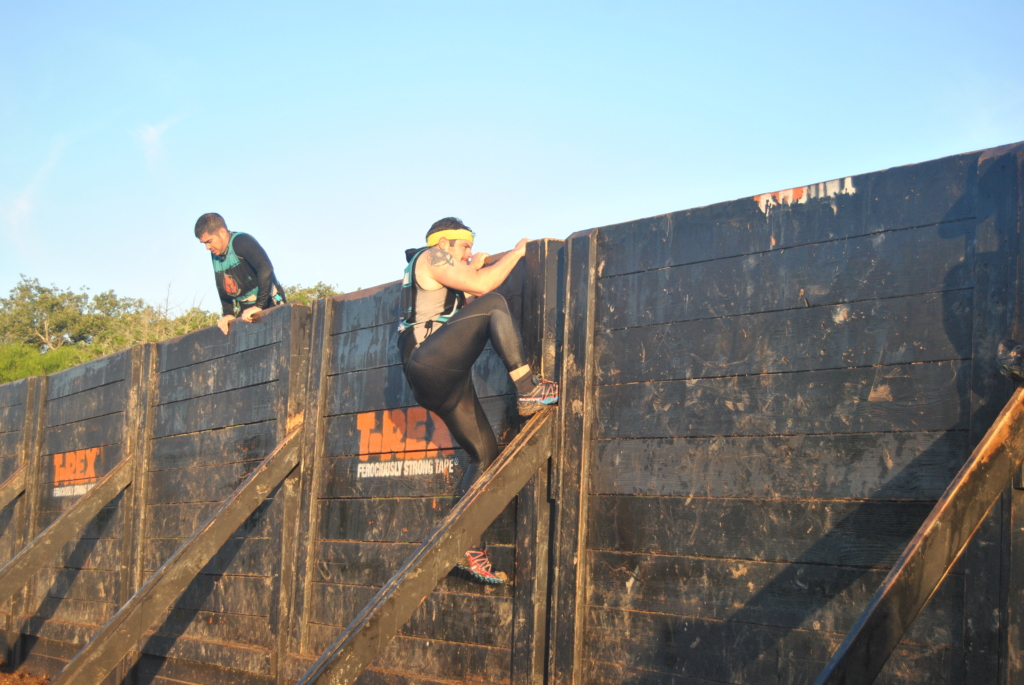 The obstacles themselves were challenging, but more so than that was the course itself.  There was a part that literally had to be a quarter to a half mile of sloshing, disgusting looking mud that you were lucky if you could keep your balance on.  It was up to your ankles, and absolutely terrible.  I wish I knew the techniques that the pros used to be able to run through this section because it was the worst part of the course and one of the reasons I had heard a lot of people struggle to meet their mileage goals.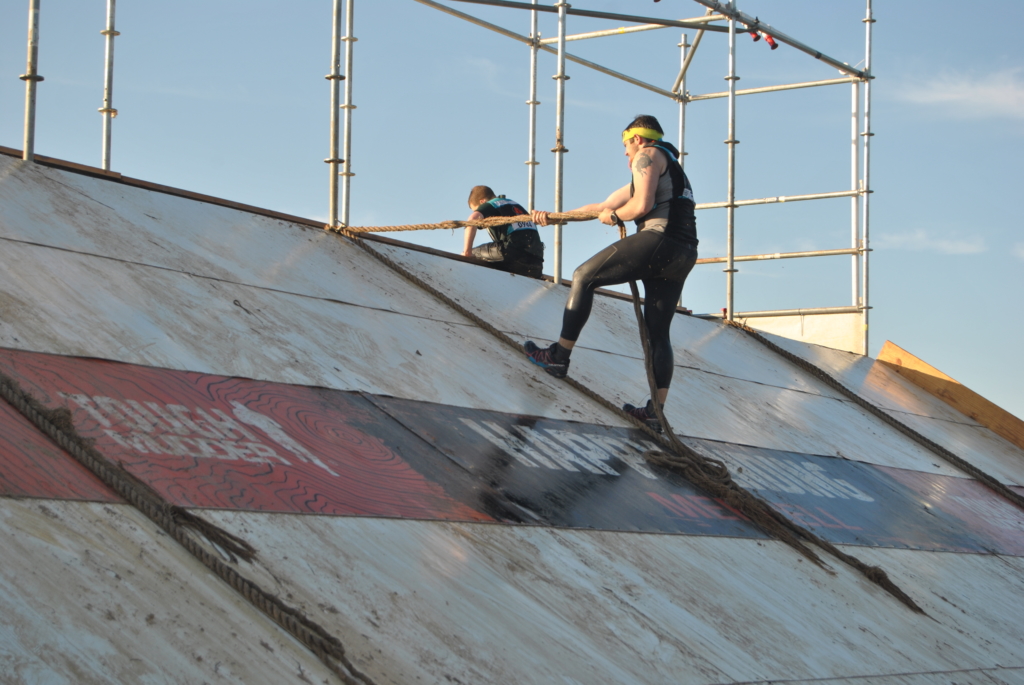 Just the tip, Rope a Dope, Oh my!

The obstacles themselves were pretty fun and much more challenging versions.  Funky Monkey, or what I think they called Spunky Monkey for this course, was an angled monkey bar climb where the trick was you had to transition to a piece of wood between angled sections.
I was told the trick after my first attempt, but due to a screw up in Rope A Dope, I literally had nothing else I could do grip wise.  To explain what I mean, on Rope A Dope – you do a rope climb upwards, to reach out to another rope to shimmy down at an angle.  I got all the way up to the top of Rope a Dope the first time, lost my grip, and fell.  Rather than fall onto my back (where water was beneath me,) I choose to keep my balance in a certain way and sort of held onto the rope.  The choice wound up giving me rope burns on my hand, which screwed up every single grip strength obstacle after that.
Let's go onto and discuss obstacles like Just the Tip.  By the end of the run, last I had heard they only had about 20 or so completions of the obstacle by the end.  Think of wet wood, made such that you'd have a little bit of space to grip, and then you had to shimmy down to metal door knobs and handlebars hanging off the wood, to another section of wood.  Fun fact – they pre-wet the wood, just to make that grip that much harder.  I want to see that obstacle again so I can see if I can finish it, but I can say it was pretty ridiculous.  They had some of the other standard Tough Mudder obstacles, like Everest, Happy Ending, Mud Mile, Arctic Enema and others scattered throughout the course.
Conclusion – Final thoughts

Being that this was my first endurance race, I had a blast doing it and pushed myself to where I couldn't push any longer.  After the race, my friends said I had pregnant lady ankles, due to that long mud pit of hell.  I'd definitely do it again, and challenge myself to go further.  After I learn better rope climbing, and find a way to strengthen those ankles.  I'd say it lived up to the name of Toughest Mudder this time around, and give it a 4/5.
Rating: 4/5
---
Have you done an Tough Mudder?
Leave your own Tough Mudder review and feedback...