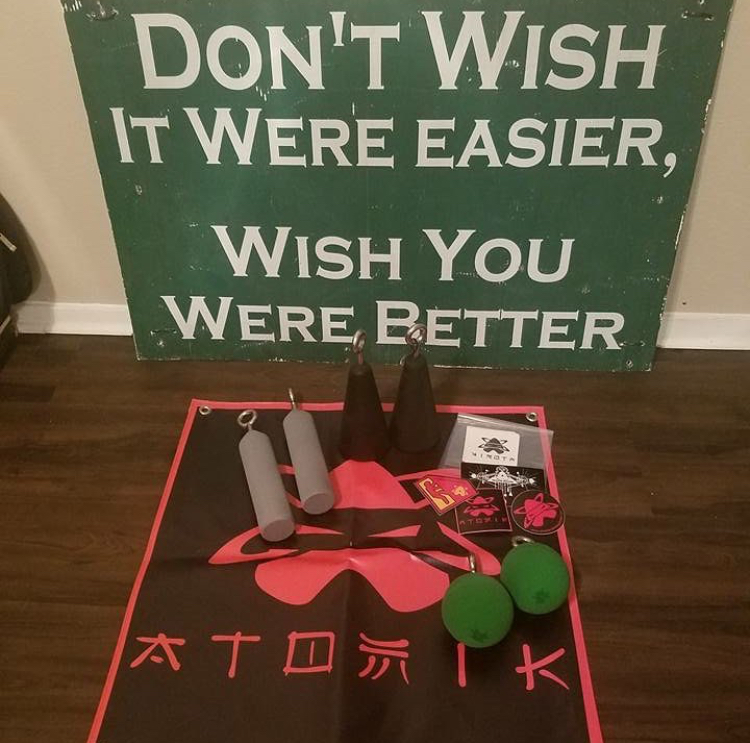 The first time I encountered, and subsequently failed, a rig the memory and experience stuck with me hard. Moving forward I didn't want to have that experience again and began working hard to improve on my weaknesses. Thanks to Atomik Climbing Holds and their deep line of rig grips, they have continued to push my obstacle proficiency to the next level. Here is how they stack up for Obstacle Course Racing (OCR) training.
Quality:
These are some of the most durable products I have ever seen. I've dropped my holds from the ceiling, had them tossed around my trunk, traveled with them to the other side of the globe in my luggage and they still look brand new (minus a little dirt). As someone who is notoriously rough on things I own (reference the state of my cell phone), their holds pass with flying colors. I've never seen one crack, chip or break, they seem indestructible to me.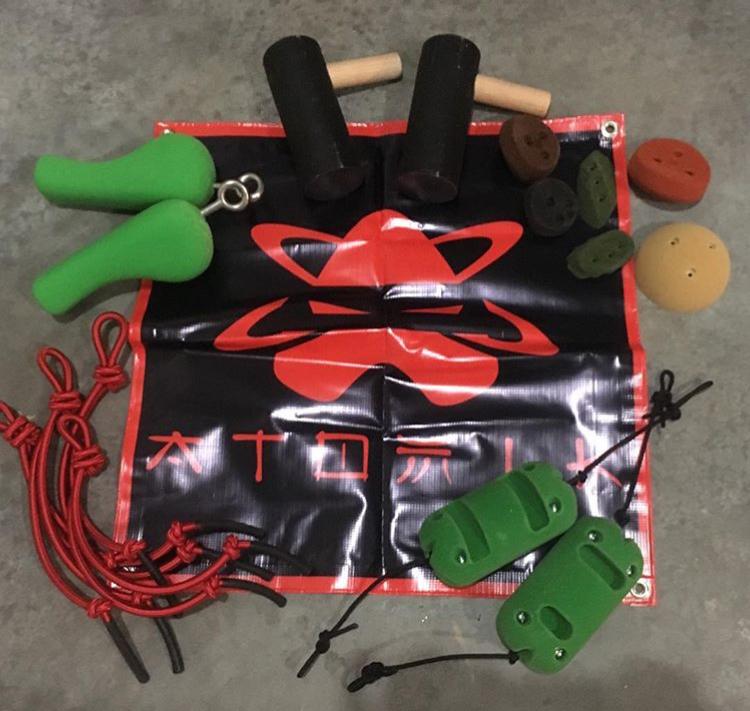 Colors:
Whatever color you are looking for, Atomik has it. Don't take my word for it, check out this lineup. From Conquer The Gauntlet Green to Savage Race Blue through Tough Mudder Orange.
Variety:
Atomik's variety is deep for rig grip holds, which can be found in their ninja/parkour section. Their holds will help you prepare for any known obstacle you encounter at an OCR and even for unknown obstacles like those often encountered at the OCR World Championships. Things like:
–Bungee Cord Clusters which are great for preparing for things like Savage Race's Twirly Bird…even though Twirly Bird is ropes.
-A ton of different sizes of bomb/ball holds and nunchaku holds great for preparing for obstacles like Conquer The Gauntlet's Tarzan Swing
–Horizontal Pipe Bombs and more bombs great for preparing for obstacles like Terrain Race's rigs
-Plus they have a ton of holds, which are just plain fun including the UFO, the giant flying V, the bowling pin, bone, banana, pumpkin and my favorite The Ninja Book (start studying!). These unique shapes and designs are sure to get a laugh out of competitors and teach you to hold on to things of every shape and size. The ability to hold on and transition to/from these holds, which ensure you are capable of completing any grip strength obstacle at OCR.
Overall:
Atomik does a phenomenal job creating a deep product like that will give you the tools necessary to fix any deficiencies in your obstacle proficiency. Before you order, make sure you check out their "Deals of the Day" section. You can get discounted holds and sometimes freeholds added to your order. Definitely a nice touch to an already great product. Plus, they have a ton of other products various climbing holds that can simulate what you would encounter at an event like Indian Mud Run.
Check out the deep product lineup of Atomik Climbing Holds, I guarantee you won't be disappointed!
5/5 Stars