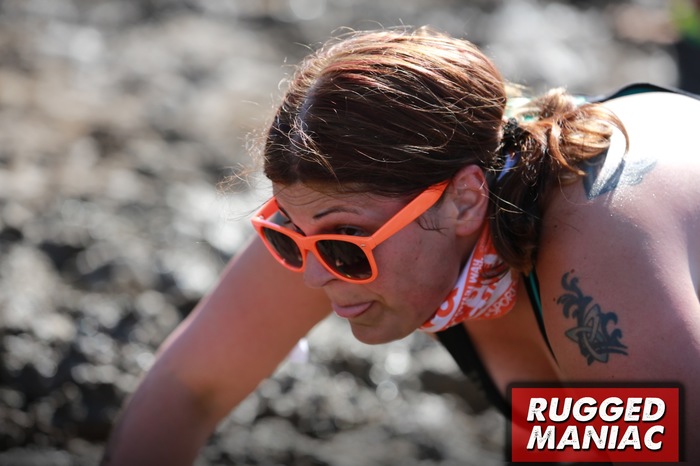 Last year after the Rugged Maniac event in Cloverdale, BC, Canada, my husband and I decided to challenge ourselves and sign up for the Rugged Maniac X – this option allowed runners to complete as many laps of the 5km course as they wanted. Not many races offer this option as part of normal registration, so it was nice to be able to add this on when we signed up for this year's race.
I was also very happy that Rugged Maniac continues to come back to the same venue – it is a fun mix of road running, trail, sections of dirt and mud, and of course the grassy area where the festival is held. I was super nervous going into this, as I had an A goal of completing 5 laps of this course and I wasn't sure what to expect.
Since this was only my second-time multi – lapping a course, I wanted to ensure I was prepared to start and finish strong.
The weeks leading up to this event brought warm (even hot) weather to our area, and I kept this in mind, as I wanted to hit my goal but finish strong and healthy at the same time. I thought I would share with you all a few things I did in advance to prepare for running multiple laps on a hot summer day
Hydration:
I started to hydrate several days before the race. I am someone who is not the greatest at making sure I have enough water, and this is a habit I need to work on. I picked myself up a 1 liter water bottle and have been filling it multiple times a day. I was even able to get my water intake up to 3+ liter's a day pre-race.
Nutrition:
This is also something that I struggle with.  In the past, I have never been one to watch carefully what I am eating or how much, but with the prospect of wanting to do well, I started to pay attention. I started to eat a lot more vegetables and fruits that had high water content including strawberries, celery, cucumber, oranges, and peppers. I increased the protein I was eating by about 10% each meal leading up to the race, and made sure that my snacks were as healthy as possible (during this process I have found a new love for blueberries, they are tasty and good for their antioxidant properties). On the day of the race, I had about 1 liter of water and also a banana pre-race.
Pre Race Body Prep:
I work with a running / OCR coach, and my training plan had me training up until the day before the race. I stretched and rolled out my muscles a lot, and also made sure I got 7 hours of sleep a night. Taking care of your body is super important, as this will enable you to heal better.
No matter how much one prepares and plans, you never know what is going to happen on race day, and I made sure that I was going to expect the unexpected.  And now onto the fun part (a break down of each lap that I ran).
As always, Rugged Maniac released the course map a few days before the event. I loved seeing the mix of old and new obstacles on this course.  I love it when the smaller races mix things up and challenge you with each course that they put together. Rugged Maniac always packs 25 obstacles into a short course making it super fun yet challenging.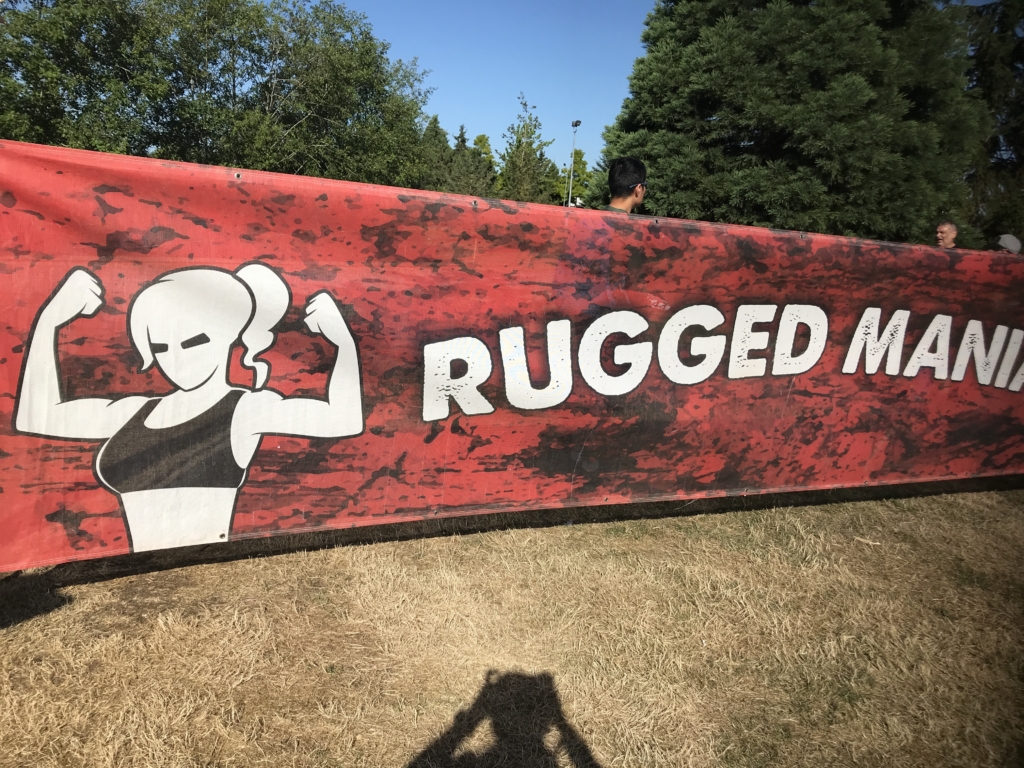 Lap 1:
On our first lap of the day, we decided to take it nice and easy, and run with friends that had never done an obstacle course race before. I remember that feeling, and I could feel the excitement and fear of the unknown in the air. I am happy they selected Rugged Maniac as their first race, as it is a super friendly and family oriented. It was already warm and I had a feeling it was going to just get hotter as the day went on. I decided to bring a SpiBelt with Endurance Tap gels in it on course with, and stop at every water station to ensure I was hydrated enough. The group of us ran and walked when needed and were just a  group of big kids having fun. New this year were the following obstacles on the course: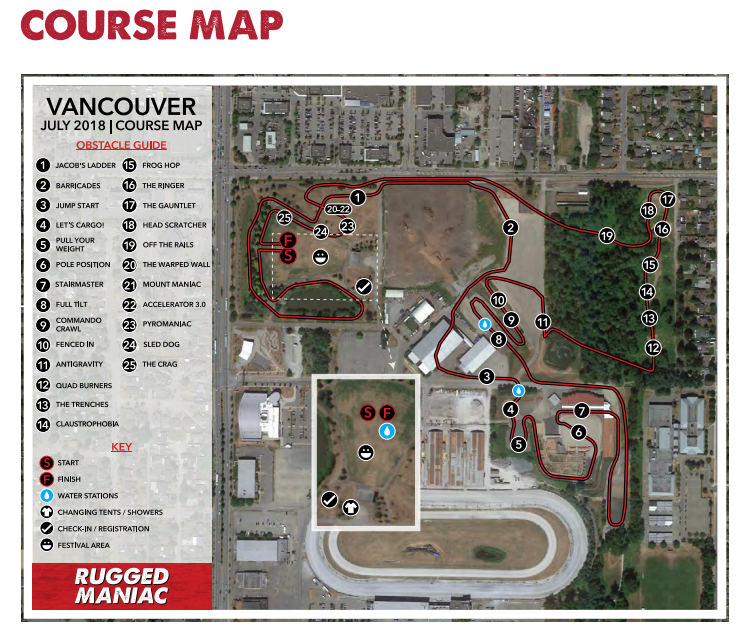 Pull your weight: a rope that had a large chain on the end that you had to pull up.
Pole Position: racers climbed up a small platform and slid down a pole.
Full Tilt: Monkey bars that titled back and forth as you were going across.
Quad Burners: huge piles of dirt that you had to climb over.
Off the Rails: a rope with a ball at the end that you hung onto. It automatically moved you to the other side of a water pit and you were supposed to hit the bell and fall into the water.
Sled Dog: a sled pull type obstacle (you pulled the sled towards you, then using the rope attached to it, you then pulled the sled back out).

Just hanging out on "Off the Rails"
What we all found interesting this year, is that Pyromaniac (the fire jump) wasn't the finishing obstacle. Instead you jumped over the fire, did the sled pull and the last obstacle before you finished was The Crag (crawling over a huge inflatable). This lap was super fun, super chill and our new to OCR friends seem to have an epic time.
Lap 2:
My husband Ryan and I decided to head on out for a second lap as soon as we finished the first. The day had gotten just a touch warmer so we pushed ourselves, but kept a pretty steady pace. On this lap, I accidentally put my head up too early near the end of the "Head Scratcher" obstacle and had my first love tap from barbed wire. I got a small cut at the top of my head, it bled a bit but I felt fine. The medical staff at the obstacle were concerned but I let them know that I was good to continue and that I would wash it off with clean water. On this second lap, I sustained a second minor injury –  At Mount Maniac (a huge water slide), I felt some pressure for the volunteers to go (even though it wasn't clear in the pool at the bottom, someone was standing there trying to fix the slide) and I went. I turned my body sideways going down the slide to avoid hitting the person, and smoked my shoulder (it hurt but I was fine). I got up and we continued on to finish this lap.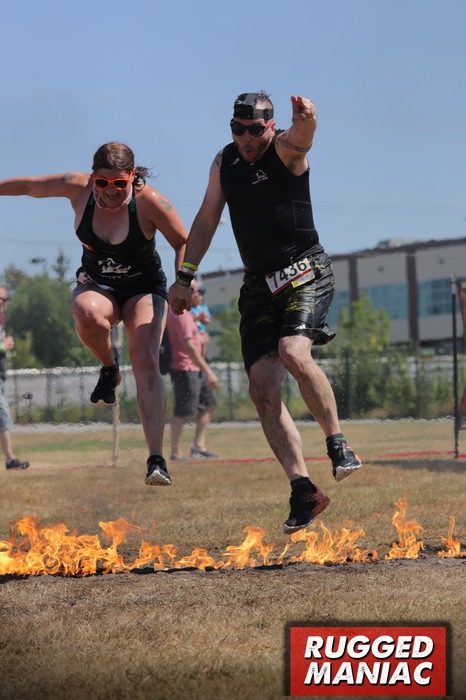 My husband Ryan and I jumping over Pyromaniac on lap 2.
Lap 3: 
I took off on this lap solo, as my husband needed to grab our daughter from the friends that were watching her. I felt nervous going into this lap, as the heat started to really come on full force (was over 28 degrees by this point), and I don't do well in hot temperatures. Training in the heat is something that I am starting to work on but I was still a tad worried. I started my lap strong, jogging slowly and walking when I needed to. To be perfectly honest, by about 2.5 km the heat started to get to me and that little voice inside of my head told me I should quit and head back to the festival area for some nice cold water. Those that have done longer endurance events know how easily the darkness can seep in, and how it can be hard to tell your inner critic to shut up.
I decided not to let that voice get to me. I kept pushing on, putting one foot in front of the other. I focused on the sunshine, the smiling faces on course, the music I could barely hear playing from the festival area, the cold water available at each aid stations, and of course just how lucky I was to be able to run this course multiple times.  As long as I felt healthy, I was going to keep going.
I saw a number of Rugged Maniac X'ers on this lap that were out in the heat looking sick and honestly should have ended their race, but that wasn't my call to make.  I get wanted to hit your goals, but if you are racing to the point where you are making yourself sick or worried above passing out, it is not worth it.
During this lap, I chatted up many racers and tried to make this lap a super social one. Unfortunately, on this lap, Mount Maniac was closed. When I got to the obstacle (up to the warped wall), there was a 25+ plus wait. The water slide was closed on the left-hand site, and they were initially allowing only one person at a time down on the right, which caused a huge bottleneck at the top. I ended up climbing back down the huge cargo net. I felt bummed, as a refreshing slide down Mount Maniac into the water would have cooled me off, but the idea of standing to wait for that long in the heat was not the smartest idea, and I shrugged it off. I felt a little dizzy crossing the "finish" area for the third time, but well enough and strong enough to go out for one more lap. At this point in the day, to be safe as it was now over 30 degrees Celsius, I made my 4th lap my final.
Lap 4:
I took this as a super chill lap. Before I left to go out on course, I asked a volunteer near the finish line if she could bring me an iced cold bottle of water (and she did). I chugged half of it down and I was off. My plan at this point was to take this little bottle of water with me and refill at every water station. I also decided I was going to dump a cup of water at each station over my head to try and beat the heat. I was determined to finish this lap no matter how long it took. For me, one slow foot in front of the other was the name of the game – I am super stubborn and did not want to quit. Overall I felt pretty good but my body felt the heat and my brain was eager to finish.
I was super happy to run into some friends on the cargo climb and asked if I could hang out and finish the course with them (and they said yes!). This gave me a small push of motivation to keep going. When you are on a course of any length, it makes the time pass so much quicker when you can hang out with friends and laugh. On this fourth and final lap, I had to bypass a few obstacles due to exhaustion, although I am not upset about that. Mount Maniac was still closed at this point, and I was disappointed. Not only did I not get to slide down one more time, but those racers on course would not be able to experience the awesomeness of this obstacle.
In four laps of this 5km course with 25+ obstacles, I only ended up bypassing 5 obstacles total (due to exhaustion). As we got closer to the finish, my mind and heart raced as I knew that we were almost done. I had been on course 4 hours at this point, and honestly was good with only getting 4 laps in instead of the 5 I wanted.  I was super happy to see Pyromaniac, and made it a point to hop over that fire and hold up four fingers (representing the four laps that I did).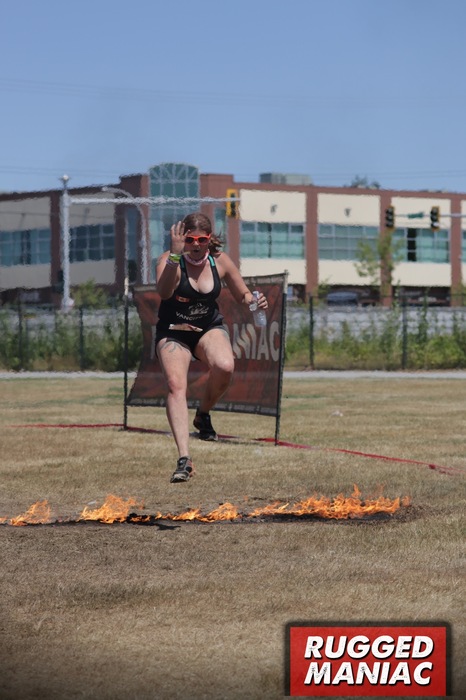 I ran into the finishers corral, got my medal and then saw my husband. I ran up to him crying at how proud I was to finish 4 laps. After having 2 cold beers, and changing my clothes I felt so much better.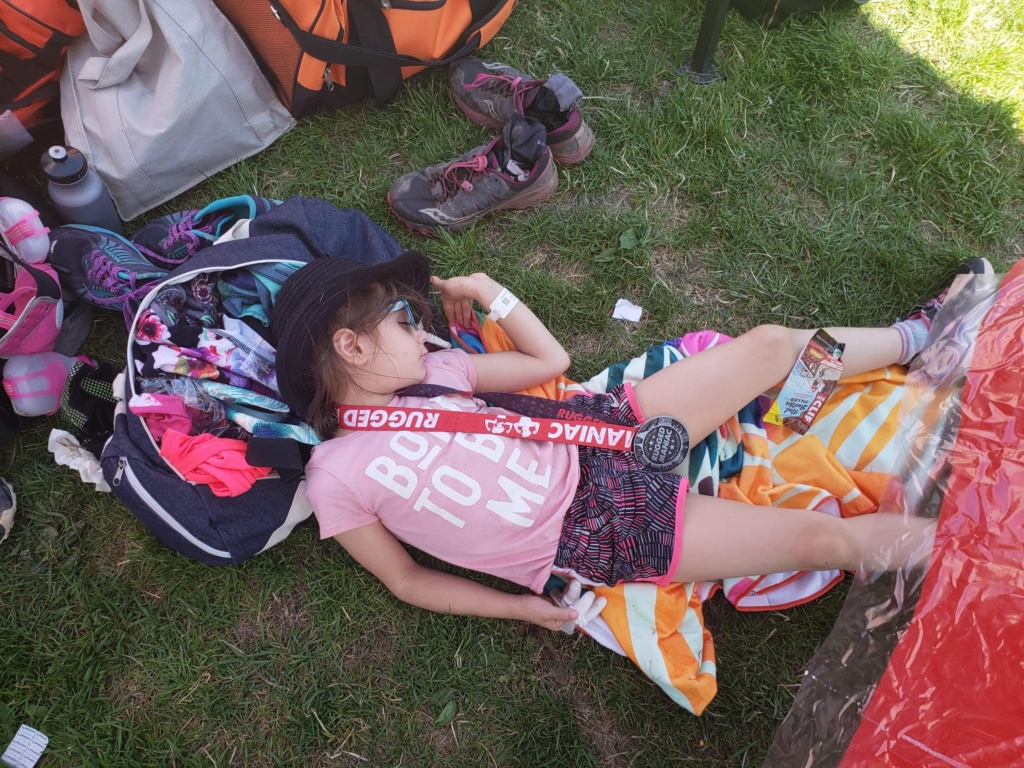 Sierra taking a snooze in the festival area while waiting for me to finish.
The festival area as always is super family friendly and had lots of little booths/vendors to keep racers and spectators entertained even in the heat. I had fun, finished safely and really enjoyed doing multiple laps of the course.
Now that I have had a few days to take it all in, I wanted to share some further info on Rugged Maniac X, the VIP package and other thoughts I had.
Rugged Maniac X 2018 (included the following perks)
– it was a low-cost addition to your registration – ($20.00)
– we received a special Rugged Maniac X wristband (pictured below)
– we received a special Rugged Maniac X headband (not pictured)
– Rugged Maniac X allowed us to run as many laps as we wanted on the course.
My Only wishlist item:
I would have liked to have seen a different medal for Rugged Maniac X racers. I know this is the first time they have offered this option, but a medal even with just an X on it to signify multi laps would have been sweet. It would have been nice to be able to run one lap, rehydrate and go out again. With Rugged Maniac X, the laps had to be run consecutively to count and I hope they tweak that for next year if X is brought back.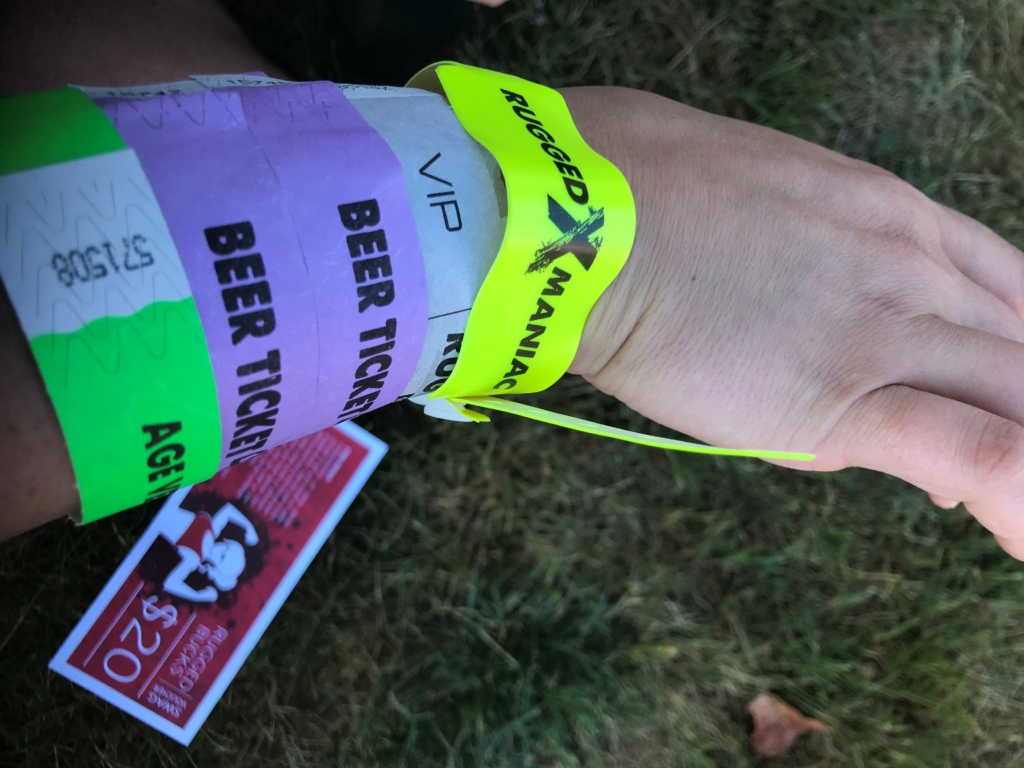 Rugged Maniac VIP 2018 (included the following perks)
– low-cost add-on ($39.00 for the first I believe 500 tickets sold for this years even, special promo price)
– Preferred Parking near the start line (the parking last year got you closer to the venue). This was confusing for so many of us. Some got preferred parking with their VIP packages, others paid additional to get preferred parking a few days before the race. The level of parking you get when signing up needs to be clarified better.
– a VIP bag check (shorter lines to check your bags pre-race)
– VIP check-in at the event (the lines moved quick quickly this year)
– an Extra Beer after the race (always nice to have an extra cold brew)
– $20.00 to spend in the merchandise tent (and Rugged always keeps their merchandise at low prices)
For those that were paying attention, Rugged Maniac was offering $29.00 registrations in the merchandise tent for future races. We are not sure what's happening next year with our race schedule, otherwise, we would have signed up on the spot.
My Only wishlist item:
To be provided again even with a $5.00 food voucher coupon with the VIP package.
Race Swag:
– each finisher got a lightweight Rugged Maniac finisher's shirt
– each finisher of legal drinking age also got one free beer ticket
– each finisher got a rather nice looking Rugged Maniac Medal
– multiple free finishers pictures (to share your race experience with friends and family)
This was a super fun time. The course was well thought out, the obstacles were fun (although the ones over water were kind of bunched up near the end), there were just the right amount of water stations, and the volunteers were amazing. I am super happy with this year's race. Rugged Maniac keeps their ticket prices low, the experience fun and even with the extra we paid, we got more bang for our buck than some of the larger races we have done. If they offer the Rugged Maniac X option again, I will be signing up (to see if I can get my five laps in). I will try and remember to reapply sunscreen next year, as my back got burnt. I know now my pre-race nutrition and hydration set me up for race day, and I will continue to work on both to be able to run strong and longer next year.
Thank you Rugged Maniac for an epic event!
Rating: 5/5
---
Have you done an Rugged Maniac?
Leave your own Rugged Maniac review and feedback...