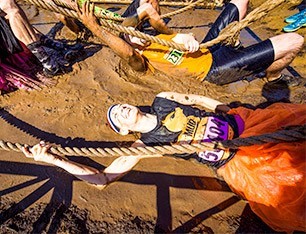 MuckFest MS has been getting people muddy for a good cause since 2009. The mud run company that not only is a "mucking good time" is also a cause-based organization. The obstacle-filled event raises money and awareness for the National MS Society. They recently hit a huge milestone with over 30 million dollars raised for the organization. Full release below.
---
With a giant zip line, slip and slide, and a whole lot of mud and muck, the National Multiple Sclerosis Society and Event 360 are ecstatic to announce that since its inception, the MuckFest® MSevent series has now raised $30 million to move us to a world free of multiple sclerosis. The money raised goes toward research and finding breakthroughs to help change the lives of those living with MS. We have one goal: to end MS forever.
The fun mud & obstacle 5K event series started in 2009 and has since been a huge success, drawing participants from across the country. This year, the 7-city series started in spring with Boston and Philadelphia. There are still five remaining events this season in New Jersey, Detroit, Chicago, Denver, and Dallas. Registration is open at www.MuckFestMS.com.
"It's all about our mighty Muckers, who pour their hearts and souls into raising money to help fund research and to help those living with MS. The MuckFest MS fun mud runs are also about showing that you can live with MS and its challenges, but you can also still have a life filled with joy and laughter," said Liz Strawn, Senior Director of MuckFest MS & Special Events, Development, National MS Society.

"We are proud to hit the dirty thirty! Our recipe for a successful MuckFest MS event is simple – just add dirt, water, extraordinary obstacles and a community that is committed to helping end MS forever," said Slade Thompson, Account Director, Event 360. "We're proud of our MuckFest MS participants, volunteers and staff for helping us reach this amazing milestone."

"It's simply astounding what happens when the MuckFest MS community comes together: many small efforts lead to achieving enormous milestones. My team is surpassing the $100,000 fundraising mark in our fifth year of participating in MuckFest MS, and we are so proud of our small contribution to this incredible $30M milestone. Knowing that we are helping people living with MS and fueling the research needed to find a cure, all while we have a mucktastic time playing in the mud, is the best reward of all," said Michael Pierce, Board of Trustees, National MS Society, Colorado-Wyoming Chapter, and Team Captain, Muckin' for Michael's Mom.

Team Captains Jenny Roberts and Ali McGreal shared, "Our team, Greatest Show on Dirt, has participated in this event every year since it first started in Colorado eight years ago, raising almost $184,000 to date. It has been exciting to watch MuckFest MS grow into the event it is today.  As a top fundraising team every year, we are excited to be a part of this $30M milestone and are grateful to all of our supporters, to all the MuckFest MS teams who worked hard to raise money and awareness, and for the continuous hard work and support from the National MS Society. Congrats to all on this fundraising milestone!"
If you want to take on a MuckFest MS raising money and having a muddy good time find a MuckFest MS near you!