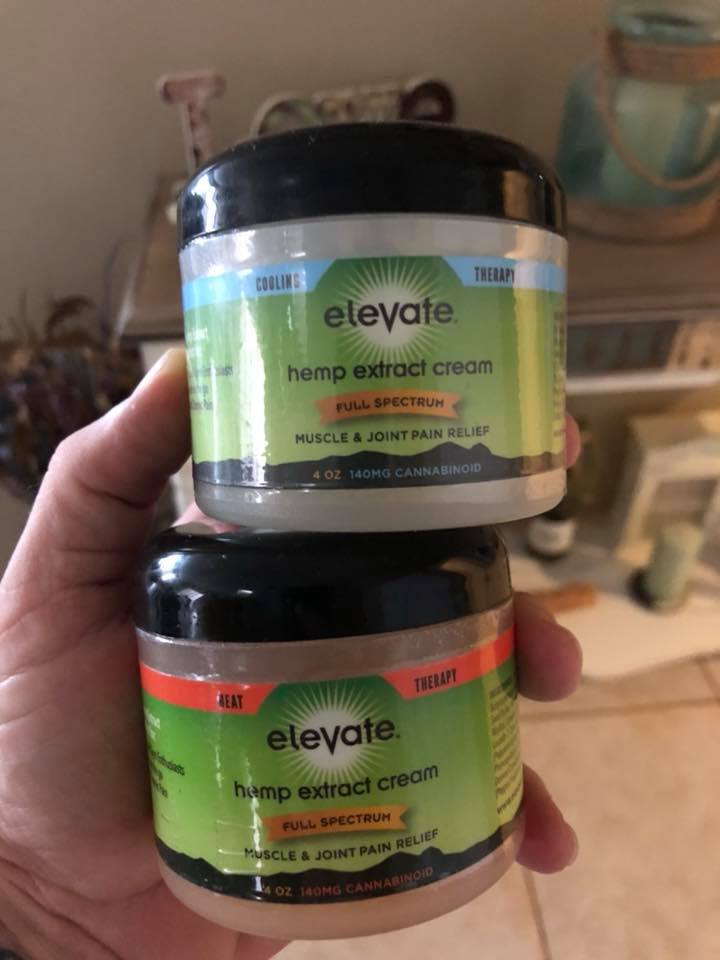 I've been using both the Heating and Cooling Elevate Pain Relief Cream for just over a month, and have seen some positive results. I was initially unsure about the pain relief benefits from CBD (Cannabidiol derived from industrial hemp) in the muscle rubs and after a month of use I've experienced less pain and inflammation in my right shoulder which has been an issue for quite some time after tearing my labrum at the biceps and pectoral insertion point a few years ago. While the injury itself has somewhat healed, I still face daily issues with inflammation impinging nerves and causing radiating pain down my right arm. Elevate Pain Relief Cream has been effective in eliminating inflammation for 3-4 hours per application, and the cooling or heating muscle rub both provide an enjoyable sensation that feels like it's working to loosen my muscles as well.
Here's What Elevate CBD Says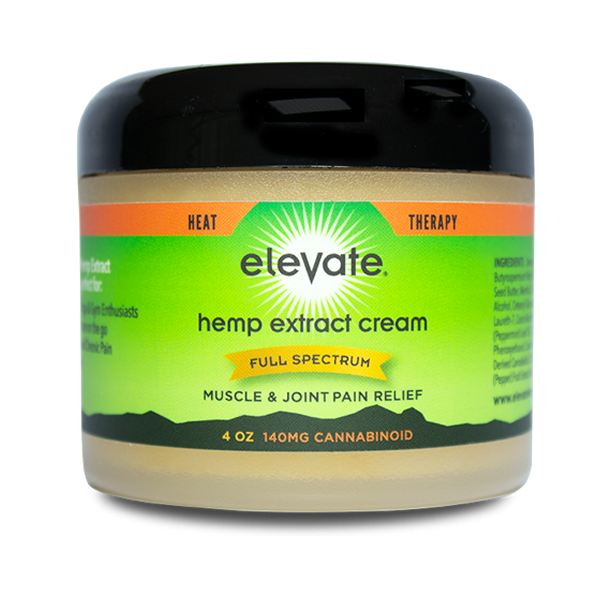 Elevate® Pain Relief Cream – $39.99 at elevatecbd.com
Available in two options: Heat or Cooling relief therapy. Our Hemp Extract Cream is perfect for athletes, Spartan racers, weekend warriors, gym rats, or runners! Our Hemp Extract infused cream is a powerful way to treat sore, tired muscles. When your body needs to rebound, and you need natural relief from pain, turn to our full-spectrum, Cannabinoid-rich cream for total relief. Safe, impurity-free, and effective.
Elevate Hemp Extract Cream Benefits:
Provides two options in combating muscle/joint pain relief for athletes and weekend warriors
Treat sore muscles and joint pain effectively
Pain relief cream
140mg of Cannabinoid
What is CBD?
CBD (Cannabidiol) is a totally natural, non-psychoactive component of the industrial Hemp plant produced by strains from Cannabis sativa L. It's just one among more than 80 active cannabinoids and affects different brain and immune receptors within the body's endocannabinoid system from those impacted by THC, the more commonly known cannabis by-product from an entirely different plant.
Cannabidiol, or CBD, has been found to have an impact on a wide range of symptoms, acute conditions, and chronic health issues. Elevate® CBD, sourced from hemp plants, is a natural overall wellness product which supports a healthy mind and body. Its nutrient-rich properties may help address a variety of everyday ailments such as pain, anxiety, and sleeplessness without any psychoactive effects, negative side-effects, or addiction common to some pharmaceutical products.
Is CBD the same as marijuana?
No. It actually comes from a different plant than that which produces recreational marijuana. Cannabis sativa L. grows fibrous stalks 10-15 feet tall and produces very few flowering buds. It looks more like bamboo shoots. Cannabis indica, from which THC is produced, is the more commonly recognized short, bushy leaf plant.
THC, CBD, & My Takeaway From 1 Month of Use
Shortly after my shoulder injury in 2016, I applied for an received my Arizona state medical marijuana "green card" to purchase pain-relieving THC-infused products at dispensaries throughout the state. AZ is one of the 30 states where medicinal marijuana is legal, hence the required step to attain a card. If you're reading this in Colorado, Washington, Nevada, or the 6 other states along with Washington D.C. where marijuana sales have been legalized, no green card is necessary.
When using vapes or gummies with a 5mg THC and 5MG of CBD I was able to quickly reduce the inflammation and bring the tendonosis under control along with some pain management benefits but wasn't too keen on the psychoactive effects. Basically, being stoned makes me lethargic and I found it impossible to use during the day so I would only dose at night before bed. After less than a month of daily use, the majority of pain in my right shoulder was minimized, and I had near full range of motion again. The THC/CBD did not heal the injury itself but was extremely beneficial in treating the inflammation. Eventually, my nightly use became less and less and several months later my yearly card expired. I found no pressing need to renew it at the cost of around $250/year, so I moved on.
About 3 months ago, the inflammation from overuse became nearly unbearable again, and it took about 2000mg of ibuprofen a day to alleviate the pain radiating from my right shoulder through my right hand. Eager to find another solution, I began looking into CBD creams and just happened to connect with my friend Justin who is connected to Elevate CBD. When he offered me a month's supply to try, I jumped at the chance. Aside from the rub, he also provided CBD gum and mints. The mints were extremely helpful dealing with a sore throat, and were pleasant-tasting, at only 8 in a package, they were gone in less than a week – and luckily my extremely irritated throat along with it.
Over the last month, my testing regimen has consisted of 3 days of Elevate Pain Relief Cream (rotating heating/cooling) applied liberally over my entire shoulder from chest to scapula and extending down the arm to the midpoint of both right biceps and triceps three times per day: 8:00 am, 12:00 pm, and 4:00 pm. I then follow with 3 days of Ibuprofen use, 400mg taken at the same 8, 12, 4 intervals. The final week of testing coincided with me working on the build crew for the 2018 North American OCR Championships at Stratton Mountain VT, and serving as a host for the entire weekend. My application covered all the sore muscles from 12-hour workdays – primarily my entire arms, legs, shoulders, and neck. Although the product size is 4oz, I was able to carry the container through TSA checkpoints in my carry-on without incident. I was quite thankful I decided to bring the cooling cream along for the trip, and I applied it liberally each morning and night with positive muscle-soothing results.
Overall, I find the scent to be pleasant and the topical cooling/heating to be very enjoyable. When massaging the cream into a sore muscle, the pain relief seems to begin almost instantly. Cleanup is easy with soap, I did miss a spot on a finger and accidentally rub a little in my eye, but it only stung for a moment and easily flushed out with water. The application was quick and easy, and I appreciated the ability to apply a pain reliever directly where I needed it, versus popping a pill.
Results
After applying 3x/day for just over a month now (I'm continuing to use it), I'm about 1/2 way through both the heating & cooling containers. I'd estimate one 4oz package should last about a month of near-daily use.
Pain & Inflammation-wise, Elevate Pain Relief Cream provided relief for about 3-4 hours, as each day I'd notice some discomfort about a half hour before the next application. I found the relief to be on-par with 400mg of ibuprofen taken at the same intervals.
As for the heating & cooling effect on sore muscles, I really enjoyed having this product on my shelf ready to apply to sore muscles, and quite enjoyed the topical application for a feeling of relief for deep muscle soreness.
At $39.99, Elevate Pain Relief Cream is similar pricing to other high-quality muscle rubs not containing CBD, so if you're game for trying something new, give it a shot!