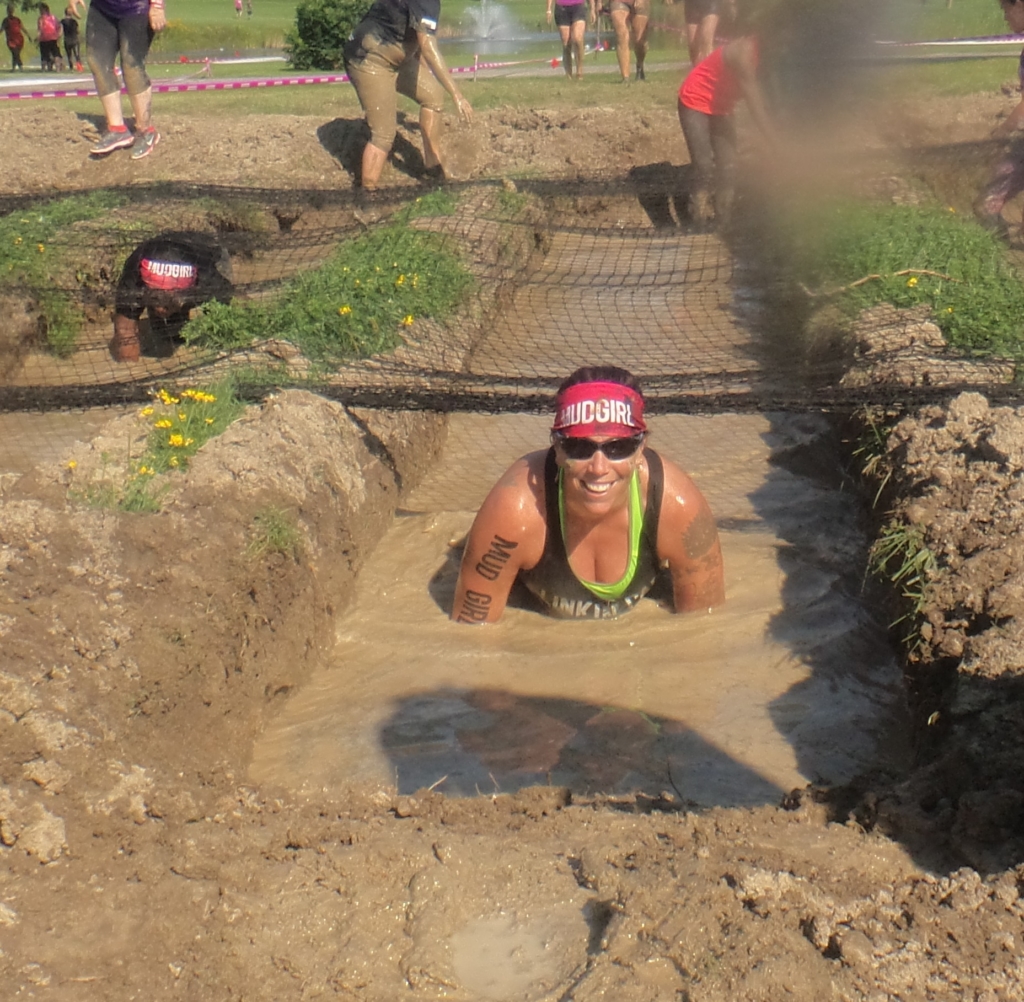 As with any veteran OCR supporters we are beginning to get quite fussy when it comes to Mud Obstacle Events, and we are quite selective as to which ones we will attend. Recently, we went to Ottawa, Ontario to the Wesley Clover Raceway.  This location is fast and flat and gives the runners an opportunity to really fly around the Mud Girl course.  This 5KM loop gave first-timers a good perspective of what the sport is about in a fun and safe way.  They kept motivated along the way with volunteers at every turn and the course was clearly marked by keeping the red flags to your right.
Race Day
The parking was $10.00 and the attendants that were male all wore pink tutus to show support for breast cancer awareness and this day reserved solely for women.  A portion of the funds went towards breast cancer research.
Parking was fast and well organized and as you approached the venue you could take 'before' photos at the entranceway. Everything was clearly marked and there were little to no lineups to receive your race kit which consisted of a headband, tattoo, pink army bag, and coupon for GoodFood. Off to the merch tent, we went next and sadly, they were already out of any sweatshirt sizes bigger than x-small and small, so we ended up with a tech tee for $30.00.
The village had a few vendors and sponsors and one was the sale of maple water and the other was cricket protein.  Many people lined up to try a cricket bar and to see what the hype was about.
Bag check was $3.00 and then we were getting ready to head to the corral.  It was a fun atmosphere with music and people and had a huge turnout for the one-day event.  We were the first heat out and really enjoyed the variety of obstacles including some great mud crawls, walls, cargo nets, teeter-totters, slides and mud pits.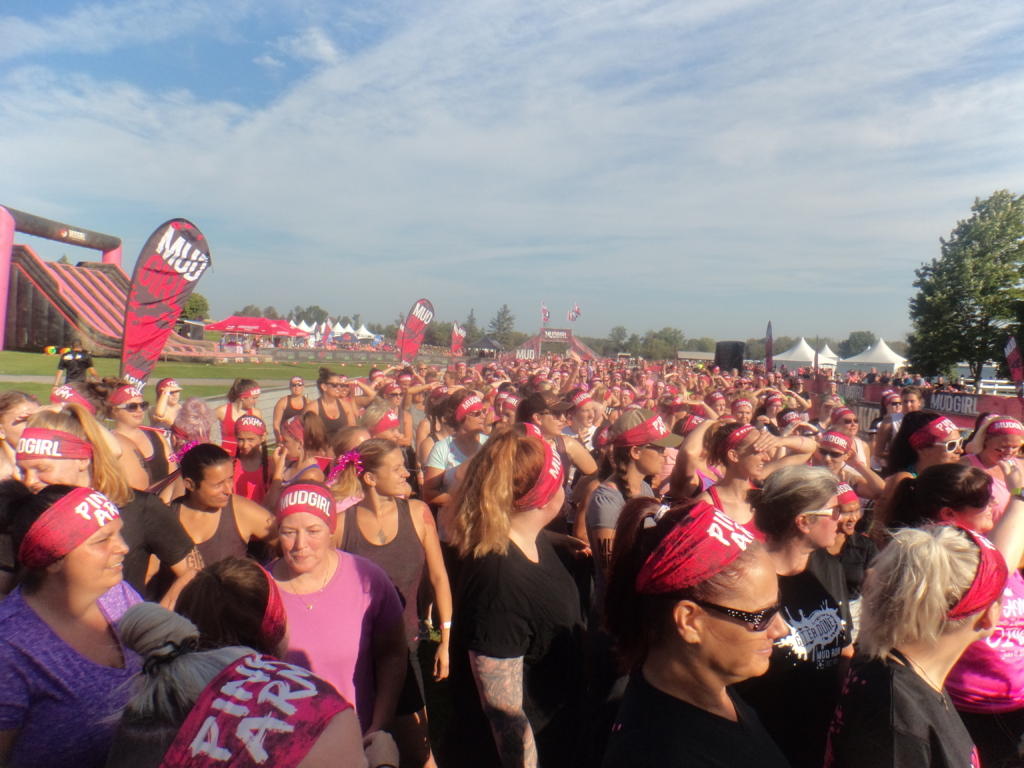 Mud Girl Run
As we left the main corral we were instantly sent into a nice muddy pit that had 4 trenches to traverse and you could hear the newbies, yelling and laughing as they slid into the murky pits with glee.  We then dashed across a few fields that provided some subtle horse steeples to hurdle and then onto a nice climb up and over, and then down and around to thin teeter-totters and a flat cargo crawl.  There were two water stations along the course and this was a great opportunity to hydrate and thank the volunteers who cheered on racers with enthusiasm. It was excellent to see so many ladies running the course all dressed up in pink to support breast cancer awareness.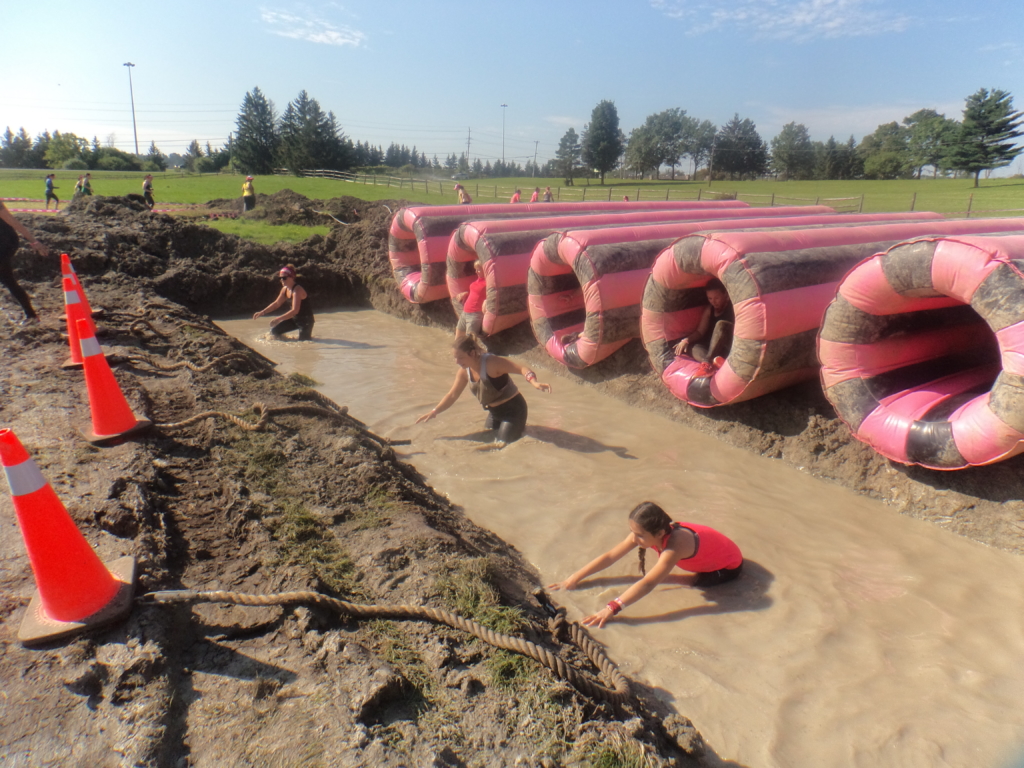 Once you cleared the outer field areas, you looped back towards the main venue where the fun really began.  Large inflatable structures loomed ahead and we raced onwards with sheer anticipation. There was a bouncy castle climbing walls –up one side and down the other, then repeat and then onto the foamy delight of a sudsy shower as we looped back past the center fountain.  There were a few of our favorites from other events such as the large wall climbs, cargo net under in waist deep water, and a great opportunity to use a paintball gun and shoot at targets with accuracy.  It was nice that the course planners added a little bit of mud and water to each crawl and tunnel exit to keep it interesting!  The final obstacle was the most fun, a 40' slide that dropped you into a muddy blissful pit, and then a quick sprint to the finish line and the much coveted Mud Girl medal.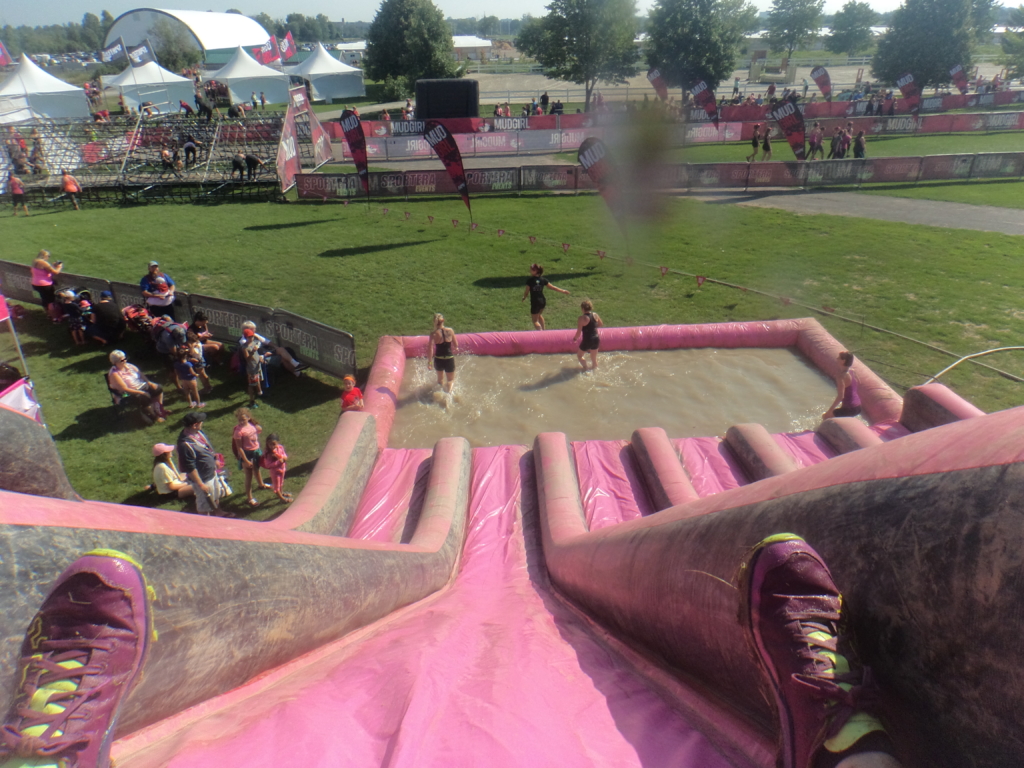 Along the route, there were a few photographers and lots of opportunities to stop and take some fun photos with friends.  It was nice to see some familiar faces and get back into the swing of OCR after being away from it for a few months.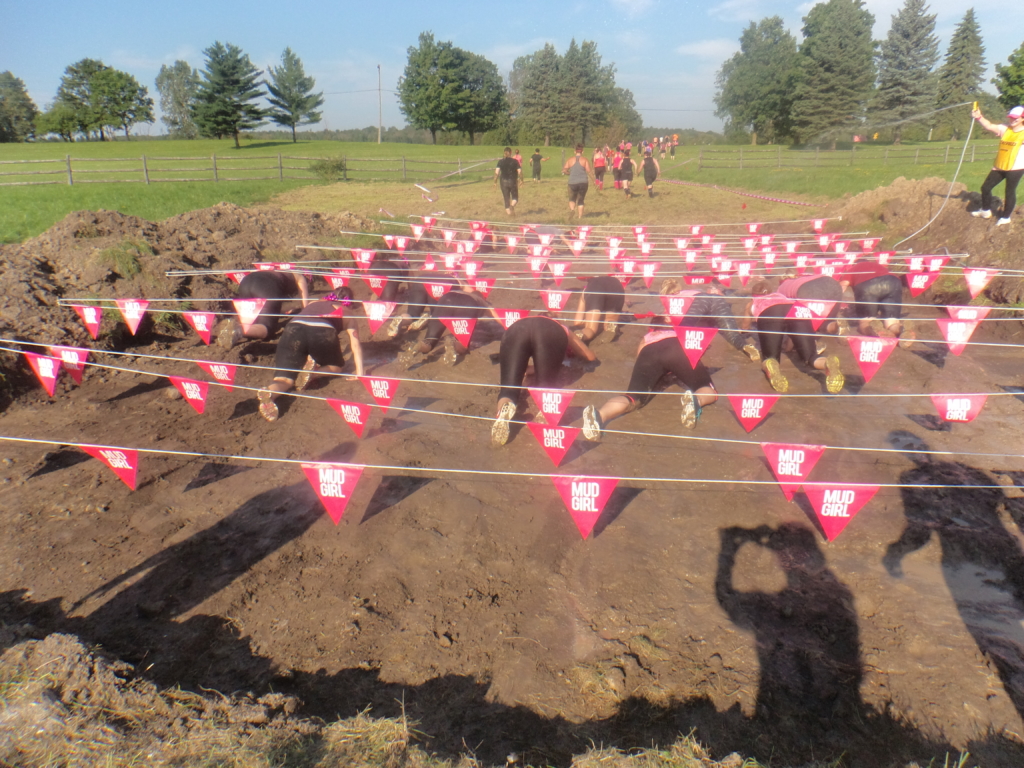 This is a great event for first timers and supports a good cause while showing off what a great sport obstacle course racing is on a smaller beginner's scale. It is definitely one for sheer playful FUN!
Recommendations for racers:
Bring an extra change of clothes, you will get wet;
Bring large garbage bags for your wet clothes and dirty towels;
Baby wipes are an excellent addition to your grab bag;
No spikes allowed on this course due to inflatables;
Bring ID and extra cash; and
Arrive early to get the best parking spots up near the main entrance.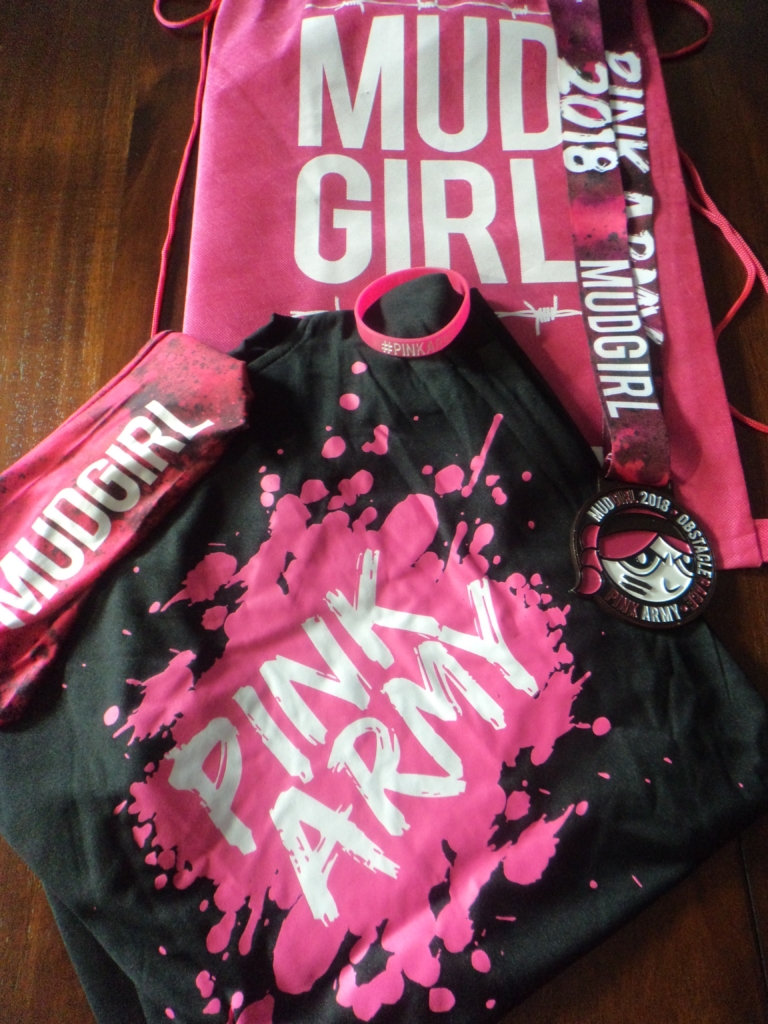 Thanks to Sportera Events and the volunteers who put on an excellent well organized event!
5/5 stars