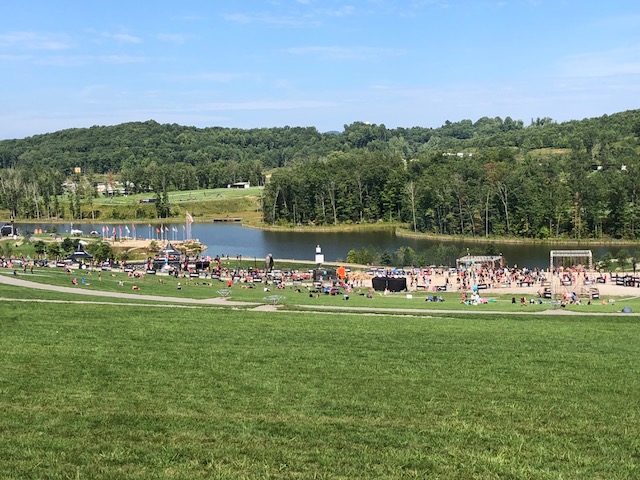 Spartan made a return to West Virginia for a huge weekend of racing.    Summit Bechtel Reserve hosted a Trifecta weekend and the Spartan North American Championship.  The weather for the event was warm and sunny with temperatures of 80+ degrees for most of the weekend.  A larger than normal crowd was on hand viewing the race with most people staying within the festival area.  This course covers such a large area that it makes it more difficult for spectators, but Spartan did a great job of keeping a lot of the action close to its central location.  Parking required a bit of patience as several people told me they missed their start time due to long lines waiting to be parked.  A beautiful 15-minute walk took you to the festival area. Below I will talk about the Beast course.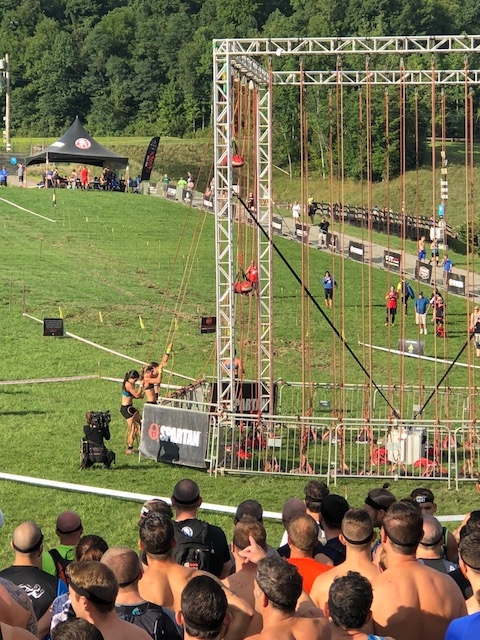 Spartan did a really nice job marking this course.  At no point could you get lost as the tape was always directing you where to go.  The course began with a nice run that took you over the scenic 800-foot-long suspension bridge.  It was amazing to look down on the trees as you ran by, and those with a fear of heights might have run faster than normal to get back on solid ground.  One of 3 barb wire crawls were planted within the first few miles on the course.  Twister and what felt like a longer than normal Tyrolean Traverse were a couple of the more demanding obstacles to make an appearance in the beginning of the Beast.  A log carry that took you over flat ground was a welcomed sight over the one from last year.  Last year's log carry at WV was perhaps the most draining obstacle I have completed at any Spartan race.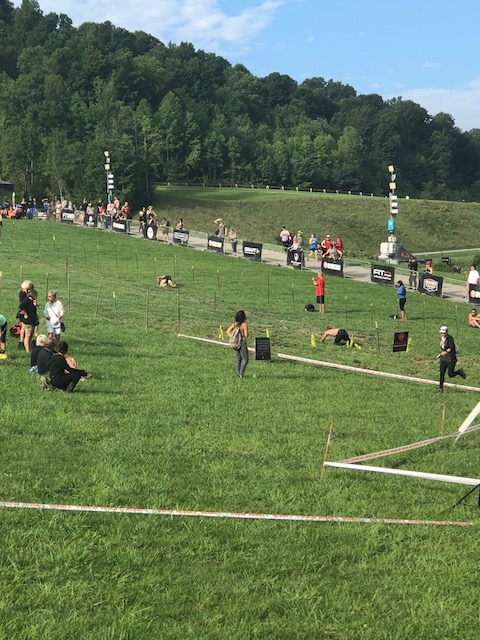 The mid-portion of the race featured some long, consistent climbs both in the woods and some on wide open trails.  A nice swim of about 50 yards, in deeper waters, allowed Spartans to cool off.  Spearman, Herc Hoist, Rope Climb and the Slip Wall appeared in the middle miles of the race.  Slip Wall had a major modification that gave fits to most of the competitors.  The normal eight to ten-foot ropes hanging from the top of the wall were now shortened to about 36 inches.  This change made a very doable obstacle a burpee machine.
A long, but flat Bucket Brigade was towards the end of the course.  The 400 lb. Tire Flip continued to pose problems for many of the men.  Men were continuously having a hard time getting a grip underneath the tire.  Olympus and Multi Rig rounded out the Beast.  For many, that meant 30 to 60 burpees to finish the afternoon.  Overall, this was a very challenging experience.  Spartan hosted a big weekend and was prepared with a great course!  I hope to see the changes that were made to Slip Wall.  This course did not have any soul-destroying sections, but from beginning to end, this was one of the best Beast courses I have competed on.
Rating: 4.5/5
---
Have you done an Spartan Race?
Leave your own Spartan Race review and feedback...