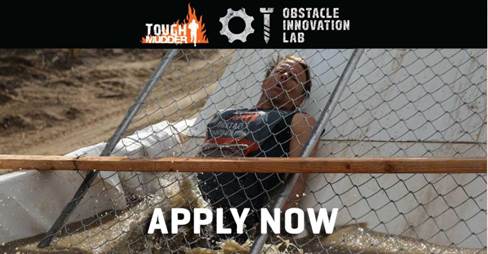 Tough Mudder recently sent out an interesting job posting. They are looking for their next "Chief Obstacle Tester" and if you are in the market for a one-day obstacle-filled job this might be the perfect fit for you! As Tough Mudder puts it they are looking for "fun-loving, thrill-seeking and fearless candidates". One winner will be able to test out 10 new and updates obstacles before anyone else. The question is, is this the job for you? Apply here. See the full release below and job requirements.
Are You the Next Tough Mudder Chief Obstacle Tester?
.
---
Famous for its epic Obstacle Innovation Lab, Tough Mudder Inc., the leading sports, active lifestyle and media brand, announced today that applications are open for the wildest job in the world – Tough Mudder Chief Obstacle Tester.
Candidates can apply here through September 27 for this adrenaline-inducing dream job by submitting a 30-second video and completing the form explaining why they should be selected. Applications are now open – and only the most creative, blood-pumping entries will make it through to be shortlisted for the Obstacle Innovation Lab. One winner will be selected by Tough Mudder Headquarters' notorious team of obstacle engineers and mad scientists.
This once-in-a-lifetime opportunity has unique job qualification requirements. Forget MS Office skills, data analysis and presentation experience. Instead, Tough Mudder is seeking candidates from all backgrounds who are experts in team-building, thrill-seeking, and fear-facing (6-pack abs not required).
As part of Tough Mudder's top-secret beta testing in Atlanta in late October, the new "COT" will get a sneak peek of what's in store for Tough Mudder courses in 2019 – and put his or her skills to the test on 10 brand-new and updated obstacles. The winner will then to be able to offer firsthand feedback to the Tough Mudder team on which obstacles should make it into next year's events.
Tough Mudder is going back to its roots next year and focusing on what it does best: epic obstacle innovation. As demonstrated by the COT search, Mudder Nation will be involved every step of the way. The 10 new or updated obstacles – with the COT's stamp of approval – will be revealed on November 8, with several on this year's World's Toughest Mudder course in Atlanta, November 10-11.
The official job posting can be found below and here as well as on national job listings websites.
Chief Obstacle Tester (COT)

Location: Atlanta

Start Date: October 2018 (Atlanta)

Type: Contract role

The Details:

Tough Mudder, famous for its mud runs and world-class obstacles, manages a state-of-the-art Obstacle Innovation Lab responsible for the design and testing of every new obstacle seen on its courses around the world. With a track record of developing some of the craziest and most enjoyable obstacles on the planet, such as Electroshock Therapy, Arctic Enema and Funky Monkey, the Obstacle Innovation Lab is constantly testing the limits of design, construction and creativity.

In 2019 Tough Mudder is doubling down on its investment in the Obstacle Innovation Lab and running two Obstacle Beta Tests: one in Atlanta and one in the United Kingdom. Beta Testing is the first time the newest obstacle concepts are tested by humans and put through a rigorous feedback process. A key part of this process is undertaken by a Chief Obstacle Tester – and that is where you come in.

The Job:

Tough Mudder is looking to hire a Chief Obstacle Tester (COT) to attend their top-secret Obstacle Beta Tests in Atlanta, GA. This role is a one-day contract position responsible for testing the new obstacles intended for Tough Mudder courses in the 2019 season. As COT you can expect to lead a team of Obstacle Testers through a series of never-before-seen challenges and obstacle concepts, compile feedback reports on each obstacle you test and suggest further innovations and improvements based on your experiences.

Requirements:

The successful candidates will be fun-loving, adventure-seeking, willing to come face-to-face with their fears and step outside their comfort zone. Having an open mind and being adaptable is a must, along with the following.

Puts camaraderie and teamwork above all else
A Jason Bourne-like attitude to problem solving
Ability to communicate under pressure
Eagerness to overcome personal fears and challenges
Enjoys ice cold baths and electric shocks
Prepared to get dirty…very dirty
Mental resilience
Able to swim
Available to travel to Atlanta, GA in late October or London, UK in late September

Not Required:

Microsoft Office/ Excel Skills
Sitting at a desk
Hesitation or an aversion to risk
Defeatist attitude
Selfish mindset
Six-pack or killer biceps

How to apply?

Submit a 30-60 sec video (less than 120 MB) and complete the entry form explaining why you should be selected as our Chief Obstacle Tester. Be creative.

Applications close: September 27, 2018

This is a paid one-day contract role.

Due to the secretive nature of the Obstacle Tests, only successful candidates will be notified.
Is this your dream job?
If you want to try out all of the 2018 obstacles, you can find a Tough Mudder near you here as well as the latest schedule and ways to save on your next Tough Mudder event.