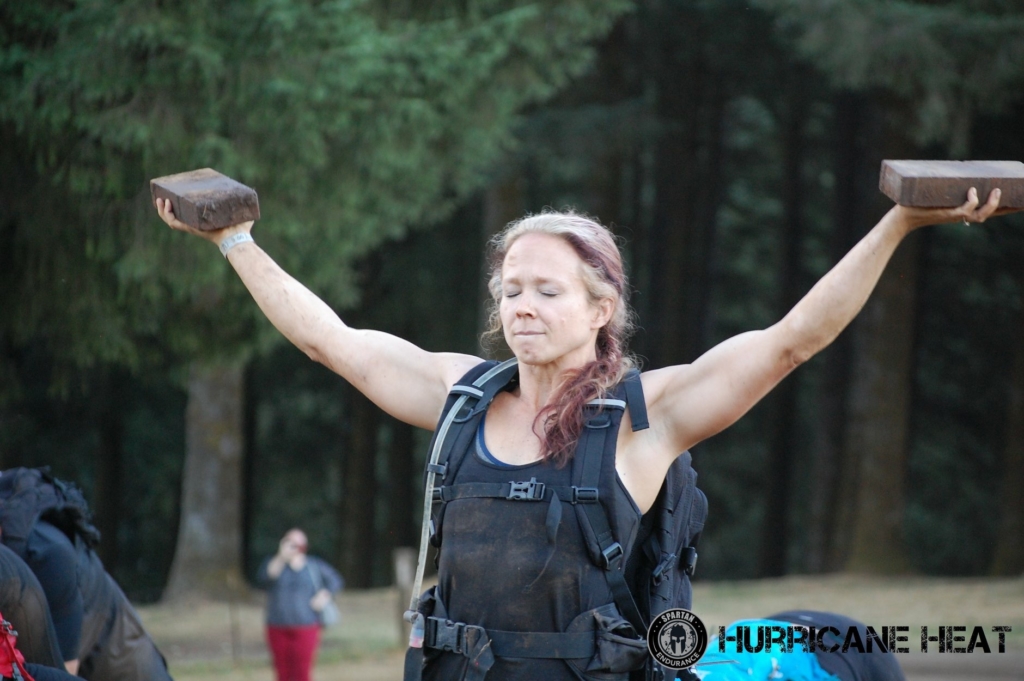 I had the absolute honor of meeting Jessica Martin for the first time this summer, at the Spartan Hurricane Heat in Washougal, Washington. During these events, you don't get a lot of time to talk, but I could sense that she was a powerful force, and I needed to know more about her. Just watching her mental grit, determination and feeling her positive energy inspired me. The Hurricane Heat for me was tough, and I just remembering hearing Jessica tell me to keep going, even though I was one of the slowest people at that event.
Jessica Martin is the embodiment of a true bad ass. She constantly pushes herself out of her own comfort zone, coaches others to push past their own fears and isn't afraid to fail. I hope you enjoy getting to know this bad ass as much as I have.
Did you always consider yourself athletic?
No, I have not always considered myself an athlete. I had dabbled in sports as a kid, mainly hockey, track and snowboarding competitions, and did weight lifting classes. When I was younger, to me an athlete meant you had to be in the profession, college scouts looking for the "it" person of the year, the creme de le creme. It took me to my more mature adult years to realize athletes weren't just those you saw on tv, but they were average people trying to do extraordinary things with their mental and physical limits.
What initially drew you into the world of OCR?

I was lacking a mental and physical push, and a friend and trainer of mine saw this. Jeremy Hirsch introduced the world of OCR to me back in 2014 at the warrior dash. I have never in my life felt beaten down like that, but excited all at the same time. I was hooked immediately and signed up that same day on a whim for the spartan sprint in Washougal, which by the way was way harder.
How did you learn about the BEASTS OCR group and what made you decide to join it?
Adam found me in the Spartan Facebook group and sweet talked me I to joining his page. He talked to me about the community that was Beasts ocr, and I was sold.
What was your first race like? Which one was it?
Warrior Dash 2014. At the time it was the hardest thing I had done outside of all my training I was doing. I went into it feeling confident on my abilities and walked away thinking that it was the suckiest thing I have ever done, and a bit broken. It sparked an eternal flame. I had to do another to redeem myself.
But all in all, we started as a team, and finished as one, which is the type of community vibe I was dying for.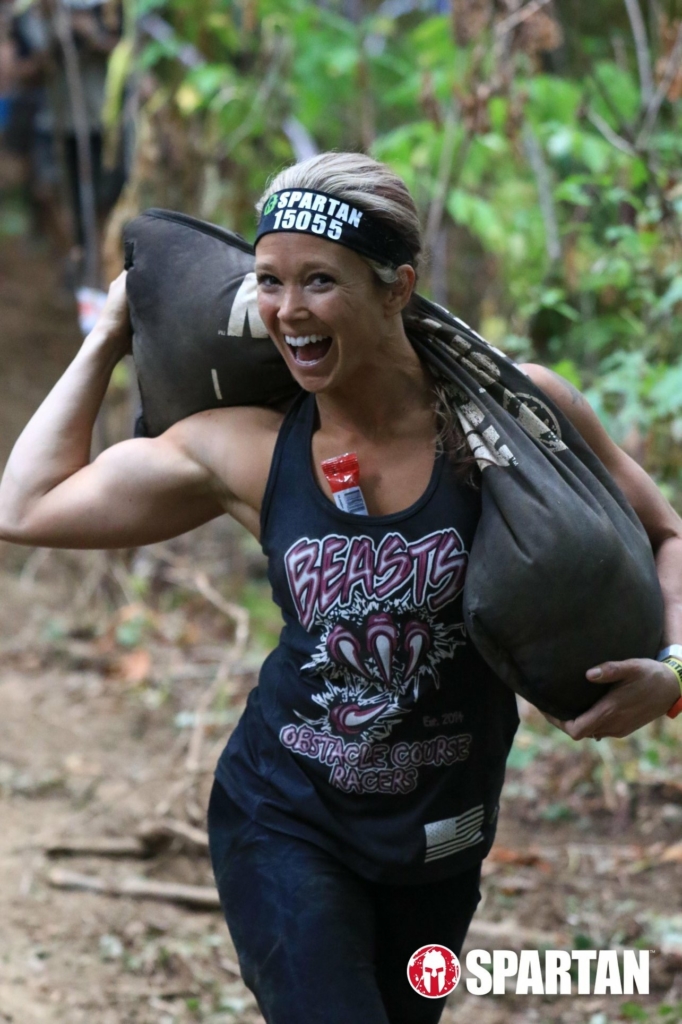 What is your one go to phrase or mantra that gets you through the tough mental stuff during a workout or race?

I have 3
1)Your body will achieve what your mind believes
2)conquer your OBSTACLES
3)this year .. the warrior ethos
In terms of your own personal fitness and goals, is there a race or challenge that you will not do? If so what is it and why?

I'm kind of crazy, and like failing. yes, I said liked failing. Without failure, we can never succeed. So, nothing is off limits. well maybe a running marathon, it's just not exciting to me to just run for 23.1 miles. But it doesn't mean I would never do one, I'm sure someone, somewhere will dangle a cool medal in front of me and call me chicken and I'll do it. Always face your fears, right?
Have fun, and always remember that in order to succeed, we must fail 1st.
Do you feel that someone should "beast mode" train all the time and race to their breaking point or is there a smarter way to prepare yourself?

No! I do not believe you need to "Beast Mode" in order to do any type of race. You need to have training but being smart about it. Tearing your body down only end up hurting your true potential in the end. I've seen Beast Mode like people on the course, talking about how they hit the gym 7 days a week, running 8+ miles 4 times a week etc, and you know what else I see. Burn out half way through. I end up passing them on the course, and they can't figure out how or why. You should understand what your training for, but also how to let your body rest.
What motivated you to become a coach?

My own physical and mental journey made me want to help others. Being a mom, you forget about your own needs. We are so busy worrying about everyone else achievements, worries and needs, we forget about what we need to be happy. I hated feeling unhappy, and it was no one else's fault, but my own. I found my mental voice, it talked loud to me, and once she was there, I wanted everyone else to hear her too.
Alot of times coaches are already in shape, they had never been fat, weak, underweight, I had. I understand the struggle not just with my own fear, but with food and everything else that cause us to forget our strength.
In terms of the coaching side of things, what is one aspect of coaching that you find the most challenging?

Getting people to face their fears and realize that fear is all in their head. To show them how beautiful they are, and to find their healthy body weight and not what social media standard tell you is the ideal body.
Is there one go to exercise or set of exercises that you recommend for an OCR athlete (including those that are just starting to get into our sport)?

Yes!
Lat pull downs
Pull ups
Pushups
Hiking
And the dreaded burpees. these are the ones that make the most difference in my book.
What type of training do you complete for OCR training?
I do a mix of bodybuilding, power-lifting, CrossFit, rucking, hiking, and gross cardio .. mixing up your workouts gives you advantages.
Is there a specific diet staple that you have that keeps you going healthy and strong on course?
Honestly, I eat normally before a race.
I normally have:
3 whole eggs a 5 egg whites with spinach
Pancake or waffle with sugar-free syrup
A banana
1/2 cup oatmeal or cream of wheat
1 cup of coffee
What is the biggest NON-OCR goal that you are working on right now?

I am working on placing 1st in Woman's physique OR figure competition. I did my 1st show 4 weeks ago at the Ironman and was surprised to not only place top 5 which is an amazing thing in itself, but t place 2nd in all 3 divisions, woman's open physique, woman's open figure, and woman's figure over 35. I was so close to winning the SWORD which would have been awesome to place over all the medals I have earned over the last 3 years. This time I'm going for the HAMMER . the competition will be harder, so I have to really stay focused and remind myself to stay humble during the process. Again, I will be ecstatic to place top 5, but man it would man it would be sweet to take 1st in any of the 4 divisions I am in on November 10th.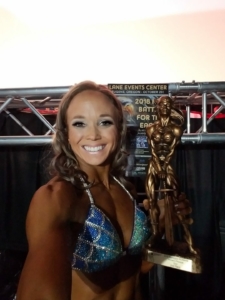 For someone starting out in this sport, do you have a piece of advice to give them?

Have fun, and always remember that in order to succeed, we must fail 1st.

Is there anything else you wish to share with us?

No matter where you are in your life, you are doing great. You must believe in yourself and your full potential, and never quit or Back Down. You are they key to your happiness and strength, no one else can give it or do it for you. If you fail, that's OK, from failure comes great knowledge and strength. Never regret your decisions or mistakes, it's made you who you are today.
Who inspires you?

This is a loaded question. i have many people who inspire me. If you're looking for a celebrity, it would be Arnold. He never gave up, he saw his goal, and he did whatever it took to get there. his mindset is beyond amazing and showed true grit, and he always stayed true to himself and never backed down, he Conquered everything in his path.
My clients and all that I have had the pleasure of meeting and friending throughout all my crazy adventures are the ones who inspire me daily. My clients especially. They show up every day, they never question what I tell them to do, the put in the work, their mindsets are beyond impressive, and they help each other grow. They except when they have been defeated and ask how to change that.
If someone wants to reach out to you and ask a question about coaching or just to say hi, what's the best way to reach you on social media?
Facebook : Jessica Martin or JM Fitness
Email: jmfitness1999@gmail.com
Instagram: Jessica martin – Jmfitness1999