Editor's Note: Heading into the holiday shopping season, Bear Grylls announces a new tech range for adventures of all sizes. His team reached out to Mud Run Guide to provide some gear to test (reviews coming soon), here's the overview and link to check 'em out for yourself. These items are available for purchase currently in the UK, distribution in North America begins after December 1.
From ready-for-action HD video eyewear to portable charging power banks, global adventure icon Bear Grylls has launched an exciting range of invaluable technology to empower people to get out and explore more.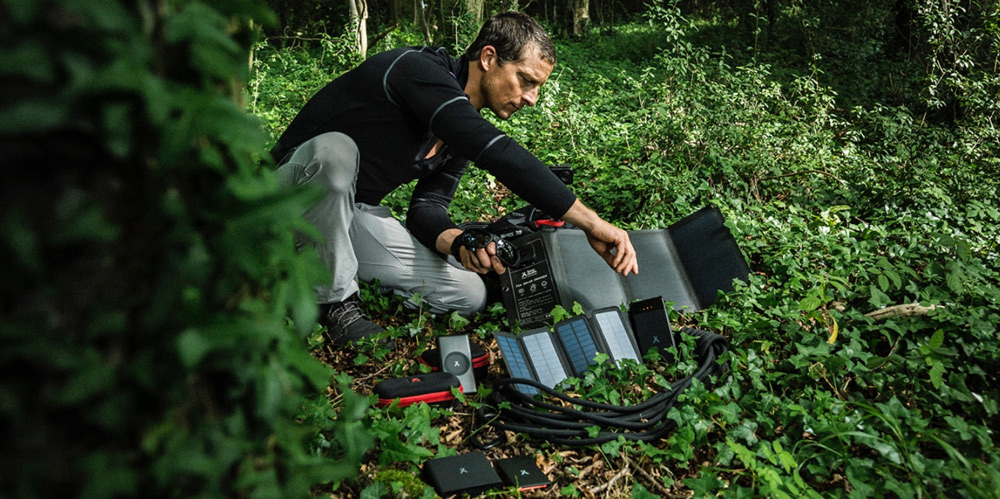 Whether you're going completely off-grid in far-flung climes or enjoying a mini-expedition around the campfire, the new range is the ultimate way to film your epic adventure and stay charged for longer.
Raring-to-go in all weathers and environments, the range includes the Bear Grylls HD Action Camera which comes with full accessory kit, and Waterproof Video Eyewear, to record POV (point of view) footage of your adventure to playback and share with friends and family.
In a new era of 'adventure technology', the power banks include a 20,000mAh four-port beast, with one of the smallest footprints of its type, that can simultaneously charge up to five devices – on the move or back at camp – to last for an extended period of time. A 10,000mAh wireless version easily recharges a smartphone up to five times fully and a tablet twice, enough for a weekend's camping.
At the other end of the spectrum is Bear Grylls' dinky, but mighty, 3,000mAh power bank. This lightweight 'Swiss Army Knife' of chargers fits snuggly in your pocket for a quick boost of power if a battery runs low on an outdoor excursion, holiday or even a music festival. Distinctively, it has built-in Micro USB and Lightning cables in the unit.

Harnessing the sun's energy is the Bear Grylls 8,000mAh Solar Power Bank, which has four, fold-out solar panels that automatically recharge the power bank when faced into direct sunlight, meaning you don't have to worry about it running low if your trip runs longer than expected.
The Bear Grylls 21W Solar Panel Mat, meanwhile, is lightweight, ultra- thin and water resistant for outdoor adventures where you are working with and against the elements. Completing the range is the handy Waterproof Phone Pouch to keep smartphones dry and protected.
Equip, empower, inspire
Currently available at Amazon, Currys PC World and Freemans, the tech range from Bear – considered the ultimate survival expert – is ideal for the consummate adventurer. However, it also answers rising demand for outdoor and wearable technology from the growing number of consumers seeking out travel experiences with outdoor goals and challenges.
Bear said: "It's not just about sightseeing and checking places off a bucket list anymore, people are much more inspired to do something that bit more adventurous when they travel, from honeymooners walking the Camino de Santiago to groups of friends climbing to the summit of Kilimanjaro.

"You can't go on an adventure without being prepared, and having good equipment that works well is essential. This durable range incorporates the very latest technology and features, plus we throw in all the accessories to make it that more cost-effective, equipping and empowering new and seasoned adventurers and young explorers alike."
Products range from £29.99 for the Bear Grylls 3,000mAh Power Bank to £149.99 for the Bear Grylls Waterproof Video Eyewear. All products priced at £50 or over include a two for one entry voucher to The Bear Grylls Adventure attraction in Birmingham, which opened in September 2018.

For full information on the new range, go to www.beargrylls.com/tech
About Bear Grylls
Bear Grylls has become known worldwide as one of the most recognised faces of survival and outdoor adventure.
His journey started as a young boy on the Isle of Wight, where his late father taught him to climb and sail.
Trained from a young age in martial arts, Grylls went on to spend three years as a soldier in the British Special Forces, as part of 21 SAS Regiment. It was here that he perfected many of the survival skills that his fans all over the world enjoy, as he pits himself against the worst of Mother Nature.
Despite a free-fall parachuting accident in Africa, where he broke his back in three places and endured many months in and out of military rehabilitation, Grylls recovered and went on to become one of the youngest climbers ever to reach the summit of Mount Everest.
He then went on to star in seven seasons of the Discovery Channel's Emmy Award-nominated "Man vs. Wild" TV series, which became one of the most-watched shows on the planet, reaching an estimated 1.2 billion viewers.
Since then he has gone on to host more extreme adventure TV shows across more global networks than anyone else in the world, including five seasons of the BAFTA award-winning The Island with Bear Grylls and the US hit TV show Running Wild.
Running Wild has featured Bear taking some of the world's best known stars on incredible adventures. These include President Obama, Julia Roberts, Roger Federer, Will Ferrell, Zac Efron, Channing Tatum, Kate Winslet, to name but a few.
His autobiography Mud Sweat and Tears spent 15 weeks at Number 1 in the Sunday Times Bestseller list and he has written over 90 books, selling in excess of 15 million copies worldwide.
He is an Honorary Colonel to the Royal Marines Commandos and the youngest-ever Chief Scout, and inspiration to over fifty million Scouts worldwide.
He is married to Shara and together they have three young boys who also love adventure.
They live between a houseboat on the Thames and a private island off the Welsh coast.
Bear's life motto is simple: courage and kindness… and never give up!