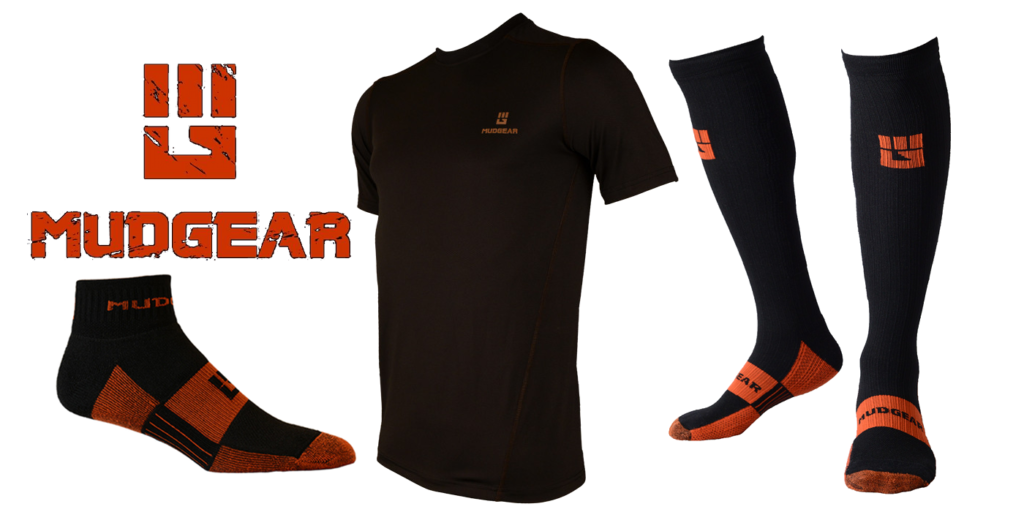 So, something new happened. I was asked to review some performance apparel from MudGear. Not being the typical premier OCR athlete that would review gear (you can read about my initial foray to mud running and my advice from one newbie to another), I tried to think of the best possible way to really put this gear through its paces. After some deep introspection, I just went and did everything in them. I figured that I do all of these other things WAY more frequently than I have the opportunity to do OCR events, so the performance here is actually more important, to me, when evaluating where I want to spend my money on equipment.
Over the last couple weeks, I have used this equipment during weightlifting (squats, deadlifts, bench press, etc), Crossfit (cardio, mild insanity, rope climbs, etc), Couch-to-5K Training Program, a real live 5K, Futsal (it's basically indoor soccer), a metric crapton of yard work (yay, the perks of homeownership), and not a single mud run, sorry – but I will interject my thoughts on potential race performance.
For full transparency, this equipment was generously provided by MudGear, but won't affect my review. I'm not making a living off gear reviews, so there's no risk to honesty. The apparel I had the pleasure to run around in was MudGear's Base Layer Boxer Briefs, Compression Calf Sleeves, Padded Arm Sleeves, and Men's Performance Race Jersey.
MudGear Men's Base Layer Boxer Briefs
I will give the highest praise I can to these base layer boxer briefs – I never once noticed them or thought about them during any workouts. I have pretty large thighs, so compression shorts tend to ride up uncomfortably or slide down the back, but I never once had that problem with the MudGear. The material is significantly more breathable than many of the other pairs I own and feel like they dry out faster. I don't have an objective measure, but they sure felt cooler than traditional tight-weave compression shorts I own. The waistband is also extra wide, which meant after long sessions of yardwork or running, I didn't get the typical waistband impression and chaffing. Lastly, a hidden boon is that these actually have a fly. This is a delightful convenience for everyday wear, such as during gardening or hiking, but also appears to be substantial enough to hold a cup for a sport that I require one.
From an OCR perspective, I could see these as being excellent, not only due to the standard compression shorts benefits of minimized chafing and holding everything together, but also due to the exceptional drainage, how fast these ones dry out, and the breathability for staying cool.
I would recommend these compression shorts to any men looking for a performance base layer. This is easily my favorite pair and I own a handful from multiple brands.
MudGear Compression Calf Sleeves
I used these during a few runs and Crossfit, but I am not sure I am the target audience. Every time I wore them, I kept wondering why I just wasn't wearing long socks instead. The primary reason I wore them was to do a series of rope climbs, which they performed admirably in protecting my shins, but I felt I would have gotten the same protection from socks. The material is also not padded in the traditional sense – it appears to be a more substantial weave on the back, but that is rarely where I would encounter any damage. Now, I will be completely fair in that I have never used compression calf sleeves, which arguably primarily exist to promote blood flow and reduce swelling in endurance type settings, so my observations may not be relevant.
From a material perspective, they appear to be made primarily out of heavy sock-type fabric, but the visible stretch in the weave made me concerned that they would snag if I was running through underbrush. I think I would have been happier if the material was more like the compression padded arm sleeves I'll talk about shortly – a more classic spandex-ish fabric. The fit was snug but not oppressive, didn't slide down, and breathed well.
If you are a compression calf sleeve user who prefers their own socks (maybe you're a toe-sock aficionado?) or wearing a barefoot shoe like a Vibram which prevents sock use, this may be for you. For the average user, I'm not sure I have the ammo to give a blanket recommendation. For me, these will stay in my gym bag as my emergency "oh crap I have rope climbs" shin protector. If you're a die-hard calf compression sleeve user and are thinking, "Man, this Alex guy is a joke and doesn't know what he's talking about!", hit me up in the comments and let me know what your experience with calf sleeves has been.
Mudgear Padded Arm Sleeves
There aren't that many non-mud run uses for padded arm sleeves, I'll be honest. I did a run with them, just to see how they felt, and then army crawled in my backyard for a little while. This was highly entertaining to my dogs and highly concerning for my wife.
These fit surprisingly well and had a tight but comfortable top band that didn't slide down in my playing around, which was my biggest concern when I first unwrapped them. The padding over the elbow felt good and greatly improved that already terrible experience of extensive army crawling. I didn't feel that the padding was so thin as to be insubstantial or so thick that I was crawling on a yoga mat. The material on the non-padded portion was slick and drained nicely, letting them dry out from normal sweating. An interesting thing advertised on the packaging was that the padded portion doesn't absorb water. Being inherently untrusting of all product packaging, I dunked these for 30 seconds in a bucket in my backyard. They retained surprisingly little water and didn't weigh all that much more once removed.
All in all, I was pleasantly surprised with these padded arm sleeves, especially due to them not sliding around. While padded arm sleeves are a niche piece of gear, if you leave races with battered and bruised forearms and elbows and wished there was a solution, then this is the piece of gear for you.
MudGear Fitted Race Jersey v3 Short Sleeve
Last but not least, the fitted race jersey. As I apparently lack attention to detail and critical reading skills, I was surprised when I put this on as it was a close fit but not compression gear. I was definitely expecting compression gear. As a gentleman who isn't rocking the single digit percentage body fat, I don't look like Captain America when I do put on compression gear, so I was eager to mess around with this.
This is a great piece of training gear, mud runs or not. The first thing that you'll notice is breathability. During workouts and runs, I stayed cool and didn't feel restricted at all. The material feels tough enough to take a standard mud run beating, but wicks sweat well and kept me dry. It not being a compression fit was actually a major boon as it allowed even more ventilation. An interesting detail on this jersey is that it has a non-elastic collar. I have a pretty big head, so it was odd at first, but I realized that it does a phenomenal job of not constricting your neck or stretching out.
A word of warning – this is not ideal cold weather gear. It is so light and breathable that the wind and cold will bite.
From an OCR perspective, this feels like it would be a good race jersey. Like all of the gear I checked out, it dried fast and the design clearly had an emphasis on breathability. With how light the fabric is, I have a small concern that it could snag or tear if you're being hyper aggressive with it, but I didn't encounter anything like that.
As a general use training top, this is way better than rocking a t-shirt at the gym, especially in the summer months. I appreciated the taper and fit, the lightness, and the breathability of the gear, with the added benefit of the reinforced collar. I definitely recommend this as a general piece of performance sportswear for anyone looking for a top that won't weigh them down.