All it takes is one moment in time to change your entire life. On February 24, 2017, Kym was in a car with friends driving from Colorado to Arizona, when a car accident changed her life forever. Although her body was damaged severely, Kym didn't let her love for OCR fizzle out. I recommend getting a box of tissues before you sit down and read this. To me, Kym is a Bad Ass woman of OCR because she fought back to regain her life and to race again after a horrible accident. Her story is sad, yet inspiring and proves that the power of the human spirit is amazing. She embodies the inner strength, determination, stubbornness and heart that every single Bad Ass Woman of OCR has inside of them. I appreciate her allowing me to share her story with you all.
Please tell us a bit about yourself.
I am a single mother to a beautiful 15-year-old daughter who equally tests my patience and makes me laugh hysterically. I've been an x-ray tech for 11 years. I have 3 dogs and 4 cats who I love so very much. They are all rescues. I'd save all the animals if I could. My hobbies are obstacle course racing, with Spartan my most favorite; and seeing my favorite bands/singers live and meeting them when possible. In 2015 I completed 7 trifectas. I took 2016 off and stuck to local races. 2017 was supposed to be my comeback year, but that didn't happen. In 2018 I started out thinking I'd try for 4 trifectas. In December I finished with 10 trifectas. I had a lot to prove to myself.

How did you first get into the sport of OCR?
A really good friend from my gym asked me if I wanted to do the Warrior Dash in 2013 with her brother and friends. I thought, "Why not?" and ended up having more fun than I ever thought possible. That was also when my love for dressing up and wearing tutus began. I still have my rainbow one from that day. It's my favorite. My next race with them was the Tough Mudder. I was addicted. However, when I found Spartan races the next year, my loyalty stuck with them.
If you feel comfortable, please share with us the story of your crash in 2017.
On the night of February 24, 2017, around 11pm, an 18 year, who was driving 113 mph, swerved into the car that I was in with two friends driving from Colorado to Arizona for a weekend of Spartan races. I was in the back seat laying down resting. We were driving 74 mph in the right lane. We had stopped to get gas and snacks not that long before.  The impact from his car hitting the left bumper on the Nissan Versa we were in caused us to flip and roll approximately a quarter of a mile. We landed on the driver's side facing the way we had been coming from. The driver, who I hadn't known for long but was having so much fun with during the drive, died. The other passenger was laying down in the passenger seat. I 100% believe that if we had been sitting up there would have been three fatalities that night, not just one. The car was unrecognizable. Two tires were ripped off, both bumpers gone, there was grass and dirt clods embedded in the smashed roof of the car. Every window was broken. Every air bag had blown and was shredded. Our belongings were strewn all over the freeway. His car had slid sideways about half of the distance that we flipped. Months later when I read the deposition he had given all of our lawyers, I found out that he had been drinking that entire day. He ended up drinking at a park that night until he blacked out and his friends left him sleeping in his car. Shortly before the crash he had woken up and got on the freeway.
If only he had slept it all off until he was sober. If only one of his friends had taken his keys or if one of those friends hadn't provided alcohol to an under-aged kid. If only we had skipped the gas station we went to and went to the next one or the one before that. If only we had gotten on the road sooner or later. So many if onlys. There were 17 witnesses that stopped to help us that night. If the freeway had been deserted at that time of night and no one was there to stop and help us, I would not have survived. The doctors told my parents if I'd gotten [to the hospital] any later, I wouldn't have made it. I remember the impact on the car very clearly. I had multiple thoughts at one time, but I believed I was about to die. I was aware of everything that was going on from the time he hit us until they took me in for emergency surgery. Because of where the crash happened, it took quite a while for rescuers to get to us. We had to be cut out of the car. The paramedics tried unsuccessfully for the entire 20 minute ride to the hospital to find a vein that hadn't collapsed from shock. I remember nurses and doctors asking me who I was. So many voices at once from so many people trying to save my life. I'm an x-ray tech and I've worked in many different trauma situations, so I knew what they were doing to help me. X-ray films went underneath me over and over, so they could figure out where to start. I had CT after CT and test after test. I was drugged enough at that point that I did not care what anyone did to me or if I was even going to live to see my child again.
They took me straight in for multiple emergency surgeries. I woke up, still intubated with my cousins by my side. Of all the places for this to happen, I had family in Albuquerque. I had multiple rods drilled into my femur and lower tibia. Despite the drugs, the pain was excruciating. I had a tibial plateau fracture; the lower part of my left knee had been reduced to shards. My spleen had been removed and I lost 12 inches of my large intestine which resulted in an ileostomy. I had 7 broken ribs, a dislocated jaw and lacerations and massive bruises all over my body. Three months later when I was fortunate enough to have my ileostomy reversed, I lost another 6 inches of intestine. Overall, I've had six surgeries as a result with another one to replace my knee at some point in my future. My last surgery was in April of 2018 to remove the plates and screws from my left leg and one month later I was doing the Big Bear Spartan beast in So Cal.
After the crash, did you lose your zest / passion for OCR?
Never. I think it amplified it. I wasn't going to let my life and what I loved be taken away from me. I got incredibly mad and frustrated at times, but that fueled my fire to keep pushing harder. My doctors were blown away by how fast I was healing. The minute I was allowed to walk, I walked. Even while I was on crutches, I still went to my gym and worked my arms. I was in pretty good shape before the crash and because of all of the mental and physical challenges I experienced with Spartan races, I truly believe that kept me from giving in. It would have been so easy to. When I was able to get back out there again the next year, the adrenaline that started the minute I started seeing Spartan parking signs from the road kicked in. Even though it hurt and I would get frustrated, those races kept me going. On the course, I felt like me again. I felt like I was going to survive this. The pain would lessen. I became addicted to that feeling of not hurting. It was the same thing with concerts. Music has been as much of my therapy as the races. While being on course helped with the pain, music was my escape from the thoughts in my head. I use music to be able to handle driving. I can concentrate on the lyrics rather than the panic and anxiety that I will be hit again. I wore headphones to all of my later surgeries and it kept me from full-blown panic attacks that maybe I wouldn't wake up this time.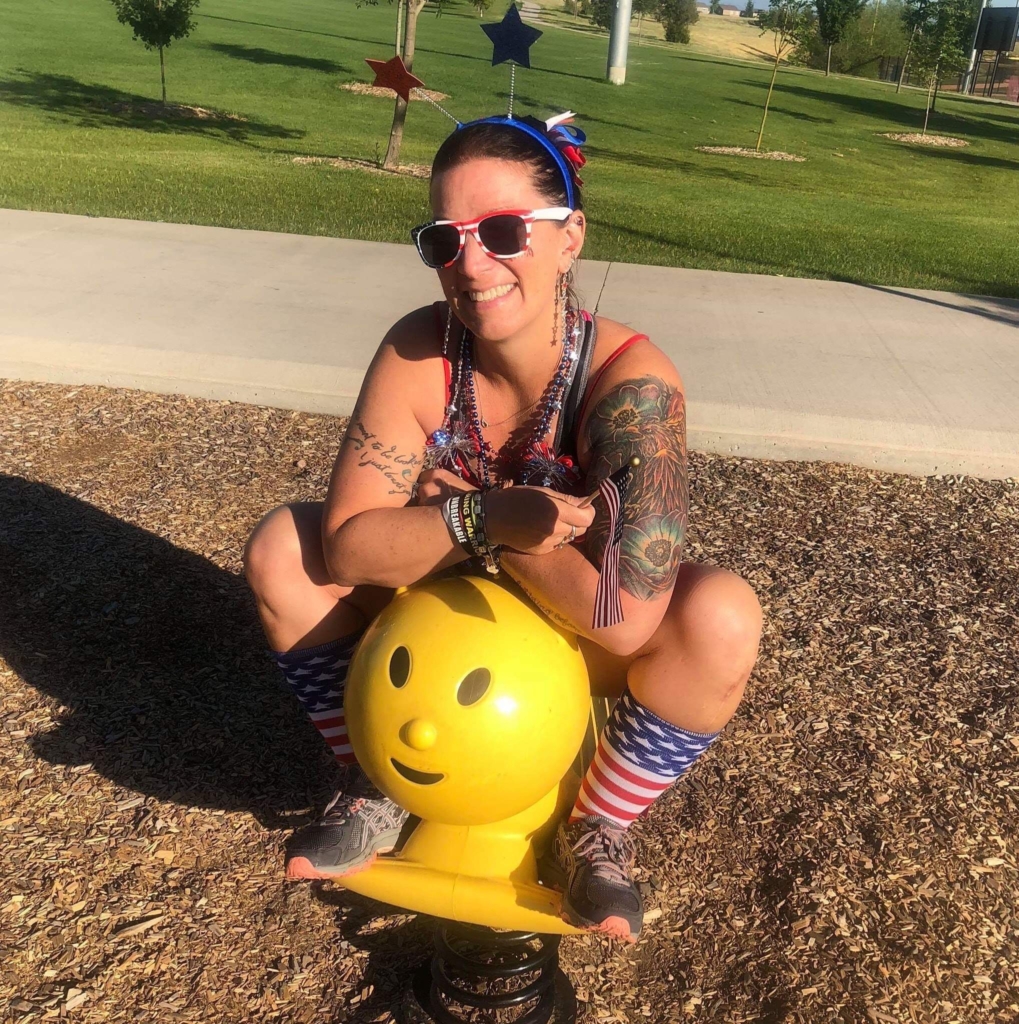 What was your first event back after your accident? Please tell us about it.
At the end of May that year, I rode in my wheelchair for the Boulder Bolder for 5 miles and then I walked the last mile. June 10th I walked the Dirty Girl Mud run with a knee brace. I wasn't expecting to be able to do much, but I think I ended up doing everything but 2 obstacles. It's not a difficult race, so it was a good one to come back to. It was slow, but it was amazing to be back out there. Before the crash, back in January, I had signed up for the very first United States OCR Championships in Texas. When I was laying in that hospital bed in Albuquerque, I was trying to figure out how I was going to make that happen. That was my goal and 7 months later, over Labor Day weekend, I was in Texas with two of my greatest friends by my side walking that course both days, a 15k and a 3k. There were quite a few things I couldn't do and I honestly had no business being there, but I had made that goal happen just by being able to do the ones I could do.
Did you always consider yourself an athletic person?
Actually no. I found my gym, FAST, 7ish years ago on a fluke and I've stuck with it ever since. My gym friends mean the world to me. They really made me feel loved after the crash. They all got together and did 10,000 burpees and I watched them live from my hospital bed. It had been one of my goals for the year. The me pre-gym and the me now are completely different people. I pretty much found myself there. They gave me the basis to grow my confidence to be able to do my races.
Please define in your own words what being a Bad Ass Women of OCR means to you.
Never letting anyone…or life…tell you that you cannot do something. Never giving up. Encouraging and celebrating others. Setting goals and conquering the shit out of them.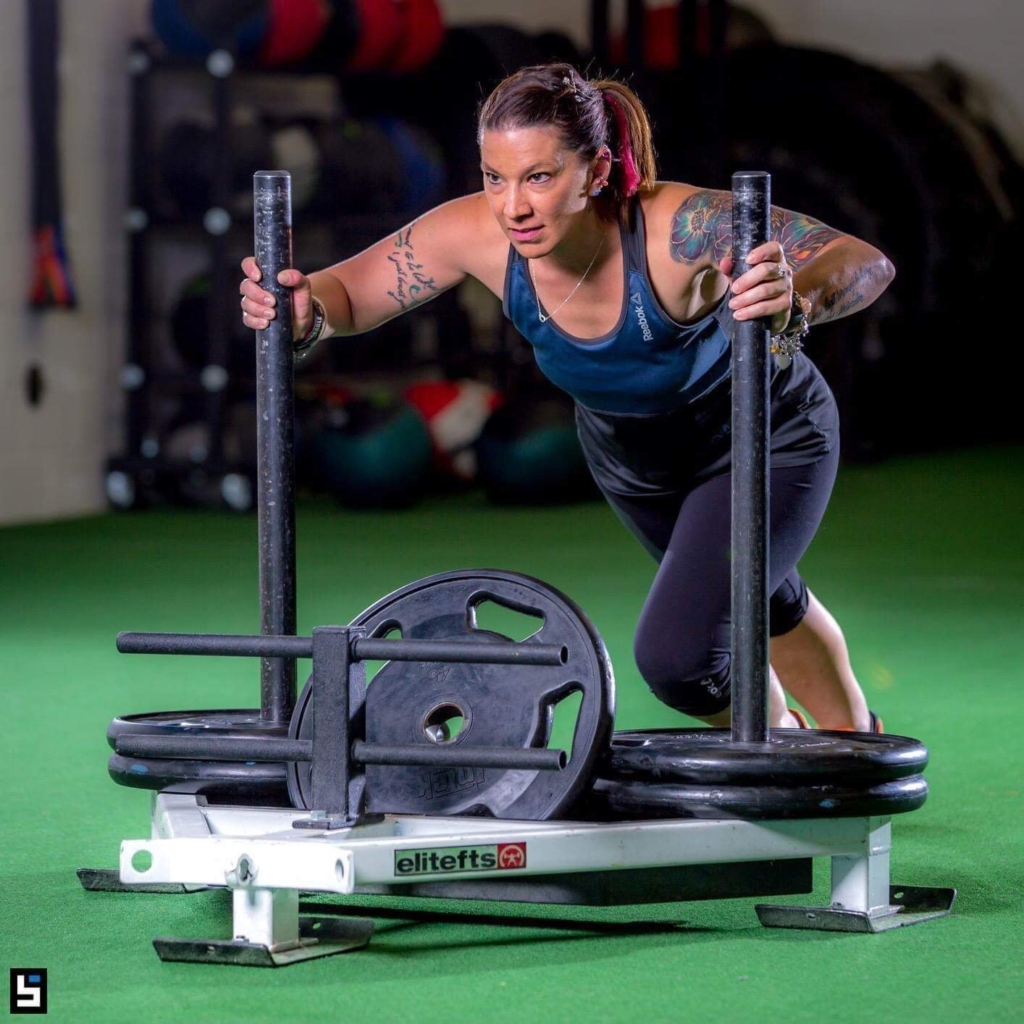 Is there one obstacle on course that you struggle with, if so which one and what are you doing to overcome it?
At the beginning of the year, I wouldn't do anything that I could fall from because of my leg. Before this year there were a bunch of obstacles I avoided or struggled with: the rope, any of the rigs. This year, because I  had discovered this incredibly strong will that I never knew I had, I set my mind to not giving in and one by one I was able to do them. The one obstacle I don't see myself ever conquering is anything that requires jumping from very high heights into water. Nope. I'll pass.
If there is any race in the world you could go do, all expenses paid what would it be and why?
A Spartan race overseas. Maybe Greece. Or if there is one in or around Paris or Italy. It's one of my life's goals to take my daughter there to explore. Neither of us has been out of the country. Being able to do a race and take her and see another side of the world all in one package deal would be indescribable.
What are your Non-OCR related goals for 2019?
Telling my story to whoever will listen. I'm volunteering with MADD and doing peer support to others who have survived a drunk driving crash. I'm working towards speaking at Victim Impact panels that are mandatory for anyone who has been cited for driving under the influence. I have been playing with the idea of also speaking at high schools. It is so incredibly important to me to make a difference and to fight against drunk driving. There are so many alternate options, such as Lyft and Uber, but the number of deaths are actually increasing.
Meeting Halsey and Pink are on my list of artists I want to meet. I really want to spend time going fun places with my daughter this year. Experiences mean so much more than material things.
I'm also thinking maybe I want to learn how to play the drums. Banging loudly might be therapeutic…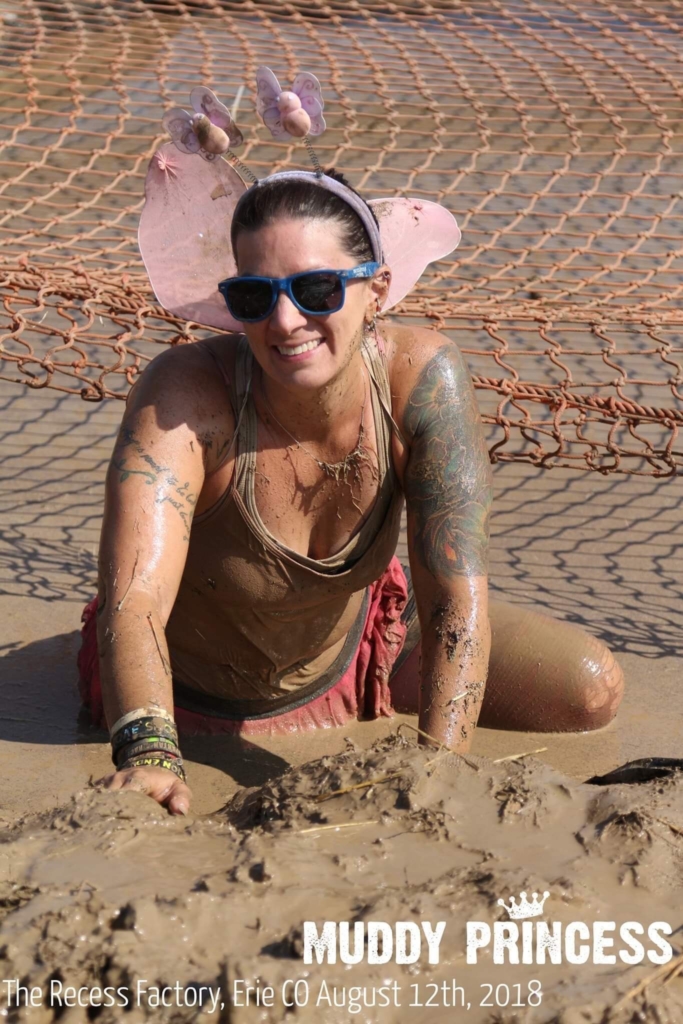 Do you ever get into those dark moments on course, if you do, what is your go-to method for getting around them?
I've had many, many dark moments. This has been a journey I wouldn't wish on anyone. It's been very convoluted to celebrate all my victories from walking again, being able to drive and then crossing finish line after finish line, and at the same time feeling overwhelming guilt because Corrina lost her life.  I've never had nightmares, but I have frequent flashbacks no matter what I'm doing. I've broken down on course several times because I'll get lost in my thoughts and think of her. I find myself singing the lyrics in my head of songs that are monumental to me. "What It Takes" by Imagine Dragons, "Champions" by Fall Out Boy and "Unstoppable" by The Score are a few.
For someone that is newer to this sport, what is one piece of advice you have for them?
Push aside the "can't" thoughts and try. You're stronger than you give yourself credit for and you'll surprise yourself. Have fun!
Who inspires you?
So many people. Amanda Sullivan. She never gives up and she encourages every single person who crosses her path. She reached out to me when I was hospitalized. I admire her greatly. Dan Reynolds from Imagine Dragons. He is so incredibly passionate about bringing awareness to suicide among Mormon LGBTQ teens. I wish there was a celebrity that was equally passionate about drunk driving. My daughter inspires me greatly. Everything I do is because of her. She's made me a better person. I want her to see me never giving up and know she can do anything in the universe and I will always support her. My friend, Greg. He has no fear and he's incredibly full of himself! He and I kept running into each other at races and we started planning travel together. He has always believed in me and pushed me to try a little harder, go a little faster.
Is there anything else you wish to share with us?
If you know someone that has been through a tragic/traumatic event, realize that how they deal with it may not be how you would or even make sense to you. You never know unless it happens to you. Going to concerts and doing OCR races are my therapy in addition to the weekly EMDR sessions I have for my PTSD. That night is just as real to me now as if it happened yesterday. I'm doing the best I can. Judging my decisions or anyone else's isn't anyone's business.
If you drink, don't drive. DON'T DRIVE. Just don't. Don't get in a car with anyone who has been drinking. Don't allow someone who has been drinking to drive. My life has been completely and irreversibly changed. Corrina lost her life because one person put their key in the ignition of a car and chose to drive after drinking.
Drunk driving is 100% preventable. There don't need to be any more victims.
I forgave that kid. What happened, happened. I can't change anything. I am going to fight against any more deaths to the very best of my ability. There is no sense wasting time filled with hate or anger. We only get one life to live and I want to make the most of mine.
If someone wants to reach out to you on social media, how do they find you?
Instagram is avsprincess (I'm a huge Colorado Avalanche junkie)
To learn more about how you can make a difference, check out Mothers Against Drunk Driving.