As a parent myself, I understand that my daughters are always watching what we do, how we do it, and why. If something you do as an adult or parent hits a cord with a young child, they want to go out and do it too. At the young age of 10 years old, Brooke saw pictures and heard the stories of her dad's fun in the mud and decided to face her fears and give it a shot. I know now she is super glad she did.
Please enjoy getting to know this week's Bad Ass Kid of OCR – Brook Mahon aka Babybear.
Please tell us a bit about yourself
I'm 10 years old. I love my dad and the beach and the water parks. I'd like to be a mermaid at the Weeki Wachee park when I'm old enough.
What first sparked your interest in running OCR races?
Seeing all my dad's medals and pictures of him in the mud. Looked like a lot of fun!
Please tell us about your first OCR race?
O.M.G. My dad told me I was going to run my first mud run a few years ago (Mud Endeavor). I was so excited. It was hard at first, but my daddy stayed with me and helped me all the way. I laid on his back when we had to crawl through the ice pit. Soooooo cold! But I had so much fun.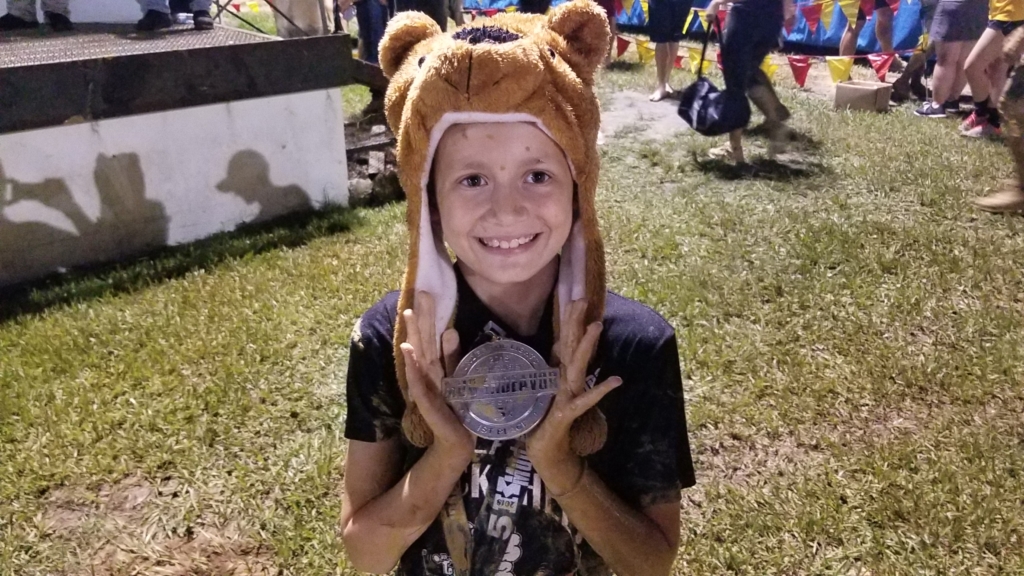 As a younger participant in the sport, what do you find your biggest struggles are?
Being small and doing the big obstacles, the warped wall was the hardest, but my dad helped me.
Do you prefer to run in the competitive waves or in open heats?
I love to run the competitive wave at Mud Endeavor. I won 2 years in a row at the night race. But I like to go back out and have fun with my friends and team
How do you train for your obstacle course races?
A lot of playground time.
What is the biggest obstacle that you are working to overcome?
The warped wall.
Do you play or participate in any other sports? If yes do you find this helps with your obstacle course racing?
I love to swim and dive underwater. My dad said that helps my leg and muscle growth. Which helps in the mud pits on the course.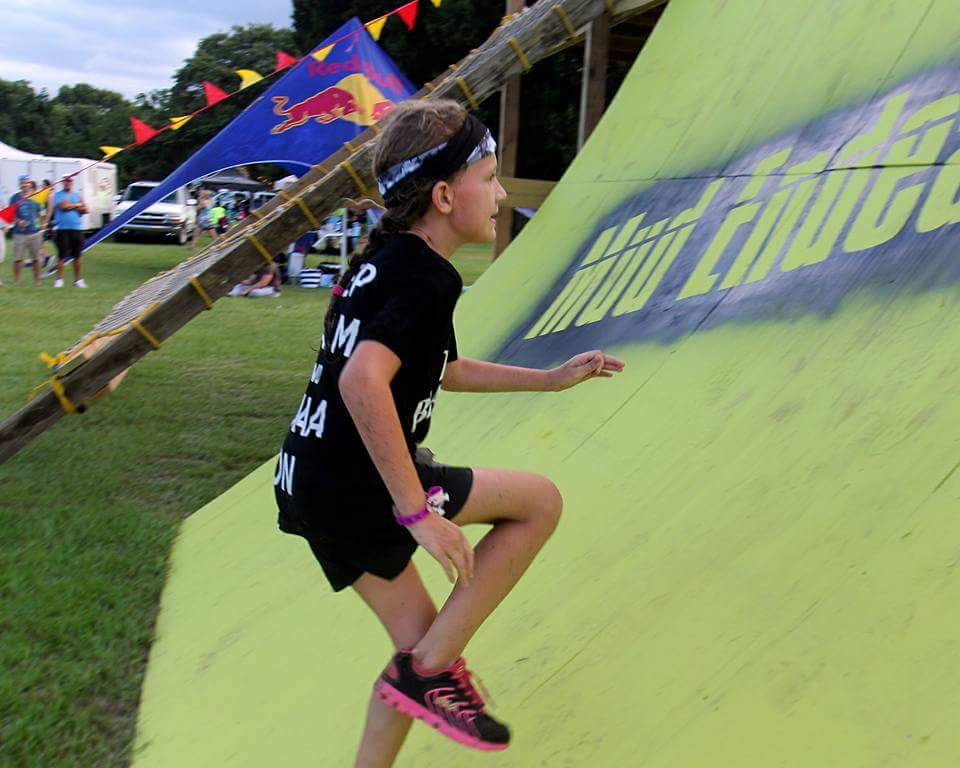 As a younger athlete, who inspires you and why?
My Daddy. He always likes to help others and it makes me want to do the same. I know I can't help others when I run the competitive wave, but I like to go out again and help.
What has been your proudest OCR moment to date?
Winning my first Mud Endeavor race.
I took 1st in the 19 years and youngest age group. I was 8 then.
What has been your scariest OCR moment to date?
Running my first Mud Endeavor. I was scared of falling in the mud and getting hurt.
What big race goal are you working towards?
I want to run a Spartan Race and get my trifecta and run a Savage Race with my dad. That's his favorite race.


The OCR community is a family. Do you find that when you are racing you see people helping each other out on course?
I see it all the time. My dad calls our team his family (Iron Any Fitness). They run together, help each other and finish the race together.
Have you ever done an obstacle course race with a parent or sibling? If so tell us about it?
I run with my dad since I'm too young to run alone. I'll be able to run alone when I race at Spartan soon.
Do you see yourself participating in OCR 5 years from now? If yes tell us why.
YES. I love running and playing in the mud and on the obstacles. I see all the fun my dad has, so I want to do the ones he does one day.
From your perspective, what can race directors / OCR companies do more of to entice kids to run the course?
More water slides. I love water slides and have ice cream trucks at the race.
What is one takeaway you have learned from running OCR races?
What my dad has taught me. It's not always about finishing first. But to go out and have run.
Is there anything else you wish to share with us?
Don't be afraid to try something new, it might be scary at first, but it will end up being really fun.
And I have the best dad in the world.